The Magic of Luigi Lucioni
The Shelburne Museum's exhibition "Luigi Lucioni: Modern Light," through October 16, offers a close look at the artist, who, when pressed, described his take on the world as "super realism."
It's the first comprehensive show of his paintings, works on paper, and ephemera at a major museum, although he was active from the 1920s into the 1980s. Color-saturated and exactingly defined, his rich portraits and adrenalized visions of nature—the Vermont and Italian landscapes reflect styles as divergent as those of Maxfield Parrish and Paul Cezanne—are also perfectly mesmerizing. Birches Over Pine (1966), which offers handsome trees in Manchester, Vermont, where Lucioni spent summers, borders on pop art. One tree dominates The Big Elm (1934), but the eye is drawn to a red farm gate, across velvety grass and fields, and on to a sultry patchwork of blue hills and sky, toward what is likely Vermont's iconic Camel's Hump. The works have a dense, silky texture and a hyper-focus associated with art of the Italian Renaissance, yet they could also be called romantic. "Lucioni is singular," says museum director Tom Denenberg, "a realist, but demonstrating surrealist tendencies."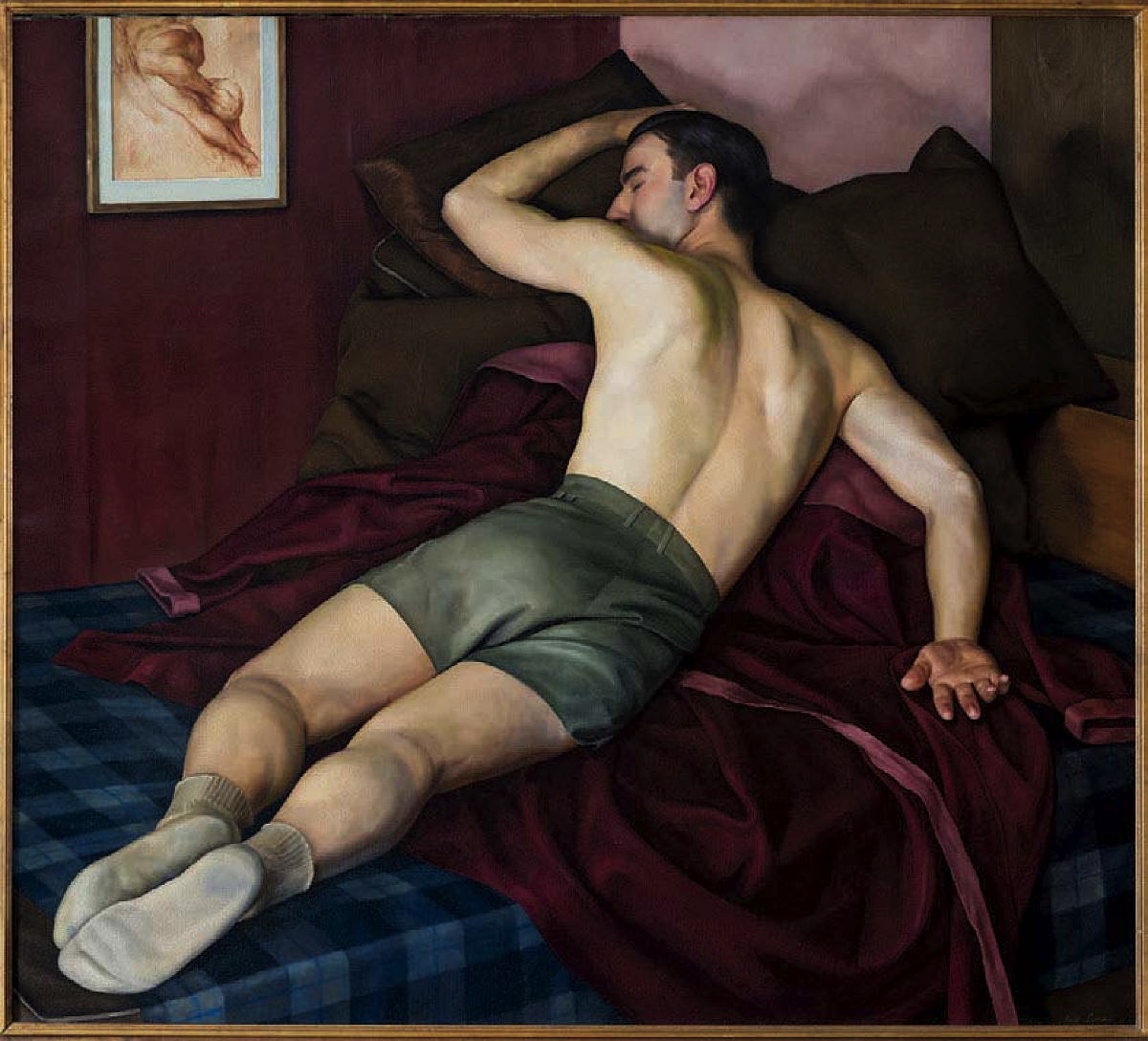 Resting Athlete (1938)


Painting courtesy of the Shelburne Museum



Born in Italy, he emigrated to America with his family as a boy in 1911, settling outside New York City. His drawing talent led him to study at The Cooper Union and the National Academy of Design, and he found early critical and commercial success—in 1932 the Metropolitan Museum of Art bought his 1931 still life Dahlias and Apples (which was replaced two years later by his exquisite 1930 Pears with Pewter). 
That purchase likely led to meeting his patron and friend Electra Havemeyer Webb, founder of the Shelburne Museum, who brought him to Vermont in the early 1930s. It was "like seeing the mountainsides of my birthplace," he reported. "I was reborn in this majestic  setting." Part of what makes the work magnetic, Denenberg suggests, is Lucioni's devotion to the Renaissance. Unlike many assimilating immigrants of the time who "turned their backs on the old country," he says, Lucioni kept returning to Italy, straddling "the old world and the new," bringing a "hermetic, airless quality drawn from the historic European paintings he so admired and applying his vision to Vermont." 
The show delves into Lucioni's ties to Webb, but also his lesser publicized artistic life in Greenwich Village. In a studio there, he painted his celebrated Portrait of Ethel Waters (1939), along with portraits of his sisters and father, of friends, and fellow artists. Depictions of Paul Cadmus and other men, as in Resting Athlete (1938), evoke a "whole homoerotic aspect to his portrait practice that is something he kept under cover," according to Denenberg, "but he was very much a part of the avant-garde and queer circle in the art world of New York."
Lucioni, a pianist and opera-lover, filled his life with music. His palettes and compositions emanate harmony, and his nuanced detailing is as complex as the notes of any symphony. Tone and energy persist in even in the smallest touches: the seams of a shirt or the fold of a knuckle grasping an arm rest, as in his 1949 self-portrait, or in his father's arthritic hands. "We have turned away from the term 'magic realism' in art because it's most often used as a literary reference," says Denenberg, "but the concept is apt." These words, the landscapes in particular, feel animated—as though the world is lifting off the canvas. "My chief desire," he told Art Weekly in 1932, "is to paint not what I see but what I know and feel about objects and nature. I try to create objects that have an existence of their own, landscapes that have space, and solid forms and figures that have life and vitality."   
You might also like
The first in a series of public conversations about Harvard and the legacy of slavery
How to encourage free speech and inquiry on campus
A new play at the A.R.T. provides a modern take on ancient mythologies   
Most popular
Brief life of a formidable anthropologist: 1903-1991
First-years Ngozi Musa and Gabby Thomas help set the pace for track and field.
A negative investment return and annual spending reduce the endowment's value 5.1 percent.
More to explore
A test can identify these productivity-boosting personnel.
Ancient history professor studies coins, ceramics, and Zelda.
Anwar Floyd-Pruitt's wildly profuse art