The Nature of Archives
Kapwani Kiwanga on power, resistance, and plants
In her 2021 installation "Potomitans," shown at Art Basel in Switzerland, the Franco-Canadian artist Kapwani Kiwanga suspended 39 dainty silver chains from the ceiling, adorning them with handmade sculptures of leaves, berries, and flowers from Mimosa pudica and Phytolacca Americana (commonly known as pokeweed). In her research, Kiwanga, a 2022-23 Radcliffe Institute fellow, found that enslaved people had once used these plants to try to poison their masters and free themselves. Her installation sought to explore how plant species function as allies in humanity's pursuit of liberation.
Kiwanga's work frequently contends with power asymmetries, and she uses a range of media—film, performance, sculpture, installation—to bring focus to subjects and stories that have been forgotten or ignored. Her art is deeply researched, and Kiwanga's ideas are often inspired by the concept of archives: who curates them and how, and what they reveal about the status quo. Currently based in Paris, she has exhibited around the world, including at the Palais de Tokyo in Paris, the Serpentine Galleries in London, and the Hammer Museum in Los Angeles. In 2018, she was selected as the inaugural recipient of the Frieze Artist Award, a major commission granted to emerging artists, and in 2020 she received the prestigious Prix Marcel Duchamp.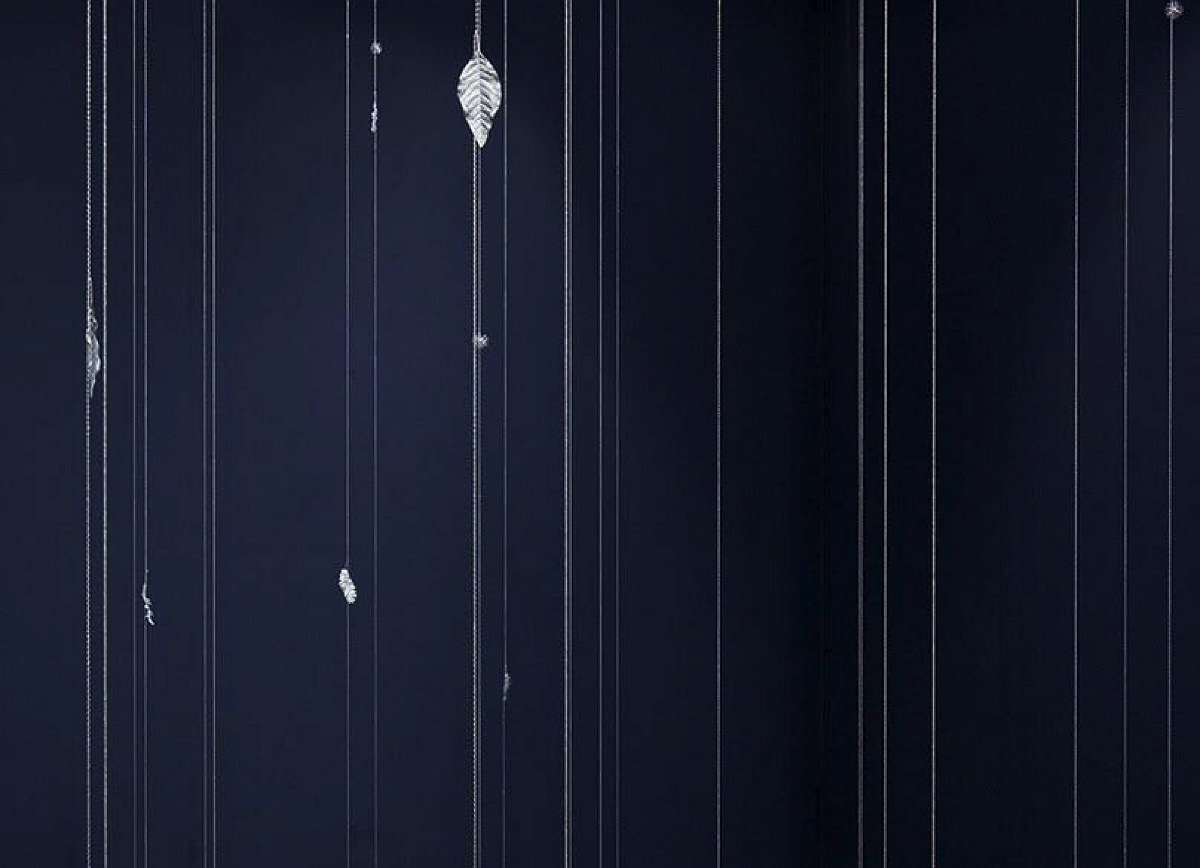 © Photo Julien Deceroi; 
Courtesy the artist and Galerie Poggi, Paris
Born and raised in Ontario, Canada, Kiwanga didn't come from an artistic family. She didn't begin her artistic practice until she was in her 30s. As an undergraduate at McGill University in Montréal, she studied anthropology and comparative religion. Her second year, she met a documentary filmmaker who had also studied anthropology, which sparked an interest in using film, she says, "to explore and transmit issues." After graduating in 2000 she worked in Scotland as a freelance documentary filmmaker for television, including assignments dealing with the African diaspora. But she soon felt limited by the format, and in 2005 she moved to France to study art, first at the Beaux-Arts de Paris and then at Le Fresnoy, an art and audiovisual research center in northern France. "Little by little," she says, she became a full-time artist.
Today, Kiwanga's work remains driven by her academic background. Each artistic project begins with historical exploration: a question or an event or a finding, followed by hours and hours of reading. "I like the precision of research, the rigor of it," she says. Archives in particular are interesting as a "complicated space," curated in ways both intentional and unintentional. "Certain things are left out—narrations are made in archives," she says. Studying these repositories "allows you to look back at how the status quo was before, and I find that interesting to understand who we are as societies."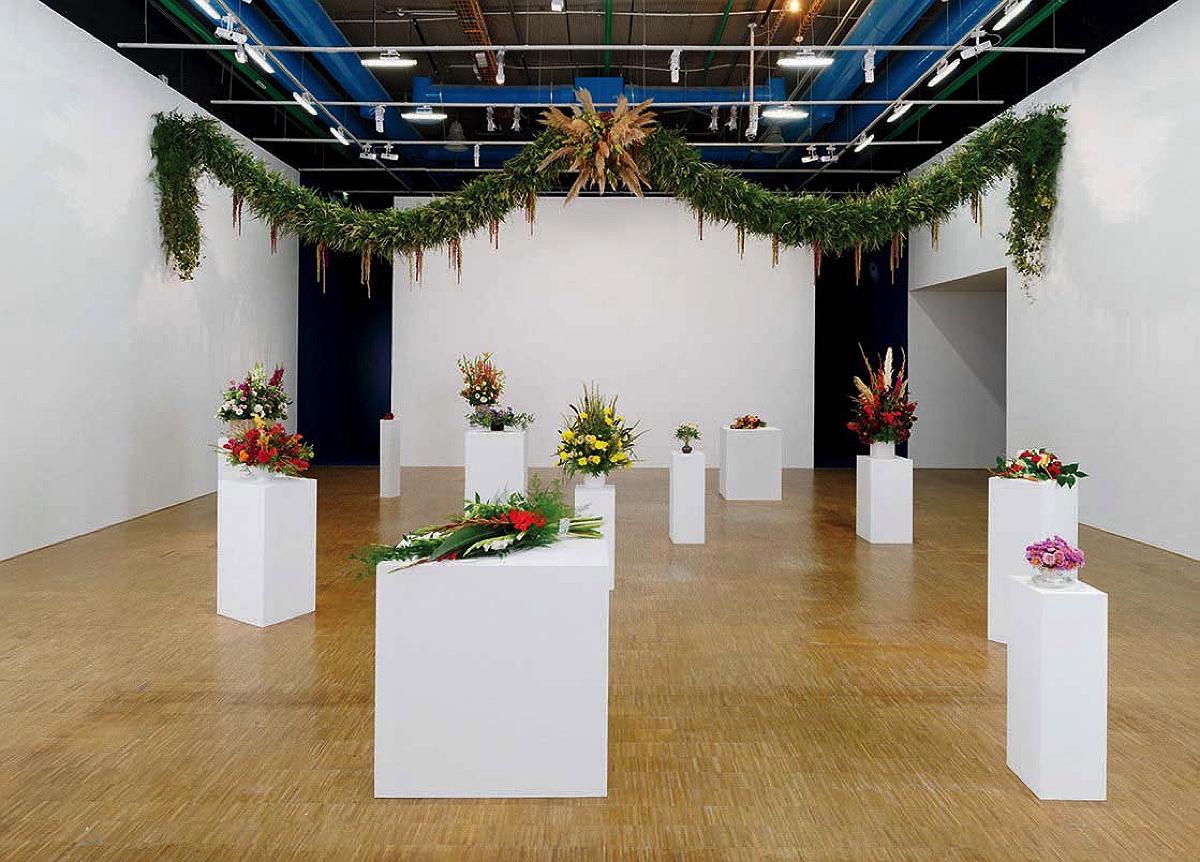 © Photo Aurélien Mole; Courtesy the artist and Goodman Gallery, Cape Town, Johannesburg, London / Galerie Poggi, Paris / Galerie Tanja Wagner, Berlin
Kiwanga is perhaps best known for her ongoing installation series, Flowers for Africa, which began in 2013 and won her the Duchamp award.It started during a residency in Dakar, Senegal, when she became interested in the floral arrangements found in archival photographs from the diplomatic meetings and ceremonies related to the independence of formerly colonized African countries. Flowers for Africa recreates and reinterprets the floral compositions used in these forums. For instance, in "Tunisia, 2015," a single show-stopping flower sits alone atop a minimalist white cubic column. In "Cameroon, 2020," she reconstructs a lush, multicolored bouquet in a simple white vase, while in "Rwanda, 2019," she rebuilds a gargantuan eucalyptus arch. Over the course of an exhibit, the arrangements slowly decompose, prompting viewers to reflect on history and impermanence.
The decision to focus on the flowers in these images, Kiwanga says, was an attempt to displace the usual focus. The ceremonies that her installations evoke revolved around diplomats and officials, not the public, who would inherit and live with the new political systems. In archival photographs, "These cut flowers are almost always on the edge of the frame," she explains. "So for me, they symbolize those who are outside of it."
More broadly, Kiwanga is interested in looking for archives outside of the rigid understanding of what they can be, exploring—as she does in Flowers for Africa—how plants themselves can be seen as archives, and serve as witnesses to humanity's atrocities and triumphs. "I think there are many different ways of looking at archives," she says. "They can exist outside the official library.…They are not just iconography or written texts but can also be the natural environment."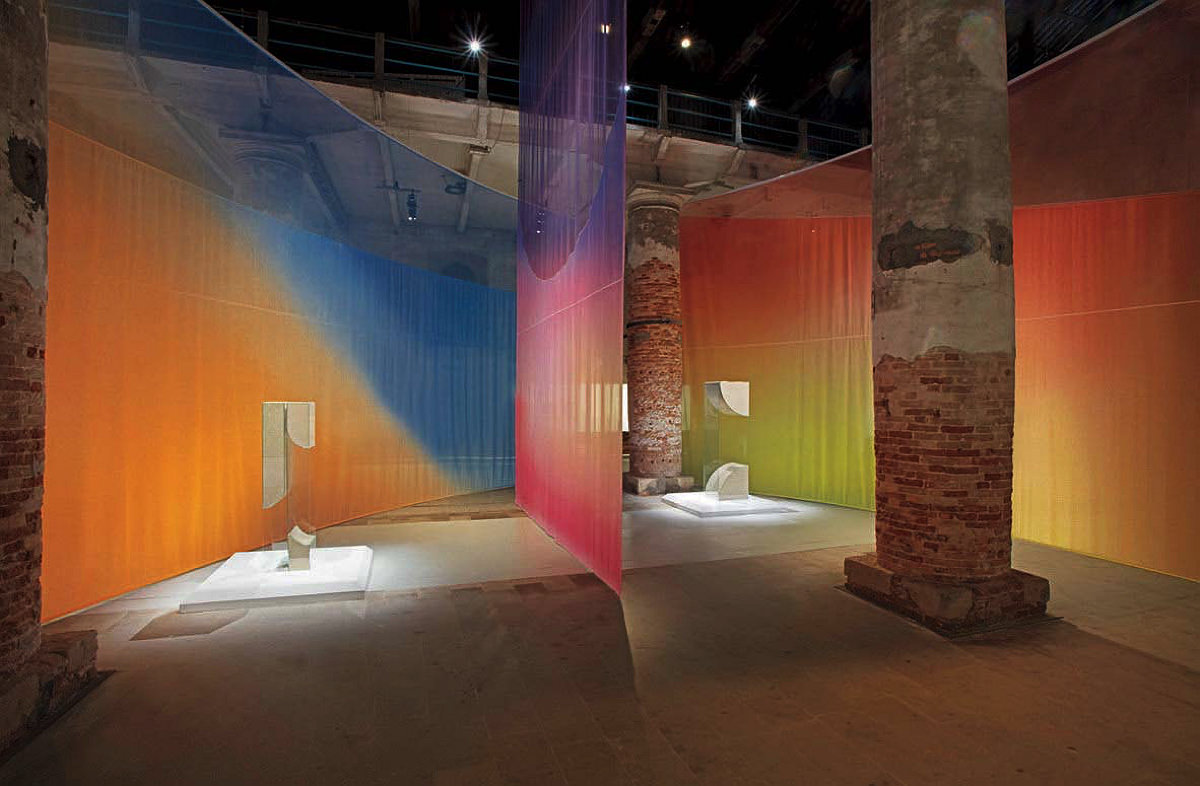 © Photo Sebastiano Pellion di Persano; 
Courtesy the artist and Goodman Gallery, Cape Town, Johannesburg, London / Galerie Poggi, Paris / Galerie Tanja Wagner, Berlin
Kiwanga's work often looks for new ways around or through systems that harm individuals and society. In past interviews, she's described her works as a series of "exit strategies." They are "moments that allow individuals to think about different ways of being in the world or with each other," she explains, "and to become aware of how the way in which we relate to one another and our environments is destructive."
At the 2022 Venice Biennale, which runs through November 27, Kiwanga debuted "Terrarium," an installation that calls attention to impending environmental devastation. A series of rectangular glass sculptures containing sand (used in the extraction of oil and gas) stand amid translucent fabrics, hanging from floor-to-ceiling paintings and painted in desert hues.
During her Radcliffe fellowship, Kiwanga is looking in the University's archives for botanical connections like the ones that led to "Potomitans"—focusing especially, she says, on "past court files in which plants have been cited as allies or have been instrumental in the quest to liberation." The idea is to create a performance, or screen prints, or books. "But," she says, "I'm sure I'll come across some amazing bits of history that I didn't know about, and I might end up in a completely different place."
You might also like
The first in a series of public conversations about Harvard and the legacy of slavery
How to encourage free speech and inquiry on campus
A new play at the A.R.T. provides a modern take on ancient mythologies   
Most popular
Brief life of a formidable anthropologist: 1903-1991
First-years Ngozi Musa and Gabby Thomas help set the pace for track and field.
A negative investment return and annual spending reduce the endowment's value 5.1 percent.
More to explore
A test can identify these productivity-boosting personnel.
Ancient history professor studies coins, ceramics, and Zelda.
Anwar Floyd-Pruitt's wildly profuse art