John Harvard's Journal
Brevia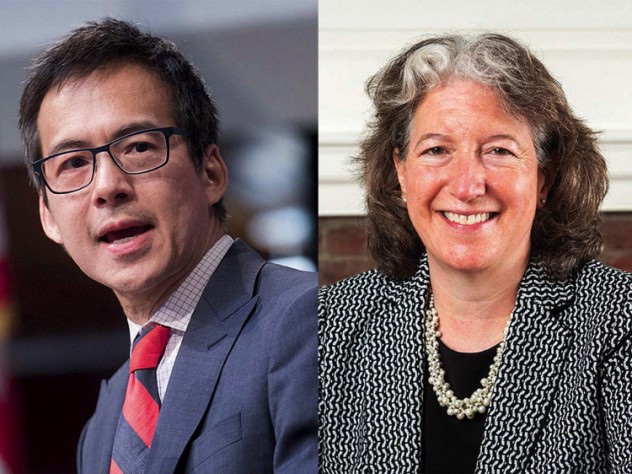 Photograph by Jon Chase/HPAC and courtesy of Meredith Weenick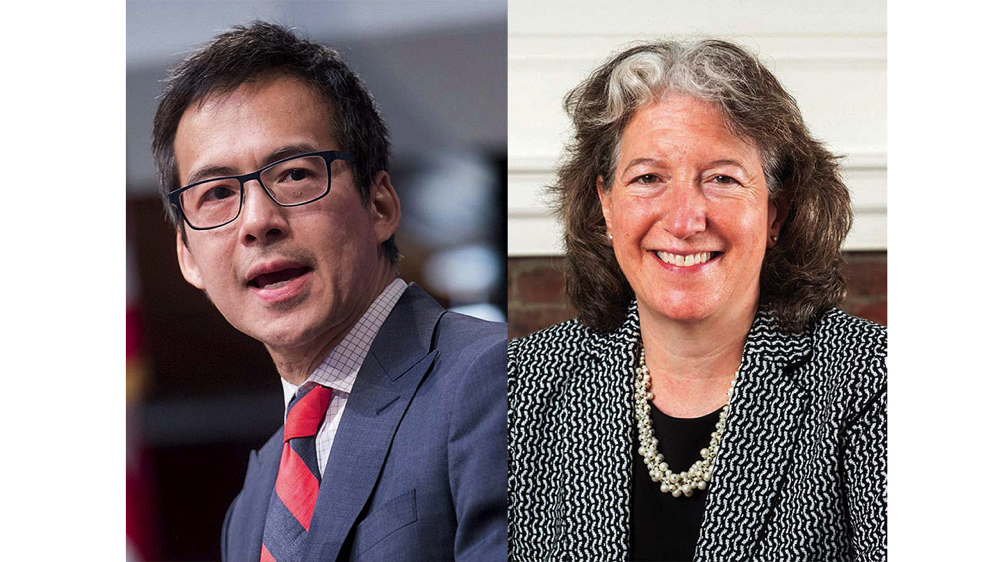 Photograph by Jon Chase/HPAC and courtesy of Meredith Weenick
Presidential Search
As the search for the successor to President Lawrence S. Bacow proceeds, faculty and staff advisory committees were disclosed on August 25. Archon Fung, McCormack professor of citizenship and self-government and director of the Ash Center for Democratic Governance and Innovation, Harvard Kennedy School of Government (where he also served as academic dean and acting dean), chairs the interdisciplinary, 15-member faculty group. Executive vice president Meredith Weenick chairs the 17-person staff cohort, with representatives from across the schools and central administration. The full rosters are available at harvardmag.com/prez-com-22. An 18-person student advisory cohort was unveiled on September 22 (see harvardmag.com/adv-com-22). Members of the community can weigh in at [email protected] or Harvard Presidential Search Committee, Loeb House, 17 Quincy St., Cambridge, MA 02138. 
Arms Race
Princeton—per capita, the best-endowed university in the land, and in the middle of a capital campaign presumably so large that no goal has been announced—dramatically upped the stakes in undergraduate financial aid. As the academic year began, the Tigers, the first institution to eliminate loans from aid packages, in 2001, announced that as of next fall, students from families with incomes of $100,000 or less will attend free of any charge for tuition, room, board, or fees—a huge increase over the prior $65,000 income threshold. Princeton also eliminated the $3,500 student contribution from term and summer work, and reduced the expected family contribution significantly for families with incomes above $100,000. Harvard raised its undergraduate family income threshold for zero-cost attendance from $65,000 to $75,000, effective with the class who matriculated in August: a healthy increase, but to a level significantly lower than Princeton's new standard.
Gender Identities— and a Threat
Harvard employees can now indicate preferred "gender identities, pronouns, prefixes, and gender marker" in their personnel records (joining students, who already had these options). A July email from the chief diversity and inclusion officer, vice presidents for human resources and for information technology, and the director of the Office for Gender Equity observed, "We all deserve to work and learn in an inclusive and welcoming environment—one that affirms each person's identities and dignity." Although a gender marker is required, "there is now a nonbinary option." The change was put in the context of "a time when LGBTQ+ civil rights are increasingly threatened…." (President Lawrence S. Bacow emailed on August 16 that LGBTQ+ community members had received a "profoundly disturbing, anonymous email threatening violence against them simply because of who they are," and said Harvard police were investigating with federal law enforcement.) The nonbinary option also exists in the alumni records system.
M.B.A. Aid
Harvard Business School announced a significant increase in M.B.A. student aid: scholarships to cover full tuition and fees (about $76,000) for the 10 percent of each class with the greatest financial need—about 200 first- and second-year students this academic year. Most professional-school scholarships are based on merit, as schools compete for outstanding candidates, rather than need. Students will still be responsible for annual living expenses estimated at about $32,000. About half of HBS M.B.A. students receive some aid (the scholarships have averaged $42,000 annually), and support for middle-income matriculants is being enhanced, too. HBS has kept tuition flat since 2019. Read more at harvardmag.com/hbs-fin-aid-22.
Searching Space
Harvard and five other members of the Giant Magellan Telescope consortium committed $205 million to manufacture its 12-story housing, continue fabricating its seven 27.5-foot (diameter) mirrors, and develop its spectograph. The most powerful, highest resolution optical telescope will be at Las Campanas Observatory in northern Chile, and may operate by the end of the decade—a dozen years later than initial projections, but not out of line for such enormous, sensitive instruments (detailed in "Seeing Stars," May-June 2013, page 32). Other consortium members may contribute, too, to maintain their observing time when the telescope comes online. Harvard declined to specify its share of the $205 million; the Faculty of Arts and Sciences is thought to have made an earlier, $25-million investment in the project.
Boat House Rebuilding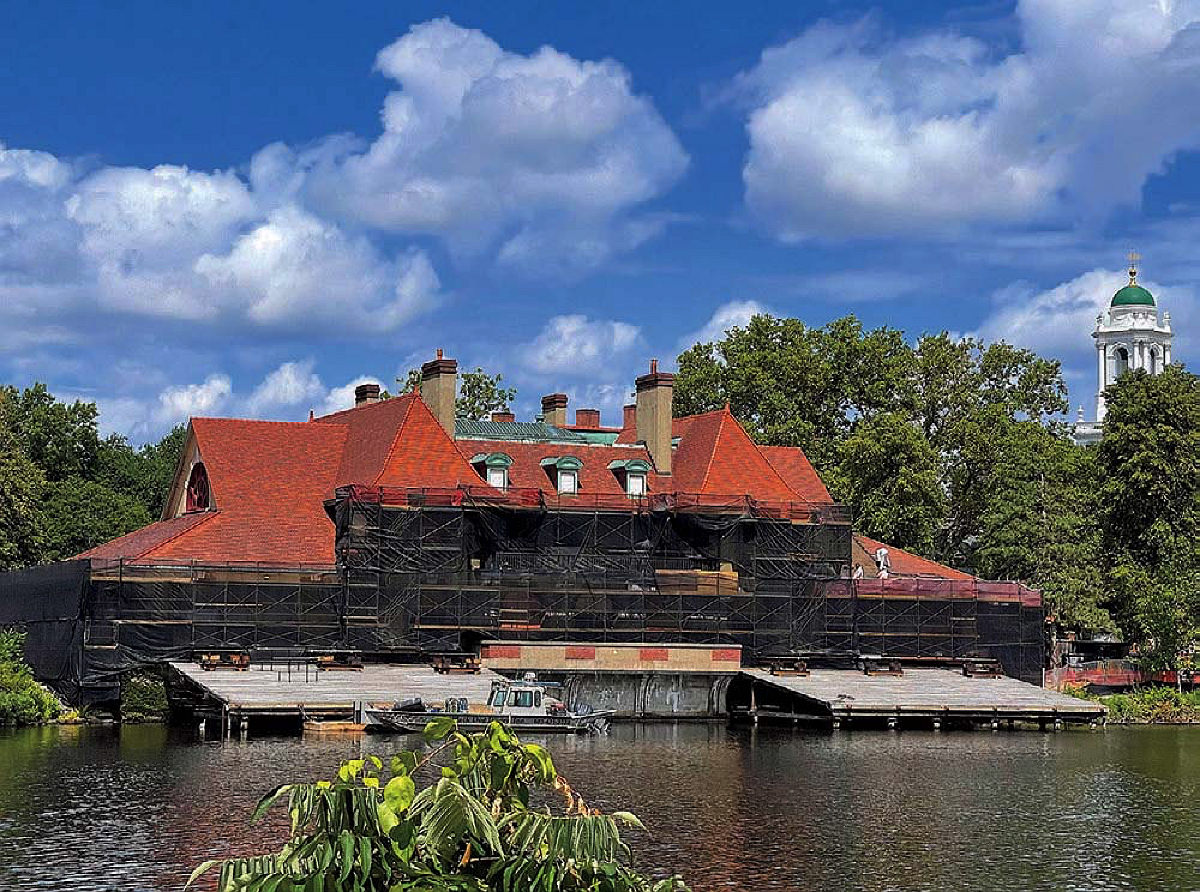 Photograph by Niko Yaitanes/Harvard Magazine
Now that the comprehensive renovation of the Weld and Newell boat houses, on Memorial Drive and Soldiers Field Road, respectively (first reported at harvardmag.com/renovate-boat-22), is under way, what updating the more-than-century-old rowing facilities entails is becoming clear. Cambridge's building permit for the Weld program, shown here, lists a construction cost of more than $9.5 million. Newell building permits, covering only preliminary demolition, so far total only about $150,000; the ultimate program, with removal of a 1969 tank building, and new practice facilities and boat storage spaces, is larger than the Weld project. Including design and project management costs, temporary spaces during construction, landscaping, and so on, these suggest an overall price tag of at least a few tens of millions of dollars. 
Reverse Takeover
2U, the for-profit, online education company that bought edX from Harvard and MIT for $800 million in cash last year ("edX Exit," September-October 2021, page 25), has of late been worth considerably less than that. In part this reflects investors discounting their pandemic favorites (for example, Peloton and Zoom). But it also reflects 2U's high marketing costs and reporting critical of its practice of promoting college- and uni versity-branded courses which were in fact taught by 2U instructors, not faculty members. In response, the company has altered its business model significantly, laid off 20 percent of its staff, and begun to remake itself along edX's lines, offering students courses and degrees produced by affiliated educational institutions. (The Center for Reimagining Learning, the Harvard-MIT nonprofit that will apply the proceeds of the edX sale to future educational programs, is still being organized.)
Nota Bene
Cancer chief. Wilson professor of surgery in the field of surgical oncology Monica M. Bertagnolli, of the Medical School and Dana-Farber Brigham Cancer Center, has been selected to be the next director of the National Cancer Institute.
New marshal. Katherine O'Dair, who has been dean of students at the College since 2016, has been appointed University Marshal, effective October 1. The Marshal is the point of contact for dignitaries and delegations visiting Harvard from around the world. She succeeds Margot Gill, who served from 2017 through her retirement in early 2021, during the period when the campus was effectively closed by the pandemic.
IOP evolution. Mark Gearan '78, who became director of the Institute of Politics in 2018, after 18 years of service as president of Hobart and William Smith Colleges (HWS), has relinquished his Harvard Kennedy School position. Following the resignation of HWS's president, Gearan has been appointed its leader again. IOP executive director Setti Warren has been appointed interim director while a search for a successor to Gearan is conducted.
Curator redux. The Harvard Art Museums have appointed Ayşin Yoltar-Yıldırım as the new Calderwood curator of Islamic and Later Indian Art. She returns to Cambridge from the Brooklyn Museum, having previously served locally as a curatorial fellow in the same fields, and then as assistant curator from 2013 to 2017.
Miscellany. As Foster professor of African and African American studies and anthropology John Comaroff resumed teaching (he is still restricted from teaching required courses following an investigation of allegations of sexual harassment), the U.S. Department of Justice filed an amicus brief challenging a Harvard claim about its potential liability in the litigation brought against its disciplinary processes by three graduate students. For background on the continuing case, see "How Harvard Handles Harassment" (May-June 2022, page 16).…Robert A. Brown, president of Boston University since 2005, will step down at the end of this academic year, adding to the list of institutions, including Harvard, searching for new leaders.