"We're Better Than That!"
Carrie Moore's first season coaching the women's basketball team 
Early in the fourth quarter of last Friday's women's basketball game against Brown, the Bears ripped off six unanswered points, so Delaney-Smith Head Coach Carrie Moore called a time-out: "We're better than that!" she shouted to her players. Harvard was leading by 26 and would go on to win 89-59, but as the coach explained afterward, avoiding defensive lapses is important because "in close games, it's going to matter." The observation was portentous: on Saturday against Yale, the Crimson surrendered a 16-0 run and lost in overtime 71-70. 
Games like these underscore the challenge of Moore's first season. The Crimson (9-6 overall, 2-1 Ivy) have the firepower to win the league, but needs to perform consistently against dangerous Ivy opponents, including teams with veteran cores that have had multiple seasons to coalesce. Moore, hired as head coach after Kathy Delaney-Smith retired last March, held her first workout with the Crimson nine months ago. 
So, how has she molded her team, and how are the players adapting?
Last April, during a welcome event at Lavietes Pavilion, Moore vowed to "help make this program relevant again." A glance at the rafters illustrated her point: the most recent Ivy League championship banner is from 2008. Erin McDermott, Nichols Athletics Director (and a former captain of Hofstra's basketball team), offered optimism that day: Delaney-Smith, who coached Harvard for 40 seasons, had left the "cupboard full," she said. That cupboard includes three all-conference guards: McKenzie Forbes '23, a versatile scorer; Lola Mullaney '24, an outstanding three-point shooter; and Harmoni Turner '25, a dynamic point guard who was the conference rookie of the year, after leading the team in scoring, rebounds, and steals.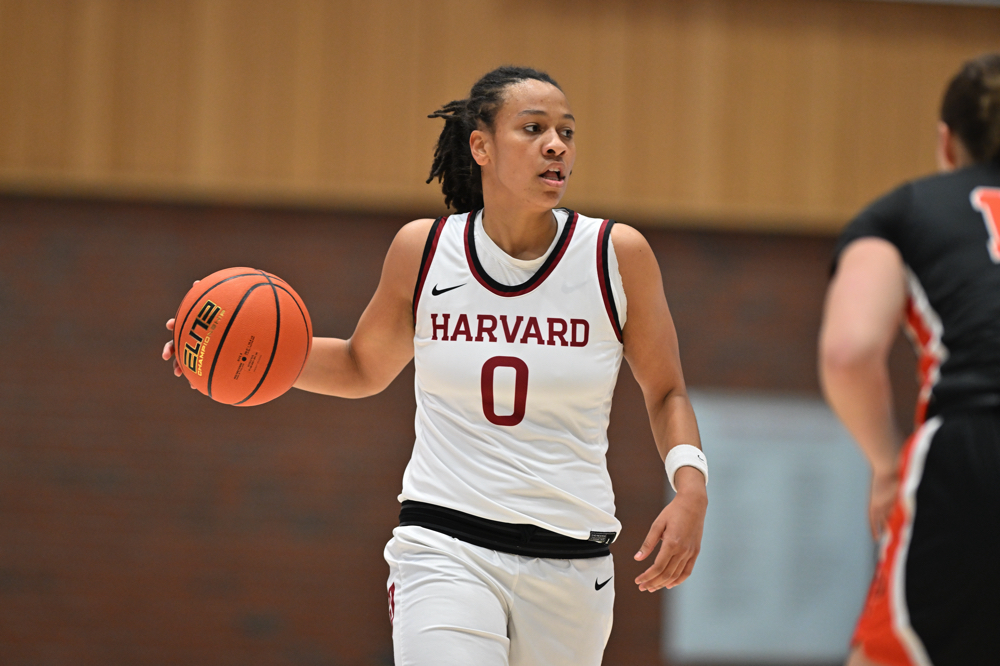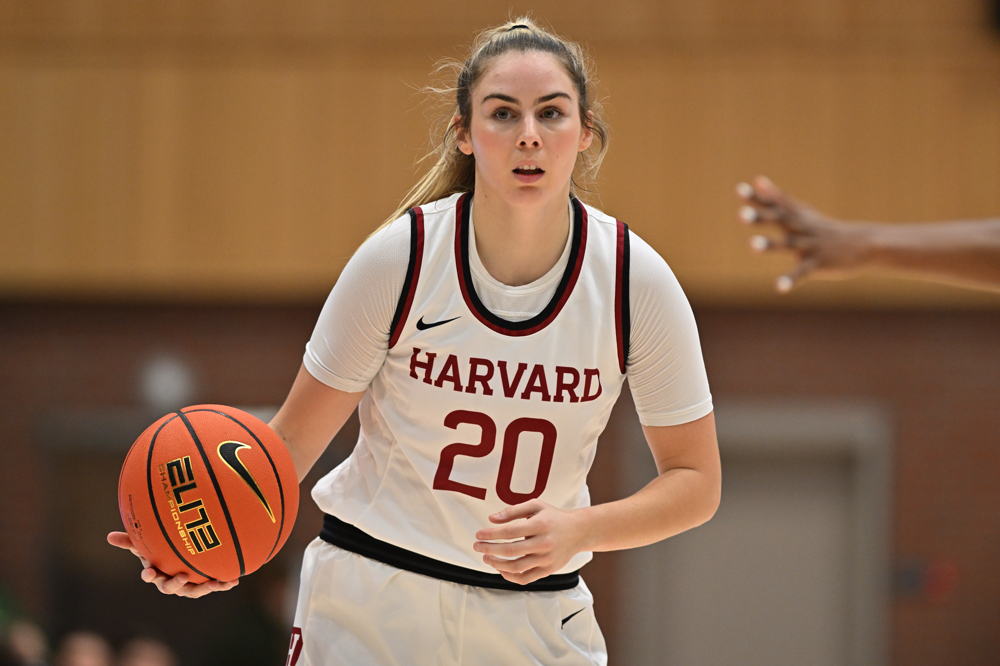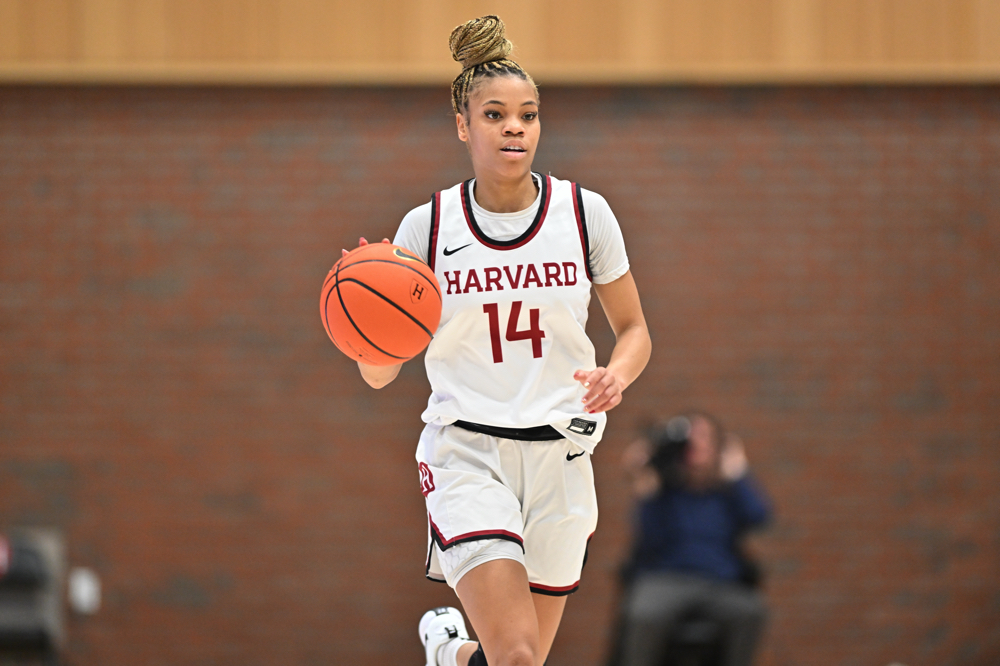 Photographs courtesy of Harvard Athletics Communications
The trio fueled Harvard's explosive offense (the best in the league last year), but in spring workouts, Moore focused on defense, where the Crimson ranked last in the conference. A Michigan native who grew up admiring Tom Izzo's gritty Michigan State teams, Moore had the players battle in "cutthroat" scrimmages (one-on-one, with no foul calls, and the player who scores first stays in for the next round) and full-court one-on-one games. These exhausting workouts laid the foundation for the Crimson's full-court press and, perhaps paradoxically, created excitement. "Those were some of the hardest, most-intense, but most-rewarding workouts that our team had had in awhile," said co-captain Maggie McCarthy '23. "We were gassed at the end of it, and Coach Moore would be hard on us, but in the locker room we were all so happy afterwards no matter how hard the workout was because we felt like we had gotten better after each one." 
The challenge has been sustaining that intensity for full games. Harvard started the year by defeating the University of Rhode Island and Boston College, teams that had trounced the Crimson last season, but in both wins, the players faded in the fourth quarter. A similar letup cost the Crimson against the University of Massachusetts in mid-November. Harvard led 40-31 in the third quarter but lost 77-67. When the buzzer sounded, the Minutewomen jumped and hugged on the Lavietes floor. It was encouraging that a team that went to the NCAA tournament in 2022 and returned five starters saw a win over Harvard as cause for celebration, but the inconsistency rankled. "We're trying to get where they are," Moore said. 
Then began a blizzard of seven games in 15 days, highlighted by a Thanksgiving-week tournament in Cancun. In the first game of that event, McCarthy, who averages more than 30 minutes per game and had been sharing point guard duties with Turner, got injured. This shifted ball-handling responsibilities almost exclusively to Turner, who leads the team in minutes, steals, rebounds, assists, and scoring. Having her bring the ball up the court for an entire game while also trying to maintain high performance in other functions was unsustainable. In December, the team had a two-week break for exams, and the coach used the extended practice time to reinforce defensive priorities and to work on set plays with Forbes as point guard. When Harvard returned to action later in the month, she scored 23 points and made seven assists, helping the Crimson obliterate Maine 84-56. 
After a win three days later at Boston University, the team broke for Christmas, returning December 27 for four days of fierce workouts ahead of the conference opener against Princeton on New Year's Eve. Harvard won 67-59, snapping the Tigers' 42-game Ivy win streak and setting off a postgame locker room dance party during which Moore, named ESPN's Coach of the Week, got doused with water. The Crimson had played stronger defense (at times, the Tigers struggled to operate their offense inside the three-point line) and showed determination. Harvard had lost 15 of its last 16 matchups with Princeton, including a 72-67 heartbreaker at Lavietes during last season's Ivy League tournament semifinals. "Especially our upperclassmen," said Moore, a former Tigers assistant coach, "I think they're tired of it."  
Moore has also been working to strengthen team members's connection with one another. Last fall, the players went rowing on the Charles River. More recently, they helped one another navigate an obstacle course in Lavietes while blindfolded, and players and coaches created vision boards of their aspirations for 2023 and spent several hours sharing them with each other. It is easier to hold someone accountable for a mistake on the court, McCarthy explained, when the players have built relationships off of the court.  
That accountability will take on greater importance after last Saturday's loss to Yale. This weekend Harvard will play two road games, at Columbia and Dartmouth. 
But Moore's team-building exercises also offer a glimpse at how she is reshaping the program. Delaney-Smith's "Act as If" motto inspired a "refuse-to-lose" mentality during her final season. Moore's slogan, repeated by the team in huddles, is "Believe It." There's a mindset-shift at work in those words, McCarthy said—that the team should "not only refuse to lose but refuse to settle." That means, she added, "truly believing that we deserve to be at the top of the league and not feel like we're fighting for a spot for the Ivy tourney, but we are at the top, and teams should be afraid to play us, and we should have confidence from that."
In other words: "We're better than that!" 
You might also like
The Crimson springs a major upset.
Harvard officially installs Claudine Gay, its thirtieth leader.
A half-dozen symposiums feature Harvard research on AI, climate change, inequality, and more
Most popular
A profile of Harvard's thirtieth president
Life decisions en route to Massachusetts Hall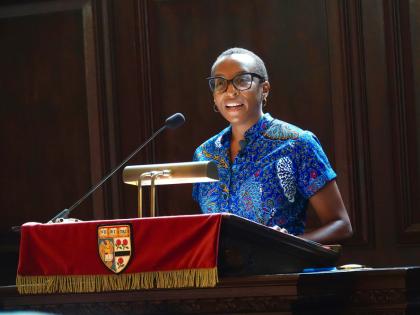 President Claudine Gay's first semester-opening Morning Prayers
More to explore
A test can identify these productivity-boosting personnel.
Ancient history professor studies coins, ceramics, and Zelda.
Anwar Floyd-Pruitt's wildly profuse art