News
A Medical School Gift for Translational Research
2.13.23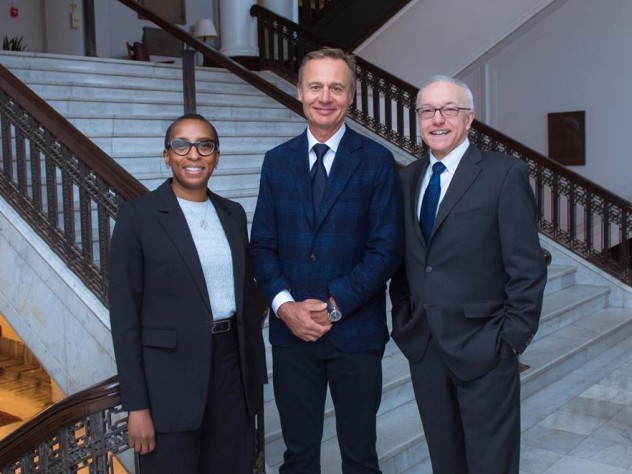 Photograph by Gretchen Ertl for Harvard Medical School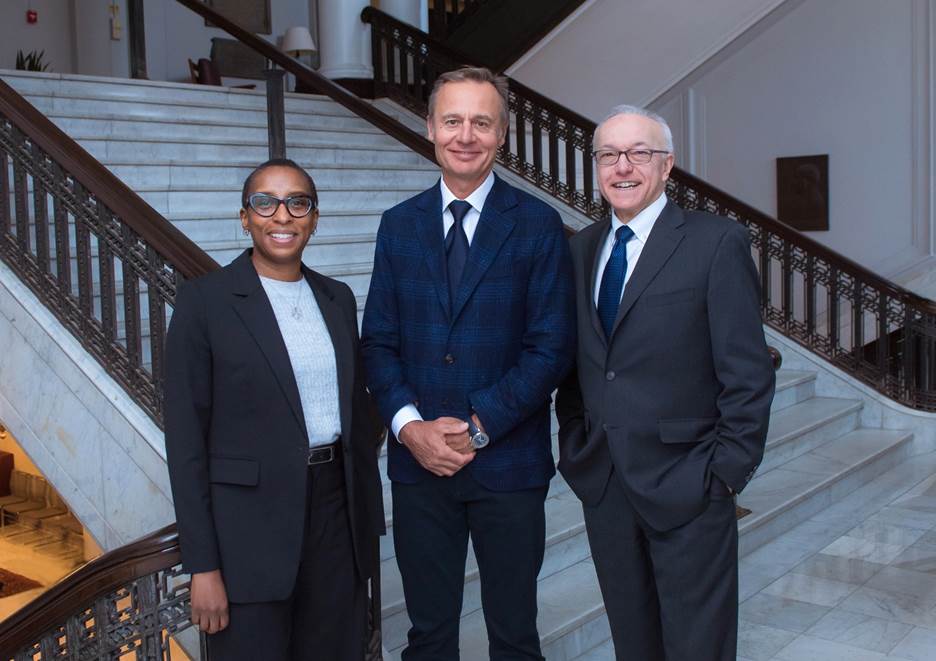 Photograph by Gretchen Ertl for Harvard Medical School
Harvard Medical School announced on February 13 a $75-million gift from longtime benefactor Ernesto Bertarelli, M.B.A. '93. The donation will be used to reconfigure the infrastructure and layout of Building C, the last unnamed structure among the five marble and granite buildings that surround the school's famous quadrangle. Building C, home to the Therapeutics Initiative (which focuses on translational medical research and education that moves biomedical science out of the lab and into practice for the benefit of patients), will be named the Bertarelli building. It is apparently the largest gift to the school since the $200-million commitment by Len Blavatnik, M.B.A. '89 unveiled in 2018.
Bertarelli, a Swiss biotechnology executive, entrepreneur, and philanthropist, has been a steadfast supporter of fundamental and translational research. In 2010, he established the Bertarelli Program in Translational Neuroscience and Neuroengineering, a joint program between Harvard Medical School (HMS) and the École polytechnique fédérale de Lausanne in his native Switzerland. In 2018, he donated an additional $6.35 million to support the study and treatment of sensory disorders such as deafness, blindness, and chronic pain. He also chairs the HMS Board of Fellows, which provides counsel to the dean, administration, and faculty to help advance the school's mission of alleviating human suffering caused by disease. Through the Bertarelli Foundation, directed by Bertarelli and his sister Dona, he has supported the Dean's Health and Life Sciences Challenge, established in 2013, and the University's President's Innovation Challenge, which has provided financial support for entrepreneurship among Harvard students since 2017. (The May 2022 recipients of the latter award also received a letter of congratulations from President Joe Biden. Biden, who stuttered growing up, praised in particular "Myspeech," a technology project that enables high quality speech therapy.)
Early in his tenure as HMS dean, George Q. Daley emphasized that translational research would be a priority; in a 2018 interview, he said that the school's role was to move fundamental discoveries forward to the point where the biopharmaceutical industry recognizes their value and invests in them. "Where we have a common mission"—to develop therapies that will relieve suffering in patients—"that purpose drives us to work together," Daley stressed at the time. Bertarelli, said Daley in regard to this latest gift, "understands that in order to improve the health and well-being of patients, we must first support observations in the lab and then nurture and orient them toward interventions in the clinic. It is therefore fitting that the Bertarelli name will be inscribed in the marble of the building that personifies our commitment to both basic and therapeutic science."
"Harvard Medical School is a world leader in health care innovation, translational research, and cutting-edge discovery," said Bertarelli, "and it continues to have an immense impact on the health and well-being of humankind." He added that it has been an "honor to have been a partner of the school for over two decades," and that he is "delighted to continue to support the HMS community in its important work by helping to modernize these landmark facilities to keep pace with therapeutics innovation."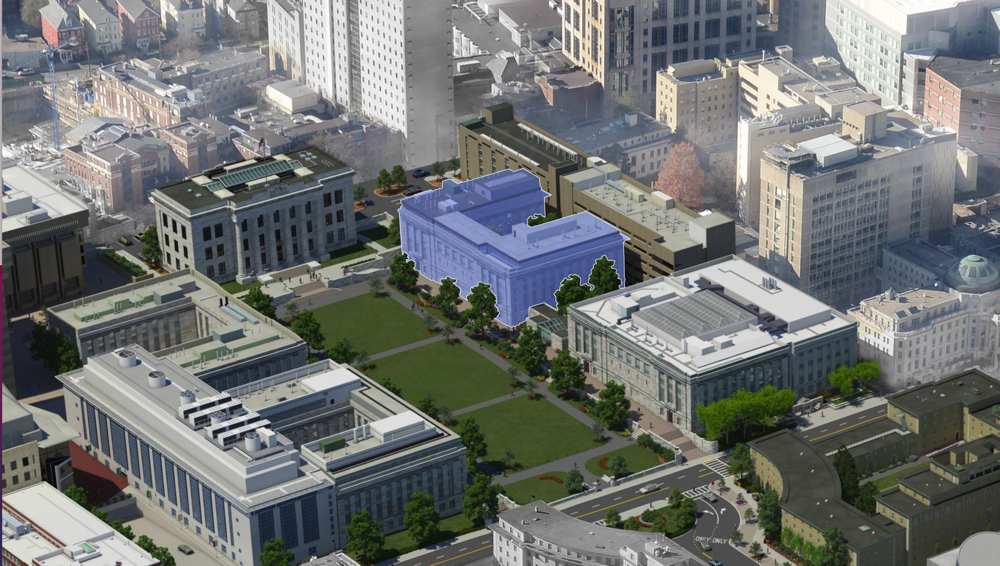 Rendering courtesy Harvard Medical School
In addition to housing the departments of cell biology and of biological chemistry and molecular pharmacology, and the Therapeutics Initiative, Building C is often used as a venue for scientists to present their research to the HMS community. The reconfiguration of the building will enclose the outdoor interior courtyard to create a skylit atrium that will enhance this role.
The building is also home to the recently opened Blavatnik Harvard Life Lab Longwood, a centerpiece of the Therapeutics Initiative that provides collaborative workspaces for early-stage, high-potential biotech and life-sciences startups founded by Harvard students, alumni, postdoctoral scholars, and faculty. Construction of the atrium project, expected to begin in 2023 and be completed in 2025, will join the wet- and dry-lab wings of the Life Lab.
Professor of the practice in the department of biological chemistry and molecular pharmacology Mark Namchuk, executive director of therapeutics translation at HMS, said in the statement that "A critical component" of moving an idea out of the lab and into the doctor's office is "building the infrastructure where both basic and translational science can be supported, and Ernesto Bertarelli is doing just that with his generous gift."
Added Harvard President-elect Claudine Gay, "The combination of breakthrough science and empowering partnerships, like the one with Mr. Bertarelli…is nothing short of inspiring. You can feel the future of human health taking shape around you."
"I am honored that the Bertarelli name will become a permanent and prominent part of the Medical School's quadrangle," said President Lawrence S. Bacow. "Ernesto is a great friend of Harvard and to me personally. His ambitious vision is exceeded only by his unwavering support. Harvard is all the better for both.
The naming of the last quadrangle building for Bertarelli would no doubt have pleased the late Daniel C. Tosteson '46, M.D. '48, S.D. '08, dean of HMS from 1977 to 1997. Tosteson is credited with initiating the process of naming the five quadrangle buildings, previously known—since their construction in 1906—as A, B, C, D, and E. Like Bertarelli (who twice sailed to win the America's Cup as part of team Alinghi in 2003 and 2007), Tosteson was a sailor, and is remembered not just for his steady hand guiding the medical school, but also for his seamanship: according to colleagues, a "daring skipper."