Adrian Piper to Receive Harvard Arts Medal
Spanning more than 50 years, the conceptual artist's work explores race, class, gender, and identity.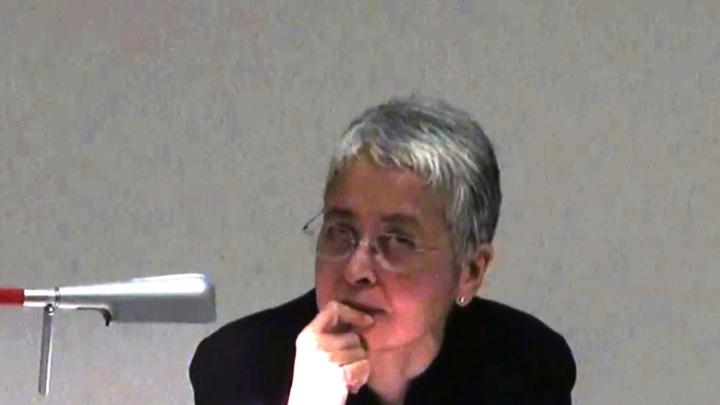 Harvard announced today that conceptual artist and philosopher Adrian Margaret Smith Piper, Ph.D. '81, will receive the 2023 Harvard Arts Medal. President Lawrence S. Bacow will present the award during a prerecorded ceremony at the Harvard Film Archive on April 26, at the start of ARTS FIRST, the University's annual arts festival.  
Known for provocative works that explore issues of race, class, gender, and identity, Piper has exhibited internationally for more than 50 years, producing art in a variety of media—from street performances and sound works to photo-text collages, site-specific and video installations, digital imagery, and drawings on preprinted paper. She often confronts the nature of subjecthood and agency, the limits of the self, and the continuities and discontinuities of individual identity in metaphysical, social, and political contexts.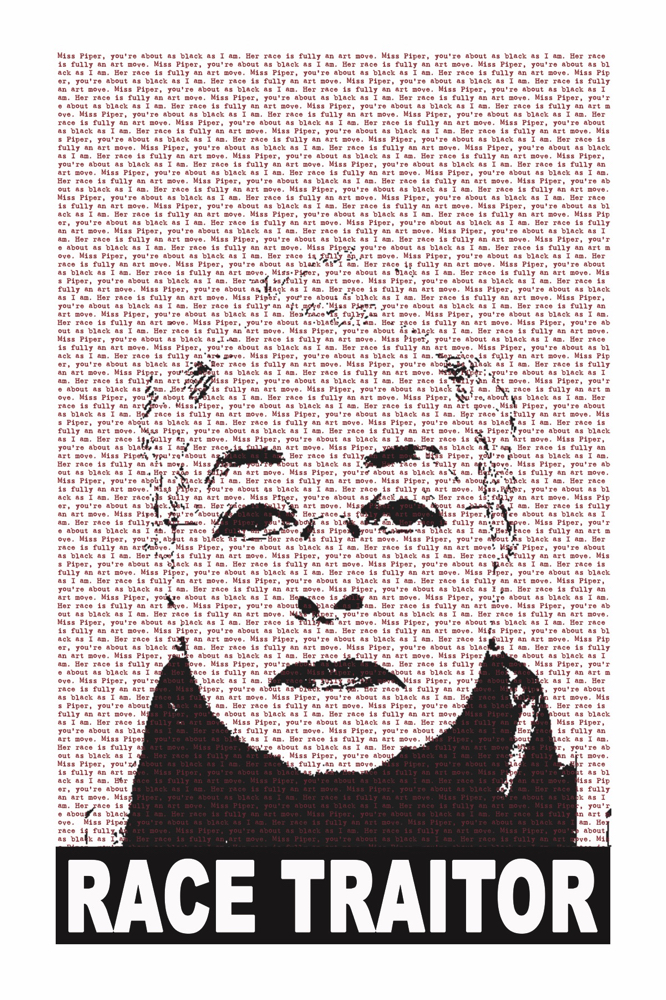 Photograph photo credit: Fotofix. Rennie Collection, Vancouver. © Adrian Piper Research Archive (APRA) Foundation Berlin.
In one of her early works, The Mythic Being, performed from 1972 to 1981, she was filmed walking the streets of New York and Cambridge, dressed as a light-skinned black man in sunglasses, a mustache, and an afro; she recited phrases from her personal journals and challenged other pedestrians to guess her gender, class, and ethnicity. In Funk Lessons, a series of staged performances from 1982 to 1984, Piper taught white audiences about the history of funk, a predominantly black genre, and gave lessons on how to dance to it. The immersive performances played with the distinctions between white and black forms of cultural expression and invited audiences to take active part in making art. Beginning in 2003, Everything, a long-running series of visual works and installations, explored the themes of loss—both personal and political—disorientation, and reinvention. One inspiration for the series was Soviet dissident Alexander Solzhenitsyn's famous quote:  "Once you have taken everything away from a man, he is no longer in your power. He is free."
 "Playfully—and with rigor—Adrian Piper invites us to wriggle free from the terms of transaction, compromise, and the rush to judgment that so often mediate our relationships with others," Tracy K. Smith, professor of English and of African and African American studies, said in a release accompanying the announcement. "Piper's work leads us into states where surprise mingles with awe, unrest, and necessary humility." Smith was the 2019 Harvard Arts Medalist.
Piper's artwork is collected in museums around the world, among them the Museum of Modern Art and the Metropolitan Museum of Art in New York, Centre Pompidou in Paris, Generali Foundation in Vienna, the Museum of Contemporary Art Los Angeles, and Museum Ludwig in Cologne, Germany. She has won numerous awards and fellowships, including from the National Endowment for the Humanities, the National Endowment for the Arts, the Guggenheim Foundation, the Mellon Foundation, the Internationales Forschungszentrum Kulturwissenschaften in Vienna, and the Wissenschaftskolleg zu Berlin Institute for Advanced Study. She has taught philosophy at Harvard; the University of Michigan; Stanford; the University of California, San Diego; and Georgetown University, where in 1987 she became the first female African American tenured professor in the field. Her essays in art and art theory, collected in the two-volume Out of Order, Out of Sight: Selected Essays in Meta-Art and Art Criticism, have remained continuously in print since 1996.
"As an artist, philosopher, teacher, memoirist and engaged citizen, Piper embodies the power of broad and deep inquiry bound by a life of clear integrity," said Matt Saunders, professor of art, film, and visual studies, in a news release. "Piper's early conceptual and performance work cracked open the art world, making space for essential and uncomfortable conversations that resonate to this day."
You might also like
The Crimson springs a major upset.
Harvard officially installs Claudine Gay, its thirtieth leader.
A half-dozen symposiums feature Harvard research on AI, climate change, inequality, and more
Most popular
A community letter as the new administration begins
Solving legal challenges at MoMA
More to explore
A test can identify these productivity-boosting personnel.
Ancient history professor studies coins, ceramics, and Zelda.
Anwar Floyd-Pruitt's wildly profuse art