The Health Benefits of Owning a Pet
Animal companions help their owners live longer, happier lives.
4.11.23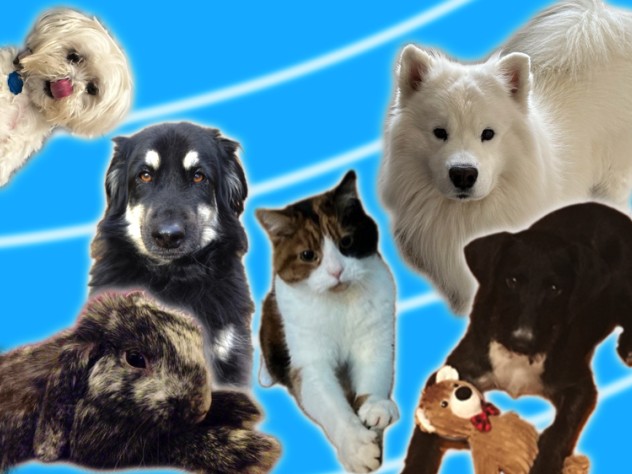 Montage by Niko Yaitanes/Harvard Magazine; Photographs courtesy of: Max Krupnick, Lydialyle Gibson, Jonathan Shaw, Abby Shepard, Niko Yaitanes, Lindsay Mitchell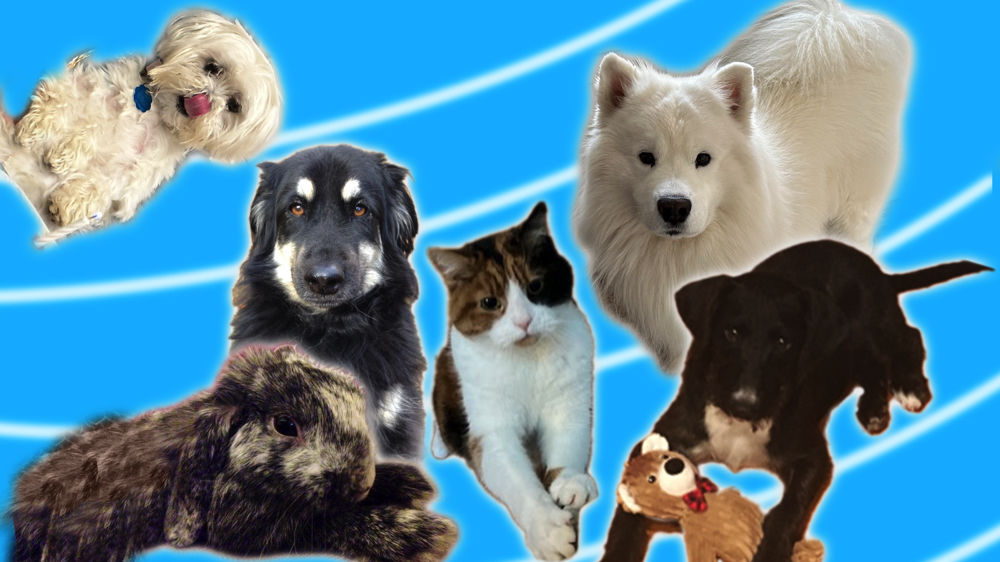 Montage by Niko Yaitanes/Harvard Magazine; Photographs courtesy of: Max Krupnick, Lydialyle Gibson, Jonathan Shaw, Abby Shepard, Niko Yaitanes, Lindsay Mitchell
Today is National Pet Day, and pet owners have another reason to celebrate: their pets are helping them live healthier, longer lives. "Pet owners are less likely to die," said Harvard Medical School clinical assistant professor Beth Frates, citing the American Heart Association's finding that owning a furry (or scaly, or hairy) companion reduces a person's mortality rate by 24 percent.
In a talk yesterday at the Harvard T.H. Chan School of Public Health, Frates and Megan Mueller, associate professor of human-animal interaction at Tufts University's Cummings School of Veterinary Medicine, discussed the health benefits of being around companion animals—whether one owns a pet or not.
From lowering blood pressure to assisting in clinical mental health settings, there are many ways pets make people healthier, according to Frates and Mueller:
Exercise: Research has found that those who own dogs are more likely to achieve 150 minutes of moderate-intensity physical activity each week—the medically recommended guideline. "If you do reach those exercise guidelines, you will have lower blood pressure, you can lower your cholesterol, you can lower your triglycerides," Frates explained. She added that studies show when a pet owner tries to get her obese dog get to a healthy weight, the owner reaps health benefits, too: "Owners will go on more walks for the health of the dog—more so than they will for themselves. Of course, the exercise helps both the animal and the human." Most research focuses on dogs, because they are a popular pet and require frequent walks, but these benefits aren't restricted to dog owners. For instance, Frates noted that riding a horse is a full-body workout.
Social connection: "Anyone who owns a dog, and walks that dog, knows it is an invitation for conversation," Frates says. "It can reduce loneliness and create social connections." Harvard tutors who own dogs often have the most highly attended study breaks (a chance for students to step away from schoolwork and mingle), she continued, referencing a 2015 University video on dogs in the Houses. Animals, in effect, brought more people together, and social connection is critical to a healthy life. According to data from the Harvard Study of Adult Development—which followed a cohort of Harvard graduates for 80 years—having close relationships is one of the top predictors of maintaining good health, even in old age.
Stress resiliency: Petting, playing with, or even just maintaining eye contact with pets, releases oxytocin in the brain, which in turn lowers stress levels in the body. Interestingly, research with dogs has shown that they also get an oxytocin boost from these interactions. Pets boost their owners' stress resiliency by regularly getting them out of the house, into dog parks, and meeting new people. Frates said, "When we are connected, we actually feel less stress, because we can talk to our family, friends, and other connections about how we're feeling."
Sleep: The regular exercise of walking a dog, riding a horse, or playing with pets improves quality of sleep, Frates said. But there's a caveat: "If people choose to sleep with their pets, that means their sleep is often interrupted. We do want people to get seven to nine uninterrupted hours of sleep, so that is something to consider."
Mental health: According to Frates, lifestyle medicine guidelines recommend that people spend 120 minutes in nature each week to lower blood pressure and stress levels—which can often be achieved while playing with, tending to, or walking a pet. Pet fish bring the benefits of nature indoors, too. Studies have found that watching fish lowers a person's blood pressure, and some research has shown that having fish at home helps the owners maintain their own life routines. Research with elderly widows and widowers found that pet ownership instilled necessary routine and responsibility into their days. "Pets provide a powerful sense of purpose—a routine and a responsibility to care for another living creature," Mueller said. "That can provide a driving force for getting someone out of bed in the morning." 
Nutrition: "When you feed your pet, it's usually on a schedule. It turns out, it's good for us to be on an [eating] schedule, too, because it helps us plan what we want to eat helps us make healthier choices," Frates said. Research into the relationship between pet and owner nutrition is still evolving, but she said anecdotally, "More and more people are making food for their pets that is delicious and nutritious, and hopefully that's carrying over to quality of food they make for themselves."
Avoiding risky substances: In a video presented during the panel, veterinarian Kwane Stewart, founder of Project Street Vet that provides care to homeless pets, said that caring for a pet sometimes deters homeless pet owners from substance abuse. "I can't say that my pet is my reason for living," Stewart said, "but for a lot of these people on the streets, that is the case." Frates added that pet ownership can incentivize some people to quit smoking, just as parents concerned about secondhand smoke might nix their cigarette habit.
Therapeutic benefits: Beyond the well-known therapy animals like dogs and cats, mental health clinicians also employ rabbits, birds, llamas, and even guinea pigs in their therapeutic practices. Niki Vettel, a mental health clinician specializing in addiction disorders, shared that structured therapeutic time with guinea pigs has helped her patients practice mindfulness and trust. A video from clinicians at Lovelane Therapeutics—an equine therapy group for children with special needs, in Lincoln, Massachusetts—highlighted how horses can help people physically and mentally. A mother of a child with Down Syndrome noted that when her son first started riding at age three, he could not walk. She believed, however, that the muscular strength and confidence he built while riding was key to him later taking his first steps.
"It's powerful to hear the stories, it's powerful to read the research. But I think the most powerful thing is the experience of actually being with animals," Frates said. Fittingly, the organizers treated audience members to a "pet play date" after the talk, featuring therapy animals Sophie the Golden Retriever and Hermie the guinea pig.