The 2023 Pulitzer Prizes
Carl Phillips and Hua Hsu honored in poetry and memoir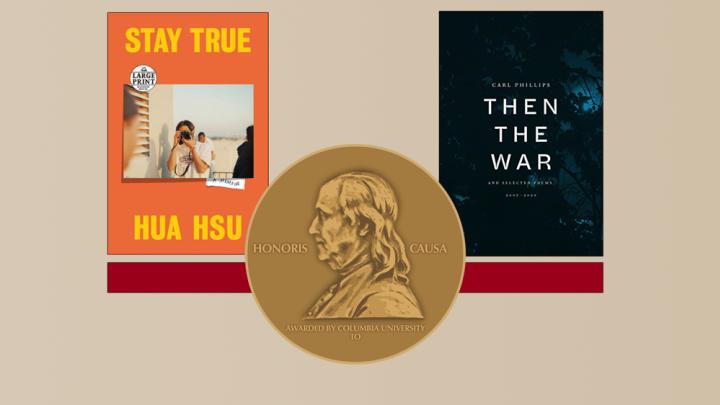 Poet Carl Phillips '81 won a Pulitzer Prize on Monday for Then the War: And Selected Poems, 2007-2020, a collection that the prize committee called a "masterful" chronicle of American culture "as the country struggles to make sense of its politics, of life in the wake of a pandemic, and of our place in the changing global community." An enduring and ever-evolving writer who once referred to his work as an "ongoing quest," Phillips is a professor of English at Washington University in St. Louis. His poems have long explored questions of power, sex, love, death, history, morality, and the experience of queerness. Then the War blends new poems with selections from his previous books, as well as his 2020 lyric prose memoir "Among the Trees," and a chapbook, Star Map with Action Figures. 
Hua Hsu, Ph.D. '08, was honored with a Pulitzer for his memoir Stay True. A New Yorker staff writer and literature professor at Bard College, Hsu is the son of Taiwanese immigrants and grew up in Illinois, Texas, and California. His work often explores immigrant culture and experiences. The Pulitzer committee described Stay True, which also won the National Book Critics Circle Award, as an "elegant and poignant coming-of-age account." A New York Times review called it "exquisite and excruciating." The memoir recounts Hsu's brief but intense friendship with Ken, a perfectly assimilated Japanese-American fraternity brother, whom Hsu meets as a Berkeley college student during the mid-1990s. The two form an unlikely but extremely close bond. Less than three years later, though, Ken is killed in a carjacking. Hsu has been working toward this book ever since, an exploration of friendship, grief, the permanent alterations of random violence, and the solace of art. 
Two other Harvard affiliates also won Pulitzers: Caitlin Dickerson, a staff writer at The Atlantic and a fellow this spring in the Harvard Kennedy School's Shorenstein Center on Media, Politics and Public Policy, won for her reporting—including a 30,000-word investigative cover story last August—on the Trump administration's Zero Tolerance border policy, which forcefully separated migrant children from their parents. That policy has resulted, as the Pulitzer committee noted, "in abuses that have persisted under the current administration." And musical star and polymath Rhiannon Giddens won for the opera Omar, based on the autobiography of Omar Ibn Said, an Islamic scholar from West Africa who was enslaved in 1807 and brought to Charleston, South Carolina. Enslaved for the rest of his life (despite a brief escape), he wrote Arabic-language works of theology and history, as well as his autobiography, which was composed in 1831. Giddens, who is artistic director for the Harvard-affiliated arts organization Silkroad, composed the libretto and music for Omar. She shared the Pulitzer with Michael Abels, who orchestrated the opera, which the Pulitzer committee described as, "expanding the language of the operatic form while conveying the humanity of those condemned to bondage."
You might also like
The Crimson springs a major upset.
Harvard officially installs Claudine Gay, its thirtieth leader.
A half-dozen symposiums feature Harvard research on AI, climate change, inequality, and more
Most popular
A community letter as the new administration begins
Solving legal challenges at MoMA
More to explore
A test can identify these productivity-boosting personnel.
Ancient history professor studies coins, ceramics, and Zelda.
Anwar Floyd-Pruitt's wildly profuse art