Commencement Confetti
Affinities Affirmed
There are now eight University-wide affinity group celebrations on the Monday and Tuesday preceding Commencement proper. Student groups honored graduates representing LGBTQ+; Black; Indigenous; Latinx; Arab; and Asian American, Pacific Islander, and Desi American (APIDA) identities, as well as those with disabilities and those from first-generation and low-income backgrounds (learn more at harvardmag.com/affinity-23). Among the First-Gen cohort (shown right), Muska Fazilat, M.P.P. '23, and Melika Ahmadilari, Rehana Al-Soltane, and Jingwen Shan (all Ed.M. '23) proudly display their group sashes. (See here for a report on a new summer academic program for students enrolling in the College from under-resourced schools.)
Tech Tumble
The technology industry's post-pandemic downshifting has been punctuated by large layoffs at Alphabet, Amazon, Meta, Microsoft…all the way to Zoom. Further evidence of softness in the sector perhaps shows up in the Crimson's senior survey. This year, of 1,193 members of the class of 2023 contacted, 652 responded. Of the 59 percent joining the workforce (down from 67 percent last year), 22 percent are headed for finance and nearly 20 percent for consulting—within an eyelash of the 2022 choices. But just 12 percent checked tech, down from 17 percent the prior year. Perhaps refreshingly—for those who value education and/or hope the new graduates enjoyed their College experience—more than 20 percent of the 2023 cohort were headed for graduate or professional school, up more than five points from class of 2022 respondents.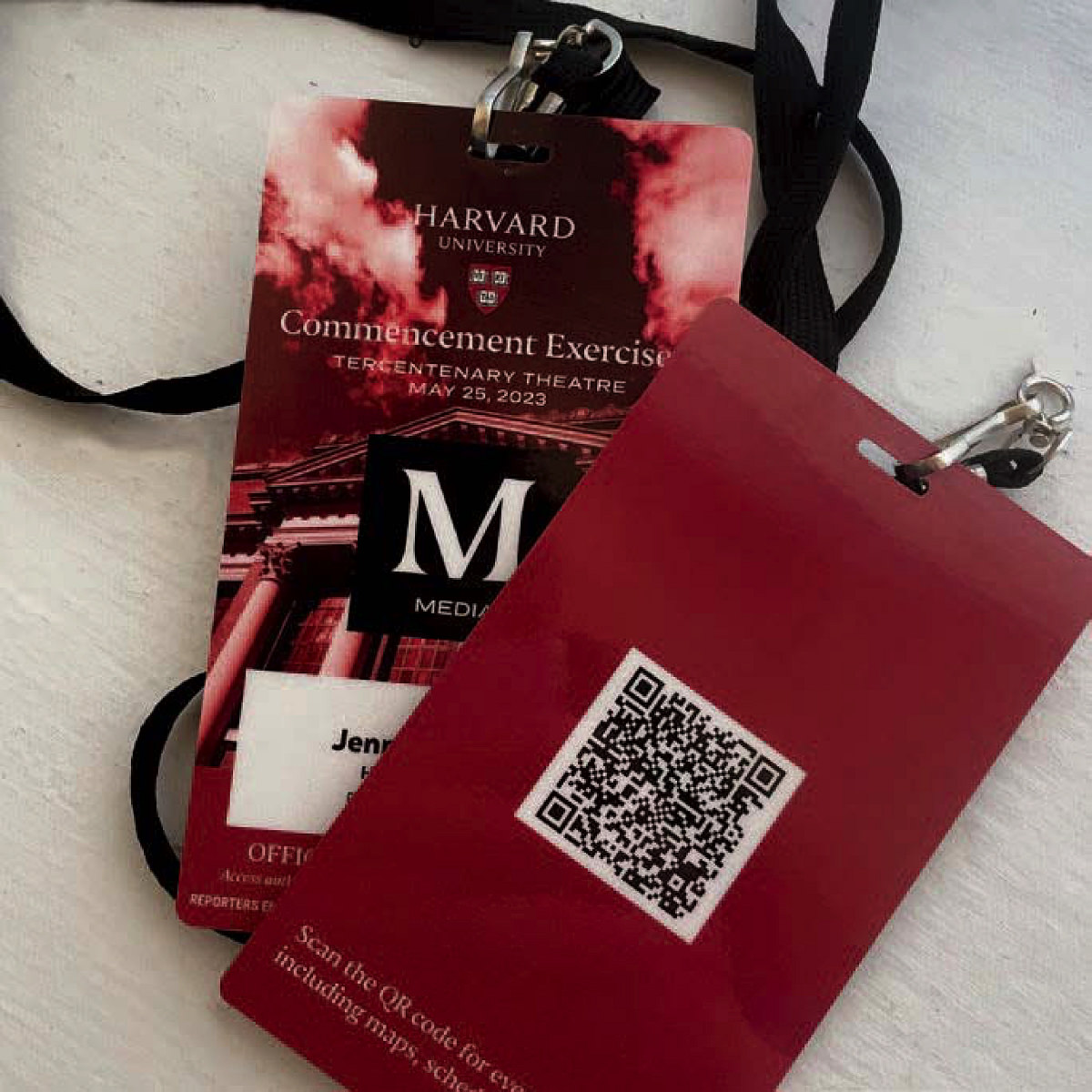 Crimson Code
Scan all about it! Just about everything connected with Commencement these days—the traditional program, media credentials, even video screens—displays a QR code to guide those with smartphones (and too much time on their hands queueing to enter Harvard Yard Thursday morning or waiting for the proceedings to begin) to a way to access something official to read about what they are about to experience.
Schools Supersized
Including those awarded last November and this March, Harvard conferred 9,265 degrees during the academic year—most of them, of course, on May 25 at the 372nd Commencement, when most graduating students attended, swelling the audience to record proportions as students who took leaves or deferred enrolling during the pandemic completed their courses of study. Among the largest cohorts: the College, 1,731; Graduate School of Arts and Sciences, 1,245 (including 702 Ph.D.s); Business, 991; Law, 753; Kennedy School, Engineering and Applied Sciences, and Graduate School of Education, neck-and-neck-and-neck at 676 and 668 and 666, respectively; and Public Health, 617. The sleeper in the pack—frequently the case these days, reflecting both the pandemic and rising use of online learning in general—was the Extension School, 1,471 (including 1,303 at the master's level).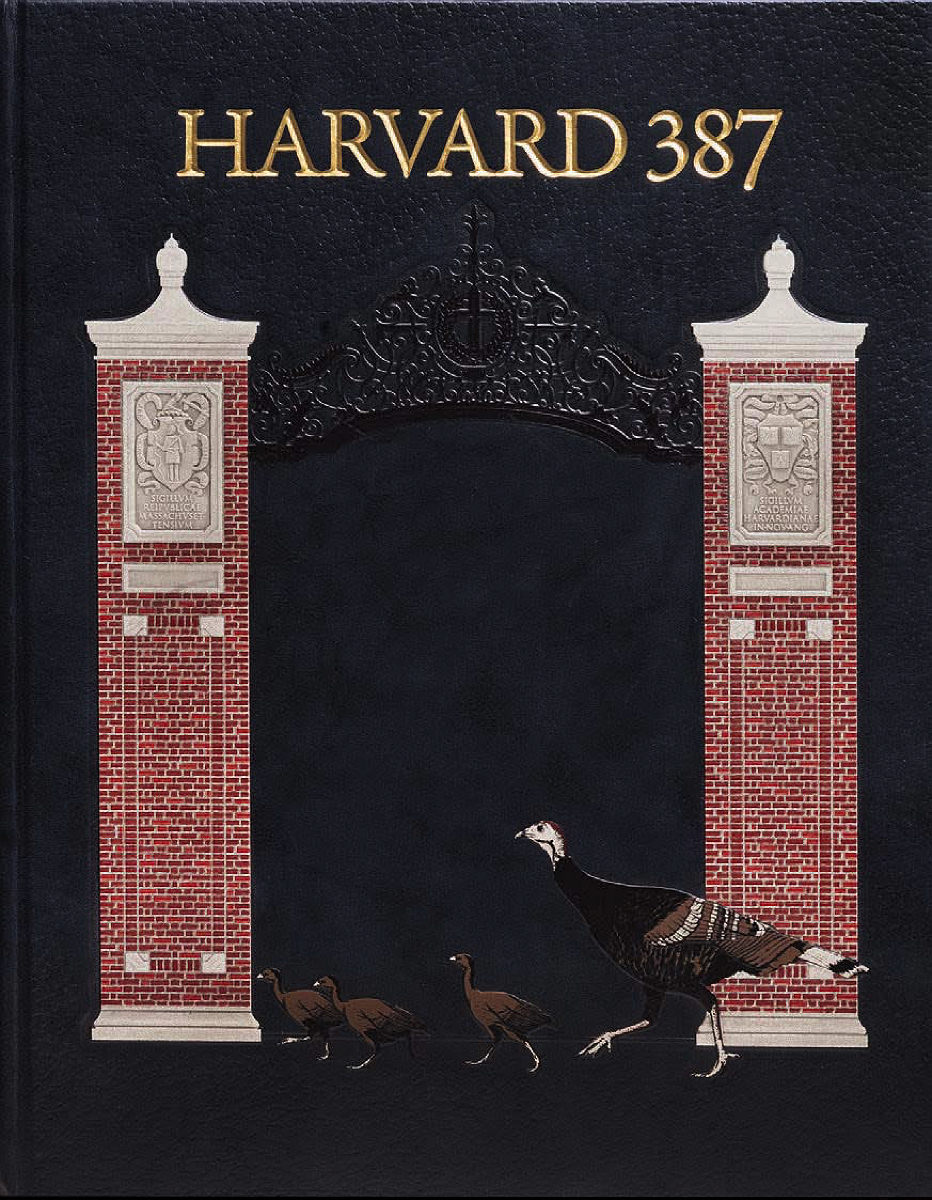 Photograph by Jim Harrison
Turkey Trot
No campus creatures prospered more during the pandemic than the resident wild turkeys. Roosting on Loeb House, lounging around the lower entrance to Lamont, grazing across the Houghton Library lawn, or slow-stepping across Mass. Ave., they became celebrities: social media stars, a subject of tourist astonishment, and a (somewhat) welcome antidote to citified Cambridge as their numbers and presence grew. Now, they have been memorialized in Harvard history, courtesy of the cover of the 2023 yearbook.
Fay Prize
The Radcliffe Institute awarded its traditional Captain Jonathan Fay Prize, which recognizes especially distinguished theses, to three College seniors: Sílvia Casacuberta Puig, for work on "algorithmic fairness, computational complexity, and combinatorics," according to adviser Salil P. Vadhan, Joseph professor of computer science and applied mathematics; Caleb King, who researched what Biblical Hebrew sounded like to its native speakers, advised by Julia Rhyder, assistant professor of Near Eastern languages and civilizations; and Leo Saenger, who studied folklore motifs and oral histories to determine societies' attitudes toward the aged, advised by Nathan Nunn, former Abbe professor of economics.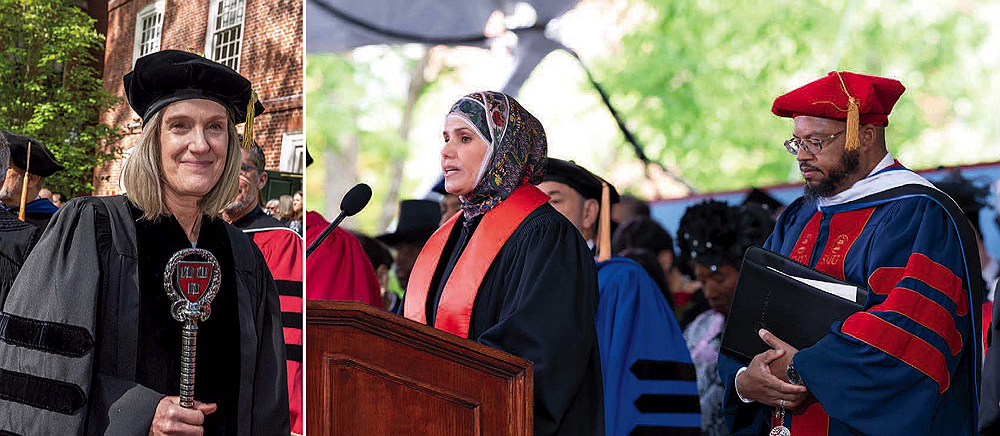 Photographs by Jim Harrison
Fresh Faces
New on the Commencement platform at Memorial Church this year were Katherine G. O'Dair, appointed University Marshal effective last October, who assumed some of the master-of-ceremonies roles performed by Provost Alan M. Garber in recent years. Another novelty was joint chaplains of the day: Harvard's first full-time Muslim Chaplain, Khalil Abdur-Rashid, and Samia Omar, the first Muslim woman chaplain (they are a couple)
You might also like
The context for Harvard Management Company's 2023 results
The Crimson outlasts the Bears in an Ivy nighttime shootout.
The first in a series of public conversations about Harvard and the legacy of slavery
Most popular
First-years Ngozi Musa and Gabby Thomas help set the pace for track and field.
A negative investment return and annual spending reduce the endowment's value 5.1 percent.
The director of Head Over Heels and The Star, on animation's different dimensions
More to explore
A test can identify these productivity-boosting personnel.
Ancient history professor studies coins, ceramics, and Zelda.
Anwar Floyd-Pruitt's wildly profuse art