News in Brief
Changes at the Top
The day before Commencement, the Corporation announced two changes in personnel—one expected and one not. Paul J. Finnegan '75, M.B.A. '82, a Corporation member since 2012 and the University's treasurer since 2014, will cede the latter responsibilities to Timothy R. Barakett '87, M.B.A. '93, a Corporation member since 2019, ensuring that an experienced treasurer is in place when Finnegan completes his governing-board service. Separately, David M. Rubenstein, who joined the Corporation in July 2017, will conclude his service, rather than continue for a second six-year term. This is not unprecedented: James W. Breyer, M.B.A. '87, served for just six years, ending his term in 2019. Rubenstein co-chaired the Harvard Campaign and has himself made notable gifts to the Kennedy School and, more recently, the planned University conference center (see "Theater and 'Treehouse' in Allston," March-April, page 18). He chaired Duke's board of trustees from 2013 to 2017, and now performs the same duties at the University of Chicago.
For details on these transitions and broader changes in Harvard's financial management and oversight, see harvardmag.com/finance-lead-23.
The Chief
President-elect Claudine Gay has named Katie O'Dair her chief of staff beginning July 1—the first significant appointment for the new administration. O'Dair, who became Harvard College dean of students in 2016, was appointed University Marshal in 2022 and will continue to oversee the marshal's office. That broad set of responsibilities, Gay said in an announcement, "will strengthen connections within Harvard and with the larger community beyond Harvard, in keeping with my commitment to ensuring that Harvard, in its values and structures, is engaged in the world."
What They Earned
The University's senior leaders' compensation was disclosed in the annual tax filing, released in May. For fiscal year 2022, President Lawrence S. Bacow earned $1,048,985 plus additional compensation of $281,215 (principally the value of the Harvard-provided official residence, Elmwood). Harvard Management Company chief executive N.P. Narvekar and chief investment officer Richard Slocum—whose compensation is reported for calendar year 2021—earned $8.75 million and $7.0 million, respectively, adjusting for deferral of salary and incentive-based income. Full details are reported at harvardmag.com/harvard-pay-23.
Underwriting Arts and Sciences
On April 11, Harvard announced a $300-million unrestricted gift to the Faculty of Arts and Sciences from Kenneth C. Griffin '89, founder and chief executive officer of Citadel LLC, the hedge fund and financial services company. Combined with a 2014 gift of $150 million (principally for undergraduate financial aid) and other philanthropy, his support for the University now totals more than a half-billion dollars, in recognition of which the Graduate School of Arts and Sciences will now bear Griffin's name. "His choice to support FAS underscores the power of education to transform lives and to expand the reach of our research in every field imaginable," President Lawrence S. Bacow said. "I am deeply and personally appreciative of the confidence he has placed in us…to do good in the world." Griffin said FAS is "committed to advancing ideas that will shape humanity's future while providing important insight into our past," adding that he is "excited to support the impactful work of this great institution." Read a full report at harvardmag.com/griffin-fas-23.
Legal Aid
As of July 1, Harvard Law School's Low Income Protection Plan will now fully cover loan repayments for qualifying individuals or graduates pursuing government and nonprofit service who earn up to $70,000—up from $55,000 previously. Other LIPP-eligible participants will also pay less monthly toward their law school loans. And J.D. alumni who are enrolled in the federal Public Service Loan Forgiveness Program (who commit to working in designated public service roles for at least a decade) can now earn up to $110,000 before contributing toward repaying qualifying loans.…Separately, the school and the Paul, Weiss law firm have launched a Future Leaders in Law fellowship program. It aims to prepare college students from first-generation and less advantaged socioeconomic backgrounds for legal education through a fully paid weeklong summer residency on campus to engage with faculty, staff, students, and alumni; subsequent test preparation services; a visit to the firm's New York offices to meet practitioners; and continuing mentorship. The initial cohort will include 35 participants.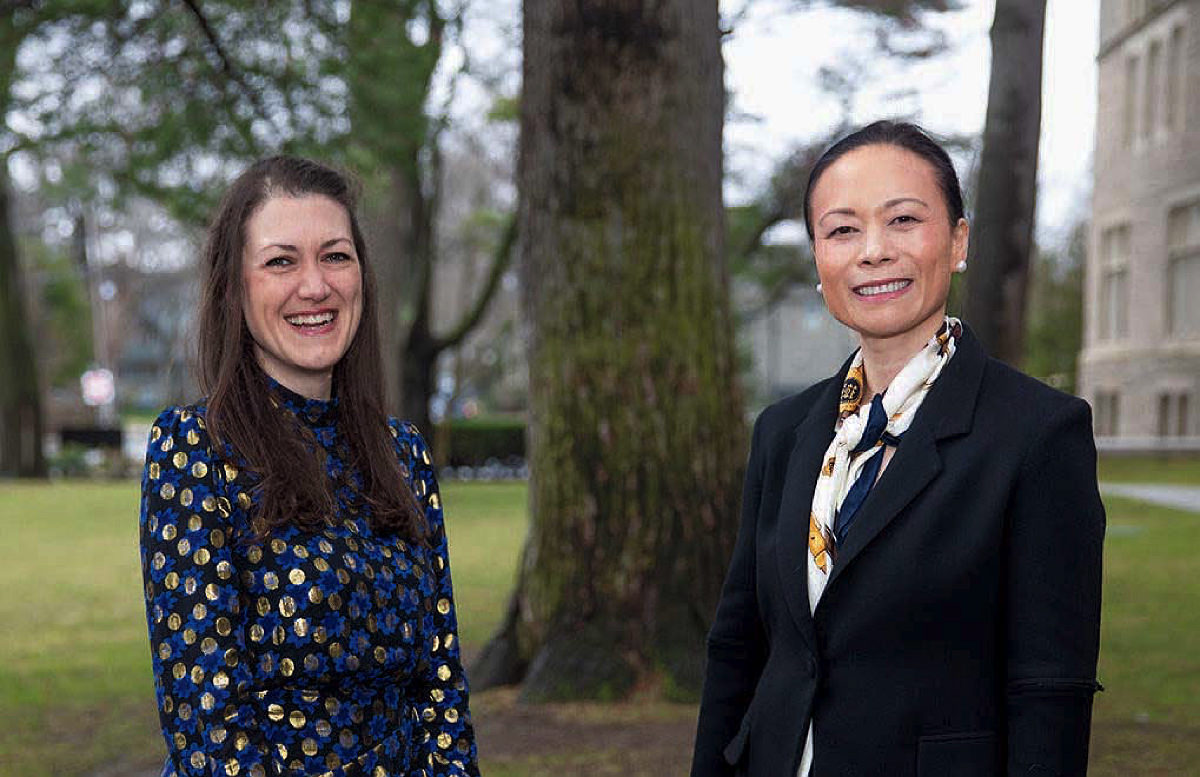 Overseers' Leaders
Meredith Hodges '03, M.B.A. '10, executive director of the Boston Ballet, will serve as president of the Board of Overseers during the 2023-2024 academic year. Geraldine Acuña-Sunshine '92, M.P.P. '96, a healthcare and biomedical research nonprofit leader, will serve as vice chair of the executive committee. Their service coincides with the final year of their six-year Overseer terms—and perhaps represents a transition to a new generation of governing board leadership: they succeed Paul Choi '86, J.D. '89, and Leslie Tolbert '73, Ph.D. '78.
Investing in Cities
The Kennedy School unveiled the Bloomberg Center for Cities at Harvard, a locus for executive education and training programs for mayors, fellowships for urban public servants, and research. Former New York City mayor Michael R. Bloomberg, M.B.A. '66, LL.D. '14, visited campus on April 18 to inaugurate the center, which provides a fixed home for the Bloomberg Harvard City Leadership Initiative, an ambitious executive education program. Among the elements of the joint initiatives are 10 endowed faculty positions; fellowships; and new executive-education offerings on human resources, civic engagement, and economic development. Adapting a mayoral practice, President Lawrence S. Bacow gave Bloomberg a key to the University.
Academic Disparities
A Hechinger Report analysis of tuition costs, published in March, revealed that during the decade beginning in academic year 2010-2011, nearly 700 colleges and universities "raised the prices paid by their lowest-income students more than the prices paid by their highest-income ones." That reflects reduced state support for public institutions' budgets and "intensifying competition for students from high-income families, who contribute badly needed revenue and who increasingly expect to receive scholarships and discounts" themselves.…As Harvard builds partnerships with historically black colleges and universities (HBCUs; see "Acting on Slavery's Legacy," May-June, page 13), ABFE, a philanthropic organization advocating investments in black communities, and Candid, a philathropy data service, have reported on one element of the gap in resources between those schools and elite, endowed institutions. A study on foundation grants between 2015 and 2019 reveals that the average Ivy League institution received 178 times as much funding as the average HBCU. The aggregate sums totaled $5.5 billion for the eight Ivies versus $303 million for the 104 public and private HBCUs analyzed. HBCUs conferred 13 percent of the bachelor's degrees awarded to black students in the United States in 2021.
Higher-Ed Politics
A Wall Street Journal-NORC survey released in March found that just 42 percent of those polled considered a four-year college degree worth the cost in terms of job and income gains—down from 49 percent in 2017 and 53 percent a decade ago. Poll questions vary, but in general, support for higher education, when framed in these terms, continues to erode, reflecting concern about costs and, in the current economic environment, plentiful jobs. The latter may explain the particularly negative view toward college held by those surveyed who are aged 18 to 34 years.…With Florida Governor Ron DeSantis, J.D. '05, making criticism of public colleges and universities in his state (for their diversity and inclusion efforts, instruction in critical race theory, tenuring practices, and speech issues, among others) part of his presidential campaign, former President Donald Trump has weighed in, too. In a May video, he promised actions "protecting students from the radical Left and Marxist maniacs infecting educational institutions." Inside Higher Education noticed his assault on accreditation: a possible point of leverage to deny institutions access to federal financial aid funds. As president, Trump directed the Department of Justice to litigate against the use of affirmative action in admissions; if re-elected, he promised to sue schools that "continue to engage in racial discrimination" and to seek fines "up to the entire amount of their endowment."
Admissions Outreach
A newly formed Small Town and Rural Students (STARS) College Network has been established to open pathways to higher education for students from areas often underrepresented at colleges and universities distant from their home communities. Among the 16 initial member institutions are Brown, Caltech, Columbia, MIT, Northwestern, the University of Chicago, Washington University, and Yale.…The Brown Daily Herald reported that that institution is experimenting with changes to its supplemental admissions-essay questions to provide opportunities for applicants to better share information about their lives, experiences with discrimination, or hardships overcome. The pilots, the paper reported, are part of Brown's preparation for anticipated Supreme Court-mandated changes in holistic admissions processes in which consideration of applicants' race has been allowable.
Short Takes
Harvard Divinity School's renovated Swartz (formerly Andover) Hall has been awarded LEED Platinum certification, the U.S. Green Building Council's highest rating for sustainability; see "Reopening…Carefully" (November-December 2021, page 13).…The Office of Career Services has been renamed the Mignone Center for Career Success, honoring a gift from Allison Mignone '94, M.B.A '99, and Roberto A. Mignone '92, M.B.A. '96; their donation enabled the center to renovate its space, on Dunster Street, and to introduce technological tools, such as an online platform for practice interviews.…The Kennedy School's Project on American Indian Economic Development, bolstered by more than $15 million in gifts, has been recast as the Project on Indigenous Governance and Development, with an expanded focus on contemporary Indigenous governance, leadership, and economic growth.
You might also like
The first in a series of public conversations about Harvard and the legacy of slavery
How to encourage free speech and inquiry on campus
A new play at the A.R.T. provides a modern take on ancient mythologies   
Most popular
Brief life of a formidable anthropologist: 1903-1991
First-years Ngozi Musa and Gabby Thomas help set the pace for track and field.
A negative investment return and annual spending reduce the endowment's value 5.1 percent.
More to explore
A test can identify these productivity-boosting personnel.
Ancient history professor studies coins, ceramics, and Zelda.
Anwar Floyd-Pruitt's wildly profuse art