John Harvard's Journal
Theater and "Treehouse" in Allston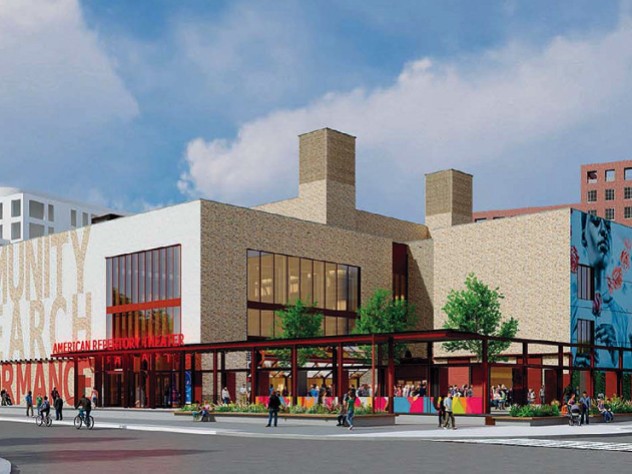 Rendering courtesy of Architectural Resources Cambridge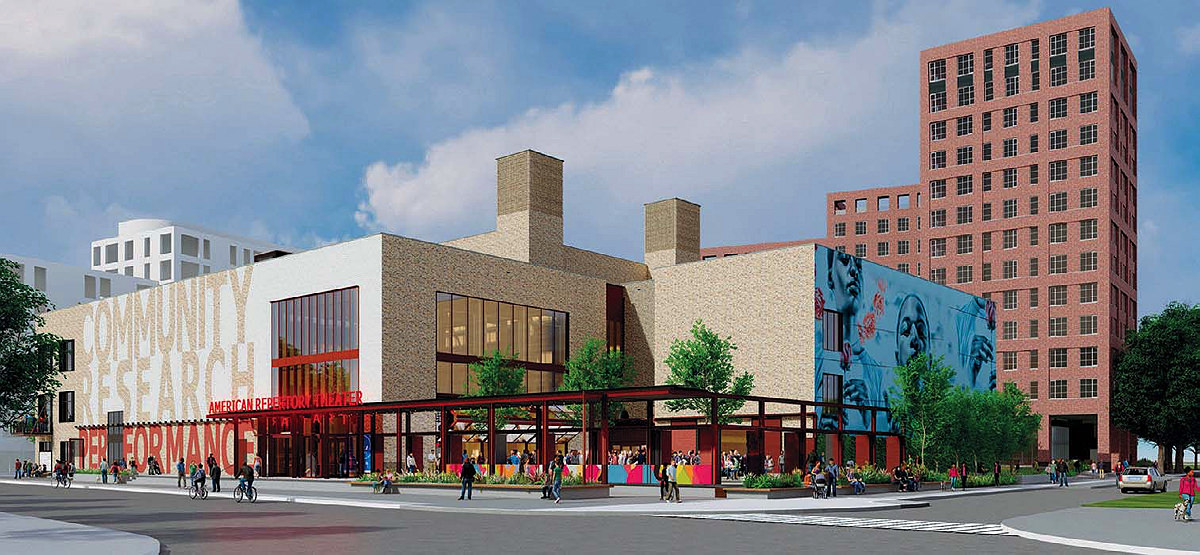 Rendering courtesy of Architectural Resources Cambridge
Harvard has unveiled its plans for two projects in Allston: a performing arts center at 175 North Harvard St. that will house the American Repertory Theater, currently operating in the Faculty of Arts and Sciences-owned Loeb Drama Center at 60 Brattle St. in Cambridge; and a conference center dubbed "the Treehouse," fronting Western Avenue across from Harvard Business School, that will mark one entrance to the as-yet unbuilt enterprise research campus (ERC).
The performance center will join other Allston arts-focused venues, such as the ArtLab, which opened in 2019. The 68,000 square-foot facility, designed for a combination of professional practice and student learning, will include two flexible performance spaces—an auditorium with a 700-seat capacity, and a smaller theater of 300 seats. David E. Goel '93, cofounder and managing general partner of the hedge fund Matrix Capital Management Company LP, previously described a "versatile theater space that can be reshaped as appropriate to express and share the abundant ideas originated by the College, the American Repertory Theater, and Harvard's community already at home in Allston—and connect them through music, dance, theater, debate, lectures, conferences, and dialogue in any format." Goel and his wife Stacey donated $100 million to catalyze the A.R.T.'s move to Allston. (As reported earlier, a portion of their gift will be used to update the Loeb, built in 1960. In a statement, the University said that "as planning progresses for the A.R.T.'s new home in Allston, Harvard will also begin preliminary planning for future potential uses of the Loeb….Possible uses include classroom, practice, and performance space for students, faculty, and staff.")
During a meeting with Allston residents, architect Tom Gibson, of London-based architects Haworth Tompkins Ltd. (a firm that has led numerous theater projects internationally), described the smaller theater as "partly inspired by the Oberon space…" (a Harvard Square venue previously leased by the A.R.T. that was home to the award-winning "Donkey Show"). He added that the theater's "flat floor space" could be reconfigured for "all sorts of different activities and seating formats," with wheelchair-accessible upper galleries. The larger theater will be even more flexible, he said, with rising "seating galleries that can all fold up against the wall to create a level, flat floor," enabling the space to look entirely different from one show to the next.
On the same 2.7-acre site—south of Harvard Stadium and the McCurdy Track—the University proposes constructing a 14-story apartment building, designed by the New York architecture firm Marvel, to house affiliated students, faculty, and staff. The site, once envisioned as home for a basketball arena and housing, is adjacent to the Continuum apartment and retail complex at Western Avenue.
Although the planned performing arts center is similar in size to the previously proposed basketball venue, and is likely to see similar patterns of use (evening and weekend performances), it will attract adifferent audience, and at a considerably smaller scale. The basketball arena was to have seated 3,000; that project included 275 parking spaces. The arts center, by contrast, is designed to accommodate up to 1,000 patrons, and—served by a presumably much-improved transportation infrastructure—includes just 75 parking spaces, all underground, below the proposed 264-unit affiliated housing complex.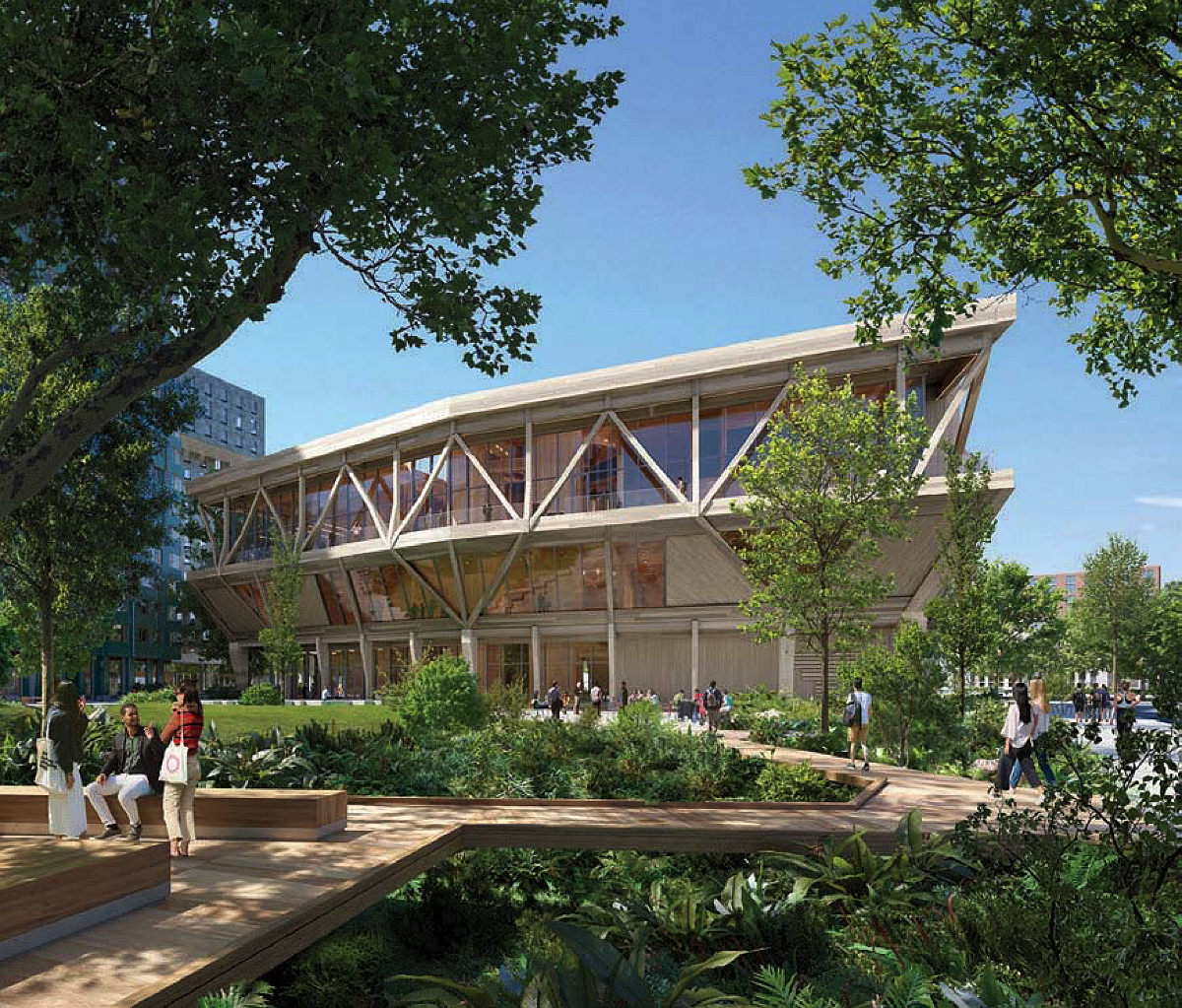 Rendering courtesy of Studio Gang
Plans for another type of convening venue in Allston, a University-wide conference center on Western Ave., were announced on December 14. Designed by Studio Gang, the architecture and urban design firm headed by Jeanne Gang, M. Arch. '93, the conference center will include several flexible gathering spaces above a public ground floor. In a statement, the University said that the center will become "a focal point for programs ranging from international summits to alumni events, conference receptions, and workforce recruiting activities," and serve as a resource for Harvard's burgeoning executive education programs. It will also be the only Harvard-operated facility in the ERC.
Discussing the building's design echo of a treehouse, Gang noted that the upper levels of the conference center will "feel almost suspended within the surrounding tree canopy, like being in a tree house…" and thus become "a very special destination…." Planners anticipate that the timber-framed structure—named the David Rubenstein Treehouse in recognition of a gift from Harvard Corporation member David Rubenstein—will bridge the academic and commercial worlds, creating a space where faculty and students can meet and collaborate with industry partners and visitors.
The year ahead will thus include further incremental expansion of the University's presence in Allston. Learn more at harvardmag.com/arts-center-22 and harvardmag.com/treehouse-22.