"The Wonder Out There"
Rambling around the Quabbin Reservoir
For Elena Palladino, Ed.M. '13, the Quabbin Reservoir preserve in central Massachusetts is more than a wild place to explore. During the last six years, she has delved into the history of the region—and the lives of those forced to leave their communities in 1938 so the land could be flooded to create a desperately needed water supply for Greater Boston.
More than 2,000 people were displaced, and all buildings and vegetation methodically destroyed in the Swift River Valley towns of Dana, Enfield, Prescott, and Greenwich. Among the evacuees was Marion Andrews Smith. Unable to relocate her family's grand 1896 Victorian home in Enfield, she instead took what she could—floors, hardware, trim, and a grand staircase—and had them installed in a new house she built in the adjacent town of Ware.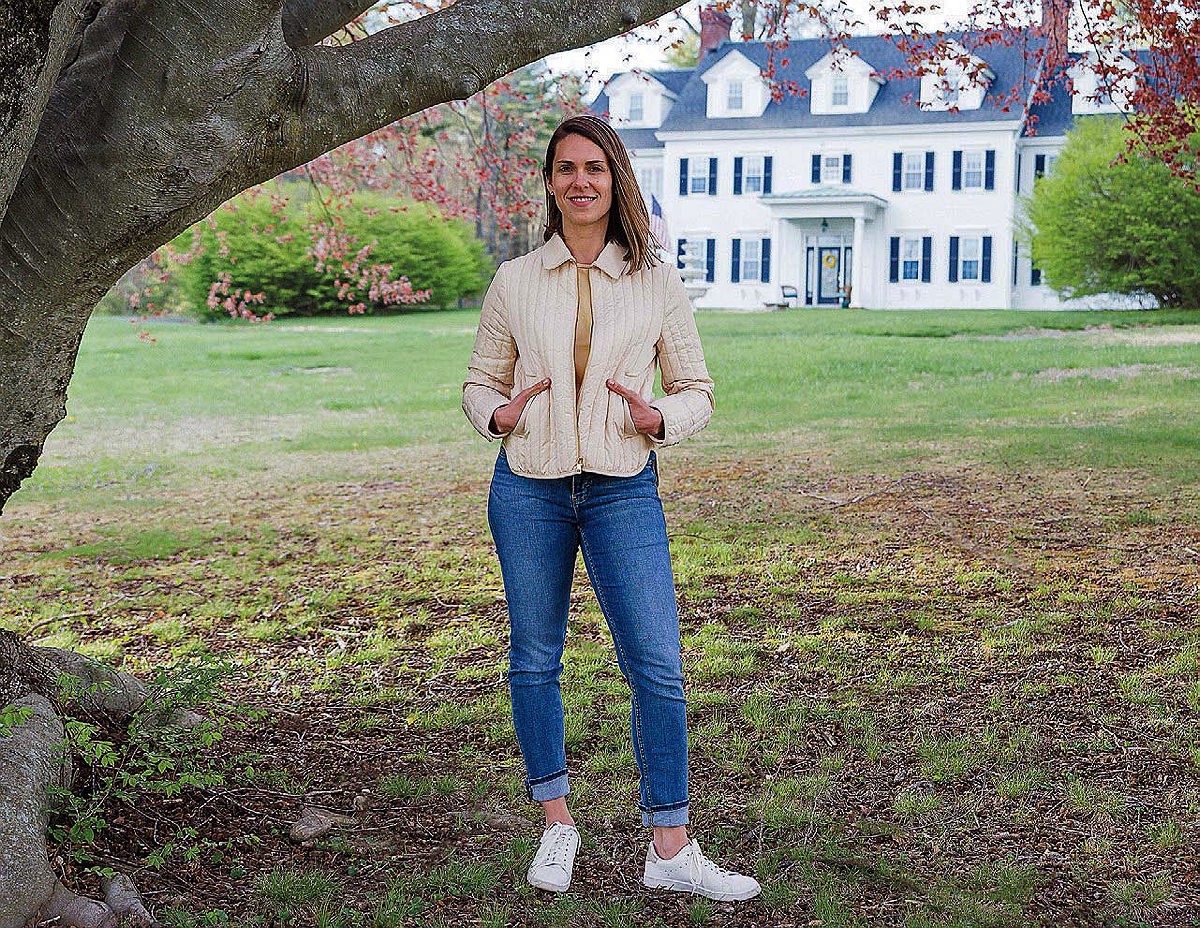 Photograph courtesy of Hillary Lynn Photography
In 2015, Palladino and her husband bought that stately neo-colonial on a hill. "We both just fell in love with it," Palladino says, "and didn't actually know anything about its history until after we moved in and heard our neighbors call it the 'Quabbin house.' And then I was intrigued."
Her curiosity led to one painstaking archival search after another, and into the rich subculture of those who are devoted to preserving artifacts and stories from these former towns. People like the members of the Swift River Historical Society, Friends of Quabbin, and those in charge of collections of documents and photographs held by the University of Massachusetts Amherst. Palladino ultimately amassed enough information for a book, Lost Towns of the Swift River Valley, published last year.
"There are quite a few books about the Quabbin that have a lot of factual information," she says, "but I was really drawn to the human side of the story." She covers the advent of the reservoir, the farewell ball where residents danced until 2 a.m., and the stories of Marion Smith and two other pivotal Enfield figures, country doctor Willard Blossom Segur and businessman Edwin Henry Howe.
Smith was born and raised in Enfield's Smith Village, named for her family, which owned a woolen mill. She resisted the forced evacuation in small ways, Palladino says, refusing to be buried in the state-sponsored cemetery, and holding out until her home was taken by eminent domain. Moving to Ware, she was joined in the new house by her longtime housekeeper and chauffeur and their daughter, Marian—who had become like family. "Marion was 77 when she had to move," Palladino notes. "What I think I was after with all this research is what did it feel like for her to have to leave?"
Palladino gives presentations on her book and research, with several scheduled events, including a talk at the Swift River Valley Historical Society (September 9), and is starting to hold tours of her house to share what she's learned (check her site, quabbinhouse.com, for details). "I feel lucky to live 10 minutes from Quabbin and love hiking, walking, and biking there," she says. "But I do think it's important to remember that the beauty is also born of sadness and loss."
The Wachusett Reservoir, completed in 1905, temporarily assuaged Boston's need for water; it displaced some 1,700 residents, but only parts of a few towns were razed. With the advent of indoor plumbing and a surging population, however, more water was needed. In 1927, the state legislature passed the Swift River Act, appropriating money to build the new reservoir, and sealing the four towns' fate. Engineers soon arrived in the valley, followed by thousands of young men hired to clear the trees and landscape. Most of the residents were gone by the time Smith packed up in 1938 and "curiosity seekers and impertinent antiques collectors" had descended, scavenging for treasures, Palladino writes. The reservoir workers were still tearing down "every tree, barn, home and shrub, representing years of work and security to someone," Smith told the Springfield Republican at the time, unaware "that they are wreaking more than physical devastation."
Ultimately, all structures and vegetation were either relocated or destroyed, Palladino said during a talk at the Medford public library, even "all of the bodies in valley cemeteries had to be exhumed and moved. All the brush and trees …were cut to the ground and removed or burned. And so, there was nothing left when the valley filled with water."
On what would become the southern end of the reservoir, the new Winsor Dam (in Belchertown) and Goodnough Dike (in Ware) held the rising waters; it took seven years, from 1939 to 1946, to fill the denuded site. Today, the bowl holds up to 412 billion gallons of water and covers 25,000 acres within a 120,000-acre watershed; the hilly, forested shoreline supports wildlife and trails accessible by foot (and some by bike) via numbered gates (although gates 17-21 are off-limits).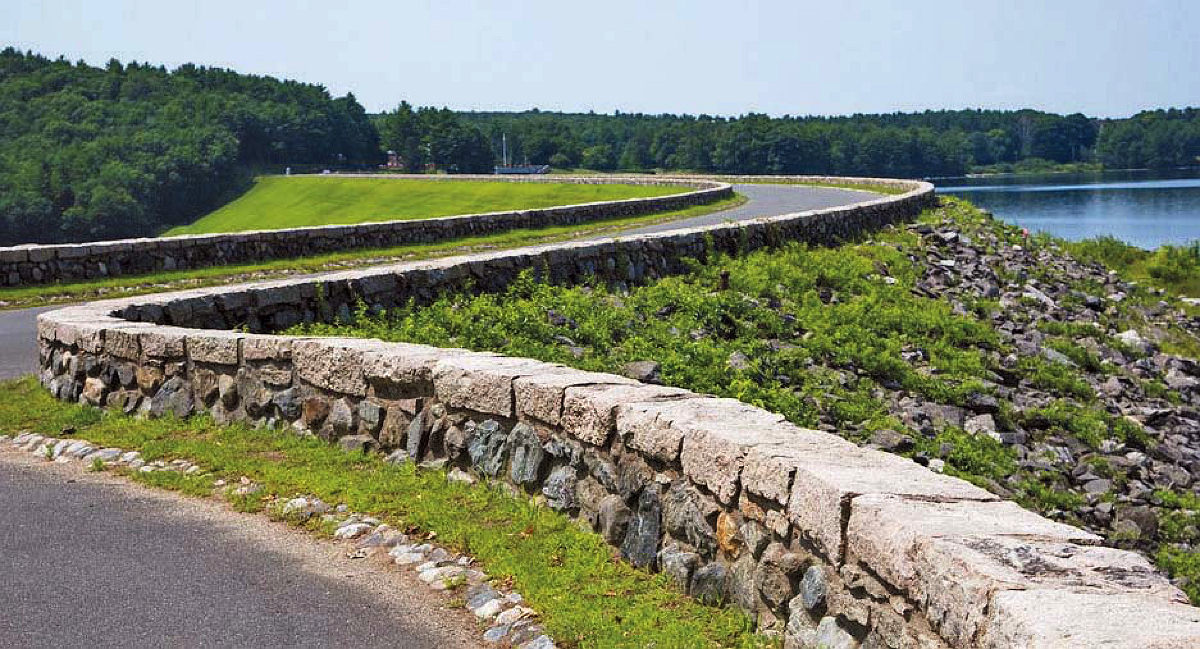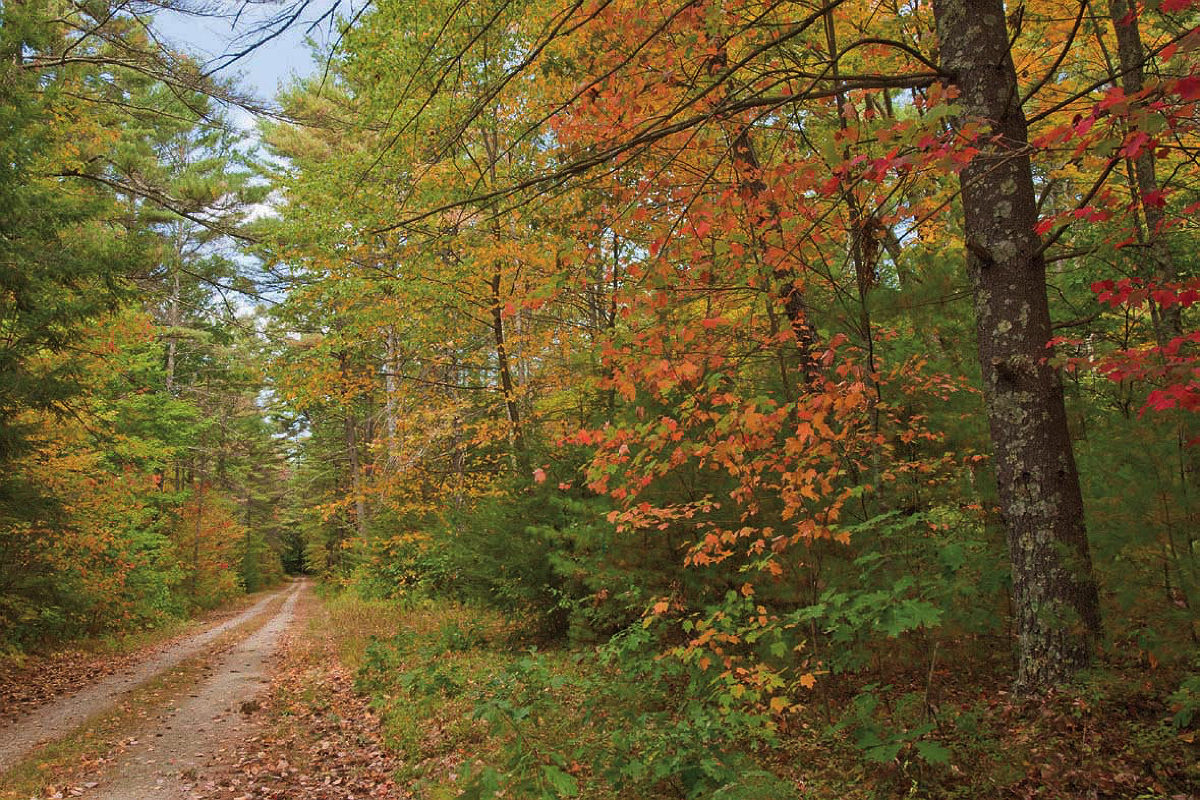 Photographs by James M. Hunt/Alamy Stock Photo
The Massachusetts Water Resources Authority (MWRA) manages the system, but the Department of Conservation and Recreation (DCR) operates Quabbin Park on the southern shore, in Belchertown. The tract includes the dam and dike, along with the Quabbin Cemetery, where about 6,600 people from the four towns' former burial grounds were relocated. "Most people who visit are amazed at the scope of the Quabbin," says Maria Beiter-Tucker, interpretive services supervisor for DCR's Quabbin-Ware region. "They're interested in understanding the history of it, and the purpose. People have a lot of empathy toward the residents who had to leave their homes."
The visitor center offers trail guides and a listing of strict rules and regulations governing fishing, hunting, and public use (to preserve water quality, for example, no dogs are allowed anywhere in the Quabbin preserve). From the center, visitors can walk the paved path along the top of the dam or take trails, from one to five miles. DCR also organizes Quabbin-area hikes and programs. Check the website for details, but this fall's lineup includes "Exploring the North Side of the Quabbin Watershed" (September 9 and October 14), "Soapstone Mountain Hike" (October 2), and "Quabbin's Hidden History: Webster Road" (October 22).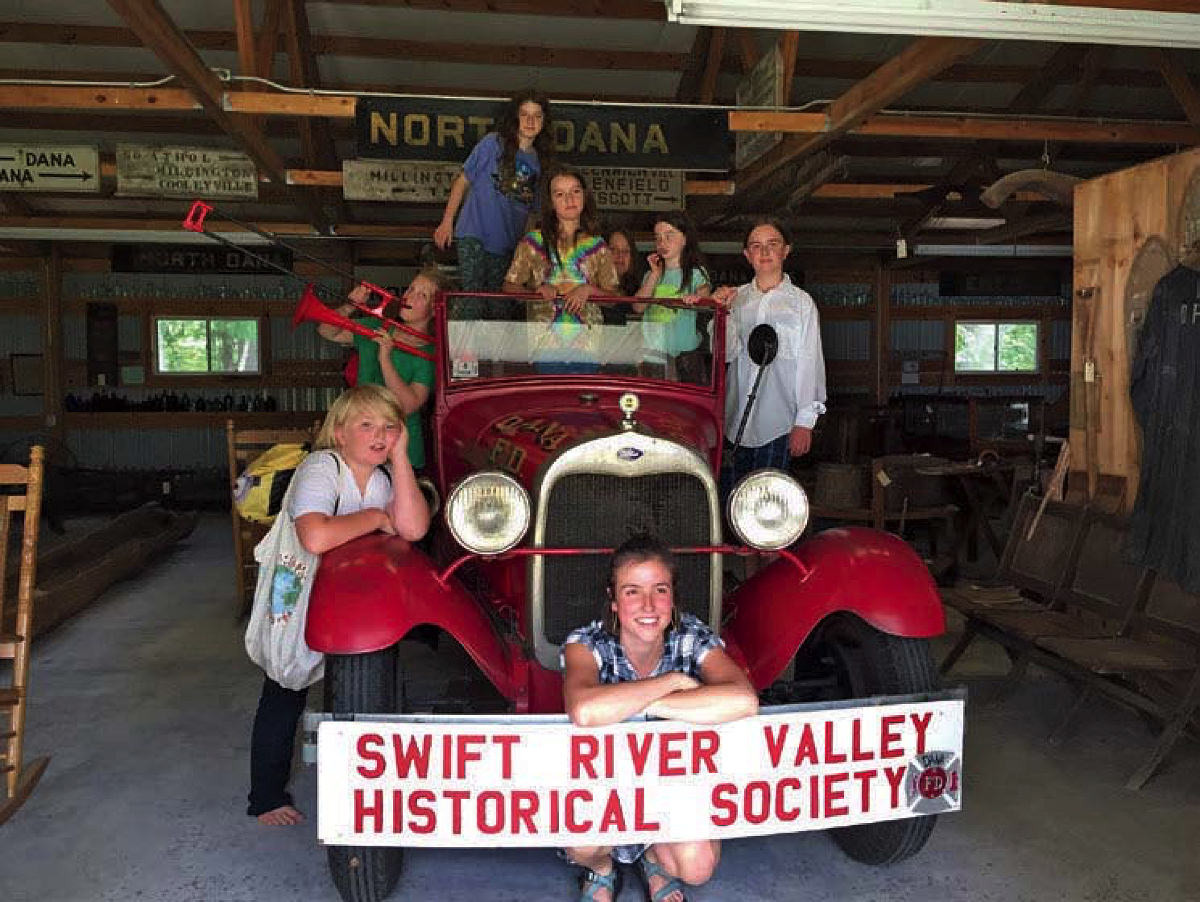 Photograph courtesy of the Swift River Valley Historical Society
Outings and events are also led by the Swift River Valley Historical Society and museum, located on the northern end of the reservoir in the town of New Salem. Founded in 1936 to gather and preserve artifacts and records from the four disincorporated towns, the society and its collections are housed in three clustered historic buildings: the Whitaker-Clary House, Peirce Memorial Carriage Shed, and the 1837 Prescott Church (which was moved to the site in 1986). "Sometimes I feel a melancholy thinking about what was given up to create the Quabbin, but I also love the end product: protection of water for people and a beautiful resource for fishermen and hikers," says museum administrator Dot Frye. Most Quabbin-area residents are enthusiastic protectors of the region, she adds: "We're just typical old New England out here. We're not the hustle-bustle. It's a relaxed way of life." The society and its museum are open Wednesdays and Sundays, 1-4 p.m. (and by appointment) through September 13.
The farmhouse rooms, generally organized by town, are packed with antiques, memorabilia, paintings, furniture, and photographs, each of which bears a handwritten tag identifying the object/owner and who donated it. Every surface is covered with objects from wedding dresses, cradles, and quilts to stacks of postcards and photo albums, landscape paintings, kitchenware, and musical instruments. On the medicine case of a Dr. Perry Marshall, the tag reads "Physician, Preacher, Poet (1849-1929)," "whose house on the west side of the common was burned to the ground…just 13 days after his death."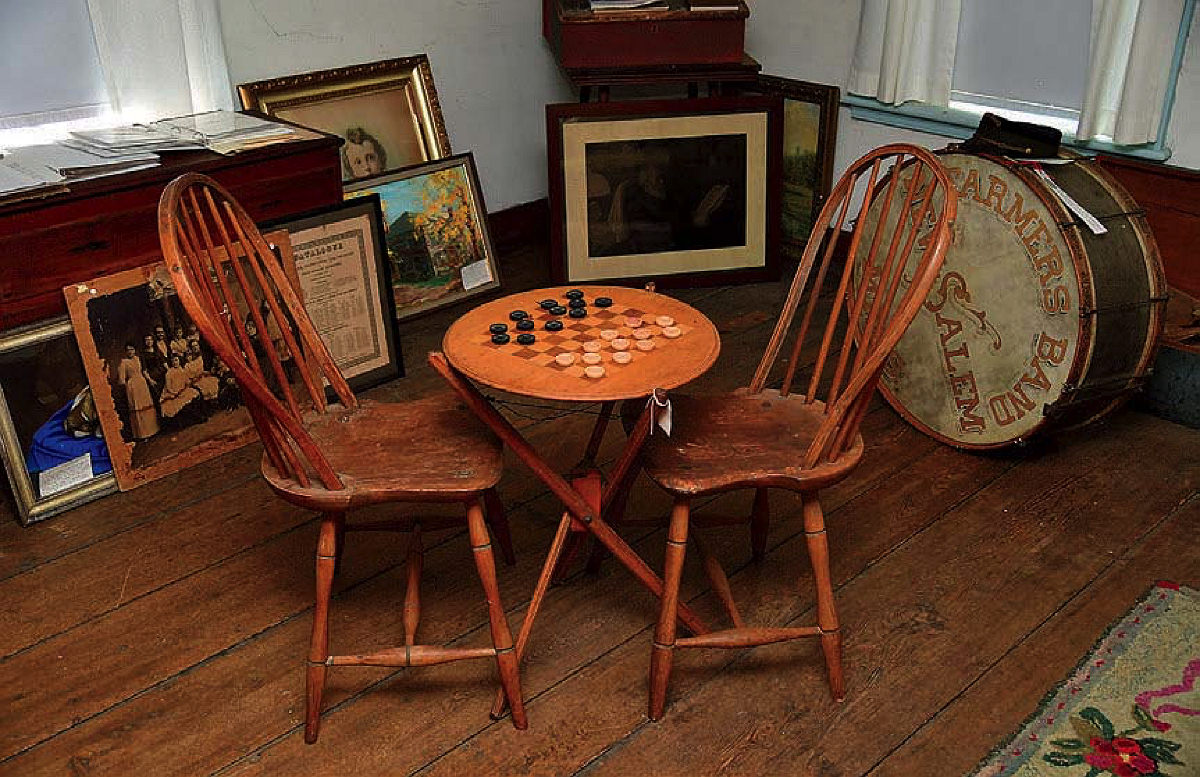 Photograph courtesy of the Swift River Valley Historical Society
The carriage house holds the 1927 Dana Ford Model A fire truck, hand tools, and the relatively new diorama of the valley as it was when the Athol & Enfield Railroad, nicknamed the "Rabbit Run," ran on a 50-mile route between Athol and Springfield from 1871 to 1935 (created by Petersham artist Ken Levine). Carrying people, mail, ice, and supplies, the rail line was a lifeline for what was, and in many ways still is, a secluded section of the state. Museum visitors come to see how people really lived here, says Frye. When she tells children that "a 98-year-old woman lived here all alone with no central heat, no plumbing, and no electricity...they are just like, 'That's crazy!' You tell them that kids only had one or two special toys, unless they came from wealthy families, and that for entertainment they had reading, picnics, family get-togethers, and gatherings at the local grange or at church. It's kind of an eye-opener."
Trips into nature can be just as surprising. Whether listening for birds or hunting for architectural vestiges, Quabbin aficionado Jon Melick says, "There's just so much wonder out there waiting for people to discover." He's been studying and roaming the area since he was introduced to the place during a family picnic in 1953 and now leads hikes. On September 24, he'll take a group through Gate 37 and follow parts of an old logging route to Methodist Point, which overlooks North Dana. On October 15, he heads into what was Enfield, and the Prescott Peninsula. Aside from the history and beauty, these excursions are purely practical. "When I ask people in the Boston area where their water comes from, they say 'the faucet?' 'The Charles River?' They have no idea," he says. "And I wish they would learn; they should be taught in the schools how they get water, especially with the droughts out west. We are very, very lucky to have water."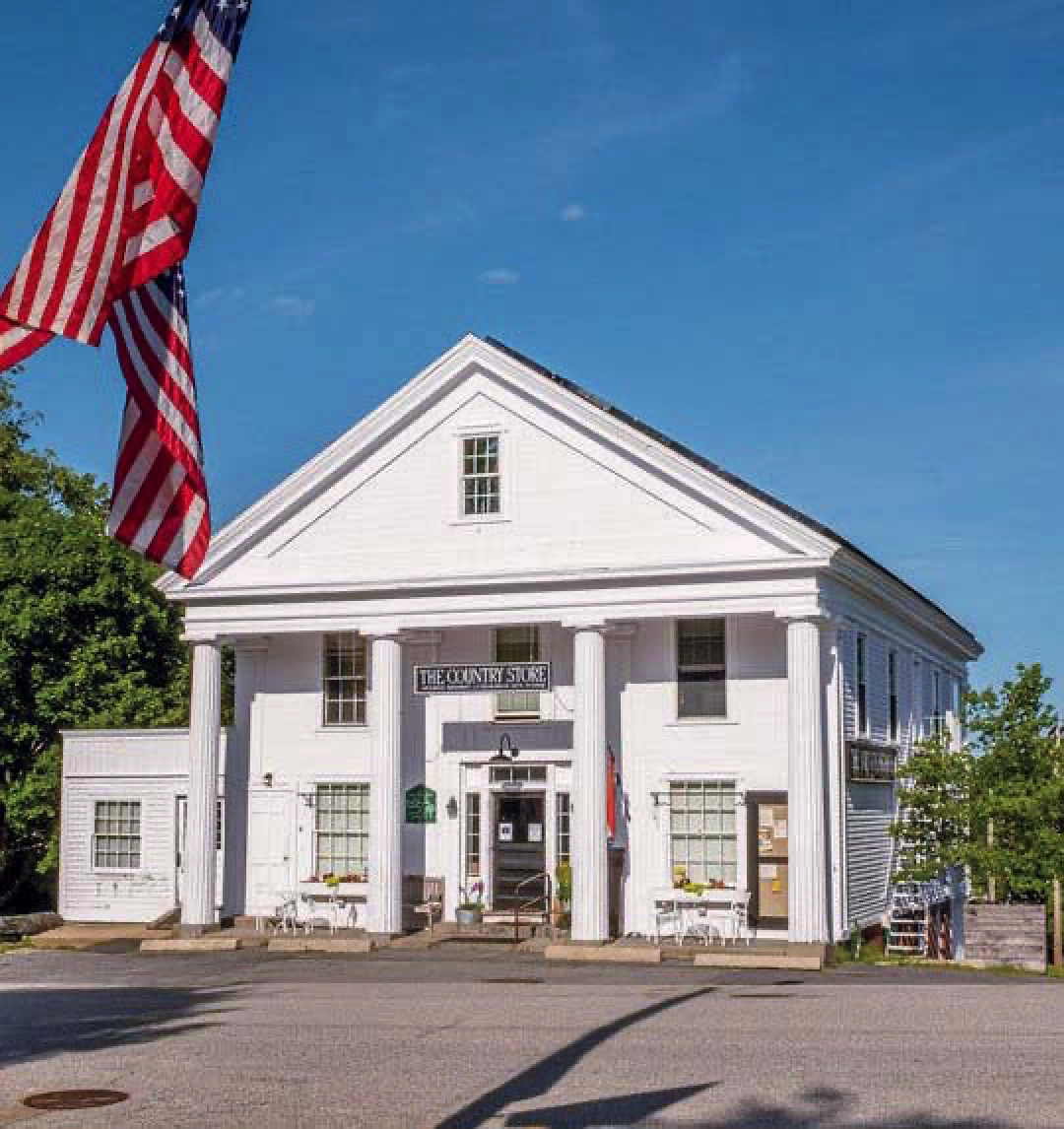 Photograph by Norman Eggert/Alamy Stock Photo
To best picture the past, walk to the town of Dana via Gate 40 in Petersham. In what was the Dana Common, posts bearing vintage photographs and descriptions identify what had been there, like the Eagle Hotel and Cotton General Store. From there, hikers can also reach Graves Landing, for stunning views of the Quabbin, and Rattlesnake and Soapstone Hills. For those navigating on their own, the Quabbin Reservation Guide and map created by Christopher J. Ryan is useful, as is the quite detailed Historic Quabbin Hikes, by J.R. Greene, typically available at DCR's visitor center and New Salem General Store.
Stop at the store anyway for sustenance, like apricot-ginger scones, breakfast biscuits, and sandwiches. Seasonal, small-batch hard cider is on tap at the nearby New Salem Cider, which has operated out of the 1750s farmstead and orchard of nonagenarian Carol Hillman since 2019. Sit and relax with cider and snacks amid majestic views of the valley. For breakfast, lunch, and local products on the east side of the Quabbin, try The Country Store in Petersham. The 1840 Greek Revival building on the green is also a gathering spot, and thus perhaps a good place to ask about nearby trails and any historic landmarks or other traces of the "lost towns."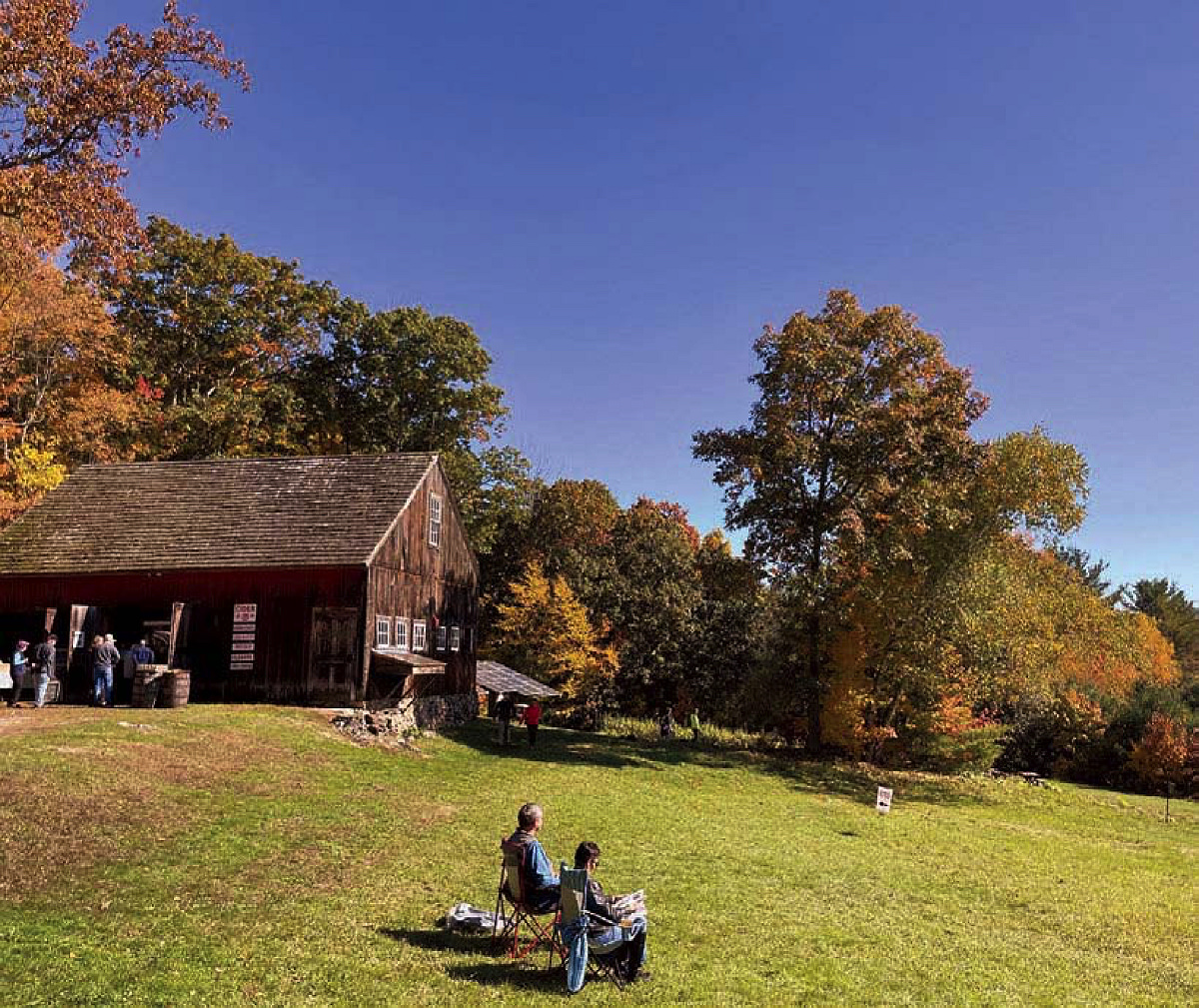 Photograph courtesy of New Salem Cider
On the last night Enfield existed, on April 27, 1938, more than 2,000 people turned out for a Farewell Ball. Palladino captures the woeful scene in her book: "The evening was meant to begin with a parade, but too few firemen were available to form one. Instead, a solitary old fire engine pulled by horses draped in black followed a band down Enfield's mostly boarded up and abandoned main street. This funeral-like procession stopped in front of the dilapidated town hall, one of the very last structures still standing."
An orchestra began playing at 8 p.m., and soon everyone inside was dancing—with more people waltzing, swinging, and prancing around outside on the lawn. Just before midnight, Doctor Willard Segur, who had organized the ball, called for a moment of silence to mark the instant that all four towns would pass into history. He then had the orchestra quietly play "Auld Lang Syne." People danced on until 2 a.m., when the band finally packed up their instruments. Palladino says the much-anticipated party had been billed as "a last good time for all." And it sounds as though it was.  
You might also like
The first in a series of public conversations about Harvard and the legacy of slavery
How to encourage free speech and inquiry on campus
A new play at the A.R.T. provides a modern take on ancient mythologies   
Most popular
Brief life of a formidable anthropologist: 1903-1991
First-years Ngozi Musa and Gabby Thomas help set the pace for track and field.
A negative investment return and annual spending reduce the endowment's value 5.1 percent.
More to explore
A test can identify these productivity-boosting personnel.
Ancient history professor studies coins, ceramics, and Zelda.
Anwar Floyd-Pruitt's wildly profuse art