Marla Frederick Named Dean of Harvard Divinity School
The scholar of the African American religious experience will become dean January 1.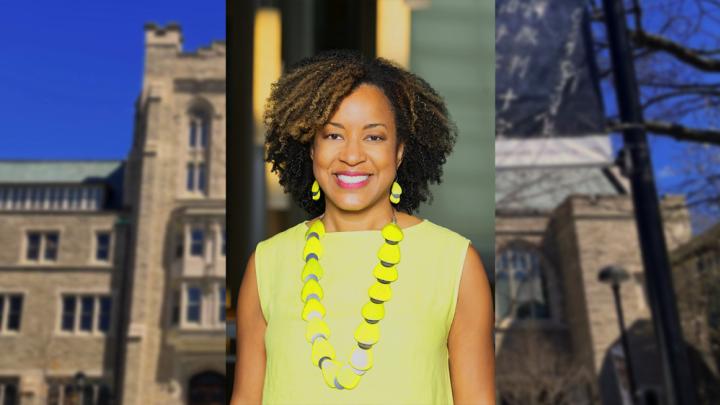 Marla Frederick, formerly a professor of African and African American studies and the study of religion in Harvard's Faculty of Arts and Sciences (FAS), will become dean of the Harvard Divinity School on January 1. A scholar of the African American religious experience and former president of both the American Academy of Religion and the Association of Black Anthropologists, she succeeds David N. Hempton, the O'Brian professor of divinity and McDonald Family professor of Evangelical theological studies, who announced in October 2022 that he planned to step down at the end of the academic year. (Bartlett Professor of New England Church History David Holland will serve as interim dean until Frederick's arrival.) She returns to Harvard—where she was a faculty member from 2003 to 2019 and served in a variety of leadership roles—from Emory University's Candler School of Theology.
President Claudine Gay, announcing the appointment, welcomed Frederick back to the University. "I am confident that Marla's leadership qualities, her academic stature, her wide-ranging curiosity, her collaborative mindset, and her thoughtful and caring approach to all she does will combine to make her an excellent new dean."
During her prior Harvard service, Frederick was director of graduate studies and chair of the admissions committee for the department of African and African American studies, served as a member of the advisory committee to the 2011 search for a dean of the Radcliffe Institute that led to the selection of Jones professor of American Studies Lizbeth Cohen, and was interim chair of the Committee on the Study of Religion.
Frederick was also recognized for her pedagogical skills. In 2016, she was named a Harvard College Professor, the Faculty of Arts and Sciences' highest honor for teaching excellence. That same year, she was involved (together with former Plummer professor of Christian morals and Pusey minister in the Memorial Church Jonathan Walton), in advocating for the acquisition of the personal archive of Bishop Carlton Pearson, a prominent African-American Pentecostal televangelist, for Harvard's library.
That acquisition squares with her academic area of expertise. In her scholarship examining how religion, race and politics can shape people's experience, she has written or coauthored four books, including two on televangelism: Colored Television: American Religion Gone Global; and Televised Redemption: Black Religious Media and Racial Empowerment. She is also the author of an ethnography of black women churchgoers in North Carolina, Between Sundays: Black Women and Everyday Struggles of Faith, and of Local Democracy Under Siege: Activism, Public Interests, and Private Politics, a collaborative examination of American democracy in an ordinary North Carolina community, which won the 2008 book prize of the Society for the Anthropology of North America.
Provost Alan M. Garber, who co-led the search for the new dean, said in a statement that "Marla deeply understands the unique role and influence of the Harvard Divinity School, and why it is a cherished institution." Noting her "thoughtful, collaborative nature," Garber added that she "will bring a fresh perspective informed by her service both within and outside of Harvard" to "the challenges and opportunities facing the school…."
Read the official University announcement here.
You might also like
The context for Harvard Management Company's 2023 results
The Crimson outlasts the Bears in an Ivy nighttime shootout.
The first in a series of public conversations about Harvard and the legacy of slavery
Most popular
First-years Ngozi Musa and Gabby Thomas help set the pace for track and field.
A negative investment return and annual spending reduce the endowment's value 5.1 percent.
The director of Head Over Heels and The Star, on animation's different dimensions
More to explore
A test can identify these productivity-boosting personnel.
Ancient history professor studies coins, ceramics, and Zelda.
Anwar Floyd-Pruitt's wildly profuse art