Campus Conversations on Speech
At Harvard, there are research areas that can't be investigated, subjects that can't be broached in public, and ideas that can't be discussed in a classroom. So says a group of more than 120 Harvard faculty members, who have formed a Council on Academic Freedom to respond to perceived assaults on free inquiry and a climate of eroded trust that they say stifle dissent. The group went public in early April when Johnstone Family professor of psychology Steven Pinker, one of the Council's six co-presidents, and Harvard Medical School (HMS) professor of psychobiology Bertha Madras published a Boston Globe op-ed detailing the group's concerns and commitment to "free inquiry, intellectual diversity, and civil discourse."
 "The reason that a truth-seeking institution must sanctify free expression is straightforward," they wrote. "The only way that our species has managed to learn and progress is by a process of conjecture and refutation: some people venture ideas, others probe whether they are sound, and in the long run the better ideas prevail."
On campuses nationwide, the dynamic has led to numerous incidents in which professors have been "mobbed, cursed, heckled into silence, and sometimes assaulted," they continued (these events are allegedly mirrored by a less publicly visible silencing of students, who, fearing reprisal, are unwilling to discuss certain topics in class).
Council participants have so far been reluctant to detail examples of the problems they perceive, with names and dates—but some of their concerns focus on speech acts and debates that they feel are not taking place. It is also worth noting that Harvard has avoided the egregious violations of free speech suffered on other campuses—for example, at the Stanford and Yale law schools—where visiting speakers were prevented from making their remarks by protestors who considered their views controversial.
In an interview, Council executive director Flynn Cratty cited an instance in which student complaints "resulted in an eminent member of the faculty's lecture slides being examined by administrators." That professor, he said, now self-censors his lectures. Other faculty members are concerned that the University's "anti-bullying policy has been weaponized to punish dissent." Even the Crimson, Cratty said, cited in an op-ed "examples of faculty conduct that…shouldn't be protected by academic freedom"—including one example in which "a law school professor was representing an unpopular client." Those are "exactly the [kinds of] cases in which academic freedom should apply," Cratty emphasized. "It's the unpopular ideas that most need protection."
Separately, Danoff dean of Harvard College Rakesh Khurana has been meeting with an Intellectual Vitality Committee, whose origins he traced to conversations with faculty members and students who expressed "concerns about being able to speak openly in class" on certain topics. At the same time, he said, other students were expressing to the dean privately that there should be certain topics that Harvard should not teach.
Members of Harvard's governing boards report being aware of these concerns: "Harvard is taking this very seriously," Board of Overseers president Meredith Hodges '03, M.B.A. '10, told the Harvard Gazette in May, "because of its belief that knowledge is produced through free exchange of competing ideas. As a board, we've been hearing testimony directly from faculty and directly from students" in order to "see the challenges in the most clear-eyed way."
Faculty members, say Pinker and Madras, are in the best position to "hold universities accountable to the commitments to academic freedom that are already enshrined in faculty policies, handbooks, and in the case of public universities, the First Amendment."
The Council includes members from all the University's schools and dozens of departments. One is Higginson professor of physiology and medicine and former HMS dean Jeffrey Flier, a co-president of the group who has had a longstanding interest in ensuring that a diversity of viewpoints can thrive on campuses nationwide. He is a member of the board of directors of Heterodox Academy, a nonprofit, nonpartisan organization dedicated to advancing open inquiry, viewpoint diversity, and constructive disagreement in higher education broadly (Harvard has more members—45—than any other university, he says).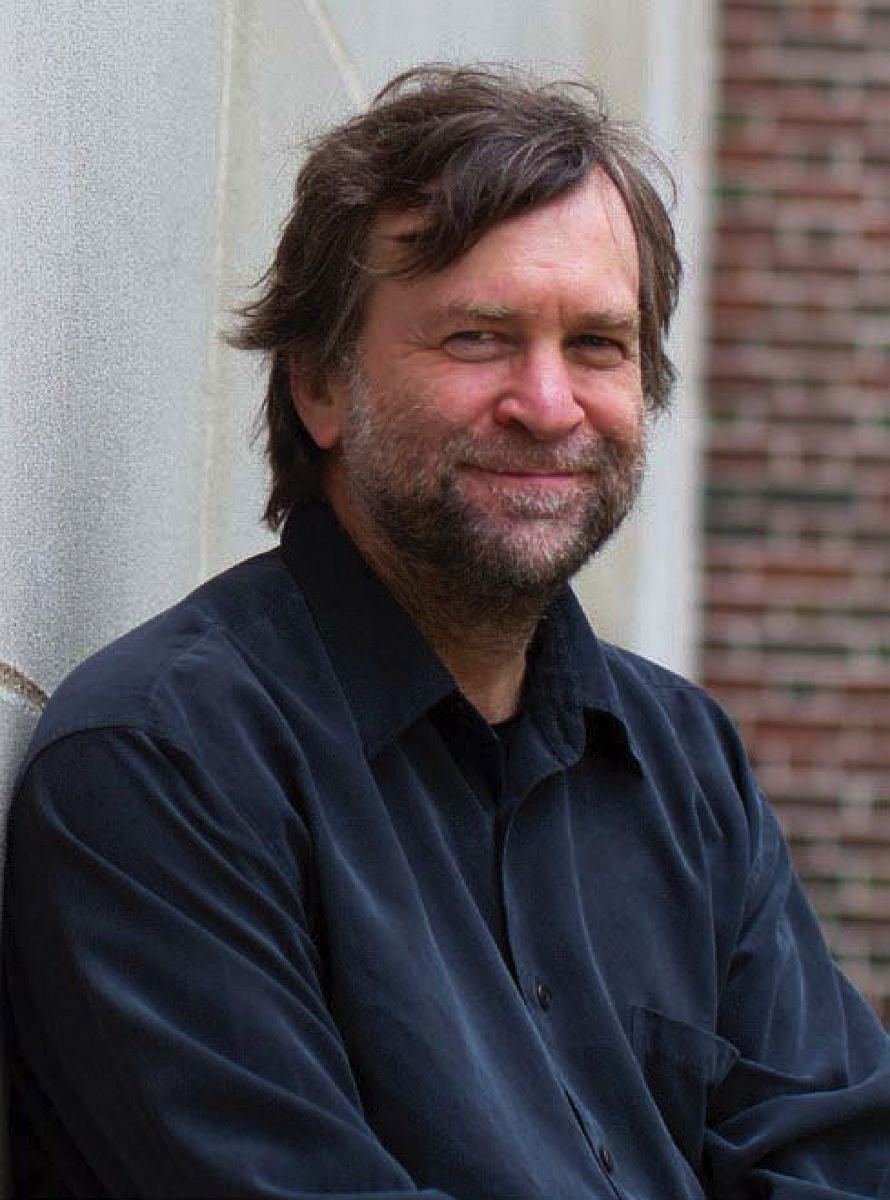 Photograph by Stephanie Mitchell/HPAC
Other Council members are focused on developing solutions that involve educating students about the value of diverse opinions and teaching faculty members skills for handling sensitive or controversial topics. Vuilleumier professor of philosophy Edward "Ned" Hall, who is both a co-president of the Council and a member of the College-focused Intellectual Vitality Committee, notes that a "diversity of viewpoints is a thing to be prized. It should be a strength. It's the raw material out of which greater wisdom and understanding can be forged, but only if students are actually engaging across differences in a serious, respectful, and, ideally, curiosity-driven manner. And the sense from the students, especially the ones involved in the intellectual vitality group, is that this is just not happening now."
"Disappointing to me," he added, "is the way that the administration has been dragging its feet on its role." He would like to see "a well-crafted statement of values, or reassertion of values" that are already in place, explaining "why intellectual diversity matters, how important it is for students to be able to engage in a serious, respectful way across disagreement, and how college is not supposed to be a place" where students are "shielded from ideas that make [them] uncomfortable."
Trumbull professor of American history and director of the Schlesinger library Jane Kamensky, another Council co-president, shares Hall's hope that Harvard will think about what needs to be done to help students navigate difficult ideas across complex political landscapes and build coalitions with people with whom they might disagree—skills they will need for democratic self-governance. At Harvard, she would like to see more emphasis on instruction, because "faculty training is going to be a big piece of this." Duke University has an exemplary program, and Harvard, she said, has the early stage ingredients in programs such as the intercollegiate civil disagreement partnership fellowship offered through the Safra Center for Ethics.
Even as the Council decides how best to proceed, alumni have signaled support for its aims: by early May, donations totaled about $150,000, according to Cratty. The group, which describes itself as "diverse in politics, demographics, disciplines, and opinions," plans to conduct surveys and offer workshops, lectures, and courses on academic freedom. The first public event, a lecture on the philosophy of campus free speech by Hall with a response from Conant University Professor Danielle Allen, will take place on September 20, as the academic year begins.
Read more at harvardmag.com/academic-free-23.
You might also like
The context for Harvard Management Company's 2023 results
The Crimson outlasts the Bears in an Ivy nighttime shootout.
The first in a series of public conversations about Harvard and the legacy of slavery
Most popular
Rosabeth Moss Kanter on solving America's infrastructure problems
Original works by "Golden Age" illustrators on view in Newport, Rhode Island
Channeling Valentine's Day—and sustainable oceans—via sexy sea creatures
More to explore
A test can identify these productivity-boosting personnel.
Ancient history professor studies coins, ceramics, and Zelda.
Anwar Floyd-Pruitt's wildly profuse art