News in Brief
Arts and Sciences' Evolving Leadership
Five days before she became president, on July 1, Claudine Gay filled the vacancy created by her election, appointing Hopi E. Hoekstra as the next dean of the Faculty of Arts and Sciences (FAS). She is Agassiz professor of zoology in the departments of organismic and evolutionary biology and of molecular and cellular biology—a scientist acclaimed for elucidating the genetic bases for evolutionary changes and evolved, complex behaviors that affect animals' ability to survive and reproduce. The recipient of honorary professorships reflecting distinguished teaching and research, Hoekstra has cut her administrative teeth on FAS's Faculty Council (a working group that advises the dean) and its Committee on Appointments and Promotions. She chaired a recent review of FAS's tenure track: the conditions under which junior faculty members develop professionally and are considered for promotion. And she served on the faculty advisory committee for Harvard's 2017-2018 presidential search alongside Gay. Hoekstra assumed her new duties in University Hall on August 1. A full report on her science, teaching, and service can be found at harvardmag.com/hoekstra-dean-23. 
Athletics Amended
Katey Stone, coach of women's hockey for 29 years, announced her retirement on June 6. The Harvard Athletics news release quoted her as saying, "The opportunity to coach and empower the amazingly talented women of Harvard Hockey has been both a personal and a professional privilege. The relationships fostered with my players over the years has been the very best part of my job." It quoted athletic director Erin McDermott thus: "We recognize the decades of service and commitment that Katey has given….We thank her for all she has done to build the women's hockey program here, and we wish her the best in her future endeavors." Stone's coaching style prompted sharp criticisms from some players (and a defense of her coaching by others) and an internal investigation—as first reported early this year by the Boston Globe and The Athletic—and a subsequent external investigation, commissioned by Harvard Athletics, by the law firm of Jenner & Block (see News in Brief, May-June, page 19).
Although the report of that investigation was not released, McDermott announced on June 28 that "Our current women's ice hockey team has not fostered a culture of hazing." She acknowledged that "some traditions in recent years were experienced differently by different people and not all were comfortable with those activities or with expressing concerns relating to the program." Athletics will accordingly introduce clearer communication on "reporting conduct that is inconsistent with Harvard's community standards"—including information on how to report concerns "without fear of retribution or reprisal." It will also better explain access to mental-wellness resources, and offer leadership training for team captains and others. Read more at harvardmag.com/hockey-investigate-23.
Undergraduate Admissions Updates
Alongside the news from the U.S. Supreme Court (see page 14), Harvard College announced a continued high rate of acceptance (the so-called yield)—84 percent—among applicants who were offered admission to the class of 2027, enrolling this fall.…Although U.S. News & World Report has modified its "best" college and graduate school rankings in the face of wide criticisms that they are misleading (for colleges, it now places more emphasis on success in graduating students from different backgrounds, and removed alumni giving and class size as factors), the number of institutions declining to provide data has spread beyond the most selective law and medical schools (beginning with Yale and Harvard). On June 6, Columbia published data pertaining to its three undergraduate programs—and announced that it will no longer provide information for the U.S. News rankings.
Amherst after Legacies
Amherst College announced that alumni children would make up 6 percent of the entering class of 2027—the first admitted since it abolished a legacy preference for applicants. The policy change, announced in 2021 and implemented for fall 2022 applications, was initiated by then-President Biddy Martin, who is a member of the Harvard Corporation. Legacy students typically comprised 11 percent of prior Amherst classes. Enhanced financial aid, part of Martin's initiative, may also have helped boost the proportion of first-generation students to 19 percent of the entering class, a record for the school.
Photograph courtesy of Harvard University
Crimson CFO
Ritu Kalra was appointed vice president for finance and chief financial officer effective July 1, succeeding Thomas J. Hollister, who retired. Kalra had been a Goldman Sachs managing director (leading the firm's Western region public sector and infrastructure practice, and higher education finance nationwide) until mid-2020, when she joined the University. Before assuming her broader Harvard responsibilities in Mass Hall, she was assistant vice president and assistant treasurer and special projects adviser—responsible for managing the University's cash, overseeing its borrowings and debt strategy, and working on projects such as the Massachusetts Turnpike reconstruction and multimodal transit center (which will affect access to and development of extensive Harvard landholdings in Allston). Read more about Kalra and the new senior financial team at harvardmag.com/kalra-vp-fin. 
Medical School "Betrayal"
Dean George Q. Daley told the Harvard Medical School community on June 14 about an "abhorrent betrayal," as the U.S. Attorney's Office for the Middle District of Pennsylvania indicted and arrested Cedric Lodge for interstate transport of stolen human body parts. Lodge, a former morgue employee in the school's Anatomical Gift Program (through which it receives cadavers donated for teaching and research purposes), is accused, along with others not affiliated with HMS, of diverting remains that were supposed to be cremated. The school reached out to affected families and appointed external experts to evaluate its morgue policies and practices, but amid questions about its oversight, it has been sued by some of the families.
Greener Pastures
At a time when Harvard schools and departments have taken special pains to attract a diverse professoriate, two high-profile black faculty members departed at the end of the academic year. Baker professor of economics Isaiah Andrews—a 2020 MacArthur Fellow and the 2021 John Bates Clark Medalist (conferred on outstanding younger economists)—relocated to MIT, where he is now professor of economics. And Anthony Abraham Jack, Ph.D. '16—formerly assistant professor of education, a Junior Fellow of the Society of Fellows, and a 2021-2022 Radcliffe Institute Fellow—has become faculty director of Boston University's Newbury Center and associate professor of higher education leadership. Jack, author of The Privileged Poor, explored how selective colleges recruit but often fail to support students from disadvantaged backgrounds (see "Adjacent but Unequal," March-April 2019, page 26).
Admission-Free Art Museums
The Harvard Art Museums eliminated admission fees effective June 23. The announcement, during Lawrence S. Bacow's final week as president, builds upon waivers of fees for the Harvard community, Cambridge residents, youths, and experiments with free Sundays and monthly Thursday evenings (introduced after the pandemic to encourage attendance). Bacow, whose office helped underwrite the new policy, said, "This initiative ensures that every visitor to our campus will have the opportunity to view and engage with the phenomenal collections in our care." Learn more at harvardmag.com/art-free-admit-23.
Gifts of Note
Brigham and Women's Hospital, a Harvard Medical School affiliate, in May received a $100-million gift—the largest in its history—from biotechnology entrepreneur Gene Lay to create an eponymous Institute of Immunology and Inflammation. It will focus on basic research into immune-related diseases, aging, and cancer, and development of immunotherapies. Wasserstrom professor of neurology Vijay Kuchroo will serve as director.…James H. Simons, a mathematician and hedge fund manager, and his wife, Marilyn H. Simons, who have extensively supported research in computational science and on autism, have donated $500 million in unrestricted funds to Stony Brook University, bringing their total support to that public institution to $1.2 billion. He was a Stony Brook faculty member, and she earned her bachelor's and doctoral degrees there.
Around Higher Education
Yale and the University of Connecticut are applying a $1-million National Science Foundation planning grant to propose a regional hub for quantum-science research, technology, and business development. Yale, like Harvard and universities across the country, is investing heavily in research on quantum computing, materials, sensing, and other applications.…Oxford University has removed the Sackler family name from a library, galleries, and various staff positions, part of the continuing fallout from family members' involvement with Purdue Pharma, the producer and marketer of OxyContin—a significant contributor to the opioid epidemic. Oxford reported that it had received donations totaling £10 to 15 million between 1993 and 2019….On May 24, as Florida Governor Ron DeSantis, J.D. '05, launched his campaign for the Republican presidential nomination, the American Association of University Professors published a report arguing that "academic freedom, tenure, and shared governance in Florida's public colleges and universities currently face a politically and ideologically driven assault unparalleled in U.S. history. If sustained, this onslaught threatens the very survival of meaningful higher education in the state, with dire implications for the entire country."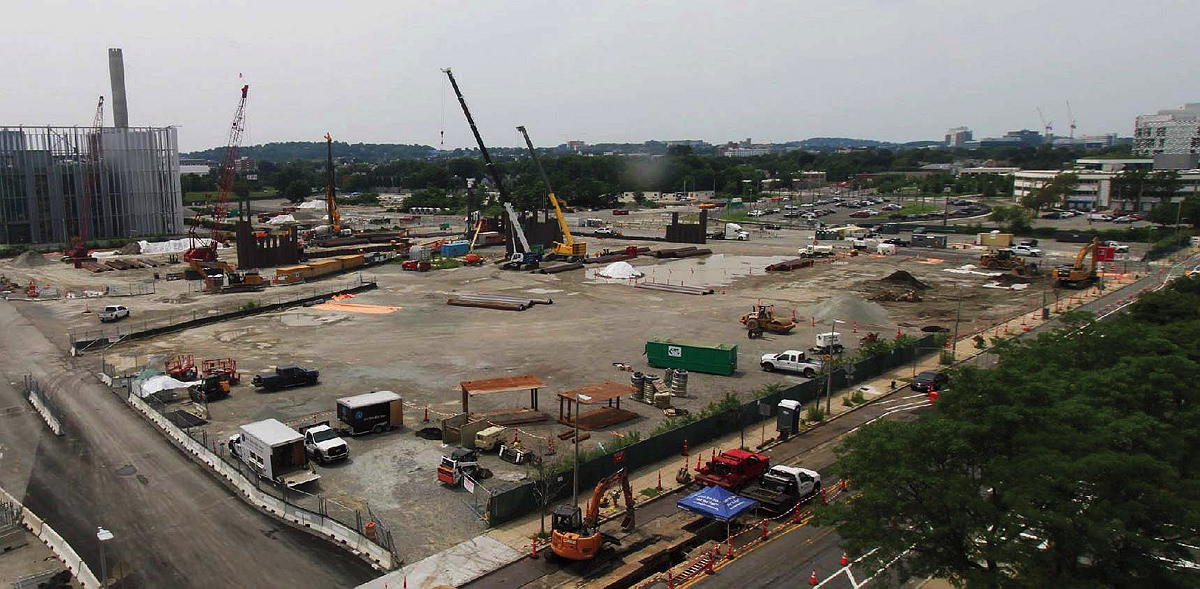 Photograph courtesy of the Harvard Allston Land Company
Dirt Flies in Allston
Despite adverse conditions for real estate development nationwide, Tishman Speyer—the developer of Harvard's commercial enterprise research campus in Allston—announced on June 16 that it had secured $750 million in financing for the first, nine-acre phase of the project, and promptly began preparing the site. The buildings under construction (440,000 square feet of laboratory and office space, a hotel, a rental apartment tower, and a University conference center) are scheduled to open in late 2025 or early 2026. The photograph (taken from above Soldiers Field Park Garage and looking toward the south-southwest) shows heavy equipment at work on July 24. Learn more at harvardmag.com/campus-begins-23. 
Honor Roll
Arnold professor of science Xiaowei Zhuang, of the department of chemistry and chemical biology, has won the 2023 Dreyfus Prize in the Chemical Sciences for developing techniques used to enable imaging of single molecules—innovations with broad application to research on biological processes. The prize comes with a $250,000 honorarium.…Graustein professor of mathematics emeritus Shing-Tung Yau shared the 2023 Shaw Prize in Mathematical Sciences with Vladimir Drinfeld of the University of Chicago for work in mathematical physics, differential geometry, and other fields. The prize is accompanied by a $1.2-million award.…Thomas professor of government and sociology Theda Skocpol has been selected for the American Political Science Association's triennial James Madison Award, honoring her distinguished contributions to political science....Freed professor of government Daniel Carpenter was honored with the association's annual John Gaus Award for exemplary scholarship in political science and public administration; "Power, Petitions, and the People" (May-June 2021, page 11), covers his recent work.…Geyser University Professor Oliver Hart, a 2016 Nobel economics laureate, has been knighted as part of King Charles III's birthday honors.
Academic Integrity
Following scholarly questions on the Data Colada blog about fabricated data in her research, professor of business administration Francesca Gino has been placed on administrative leave. At least one of her published papers has been retracted, and others analyzed by the blog are being reviewed for possibly fraudulent data, according to multiple news reports. None of Gino's coauthors on the research have been cited for possible improprieties.
On the Labor Front
In early June, the Harvard Union of Clerical and Technical Workers, the University's largest bargaining unit, ratified a new contract that raises pay significantly, strengthens protections for flexible work, and bolsters the criteria for compensating employees who assume extra duties. For an HUCTW worker earning the median compensation of $64,000, base pay will increase 19 percent during the course of the agreement. Full details are available at harvardmag.com/contract-huctw-23.… Medical residents and interns at the Harvard-affiliated Mass General Brigham system of hospitals voted in June to unionize, affiliating with the Service Employees International Union, which represents similar staff at the Stanford and University of California, San Francisco, medical systems.…Researchers and technicians at the Broad Institute of MIT and Harvard, the genomics-research center, have also begun efforts to unionize.
Newsmakers
Professor of neurology Bernard S. Chang is Harvard Medical School's new dean for medical education, overseeing the M.D. and master's degree programs, effective July 31. He succeeded Edward Hundert, who has moved to a senior alumni affairs and development role while maintaining his academic responsibilities as Federman professor in residence of global health and social medicine.…Sheree M. Ohen, who joined the Faculty of Arts and Sciences as inaugural associate dean of diversity, inclusion, and belonging in September 2020, has decamped for Amherst College, where she became chief equity and inclusion officer, reporting to the president, in June.…Sam Benzing, formerly assistant coach at the College of Saint Scholastica in Duluth (her alma mater), has been appointed Finnegan Family head coach for Nordic skiing. She was a four-year varsity athlete on her college Nordic ski team, and served as captain in 2020-2021.…Adam Whitfield, formerly director of member engagement at WHOOP (a digital fitness service), has been appointed deputy director of athletics-external operations. He previously worked in fan and youth engagement for the Boston Red Sox.…On July 1, the Center for Astrophysics|Harvard & Smithsonian celebrated the fiftieth anniversary of its founding, via the merger of Harvard College Observatory and Smithsonian Astrophysical Observatory. The CfA is one of the world's preeminent research organizations in its field, with more than 850 scientists, engineers, and staff members deployed around the globe.…The Harvard School of Dental Medicine has unveiled Stephen Coit's portrait of George Franklin Grant, D.M.D. 1870, who was appointed instructor in 1884, making him Harvard's first black faculty member. He created a prosthetic for cleft palates and in 1899 was awarded a patent (hold the doctor jokes) for a wooden golf tee.
You might also like
The context for Harvard Management Company's 2023 results
The Crimson outlasts the Bears in an Ivy nighttime shootout.
The first in a series of public conversations about Harvard and the legacy of slavery
Most popular
First-years Ngozi Musa and Gabby Thomas help set the pace for track and field.
A negative investment return and annual spending reduce the endowment's value 5.1 percent.
The director of Head Over Heels and The Star, on animation's different dimensions
More to explore
A test can identify these productivity-boosting personnel.
Ancient history professor studies coins, ceramics, and Zelda.
Anwar Floyd-Pruitt's wildly profuse art