John Harvard's Journal
News in Brief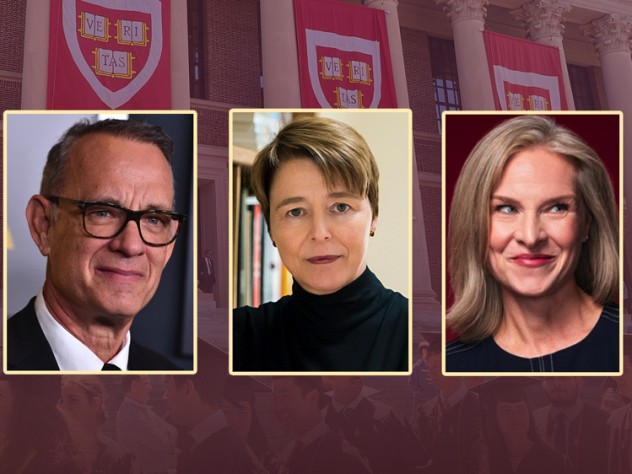 From left to right: Photograph by Jordan Strauss/Invision/AP,  photograph courtesy of Ophelia Dahl, photograph by Mike Morgan/NPR; montage by Niko Yaitanes/Harvard Magazine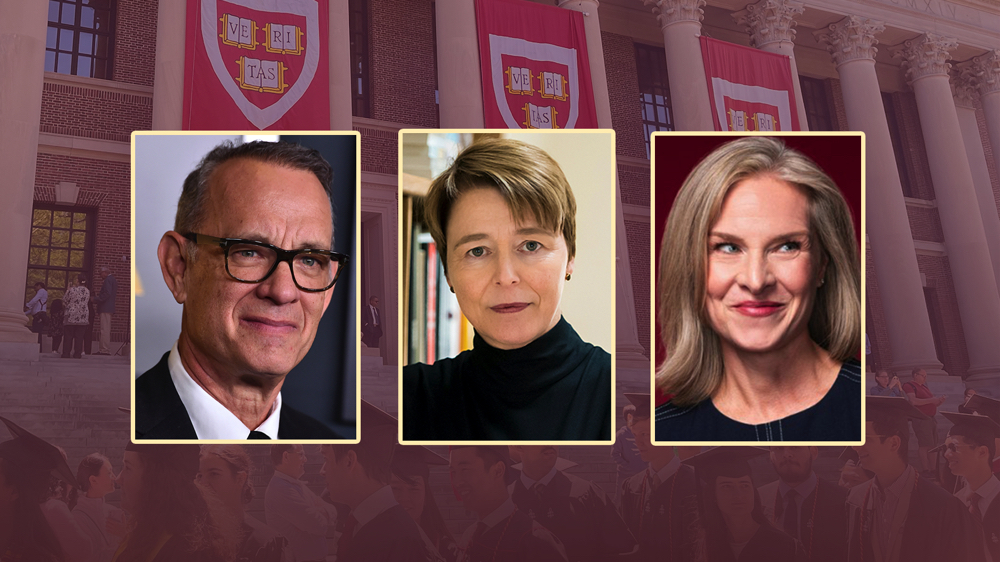 From left to right: Photograph by Jordan Strauss/Invision/AP, photograph courtesy of Ophelia Dahl, photograph by Mike Morgan/NPR; montage by Niko Yaitanes/Harvard Magazine
Commencement—and Other Headliners—
 Actor-filmmaker Tom Hanks will be the guest speaker at Harvard's Commencement exercises on the morning of May 25, succeeding a series of government and other leaders in recent years; for details see harvardmag.com/hanks-speaker-23. Human rights and social justice advocate Ophelia Dahl, co-founder of Partners In Health, will receive the Radcliffe Medal the following day (see harvardmag.com/dahl-medal-23). The orator and poet at the Phi Beta Kappa Literary Exercises on May 23 will be Adam Falk, Ph.D. '91, a physicist who is president of the Alfred P. Sloan Foundation and president emeritus of Williams College, and Pulitzer Prize winner and MacArthur Fellow Natalie Diaz, author of Postcolonial Love Poem; learn more at harvardmag.com/orator-poet-23. And NPR's All Things Considered co-host Mary Louise Kelly '93 is the featured Harvard Alumni Day speaker on June 2.
Hockey Investigation
In January, The Boston Globe's Bob Hohler reported that long-time Harvard women's hockey coach Katey Stone had come under fierce criticism from multiple players and alumnae for allegedly abusive and discriminatory behavior, derogatory speech, and a general "culture of complete fear"—allegations that other players denied. A review of the allegations, he further reported, led to a July 2022 decision by Nichols Family director of athletics Erin McDermott to retain Stone as coach—prompting criticisms and rebuttals within the women's hockey community. Further fallout ensued, including sharply differing accounts about why numerous recruited players left the program (one transferred to another school), and a deeply critical March report by The Athletic (now owned by The New York Times), headlined "Hazing, Naked Skates and a 'mental-health Hunger Games': The dark side of Harvard women's ice hockey." It detailed initiations with dangerous alcohol consumption by underage players, sexually oriented skits, and a "Naked Skate" ritual at the hockey center—including a 2023 iteration after the Globe article was published. Apparently, those allegations, among others, heightened internal concern sufficiently that the program is now being formally investigated by retained outside counsel Katya Jestin, a former federal prosecutor now at Jenner & Block. As has been the norm throughout, Harvard and athletics principals have declined all comment on any of these matters, so any news, including of the investigation, has come through the press reports, based on leaks of University communications and student and alumni interviews, on the record and anonymous.
Endowment and Environment
Harvard Management Company's third annual climate report highlighted HMC's attainment of carbon-neutral operations during fiscal year 2022 and its growing portfolio of investments in climate-transitions solutions. Although its private-equity fossil-fuel holdings are in a runoff mode, they in fact increased as a share of the portfolio assets (to slightly more than 2 percent) as the prices of energy commodities appreciated during the year, reflecting the war in Ukraine and economic recovery from the pandemic. HMC also detailed its continuing work, in cooperation with like-minded investors, to develop ways to measure greenhouse gas emissions across its portfolio—a difficult problem, and a long-term project; read more at harvardmag.com/climate-23.
Underwriting Medicine
Ernesto Bertarelli, M.B.A. '93, has made a $75-million gift to Harvard Medical School. It will be used to reconfigure the infrastructure and layout of Building C, home to the Therapeutics Initiative, which focuses on translational medical research and education that moves biomedical science out of the lab and into practice for the benefit of patients. The last unnamed structure among the five marble and granite buildings that surround the school's famous quadrangle, Building C will be renamed in the donor's honor. Bertarelli, a Swiss biotechnology executive, entrepreneur, and philanthropist, has been a steadfast supporter of fundamental and translational research, with a special interest in neuroscience and sensory disorders. He chairs HMS's Board of Fellows, which counsels the dean, administration, and faculty to help advance the school's mission of alleviating human suffering caused by disease. Read more at harvardmag.com/bertarelli-gift-23.
Curating Visual Culture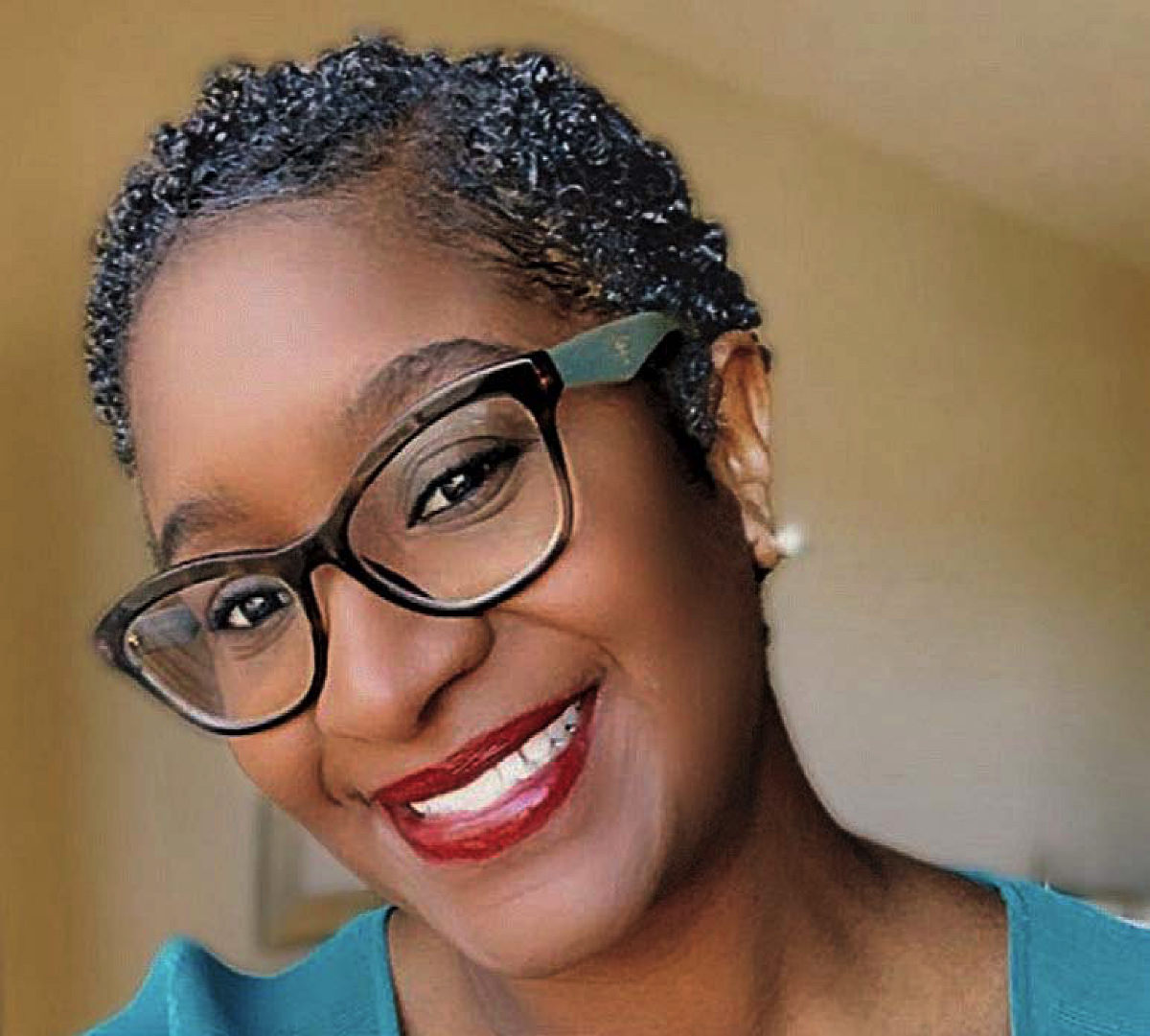 Photograph courtesy of Brenda Tindal
Brenda Tindal, executive director of the Harvard Museums of Science & Culture since May 2021, has been appointed the Faculty of Arts and Sciences' inaugural chief campus curator. FAS dean (and Harvard president-elect) Claudine Gay described the position, recommended by the Task Force on Visual Culture and Signage, as "an opportunity to revitalize Harvard's shared spaces in order to acknowledge the past, while celebrating the diversity of the present and promoting the vitality of the future." Tindall's first responsibility is renewing the Faculty Room in University Hall, the Annenberg Hall freshman dining commons, and the Graduate School of Arts and Sciences student center in Lehman Hall. The task force characterized those as important community spaces "whose visual culture is dominated by homogenous portraiture of white men." Learn more at harvardmag.com/tindal-curator-23. 
Special Young Scholars
The Alfred P. Sloan Foundation has conferred research fellowships—including a two-year, $75,000 grant for each recipient—on 125 promising early-career researchers nationwide. The seven Harvard honorands are: Brian B. Liau, associate professor of chemistry and chemical biology; Elena L. Glassman, assistant professor of computer science; Stratos Idreos, McKay professor of computer science; Kaighin A. McColl, assistant professor of earth and planetary sciences and of environmental science and engineering; Shengwu Li, assistant professor of economics; Zheng (Tracy) Ke, assistant professor of statistics; and Cengiz Pehlevan, assistant professor of applied mathematics.
Accelerating Innovation
The Office of Technology Development's Grid Accelerator—initiated last fall in collaboration with the School of Engineering and Applied Sciences, and intended to support Harvard faculty members' nascent discoveries for further industry funding or possible commercial development—made awards to five teams in February. The lead researchers include Wyss professor of biologically inspired engineering Jennifer Lewis (a new form of computer-aided design; her work on organ printing was featured in "Building Toward a Kidney," January-February 2017, page 37); Lawrence professor of materials engineering Joost Vlassak (testing for antibiotic resistance); assistant professor of chemistry and chemical biology Jarad Mason (nonvolatile refrigerants, to reduce greenhouse gas emissions); Maeder professor of engineering and applied sciences Conor Walsh (lightweight neuroprostheses; see "The Medical-Robotics Revolution," May-June 2022, page 36); and professor of organismic and evolutionary biology Peter Girguis (a technique for decoding genomes; read more about him on page 38 in this issue).
The Class of 2027
The College offered admission to 1,942 of 56,937 applicants (down 7 percent from the class of 2026 applicant pool). Students from families whose income is less than $85,000 will attend free of charge—up from the prior $75,000 threshold. (Stanford increased its family income threshold for no-cost attendance from $75,000 to $100,000; Princeton raised its threshold to the $100,000 level last fall.) Harvard's undergraduate term bill, before any financial aid, rose 3.5 percent (versus 3.0 percent last year), to $79,450. Full details may be found at harvardmag.com/admits-2027-23.
Online Learning
The University of Texas at Austin launched a $10,000 online master's degree program in artificial intelligence; it expects to begin instruction next spring and to enroll more than 2,000 students annually.…As 2U, the company that bought edX from Harvard and MIT mid-2021, and Coursera, its rival for-profit online course provider (founded at Stanford), struggle economically in the wake of the post-pandemic return to in-person instruction (both have laid off significant numbers of employees), some of the sector's business practices are being scrutinized. The U.S. Department of Education is reviewing whether allowing colleges and universities to share tuition revenue with online service providers is appropriate in light of rising student debt. The department is also requiring better disclosure about the fee agreements between academic institutions and providers of online degree programs. In some cases, a large proportion of tuition collected by a college or university has been passed through to the online vendors, whose personnel, rather than academic appointees at the degree-granting institution, have provided instruction. [Update: After this issue went to press, 2U sued to challenge new regulations concerning marketing and other operations, and the Department of Education deferred implementing them.]
U.S. News Rankings 3.0
Following Yale and Harvard law schools' decision to stop cooperating with the U.S. News & World Report rankings—and Harvard Medical School's subsequent decision to do so, too ("Ratings Redux," News in Brief, March-April, page 20)—there has been further erosion of support for the rankings among highly selective institutions. In January, Columbia, Penn, and Stanford medical schools followed HMS's lead, citing the inadequacy of the rating methodology. And on March 1, Yale and Harvard law schools convened law deans and educators from across the country in Cambridge to discuss how best to muster and present data prospective students need to make informed choices about their legal education—an effort, perhaps, to encourage U.S. News to adapt its techniques further, or to devise a substitute for its rankings altogether.
Quantum Leader
Mikhail Lukin, Leverett professor of physics and co-director of Harvard's quantum science and engineering initiative, has been appointed Friedman University Professor. Announcing the appointment, President Lawrence S. Bacow hailed Lukin as "one of the best quantum information scientists in the world." Read more at harvardmag.com/lukin-prof-23.
Tuition and Aid Announcements
Citing inflation, Stanford has raised its undergraduate term bill for 2023-2024 by 7 percent, up from 4 percent in the current academic year.…Yale Law School's full tuition and fee scholarships for students, begun last year, have been extended to those whose family incomes are up to 200 percent of the federal poverty line. Some 80 to 90 J.D. students in the classes of 2024 through 2026 will now be covered—an increase from the 51 students supported during the current academic year. YLS has about 200 students per class cohort.…$150 million of a $250-million gift to Columbia's College of Physicians and Surgeons, from Dr. P. Roy and Diana Vagelos, will be used to eliminate loans from medical students' aid packages; currently, students who qualify for aid (about half of those enrolled) are required to borrow $30,000 per year, or more, to help pay for their tuition.
On Other Campuses
Yale, which is adding 30 faculty positions in engineering and applied science (EAS), raising the total to nearly 125 professors, and constructing a new physical sciences and engineering complex (among the largest investments in its history), is raising the ante further. In February, it announced a decade-plus plan to create an EAS quadrangle at the center of its campus, comprising several new and renovated buildings. They will be organized to accommodate research and teaching by field (artificial intelligence, computational modeling, robotics, etc.), rather than department.…The University of Virginia unveiled a Paul and Diane Manning Institute of Biotechnology, named for the couple who have given $100 million to support translational research on cellular and gene therapies and nanotechnology drug delivery—bolstered by an additional $50 million of support from the Commonwealth of Virginia, and $150 million in additional UVA funds.…Carleton College has decided to divest its direct endowment holdings of fossil-fuel investments, and to refrain from making future investments in private funds focused solely on oil and gas production.…Hedge fund manager John A. Paulson, M.B.A. '80, who endowed Harvard's engineering and applied sciences school with a $400-million naming gift in 2015 (see harvardmag.com/Paulson-400-15), has given New York University, his undergraduate alma mater, $100 million to support a large new academic building at its Washington Square campus.…The family foundation of Ohio State alumnus Ratmir Timashev, a Russian-born entrepreneur, has made a $110-million gift to underwrite an eponymous center for software innovation, the largest gift in that university's history.
Newsmakers
Danielle Ren Holley, J.D. '99, dean of Howard University School of Law, has been appointed president of Mount Holyoke College; Garry W. Jenkins, J.D.-M.P.P. '98, dean of the University of Minnesota Law School, has been appointed president of Bates College; and Laura A. Rosenbury '92, J.D. '97, dean of the University of Florida's College of Law, has been appointed president of Barnard College—all effective July 1.…Scott Rothkopf '99, Ph.D. '10, has been appointed director of the Whitney Museum, in New York City.…Professor of psychology Katie A. McLaughlin has been appointed executive director of the University of Oregon's Ballmer Institute for Children's Behavioral health, funded with a $425-million gift from Steve Ballmer '77 and Connie Ballmer.…Kirkpatrick professor of the practice of international affairs Meghan L. O'Sullivan has been appointed director of Harvard Kennedy School's Belfer Center for Science and International Affairs, succeeding the late Ashton Carter.…The Association for Computing Machinery has conferred its $1-million Turing Award on Robert Metcalfe, Ph.D. '73, for his role in inventing the Ethernet networking technology; see "A Science Is Born" (September-October 2020, page 42).