John Harvard's Journal
News in Brief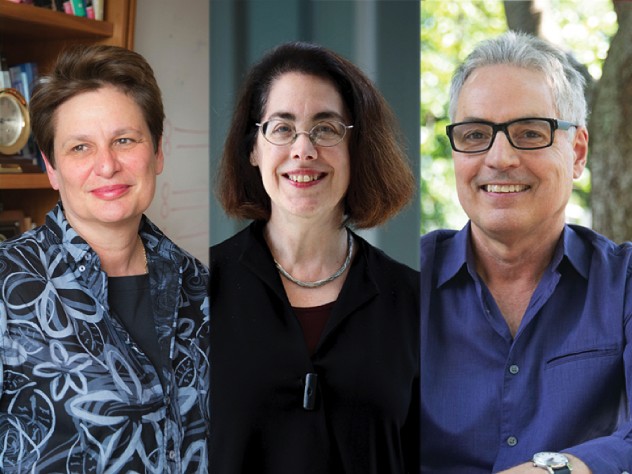 From left: Catherine Dulac, Arlene Sharpe, and Robert J. Sampson
Photographs from left by: Kris Snibbe/HAPC; Channing Johnson; Kris Snibbe/HPAC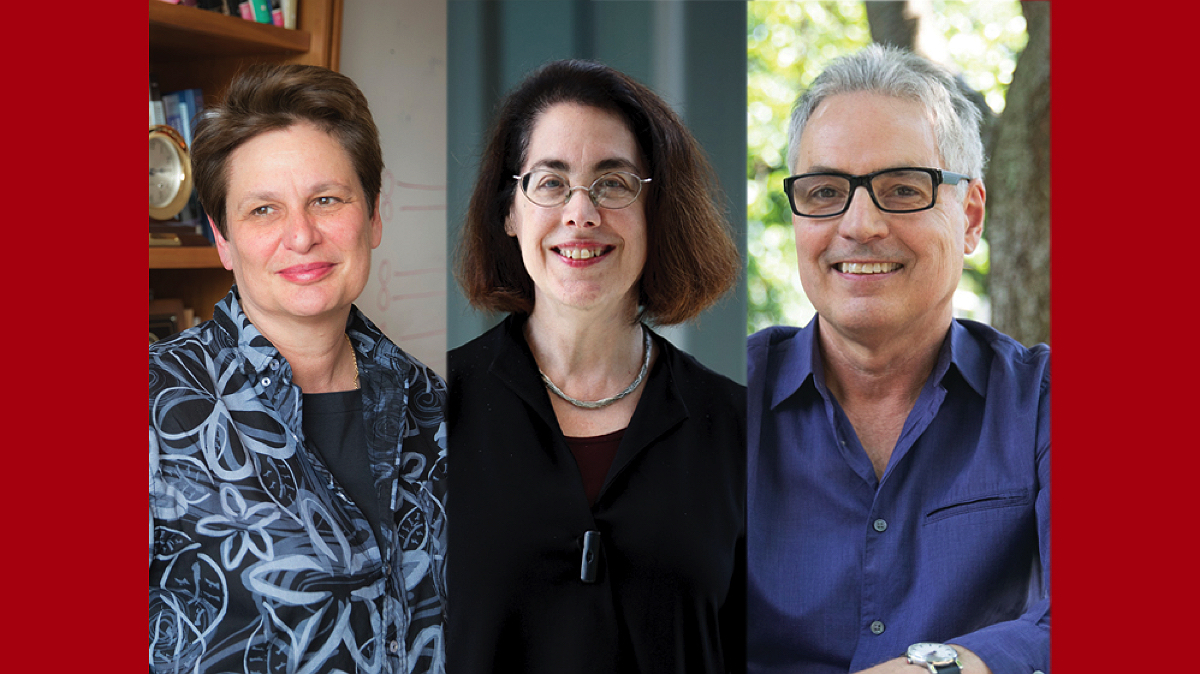 From left: Catherine Dulac, Arlene Sharpe, and Robert J. Sampson
Photographs from left by: Kris Snibbe/HAPC; Channing Johnson; Kris Snibbe/HPAC
Top Trio
President Lawrence S. Bacow had the rare opportunity in late November to appoint three faculty members to University Professorships: Harvard's highest distinction for scholars, recognizing distinguished research and teaching that extend across disciplines and schools. Catherine Dulac, Higgins professor of molecular and cellular biology and Lee and Ezpeleta professor of arts and sciences, has been named Morris University Professor, succeeding the late Dale Jorgenson, an economist. Arlene Sharpe, Fabyan professor of comparative pathology and chair of the department of immunology, has been appointed the Kolokotrones University Professor, succeeding the late Paul Farmer, founder of Partners In Health. And sociologist Robert J. Sampson, Henry Ford II professor of the social sciences, is now the Flowers University Professor, succeeding George Whitesides, who is now a research professor. Their research is described at harvardmag.com/univ-profs-22.
Early Admissions
The College has announced that 722 of 9,553 early-action applicants were admitted to the class of 2027; this 7.5 percent acceptance rate is slightly lower than the 7.9 percent in the prior year. Of the admitted cohort, 14 percent come from first-generation college backgrounds, up from the nearly 12 percent last year, and 10.8 percent are eligible for federal Pell -Grants—for which lower-income families qualify. African Americans comprised 14.4 percent of those admitted early (up from 13.9 percent), Asian Americans 29.1 percent (up from 25.9 percent), Latinx 8.4 percent (down from 10.5 percent), and Native Americans and Native Hawaiians 1.7 percent (down from 3.7 percent). Deferred early-action applicants will be reconsidered during the regular admissions period; decisions are slated for March 30. Further details are at harvardmag.com/early-decisions-22.
Decanal Departure
Engineering and applied sciences dean Francis J. Doyle III, a chemical engineer who focuses on analyzing the regulation of biological systems, has been appointed provost of Brown University, effective July 1. He came to Harvard from the University of California, Santa Barbara, to assume the deanship in 2015. During his term, the share of undergraduates pursuing engineering and applied sciences concentrations increased by about one-third, and the master's and doctoral programs expanded significantly—including joint degrees with the Graduate School of Design and the Business School. Much of the school's faculty relocated to the new science and engineering complex in Allston. Learn more at harvardmag.com/doyle-step-down-22.
Faculty Deans, Campus Services
Eileen Reynolds and Daniel Deschler, interim faculty deans of Leverett House, have succeeded to regular appointments as the Leverett leaders. Both are practicing physicians and hold Harvard Medical School teaching appointments.…Pforzheimer House faculty deans Anne Harrington, Ford professor of the history of science and interim dean of undergraduate education, and John R. Durant, director of the MIT Museum, will step down at the end of the academic year, concluding a decade of service.…Sean Caron, managing director of Harvard Real Estate, has been appointed vice president for campus services, leading 1,800 employees involved in real estate, parking, facilities management, dining services, housing, transportation, sustainability, and more.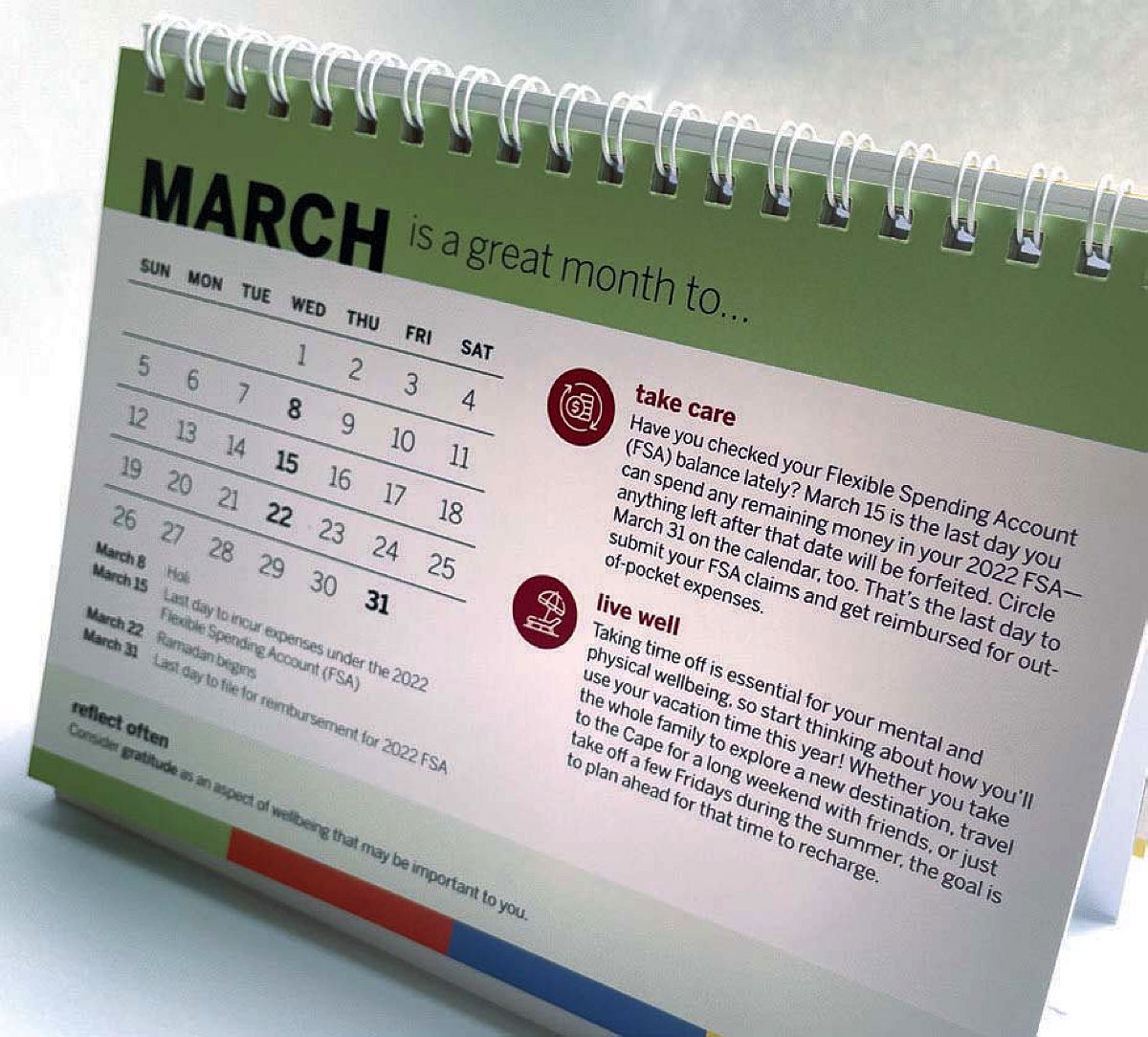 Photograph by Jennifer Carling/
Harvard Magazine
Harvard: The Desk Calendar
Absent the calendars once distributed by insurance companies, plumbers and electricians, and so on, to cultivate their customers' goodwill, Harvard Human Resources has filled the breach. In early January, employees received at home the "take care. live well." 2023 calendar, a wire-bound, stand-up, bilingual (English-Spanish) guide to health, retirement, and other benefits—a not inconsiderable portion of employees' total compensation from the University. Among the chipper exhortations sprinkled among the monthly pages: "Consider the intangible aspects of well-being that may be important to you this year"; for Valentine's Day, "What about a little self-love…? Invest in your mental wellness" via a "free collection of self-directed online mental health resources" available through the medical plan; and so on. 
More Student Scholars
Harvard College seniors Grace R. Kim (aerospace and robotics engineering), Kavya M. Shah (chemical and physical biology, statistics), and Aristotle Vainikos (government and statistics) have been awarded Marshall Scholarships for post-graduate study in England. Marcus Montague-Mfuni (psychology), from Johannesburg, and Sílvia Casacuberta Puig (mathematics and computer science), from Barcelona, were awarded international Rhodes Scholarships, for study at the University of Oxford, joining six domestic honorands (see News in Brief, January-February, page 20). Schwarzman Scholarships, for master's degree study at Tsinghua University in Beijing, have been awarded to Christian D. Abney, Monica Chang, Joyce Zhou, and Jonathan Zhang; alumni Kunho Kim '17 and Zayan Faiyad '18; master's degree student Edward Tan; and Medical School master's student Jiaqi Jiang.
Global Health Gift
Honoring the late Kolokotrones University Professor, the Cummings Foundation has made a $50-million gift to create the Paul Farmer Collaborative, joining Harvard Medical School and the University of Global Health Equity. The latter, based in Rwanda, was created by Partners In Health, which Farmer co-founded; it has become a leading international health and human rights organization. The funds, divided between the two institutions, will support research on and training in social medicine and the social determinants of health and humane care, aiming to improve care delivered to underserved populations—the focus of Farmer's work in Haiti, Rwanda, and elsewhere.
Ratings Redux
U.S News & World Report announced in January that it would change how it ranks law schools, following the decision by Yale, Harvard, and other leading institutions to withdraw from the magazine's evaluations (see News in Brief, January-February, page 20). Yale indicated it remains opposed to the rankings, even as revamped, and Harvard said it "has not reconsidered its decision." Writing the day after the Martin Luther King Jr. holiday, Dean George Q. Daley announced Harvard Medical School will stop submitting data to the magazine's survey of medical schools, citing problems with its methodology and "the principled belief that rankings cannot meaningfully reflect the high aspirations for educational excellence, graduate preparedness, and compassionate and equitable patient care" for which the faculty aims. Those critiques echo the law deans' rationale—suggesting widening disenchantment with the rankings across higher education.
Fellowship Furor
A loud public controversy erupted in January when it was reported that the Harvard Kennedy School (HKS) had decided not to offer a fel lowship to Kenneth Roth, retired executive director of Human Rights Watch (HRW), despite an internal recommendation to Dean Douglas Elmendorf that the appointment be made. The decision prompted allegations that the school's leaders were deferring to donors, defending Israel at the expense of Palestinian interests (HRW has recently been a sharp critic of Israel's human rights policies), and limiting free speech. Elmendorf and the school remained silent—the norm for personnel matters—until he announced, on January 19, that the decision was in error (but not influenced by donors); Roth would be offered a fellowship; and HKS would move to adopt new policies governing such appointments. Read more at harvardmag.com/rights-fellowship-23.
On Other Campuses
Dartmouth STEM-X, unveiled as part of a capital campaign, aims to devote $100 million to seed opportunities in sciences and engineering for underrepresented groups. "We are acting on two contrary truths—American innovation benefits greatly when diverse perspectives are applied to a problem, and yet the pipeline of advanced-degree recipients in STEM from underrepresented groups falls far short of representation levels in our society," said Dartmouth President Philip J. Hanlon. The program includes undergraduate scholarships, curricular innovation, expanded undergraduate mentoring, and career and graduate advising.…Yale graduate and professional students in December voted 1,860 to 179 in favor of unionization; the university has announced it will begin bargaining on a contract.
Previous-Term Registration
Under the rules for course registration adopted by the Faculty of Arts and Sciences in May 2022, the beginning-of-semester "shopping" week championed by undergraduates will give way to previous-term registration (see harvardmag.com/shop-denouement-22). The registrar's office has outlined how the new procedure—meant to make the beginning of classes more productive, and to facilitate assignment of teaching fellows and learning spaces—will phase in. For the spring 2024 semester, returning students will register this November 1-15, and for the fall 2024 semester, they will register April 3-17, 2024. Incoming students will register for that semester on August 26-28, 2024.
Newsmakers
Thomas Dunne, deputy dean of students at Princeton, will become dean of students for the College, effective June 1, succeeding Katherine O'Dair, now University Marshal .…Former Harvard fencing coach Peter Brand, who was dismissed in 2019 for conflict of interest stemming from financial favors received from the parent of two student fencers (see harvardmag.com/dismisses-fencing-19), and the parent, were acquitted of federal bribery charges in December, following a three-week trial.