Getting His Reps in
Anwar Floyd-Pruitt's wildly profuse art
During Anwar Floyd-Pruitt's first year in art school, he arrived at the sculpture lab one weekend to find it locked. This was a problem: he had a project due the following Tuesday. "So, I just worked in the hallway that entire weekend," he says. "I brought some tools from home, sat down outside the lab, and built my sculpture": a 40-foot-by-10-foot modular wall hanging assembled from found objects made of wood. On Monday, when the lab opened again, Floyd-Pruitt '99 arrived early to apply a few finishing touches and apply a coat of orange paint. The next day, he presented it to his professor, along with a smaller secondary sculpture he'd also produced over the weekend. "I decided to do both of them," he says, "because I wasn't sure which one I'd like better."
One thing to know about Floyd-Pruitt's artwork is just that there is so very much of it. Paintings, collages, sketches, and sculptures tumble out of him by the dozen. He sometimes creates as many as 400 objects for a single exhibition. On top of that, he's an animator, muralist, performer, and puppeteer—the latter of which has become a particular focus.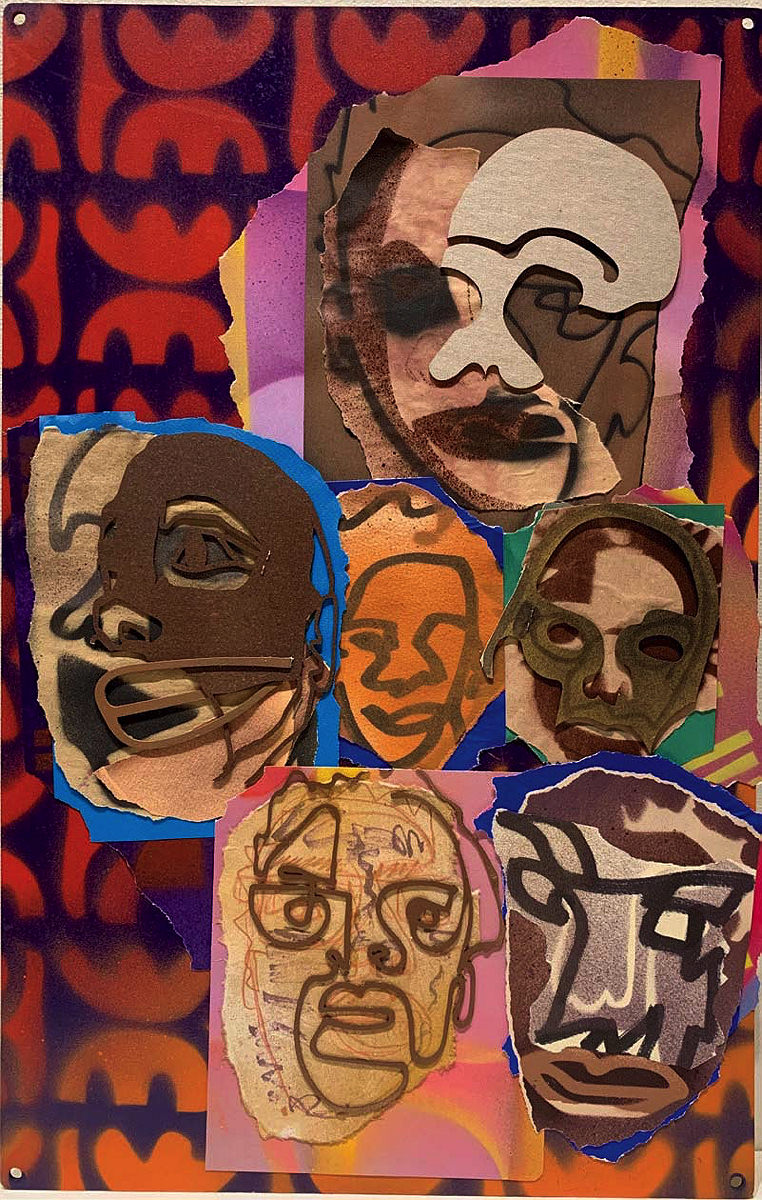 Multiplicity of Being 
Photograph courtesy of Anwar Floyd-Pruitt
The other thing to know about his art is that he is feverishly, relentlessly racing to catch up. "Starting my career as an artist so late in life"—he was 36 when he went back to school for his bachelor's in fine arts—"means that I have to iterate quickly in order to make the number of works necessary to claim any sort of mastery," he says. "It's about getting my reps in."
Raised in Milwaukee, Floyd-Pruitt studied psychology at Harvard while also performing stand-up comedy (he played football, too, until injuries sidelined him). For years, he skirted the edges of artistic life without quite finding a way in. After college, he helped some high school friends produce a low-budget horror movie and started bleach-dyeing T-shirts in his apartment to give away as gifts. He met and married a fashion designer from Germany, "this brilliant material magician, who could take sheets of fabric and turn them into gorgeous wearable art right in front of you"—and who gave him his first sketchbook. He moved to New York, looking for work in video production, but instead found jobs in marketing; for two years, he was a brand ambassador for Chivas Regal whisky. "I was in bars and steakhouses six to seven days a week, often for 10 to 16 hours a day," he says. The lifestyle hollowed him out.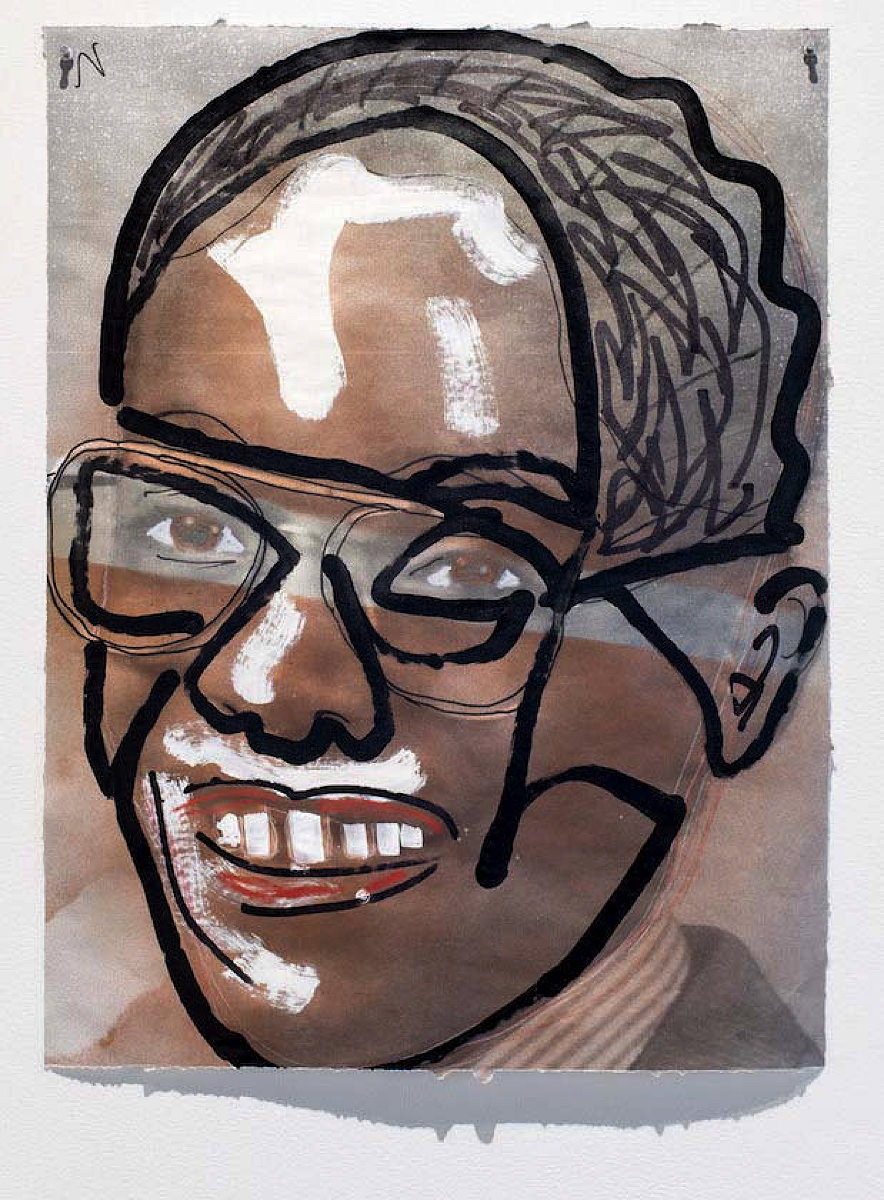 All of Me; 
Photograph courtesy of Anwar Floyd-Pruitt
Then things fell apart: he and his wife divorced, and he moved back to Milwaukee to start over, this time focusing on art and community service. He began working with a local organization, leading art workshops for at-risk and incarcerated young people—a commitment that still shapes his work—and enrolled at the University of Wisconsin–Milwaukee's B.F.A. program, specializing in sculpture. After graduation, he moved to the University of Wisconsin–Madison, where he earned his M.F.A. in 2020. His work has shown in galleries and museums including the Milwaukee Art Museum, the Chazen Museum of Art and the Museum of Wisconsin Art, where he now also works as a curator.
It's difficult to describe the wild profusion of artwork Floyd-Pruitt has produced during the past 10 years. His paintings and collages are sometimes playful and kaleidoscopic, drawing on Afrofuturism and ideas about memory, history, and the flexibility of identity. A series called Retina Records: Self-Portraits of a Time Traveler feels almost in motion. Floyd-Pruitt uses spray paint to layer his own face and the abstracted features of family members onto densely patterned backgrounds. A similar energy inhabits All of Me and the darker-hued Multiplicity of Being. Meanwhile, SUPERNOVA: Charlotte and Gene's Radical Imagination Station mixes imagery from DNA spectrometer analysis and satellite pictures of the cosmos with motifs from Floyd-Pruitt's childhood home and blended portraits of himself and his ancestors. Part memoir, part fantasy, it is both bizarre and affecting, envisioning his parents (the titular Charlotte and Gene) as baby astronauts traveling through time and space.
Other work feels more dissonant and anguished, almost cracked open. Recently, Floyd-Pruitt has been working on a project exploring the emotional aftermath of a physical attack he suffered in downtown Madison as he was painting a city-commissioned Black Lives Matter mural during the summer of 2020. An angry, drunk white man accosted and punched him, Floyd-Pruitt says. The incident left him with an injured hand and PTSD. Synaptic Crackle and a companion series, Drink More Water, Get More Sunlight, incorporate neuroscience imagery and abstract depictions of violence into vividly colored paintings; in some self-portraits, he says, it appears that "either I'm looking into myself, or I'm coming apart."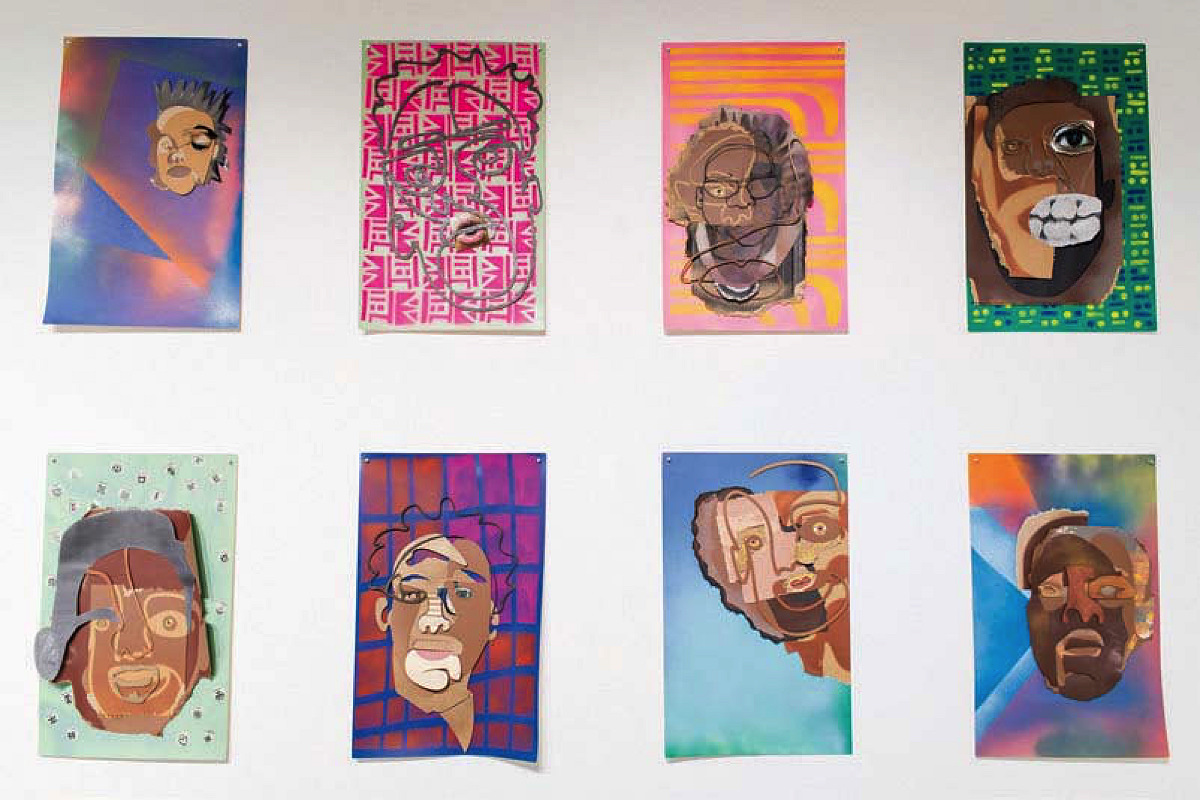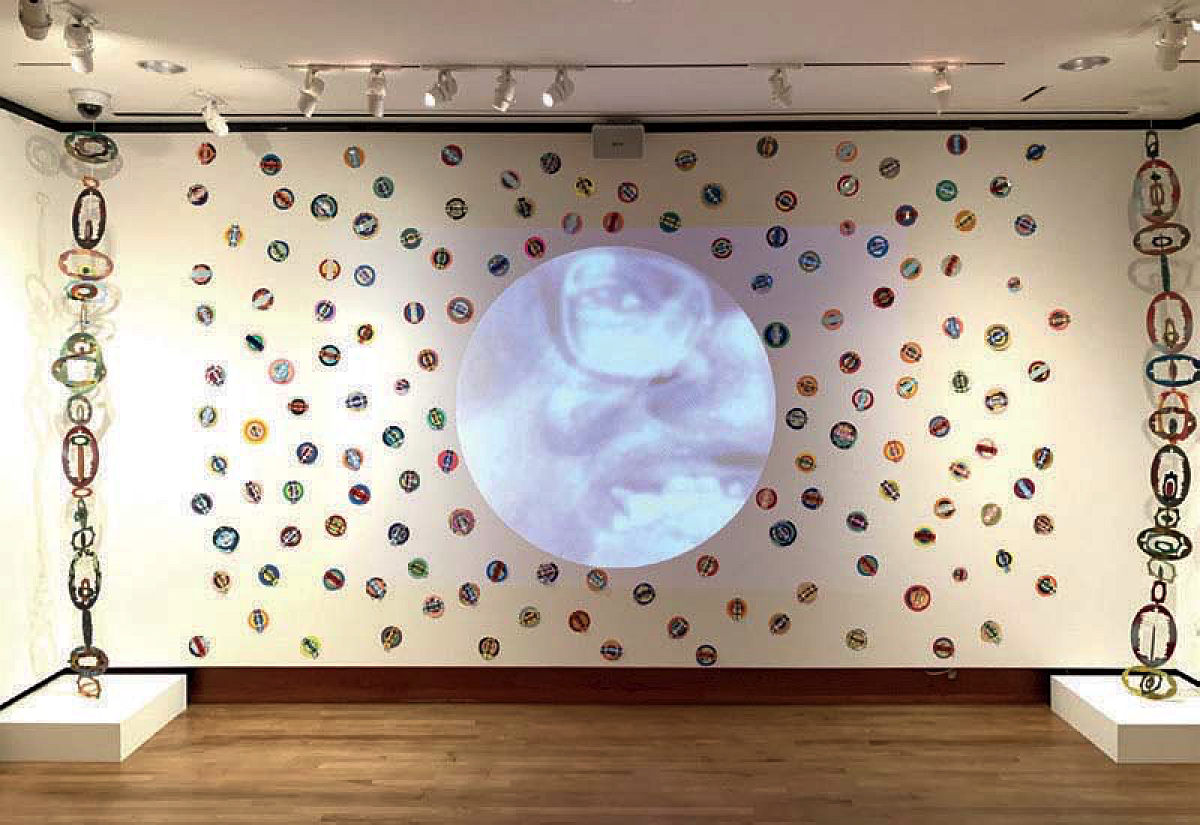 All of MeSUPERNOVA: Charlotte and Gene's Radical Imagination Station
Photograph courtesy of Anwar Floyd-Pruitt
Almost all of Floyd-Pruitt's work begins with self-portraiture: a form of artistic exploration he honed in graduate school, standing at a mirror and tracing the outline of his own face over and over with a dry-erase marker. He'd do this for hours at a time, sketching out a single contoured line—"just a really quick gesture"—of eyes, nose, ears, mouth, trying different angles, different expressions, sometimes using his non-dominant hand. Later, he began drawing self-portraits from old photographs, digitizing them and using a laser cutter to create large wooden stencils that sometimes fused different eras of his life: "So, 40-year-old Anwar's face," he explains, "on top of 20-year-old Anwar's face, on top of two-year-old Anwar's face."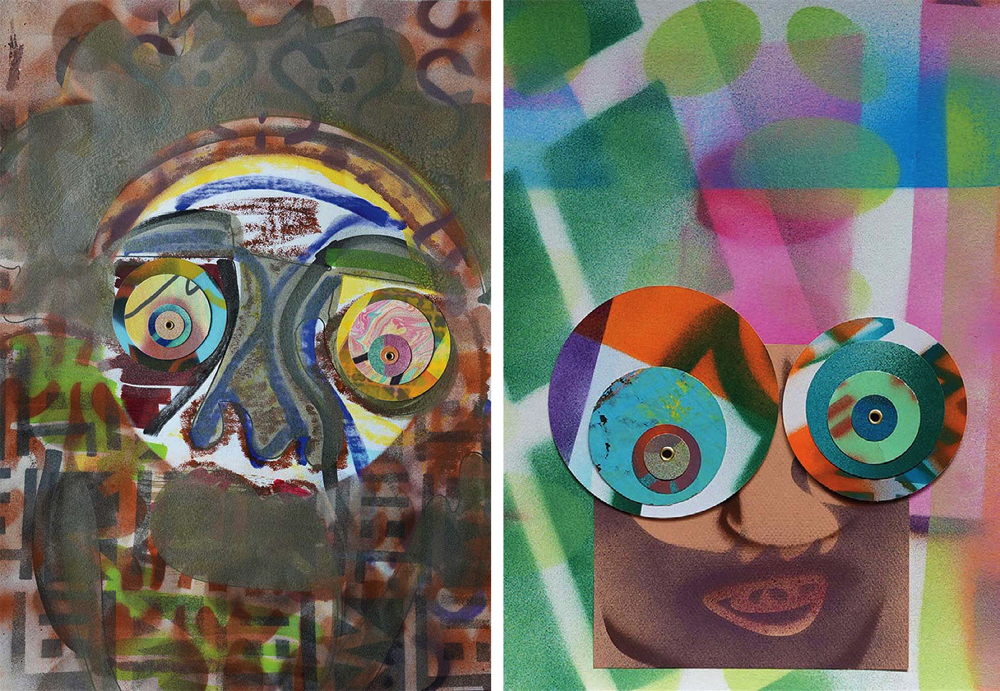 Retina Records: Self-Portraits of a Time Traveler
Photograph courtesy of Anwar Floyd-Pruitt
These days, much of his attention is on puppet-making. He began building papercraft puppets ("people-powered kinetic sculptures," he calls them) in graduate school, and they have long been the pedagogical basis of his art workshops in classrooms and youth detention centers. Requiring only simple and inexpensive materials (paper, glue, rubber bands, and a dowel), they're both an accessible form of creative expression and a powerful role-playing tool to help kids reimagine their identities and practice healthy behaviors. The effect is similar, he believes, to that of incarcerated adults performing theater, which helps lower recidivism: In Shakespeare, he says, "There's usually some crime or violence, and these incarcerated actors are embodying the reckoning of the characters."
Floyd-Pruitt writes comedic, family-friendly rap songs for his puppets to perform (one titled "Cookies" is his "number-one way of connecting with young people"), and he has studied the history of puppets in the African diaspora. One continuing project, Hip Hop Puppet Party, includes workshops, a sing-along, and a 10-minute fanciful, offbeat video that opens with a puppet—whose face incorporates one of Floyd-Pruitt's stenciled self-portraits—wearily addressing his therapist. In puppetry, Floyd-Pruitt sees almost endless room for experimentation. "There are so many ideas in my head," he says. And once again, he's working on his reps.
You might also like
The first in a series of public conversations about Harvard and the legacy of slavery
How to encourage free speech and inquiry on campus
A new play at the A.R.T. provides a modern take on ancient mythologies   
Most popular
Brief life of a formidable anthropologist: 1903-1991
First-years Ngozi Musa and Gabby Thomas help set the pace for track and field.
A negative investment return and annual spending reduce the endowment's value 5.1 percent.
More to explore
A test can identify these productivity-boosting personnel.
Ancient history professor studies coins, ceramics, and Zelda.
Anwar Floyd-Pruitt's wildly profuse art