Harvard Responds to Violence in Israel
As war in the Middle East rages, a war of words is fought at Harvard.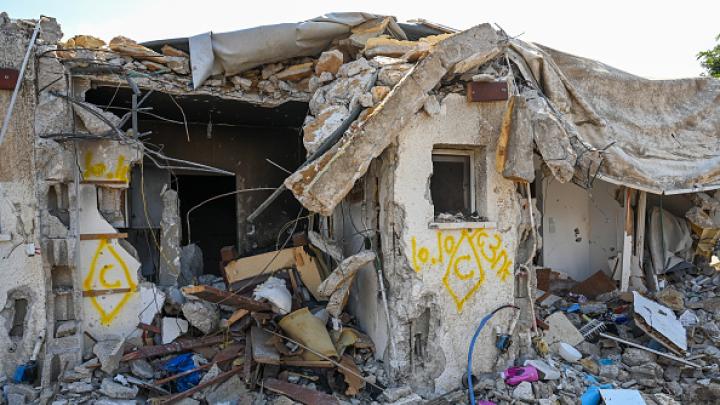 Saturday morning, militants from the terrorist group Hamas stormed into Israel by foot, air, and sea. During the surprise attack launched from Gaza, Hamas killed more than 900 Israeli citizens, wounded 2,600, and captured more than 100, according to Israeli officials. An ocean away, Harvard affiliates were deeply divided over how to respond to the violence, and the University administration released a statement at the end of the long weekend expressing its commitment to an "environment of dialogue and empathy."
A letter from the Harvard Palestine Solidarity Groups (PSG), released Saturday afternoon, vaulted the University into the national spotlight. The statement—signed by more than 30 student groups across Harvard's schools—holds "the Israeli regime entirely responsible for all unfolding violence." The letter spread quickly on social media and through news networks.
Many on campus were critical of the letter's content, including more than 3,000 University affiliates who signed a statement spearheaded by Harvard's Hillel and Chabad, which called the PSG's letter "completely wrong and deeply offensive." The joint statement encouraged Harvard's administration to condemn Hamas' attacks. "Failure to denounce these atrocities unequivocally," it continues, "is a moral stain on the university and its leadership."
Monday afternoon, before the statement from University leadership had been released, former Harvard president and Eliot University Professor Lawrence S. Summers took to social media to criticize the administration. "In nearly 50 years of Harvard affiliation, I have never been as disillusioned and alienated as I am today," he wrote on X, the social media platform formerly known as Twitter. "The silence from Harvard's leadership, so far, coupled with a vocal and widely reported student groups' statement blaming Israel solely, has allowed Harvard to appear at best neutral towards acts of terror against the Jewish state of Israel." Summers pointed to then-Dean Claudine Gay's swift statement about police violence following the 2020 death of George Floyd, and the strong response by former president Lawrence S. Bacow to Russia's 2022 invasion of Ukraine (which included flying the Ukraine flag in Harvard Yard). Referencing Harvard's lack of response to the Israel crisis Monday morning, Summers said, "I am sickened."
Monday evening, President Gay and the deans of every Harvard school sent an email to students and staff: "We write to you today heartbroken by the death and destruction unleashed by the attack by Hamas that targeted citizens in Israel this weekend, and by the war in Israel and Gaza now under way," it began. Harvard, the letter continued, would support students affected by the war, facilitate ways to "deepen our knowledge of the unfolding events and their broader implications," and "take steps that will draw on our common humanity and shared values to modulate…the deep-seated divisions and animosities so distressingly evident in the wider world."
But some University affiliates criticized the statement as inadequate because it did not explicitly condemn violence or Hamas and did not comment on the PSG letter. Summers again took to X Tuesday morning, writing that the administration's letter "fails to meet the needs of the moment," saying that it did not approach "the moral clarity" of its statements about George Floyd and Ukraine.
President Gay released another statement this morning:
As the events of recent days continue to reverberate, let there be no doubt that I condemn the terrorist atrocities perpetrated by Hamas. Such inhumanity is abhorrent, whatever one's individual views of the origins of longstanding conflicts in the region.  
Let me also state, on this matter as on others, that while our students have the right to speak for themselves, no student group—not even 30 student groups—speaks for Harvard University or its leadership.
Simultaneously, the University administration has been providing in-person support for Jewish students. The Crimson reported that Gay and Provost Alan M. Garber attended a dinner at Harvard Hillel Sunday evening, and that Dean of the Faculty Hopi E. Hoekstra and Harvard College Dean Rakesh Khurana went to a student vigil outside Widener Library later that night.
The University's response to this fresh crisis in the Middle East may serve as an early test of the Gay administration's commitments to both academic values and engagement with issues of importance in the wider world. The recent events (and emails) relate to a pair of the new president's priorities: for Harvard to be globally relevant and for its campus to have a robust culture of free speech.
In her inauguration address, Gay said that Harvard should "explore, define, and help solve the most vexing problems of society." Though she may have expected that University's primary involvement would be tackling climate change, challenging poverty and inequality, and fixing higher education, a major international conflict—and the debates that come with it—has come as a surprise to everyone, including her nascent administration. In the Middle East, war continues; Israeli counterstrikes have killed 830 people in Gaza, according to Palestinian authorities. At Harvard, President Gay is facing the formidable challenge of balancing campus free speech, comforting students, and denouncing terror.
UPDATED October 11, 9:00 A.M.: On Tuesday afternoon, a group of more than 100 Harvard faculty published a letter that criticized the University's initial response to the crisis for creating a "false equivalency" between Hamas's terrorism and Israel's counterattack. "Every innocent death is a tragedy," the letter reads, but Hamas "murder[ed] and kidnap[ed] civilians…with no military or other specific objective," whereas "Israeli security forces were engaging in self-defense against this attack." Though some of these complaints were addressed in President Gay's Tuesday morning addendum, the professors nevertheless rebuked the University for failing "to condemn the justifications for violence that come from our own campus." The signatories included Johnstone professor of psychology Steven Pinker, Kenan professor of government Harvey C. Mansfield, Aetna professor of the practice of economic policy Jason Furman, and Lawrence H. Summers.
UPDATED October 12, 3:00 P.M.: In the face of outside agitation, many Harvard affiliates have softened their stances on the campus conflict. On Wednesday, a video billboard truck drove around Harvard Square showing the faces and names of students allegedly affiliated with student organizations that signed the PSG statement. Conservative non-profit Accuracy in Media took credit for the truck, which was one of many ways PSG students were "doxxed" (had their personal information publicized by political opponents).
At least five student groups listed on the PSG statement have withdrawn their signatures, according to The Crimson, and the PSG has removed the names of all organizations "for student safety." Wednesday afternoon, the PSG released a follow-up statement clarifying that the organization "staunchly opposes all violence against all innocent life and laments all human suffering." "We reject," it continued, "that Palestinian solidarity groups are always expected to preempt their statement with condemnation of violence while overlooking the structures that produce said violence."
Critics of the PSG similarly relaxed their initial positions. Lawrence H. Summers took to X again on Wednesday to ask people to "take a deep breath" and avoid vilifying students whose groups signed the PSG letter. "This letter was issued six hours after the attacks," he said on Bloomberg TV Wednesday afternoon. "Many in the groups had no idea that there was going to be a letter. Some, who probably signed their groups on, didn't fully know what they were signing. Some, I'm sure, were naive and stupid."
UPDATED October 13, 9:15 A.M.: Thursday evening, President Claudine Gay sent a video message to the campus community, alumni, and friends, seeking to de-escalate student and faculty speech, while also reasserting the University's position on the violence in Israel. She denounced the harassment of students for their beliefs (tacitly referring to the doxxed PSG students) but clarified that protection of free expression "is a far cry from endorsing" contested ideas. Gay specifically rejected terrorism, including "the barbaric atrocities perpetrated by Hamas." She said that Harvard affiliates "have a choice" on how to address differing opinions, adding, "It's in the exercise of our freedom to speak that we reveal our characters."
We can issue public pronouncements declaring the rightness of our own points of view and vilify those who disagree.
Or we can choose to talk and to listen with care and humility, to seek deeper understanding, and to meet one another with compassion.
We can inflame an already volatile situation on our campus.
Or we can focus our attention where it belongs on the unfolding tragedy thousands of miles away. We can ask ourselves how, as human beings, we can be helpful to people who are desperately trying to protect themselves and their families, people who are fighting to survive.
Gay's video message and a transcript of her remarks can be found here.
Many Harvardians supporting Palestine continue to publicly protest despite social pressure. On Thursday, about 55 students donned keffiyehs (traditional Palestinian scarves) as part of a weekly Palestine Solidarity Committee initiative. At noon, they gathered on Widener steps, unfurled two Palestinian flags, and yelled "Free Palestine" multiple times, posing for photos with their backs turned. Thursday evening, the group organized a vigil in Harvard Yard.
You might also like
Genetic analysis reveals a culture enriched from both sides of the Danube.
Harvard researchers illuminate a longstanding epidemiological connection. 
Harvard's Faculty of Arts and Sciences broaches two tough topics.
Most popular
Professors' humble beginnings, concentration choices, and a mini history of Harvard and Radcliffe presidents
Brief life of a feisty mountaineer: 1859-1925
Realizing the full potential of black employees
More to explore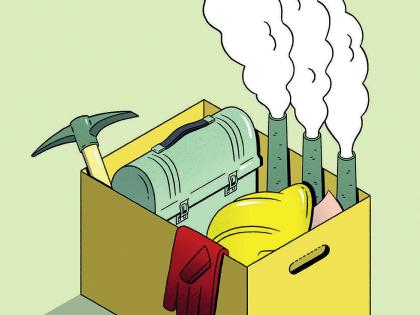 Expect massive job losses in industries associated with fossil fuels. The time to get ready is now.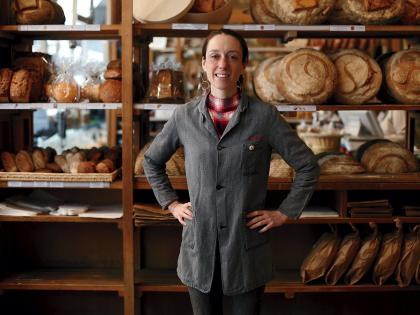 A third-generation French baker on legacy loaves and the "magic" of baking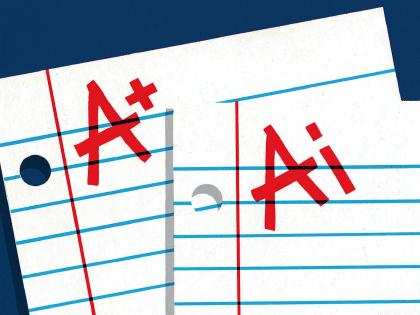 Generative AI can enhance teaching and learning but augurs a shift to oral forms of student assessment.