An "Older Sister" to Combat Anemia
Alan Espinosa addresses a global health challenge.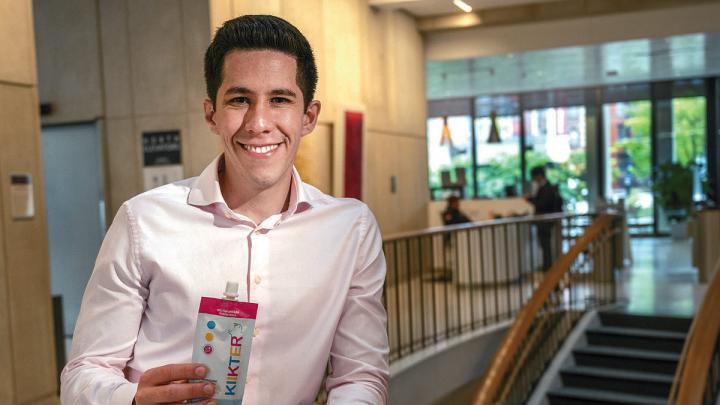 It looks like the kind of applesauce squeeze bottle one would find in a child's lunch box. Twist the top off Kiikter's cheerful pastel pouch (complete with a rhinoceros mascot), take a sip, and consider the contents: the texture of Jello shortly after it's been mixed with water—gelatinous yet swallowable—in strawberry, blueberry, pineapple, or orange flavors. It stands on its own as a flavorful goo, but it also contains the iron of one pound of steak, the folic acid of a cup of spinach, and the vitamin C of nearly nine apples. Nutritional epidemiology doctoral student Alan Espinosa, M.P.H. '22, founder of Kiikter—a dietary fortification product designed to prevent childhood anemia—smiles. "It's pretty good, right?" And surprisingly, it is.
Espinosa first noticed the burden of anemia while working with indigenous Mayan communities on the Yucatan Peninsula in his native Mexico. Then an undergraduate at Universidad Marista de Mérida, he was studying the relationship between the community's diet and type 2 diabetes. "But while I was there," he recalls, "I saw the prevalence of iron-deficient anemia in children, and how many struggled with malnutrition." He wondered whether it would be possible to develop a daily consumable product that would provide the lacking essential nutrients.
It took four years to bring that idea into reality. He began in 2016 as a college senior, developing a nutritionally ideal ratio of encapsulated iron (a more easily digestible form), folic acid, and vitamins B12 and C. He co-manufactured the product with InnoFoods in Mexico City, and then engaged his two best junior-high school friends to help make it a viable product: an engineer who could oversee packaging and shipping, and a businessman to oversee distribution, marketing, and the product's regulatory approval as fortified food.
They tried several different mediums for the iron-rich formula: first, in 2016, a pudding prototype, then later, a powder. But Espinosa noticed in both instances that the product design wasn't serving the communities for which it was intended. The semisolid formula required refrigeration—in communities with few refrigerators—and communicating the correct ratio of powder to water proved difficult in remote, at-risk locales. He recalibrated and developed the current gel iteration in 2020—ready-to-eat, no refrigeration needed—and named it Kiikter, a combination of Mayan words meaning "an older sister who takes care of you." The name, Espinosa says, "reminds me of the fundamental idea behind what we're doing: we want to actually help people."
To those in the United States, anemia might seem like a niche affliction, but it's a serious global public health challenge. "It's prevalent in every group in the population, no matter their income, education, or age," he explains. "And in children, anemia can condition a lot of outcomes in their adulthood." In nations like Peru, Tanzania, and Togo, one-third to three-quarters of children under the age of five experience anemia. In Mali, nearly 80 percent do. Often, the condition begins when children don't get enough iron from food. Low iron often means a low red-blood-cell count or anemia: the blood stream cannot ferry sufficient oxygen to the body's tissues. Even mild iron-deficiency anemia can stunt children's growth, or cause adverse cardiovascular conditions and neurological disorders. And its more benign symptoms, like tiredness and difficulty concentrating, can impede children's learning in school. Espinosa says, "These are things that could condition their opportunities later in life."
For such a vital nutrient, iron is notoriously difficult to supplement. An iron pill on an empty stomach often causes gastrointestinal issues; an iron pill taken with food doesn't get absorbed well by the body. Kiikter simplifies the process: as a gel, it digests easily, and free of fiber and full of nutrients, it absorbs well. But perhaps most importantly, with its child-friendly package and palatable taste (miraculously for an iron product, it does not taste metallic), Kiikter is something children will tolerate, if not enjoy.
Anemia is a serious global public health challenge, stunting children's growth, impeding learning, and conditioning their adulthood.
The venture-backed company uses what's called a "one to one" business model, tied to their philanthropic principles. For every unit sold in stores or online (via Amazon, South American eBay equivalent Mercado Libre, or Kiikter's webpage), the organization partners with nongovernmental organizations like Save the Children to donate the product to about 300 schoolchildren in at-risk communities across South America. Alongside their school-subsidized tray (usually a milk carton, granola bar, and a piece of fruit), children sip on a Kiikter. "But that isn't going far enough," Espinosa says. Eventually, they aim to expand their model to cover the cost of nutrient-rich school lunches, prepared with ingredients from local producers. "We want to provide kids with a complete meal," he says. "We want to get closer to the root of the problem."
A few months ago, Espinosa and his co-founders traveled to Mexico City to see Kiikter in its first retail store. "I couldn't wait even a week until it rolled out in the stores near me in Mérida," he says. "The moment we saw it on the shelves—it was perfect." Kiikter has debuted in 70 branches of Farmacias de Ahorro, Mexico's most prominent drugstore chain, and plans to expand to all 1,500 of its stores by the end of the year.
While most of the organization's sales and philanthropy are concentrated in Espinosa's native Mexico, Kiikter could expand to the United States eventually. The company reached a new stage when it became a finalist in last year's Harvard President's Innovation Challenge, a grant competition presented by the Harvard Innovation Labs (i-lab), an accelerator designed to support Harvard student and alumni entrepreneurship. "Working with i-lab really opened up the U.S. market," Espinosa says: the company is in talks with a grocery chain in the American Southwest. The nutritional needs might be different in the U.S. than Mexico, he notes, but there's still a market: vegans.
At Harvard, he has worked under principal investigator (and his Nutritional Epidemiology 102 teacher) Walter C. Willett, professor of epidemiology and nutrition, analyzing data from Willett's Health Professionals Follow-Up Study to determine how non-nutritive sweeteners such as aspartame relate to health problems like obesity, cardiovascular disease, and type 2 diabetes. And for his dissertation, Espinosa will study how dietary patterns in the United Kingdom, Puerto Rico, and Mexico affect other health conditions and outcomes. Although his studies don't directly involve Kiikter, he says the company and his time at Harvard are tied together by the same thread: "Every day, I want to be helping."
You might also like
Harvard Chabad, IDF, and Bill Ackman screen October 7 Hamas footage
Toward another apartment complex on Harvard-owned land
Stepping down after 30 years of University service
Most popular
After a multiyear renovation, Harvard Art Museums make ready for a November reopening.
Fall travel to New England's seacoast offers art, history, biking, and great restaurants
Harvard's Art Museums reopen, poised to fulfill their pedagogical purpose.
More to explore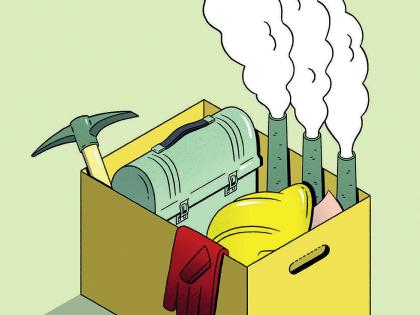 Expect massive job losses in industries associated with fossil fuels. The time to get ready is now.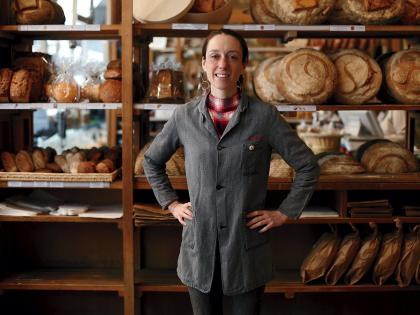 A third-generation French baker on legacy loaves and the "magic" of baking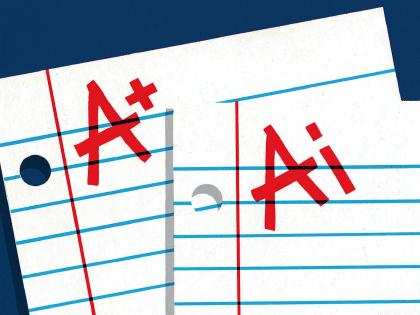 Generative AI can enhance teaching and learning but augurs a shift to oral forms of student assessment.