Classifieds FAQs
A: From deciding on a budget to figuring out your advertising goals and tailoring your message to the audience you want to reach, we have you covered. Click here for our "How Advertising Works" information or call 617-496-6686, Skype: hmagclassifieds or email: [email protected] and we can assist you with creating an effective ad campaign that resonates with the Harvard community.
A: We have categories to fit almost any advertisement. Our main section headers include Vacation Rentals, Personals, Real Estate, and Products & Services.
A: View a complete list of options and prices.
A: The first 2 words in the ad are boldfaced for no additional charge. Additional boldfacing costs 2X the per-word rate.
A: There are four ways to make your text ad stand out:
Add our star icon to highlight your text ad for $40.
Add a crimson border to your text ad for $65.
Have your Harvard class year information in bolded red text for $10.
Buy an online classified ad. Online classifieds appear concurrently with each print issue for just $40 extra. This is an excellent way to reinforce your print advertisement. If you miss a print deadline and want to advertise online instead, the cost is $5.40 per word (the same as a print ad). Another added bonus: your online ad can be linked directly to your webpage or email address. You can also include photos with your online text ad for $40 per photo.
To see examples of these enhancements click here.
A: You can buy a display ad, which allows for logos and artwork. Display ads cannot be purchased using our online order form. Call 617-496-6686, Skype: hmagclassifieds or email [email protected] for assistance.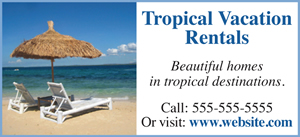 A: Positioning guarantees are not available in the classifieds section.
A: Our 2024 issue dates and deadlines are as follows:
| | | |
| --- | --- | --- |
| Issue | Deadline for Ads | Date Published |
| Jan-Feb 2024 | 11/15/23 | 1/1/24 |
| Mar-Apr 2024 | 1/16/24 | 3/1/24 |
| May-June 2024 | 3/15/24 | 5/1/24 |
| Jul-Aug 2024 | 5/15/24 | 7/1/24 |
| Sep-Oct 2024 | 7/15/24 | 9/1/24 |
| Nov-Dec 2024 | 9/16/24 | 11/1/24 |
A: Our most successful advertisers get a greater response when doing multiple issues versus just one issue. It's akin to when you see an ad on TV, hear it on the radio, or see it in a newspaper or magazine only 1 time and never again, you are less likely to act on it than if you had seen or heard it multiple times.
 
We do offer the following frequency discounts for multiple insertions:
 
10% off for 3 issues
15% off for 4 or 5 issues
20% off for 6 issues
*In order to receive frequency discounts, your ad must be pre-paid in full for all insertions at time of sale. These frequency discounts do not apply to Harvard Alumni Business Network ads or Special Section ads.
A: Yes! Call 617-496-6686, Skype: hmagclassifieds or email: [email protected] and we can assist you with creating an effective ad campaign that resonates with the Harvard community. We encourage you to browse our classifieds to see what other advertisers are doing and to see which ads stand out most to you.
*Design services for display ads are available for $70 per hour, with a 1 hour minimum charge. There is no charge for assistance in wording text ads.
A: All ads must be pre-paid. We accept payment via credit card (Mastercard, Visa, American Express, Discover), U.S. check, or money order. If paying by check or money order, your payment must be received and processed by the issue deadline.
A: Measuring a return on your investment can be tricky with advertising, but here are a few things you can do to measure the effectiveness of an advertising campaign:
 
• Compare inquiries and sales before, during, and after your ad campaign. (Keep in mind that advertising often has a delayed effect, so sales may not come immediately.)
 
• Ask people who contact you (especially new customers) how they heard about you.
 
• Offer a special incentive so you know customers are responding to your ad. For example, "mention this ad and get a 20% discount." You can set up a customized link for the ad on your website, and then track how many people use that link with your website's analytics. (e.g. visit yourwebsite.com/harvard and get 20% off your order).
 
• Click through rates (CTRs) don't tell the whole story. Look at your website's analytics to see if there is an uptick visitors, time spent on your site, or page views. Did you receive any referral traffic from Harvard Magazine's website? Did a visit convert to a sale or action (e.g. did a visitor send you an email or sign up for your mailing list)?
 
• Don't expect a phone call or increased traffic to your website after running one ad. Customers may need to see your ad multiple times before they take action. This is why we strongly recommend advertising in at least 3 issues of the magazine to start. See our frequency discounts for multiple insertions.

• Know that a big part of advertising is building awareness about your business, product, or service–as well as engaging with potential and returning customers. The more familiar your customers become with your brand, the more likely they are to trust you–and to think of you first–when they need your services.
 
A: To place a text ad, click here, email: [email protected], call: 617-496-6686 or Skype: hmagclassifieds. Our online order form is not able to handle display ads or search engine optimization ads, so if you wish to place one of these types of ads, please contact us via email, phone or Skype (noted above).
A: Please contact the Classifieds Department at 617-496-6686, Skype: hmagclassifieds or email us at: [email protected]. 
A: View our national ad rates, Harvard Squared ad rates, and digital/newsletter rates. For more information, please contact Bob Fitta, Director of Advertising, at 617-496-6631 or email him at [email protected].