Sports
Gaining Steam
1.28.18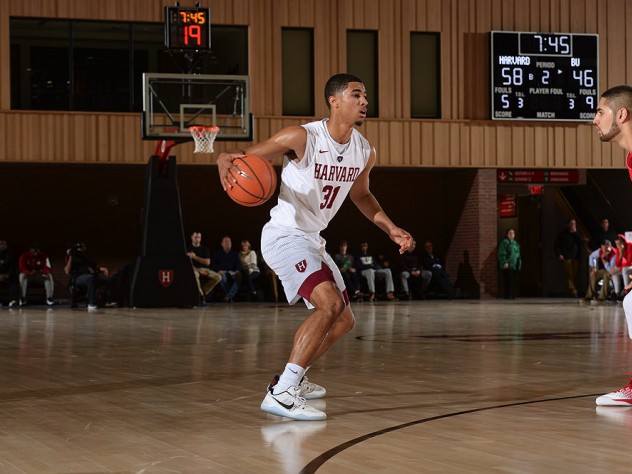 Seth Towns '20 scored a career-high 30 points against Brown on Saturday to help lead the Crimson to an 86-77 victory.
Photograph by Gil Talbot/Harvard Athletic Communications
Seth Towns '20 scored a career-high 30 points against Brown on Saturday to help lead the Crimson to an 86-77 victory.
Photograph by Gil Talbot/Harvard Athletic Communications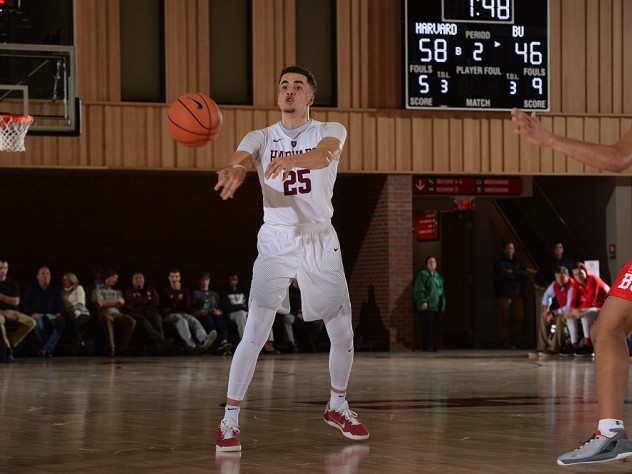 Corey Johnson '19 drained three three-pointers in the first half of Harvard's 54-52 victory over Yale on Friday.
Photograph by Gil Talbot/Harvard Athletic Communications
Corey Johnson '19 drained three three-pointers in the first half of Harvard's 54-52 victory over Yale on Friday.
Photograph by Gil Talbot/Harvard Athletic Communications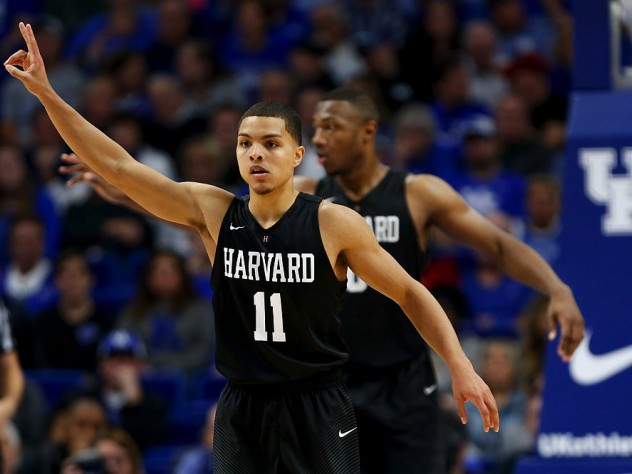 Bryce Aiken '20 returned to action this weekend after missing six of the previous seven games with a knee injury.
Photograph by Gil Talbot/Harvard Athletic Communications
Bryce Aiken '20 returned to action this weekend after missing six of the previous seven games with a knee injury.
Photograph by Gil Talbot/Harvard Athletic Communications
When Stemberg coach Tommy Amaker reeled in the nation's tenth-rated recruiting class in 2016, much of the attention centered on four players ranked among ESPN's top-100 high-school prospects: Chris Lewis '20 (ranked #68 by ESPN), Robert Baker '20 (#97), Seth Towns '20 (#98), and Bryce Aiken '20 (#99). 
In contrast, Justin Bassey '20 attracted scant attention—and landed on the Crimson's recruiting radar by happenstance. As assistant coach Brian Eskildsen tweeted this summer, he discovered Bassey in a "tiny auxiliary gym" at a summer tournament in Las Vegas in 2014. 
Yet Bassey has played the most career minutes of the team's seven sophomores. He has remained on the court so much because he consistently evinces what Steven Hyatt, his coach at Colorado Academy, described as his basketball IQ. During Friday's game at Yale, for example, with a little over two minutes remaining and the score tied at 49, Bassey received the ball just beyond the three-point line. With the shot clock winding down, he took a dribble, faked to get Yale's Trey Phills in the air, and drew a foul. Phills fouled out—and Bassey made three free-throws. Then, with five seconds remaining and Yale looking to tie the score, Bassey fought through a screen and deflected a three-point attempt by Yale's Miye Oni.
The sequence helped to seal a 54-52 Harvard victory. Paired with an 86-77 win over Brown on Saturday, that gave the Crimson (9-10 overall, 4-0 Ivy) sole possession of first place in the Ivy League. (Penn, which is 3-0 in conference play, sits half a game back.) The sweep also suggested that, after a shaky performance in non-conference play, [4] the improved outside shooting of Corey Johnson '19, the combined offensive prowess of Towns and Aiken, and more mettle and toughness overall have come together to put Harvard in position to compete for an Ivy title.
Johnson's Shooting
Less than two minutes into Friday's game, Corey Johnson '19 held the ball several feet beyond the three-point line, elevated, and drained a high, arcing three that gave Harvard a 7-0 lead and caused Yale to call a timeout. The junior sank two more three-pointers in the next eight minutes to help stake the Crimson to a 23-8 advantage.
In some respects, the sequence was unremarkable. Two years ago, Johnson made 74 three-pointers, the third-most in program history and a Harvard freshman record. Last season, he shot 41.3 percent from deep: fourth in the conference. Yet Johnson has struggled this year; entering this past weekend, he had made just 30.5 percent of his three-point attempts—and had missed all 10 attempts while being held scoreless in the previous two contests.
If Johnson is finding his range (he made five of 12 three-point attempts on the weekend), it bodes well for the offense. Amaker wants the team to play inside-out, meaning that they begin possessions by getting the ball into the paint, with either a pass or a dribble. Ideally, this leads to a shot near the basket or causes the defense to collapse, opening up outside shooters.
That strategy depends in part on having a strong interior presence, such as the six-foot-nine, 235-pound Lewis, who had 16 points and 11 rebounds and several thunderous dunks against Yale. Yet without strong outside shooters, it is difficult to play inside-out because opposing defenses will double-team Lewis (something Brown attempted Saturday) and pack the paint against dribble penetration. Thus, Johnson's improved shooting is a key to the Harvard attack (which still averages the fewest points of any team in the conference).
Aiken's Return and Towns's Career High
Harvard's offense also benefits from players who can create their own shots when the shot clock is winding down or the inside-out strategy stalls. Entering the season, the Crimson expected that kind of output from Aiken and Towns, who had led the team in scoring as freshmen. At first, it looked like the sophomores were ready to produce: Towns led the team with 20 points in the season-opener against MIT, and, two days later, Aiken had a career-high 30 points against UMass.
But during much of non-conference play, Harvard couldn't depend on that kind of scoring. Prior to this weekend, Aiken had missed six of the prior seven games with a knee injury. For his part, Towns has had some outstanding games (25 points at Kentucky, 26 at Dartmouth, and 20 at Wofford), but also some duds (5 points against UMass, 2 at Northeastern, and 9 at Fordham). "He's got to be better for us," Amaker said of Towns after the Northeastern game, "if we're going to have the kind of team we're supposed to have."
Against Brown on Saturday, both players excelled. After looking rusty against Yale, Aiken repeatedly got to the basket and drew shooting fouls; he made 11 of 12 free throw attempts to score 18 points. Meanwhile, Towns—whom Amaker challenged to play more efficiently at halftime—scored a career-high 30 points on a versatile range of outside shots, dunks, and drives.
Towns and Aiken will not combine for 48 points every night, but their potential adds to the pressure on opposing defenses.
Mettle and Toughness
Entering this weekend, Harvard had won just two of 10 road games. To some extent, this was the result of visiting some very good teams, principally Kentucky and Minnesota. Yet the Crimson had also dropped winnable contests, such as a pair of 73-69 losses at Holy Cross and Manhattan—suggesting that a team that starts four sophomores might not have the poise to succeed in hostile environments.
This weekend offered a hopeful rejoinder. Yale's Lee Amphitheater boasts a raucous student section pressed up against the court, and the arena was nearly filled on Friday. Unfazed, Harvard jumped out to a 27-11 lead and maintained its poise down the stretch—making five of its final seven free-throw attempts—to seal the victory.
Brown's Pizzitola Sports Center was the site of the backend of Harvard's first back-to-back Ivy road games. Some argue that the league title is won or lost on Saturdays, when many teams fade from the intensity of the weekend's games—particularly road teams, which have to navigate long bus trips on Friday nights. But Harvard showed no signs of a letdown, sprinting to a 13-0 advantage and holding steady when Brown closed the deficit to one and five points late in the first and second halves, respectively.
It is concerning that the Crimson seem to have trouble sustaining big leads (last weekend, the Crimson led Dartmouth by as much as 17 points, but the game ended up going to overtime). Still, Harvard has found ways to win all three games on the road, withstanding opponents' comebacks. The Crimson will need to show that mettle again next weekend when it travels to Columbia and Cornell for its longest road trip of the Ivy season.
Women's Basketball Update
The women's basketball team also won both of its games this weekend, steamrolling Yale 97-73 on Friday and winning a thriller 87-85 over Brown on Saturday. The Crimson (11-6 overall, 3-1 Ivy) were led by Taylor Rooks '18, who scored 22 points against Yale and had a career-high 24 points against Brown. Point guard Katie Benzan '20 also excelled, scoring 21 points against the Bears on the strength of six three-pointers. Head coach Kathy Delaney-Smith's squad will host Columbia and Cornell next weekend.