Commencement
"A Profession Based on Honor and Trust"
5.23.18
In the past decade, President Drew Faust has honored 74 Harvard students as they took their oaths of office during Commencement week's annual Reserve Officers' Training Corps commissioning ceremony—six of them on Wednesday morning, in the last such ceremony of her tenure: 
Second Lieutenant Daniel Cord, of Lombard, Illinois, and a veteran of deployments to Afghanistan and Iraq as a cryptologic linguist, who has earned a master's in Middle Eastern studies and will serve as a military intelligence officer;
Second Lieutenant Nathan Williams '18, of Tujunga, California, a government concentrator with a citation in Russian, who will enter the Engineer Officer Basic Course for specialized training;
Ensigns Michael Haley '18, of Weymouth, Massachusetts, an economics concentrator with a minor in English, and Phillip Ramirez '18, of State Center, Iowa, a government concentrator with a minor in economics, who have been selected for aviation duty; and
Second Lieutenants Kevin Zhu '18, of Boston, a visual and environmental studies concentrator, and James Joyce '18, of Milton, Massachusetts, an economics concentrator with a citation in French, who will both attend the Marine Corps Basic School in Quantico, Virginia.


 
Ensign Kirstin Anderson '18, of Virginia Beach, Virginia, a physics concentrator with a minor in East Asian studies and a citation in Chinese, received her commission earlier. A varsity sailor, she is competing with her teammates at the ICSA Women's National Championship in Norfolk, Virginia this week. She has been selected for submarine duty and will join the Naval Nuclear Power Training Command after initial training.
As the daughter of a World War II veteran and a scholar of the Civil War era, Faust has more than ordinary awareness of the place of the American military in U.S. history, culture, and society, and that knowledge has influenced her presidency, as she explained in her address to the officer candidates, their families and friends, and the reunioners and others gathered in Tercentenary Theatre. "From the outset of my presidency," she said,
I have believed it is imperative that Harvard and the military maintain a close relationship. Military service and sacrifice are an important part of this university's history—going back even before George Washington and his troops bivouacked on the hill just behind us and used my office as a soldiers' hospital. But more significantly, strong connections between Harvard and our armed forces are essential to Harvard's—and the nation's—present and future. Harvard students aspiring to be leaders and influencers in America and the world need to understand the military. And the military has and will continue to benefit from the contributions of the extraordinary leaders educated here.
Following the 2010 repeal of  "don't ask, don't tell" restrictions on gay Americans serving in the military, Faust fostered efforts to restore ROTC programs to Harvard after almost 40 years of formal separation, an undertaking that led to an initial agreement [6] in March 2011 for the navy's program to return to campus; agreements with other branches of the service followed.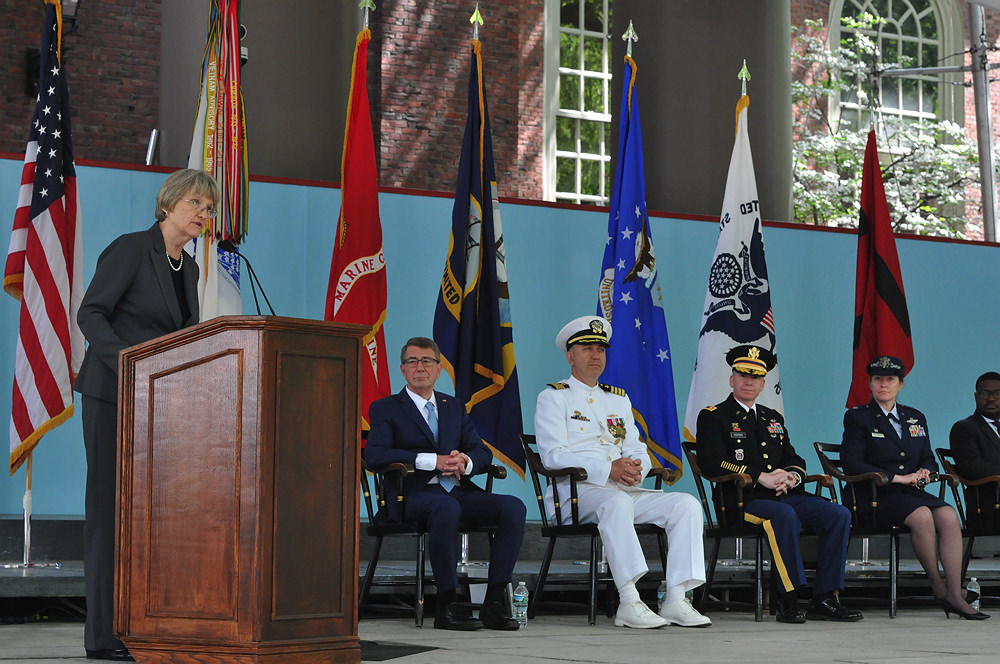 Photograph by Jim Harrison
At a time, Faust noted, when less than half of 1 percent of the American population serves in the armed forces, she shared comments throughout the rest of her speech from recent ROTC graduates describing how their Harvard experience has aided them in serving their country. She also told of receiving a gift earlier in the year from Shawna Sinnott '10, a Marine Corps captain who'd sent a flag that she flew in Faust's honor while stationed in Afghanistan. That flag flew again for the morning's ceremony as Faust acknowledged the University's newest members of the "long Crimson line" and declared,
We do not know yet what path will unfold for those of you on the stage today. We do not know what price might be asked.  But we know that Harvard has helped you develop skills and capacities that will enable you to make significant contributions in the years ahead. And we know that the most important and fundamental of your contributions will be selflessness and service that your decision to join the military represents.…

We honor you and all those who have preceded you.

 
Guest speaker Ash Carter [7], U.S. Secretary of Defense from 2015 to 2017 and now returned to the Harvard Kennedy School as director of the Belfer Center for Science and Technology, gave his audience a tutorial, initially discussing current security challenges—military, economic, and technological—whether from nation-states like Russia, Iran, China, and North Korea, or entities such as ISIS. He told the officer candidates to be warrior-diplomats—diplomacy must be tried before force—but asserted also that there are some foes diplomacy cannot reach.
Then he turned to the military itself. Praising the country's all-volunteer forces for their willingness to serve, he described how, on his travels, foreign leaders frequently admired the standards of the U.S. military, and he stressed the need to maintain those standards. In particular, he urged: "Remember also to stand apart, as an institution, from politics. I was very proud about how the Department conducted itself [during the 2016 campaign]. You need to carry that forward." He continued, "One last thing: the profession of arms is a profession based on honor and trust." Bringing that charge close to home in his conclusion, he added: "Always remember to behave yourself as though someone's mother is watching."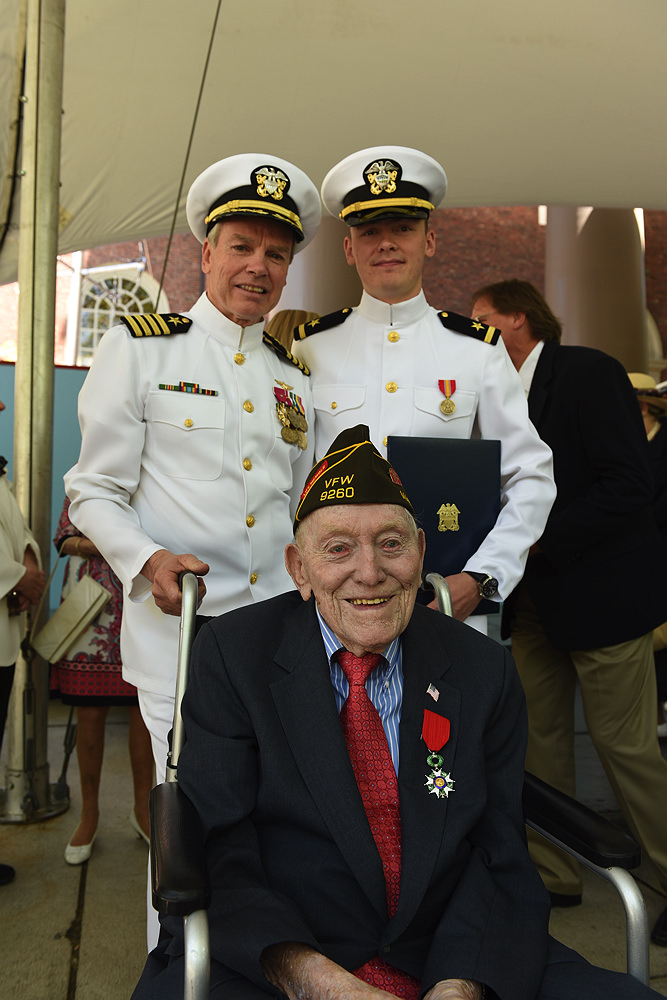 Photograph by Jim Harrison
With those words, the presentation of commissions began, in the presence—and often with the help—of family members and friends administering the oath of office, pinning on the new officers' insignia, or rendering first salutes (a longstanding tradition described in the ceremony program [4]). When the cheers and applause died down, the Reverend Jonathan L. Walton, Pusey minister and Plummer professor of Christian morals, delivered the benediction. "Keep these young people outwardly in their bodies, and inwardly in their souls," he said. "Have mercy on them, O God, and have mercy on us as individuals and as a nation, if we do not do all we can to support their well-being."