Alumni
A Turning Point for WHRB
11.2.18
Photograph by Jon Chase/Harvard Public Affairs and Communications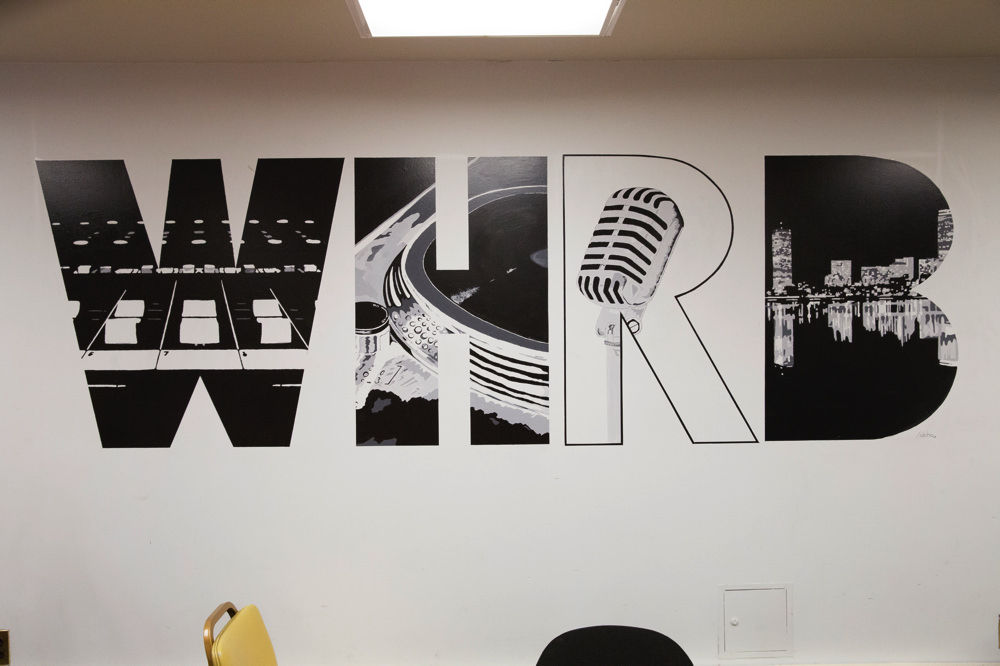 Photograph by Jon Chase/Harvard Public Affairs and Communications
Harvard's student radio station WHRB, an innovative voice in the Boston FM market for decades, is facing a difficult turning point. David Elliott '64, the chairman of its board of trustees since 1996 and an éminence grise at WHRB for half a century, relinquished his responsibilities in recent weeks to undergo treatment for amyotrophic lateral sclerosis (ALS), more commonly known as Lou Gehrig's Disease. His departure leaves a significant gap in the leadership and institutional memory of WHRB.
Elliott has been the spine of the station: mentoring students, presenting programs on the air, selling advertising, solving technical problems, and counseling on a host of challenging issues, such as the occasional need to relocate the studios from one Harvard building to another.
Although WHRB is run by undergraduates, its board of trustees, all of whom are alumni of the station, is uniquely active in providing technical, financial, and legal support. No other trustee has been so active, or active for nearly so long, as Elliott. "WHRB is not a college station, treated by its DJs as a personal jukebox," says trustee Jonathan Lehrich '90, a Boston University associate dean who has been named to succeed Elliott as chairman. "It is a radio station where dedicated members commit themselves, selflessly and collaboratively, to creating…the most consistently innovative, entertaining, and exciting programs anywhere. David Elliott has embodied that commitment, and that commitment is his legacy." 
Founded in 1940, WHRB at first could transmit its signal only via the electrical system in Harvard dormitories. It obtained its FM license in the 1950s and began broadcasting classical music, jazz, news, and sports to the entire Boston area. It wasn't long before it was competing for attention with professional FM stations. Today, WHRB's classical music programming is widely considered the best in Boston. "It's the only game in town," an advertiser once told Elliott.
Elliott specialized in classical music when he worked at WHRB [4] as an undergraduate in the early 1960s and deepened that expertise in his subsequent decades at the station.  He enriched "Orgies," the exam-period program marathons that chronicle the repertoires of particular composers and performers. In 1985, he co-produced an Orgy that featured the complete works of J.S. Bach in chronological order and included a live organ recital from Harvard's Memorial Church. Elliott even traveled to Stuttgart to obtain Bach recordings unavailable elsewhere. The orgy lasted nine days, round the clock. In 2000, Elliott started a vocal music program that aired after the Metropolitan Opera broadcasts on Saturday afternoons. The show featured recordings of opera singers spanning the twentieth century, including pre-1920 recordings from Elliott's private collection, and attracted a large, loyal audience.
Besides curating multiple music programs, Elliott anchored live broadcasts of Harvard's Commencement exercises each spring and helped WHRB stay abreast of changes to radio culture. Stations no longer distribute their content strictly over the air; today, WHRB maintains a significant presence on the Internet as well as on the airwaves, streaming through laptops and mobile phones as well as old-fashioned radios.
And he certainly made a lasting impression on generations of students who worked at WHRB. "David Elliott was the greatest mentor I found at Harvard and I'm sure many others who have come through WHRB over the years would say the same," says Aaron Fogelson '19, the undergraduate president of the station. "David went to incredible lengths to provide listeners with top-quality content, but he went to even greater lengths to provide station members with a meaningful space on campus." Elliott's protégés include students who have built careers in broadcast journalism (NPR White House correspondent Scott Horsley '88) and music criticism (Alex Ross [5] '90 of The New Yorker, who in his book The Rest Is Noise thanked him "for the chance" to become a music critic). NPR's Horsley says: "David managed to walk a fine line—upholding institutional standards while also allowing each generation of WHRBies to make their own mark.  He helped to bring out the best in people year after year, without turning them into carbon copies of the Class of '64."
Station officials and trustees have only begun to confront the challenge of coping with Elliott's absence. "The most difficult gap will be David's connection to the 78-year WHRB alumni community," says Jon Lehrich. He "has been a linchpin holding the generations…together." Adds Fogelson, "Things are very hectic around here. We are doing all we can to keep everything running above and beyond his standards so that he can rest well."