Tastes and Tables
Cambridge Hot Spot
Cambridge hot spot draws diners, dancers, and music-lovers from all over.
Sandwiched between Veggie Planet and the Central Square Theater, La Fábrica [6] is the most exciting spot for Latin-Caribbean music, food, and dancing in Cambridge. Actually, it's one of the only such dynamic destinations in Greater Boston.
"We have some of the best salsa, merengue, and Latin jazz musicians here on any given night," says owner Dennis Benzan, a Cambridge native, attorney, and former city councilor, whose parents immigrated from Puerto Rico and the Dominican Republic in the 1960s. "This is a place where everyone feels safe and comfortable. You get to meet people from all over Boston, and the world—and we get to demonstrate and show off not just Latin-Caribbean culture, but what it means to be Latin American, and American."
What sets La Fábrica apart is that it's a seamlessly fused restaurant/lounge, live-music venue, and nightclub. Authentic Latin-Caribbean food, with a twist, helps set that tone. Start with the shredded mango-papaya-green bean salad, with a zesty aguachile (blended peppers, garlic, cilantro, and lime) vinaigrette ($8) and the crispy croquettes ($6)—fried balls of mashed yucca and provolone cheese dipped in "mayoketchup" sauce. Larger plates include the paella-like "fisherman's rice," with shrimp, calamari, and lobster tails ($25), and the succulent whole red snapper in a coconut Creole sauce ($30). Order a pitcher of sangria, with berries and citrus, for the whole table ($40), or sample other potions, like a classic piña colada or the "Smokey Paloma," made with mezcal, the aperitif Lillet, and lime and grapefruit juices ($13).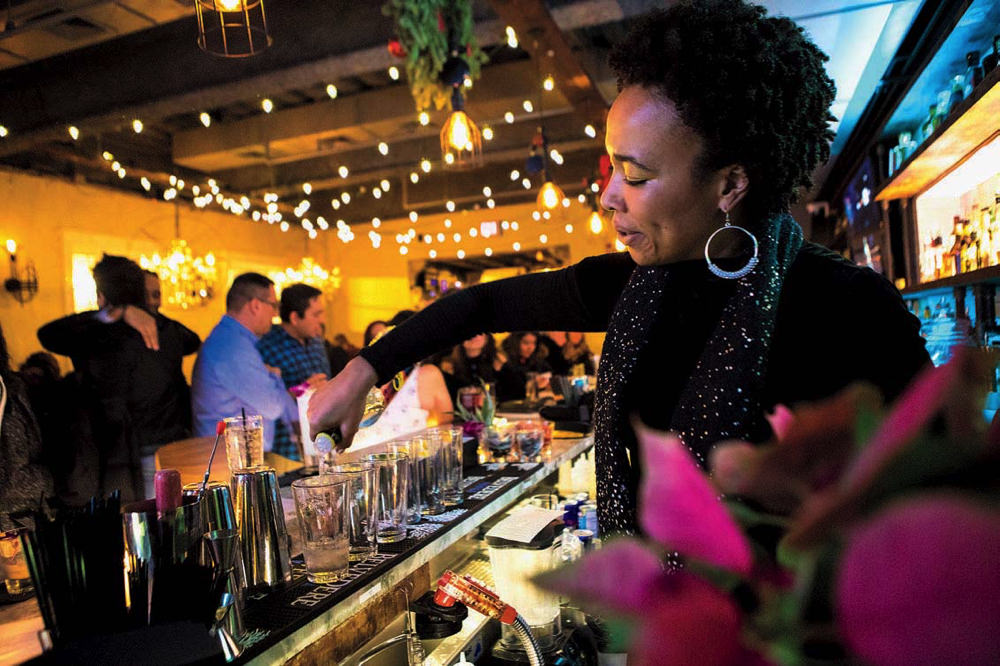 Photograph by Isabel Lopez/Courtesy of La Fábrica
Dinner is served in two spaces: a front dining room, with a more sultry atmosphere, bar, and stage; and the larger back room, decorated by a wall-length photographic mural of workers in sugarcane fields. La Fábrica, Spanish for "factory," also refers to those fields, represented by a mill wheel as the restaurant's logo—and by the nearly 450-pound steel trapiche, a mill for crushing sugar cane (from a Dominican fábrica) that hangs on one wall. Choose a table in the back if you want to converse. The live music—Tuesdays, open mic; Wednesdays, reggae; Thursday through Saturday, Latin jazz—generally starts around 8 p.m. and floods the front room, making it far easier to dance than be heard.
On weekend nights around 10:30, the entire space transforms into a nightclub. Wednesdays are reserved for bachata: lessons in the Dominican Republic dance style start at 9:30 p.m.—followed by social dancing until 1 a.m. Weekend "Latin Nights" feature rotating deejays and a mix of Latin and salsa rhythms, from traditional Afro-Cuban beats to reggaeton and Top 40. "In the nightclub, we tend to get a younger crowd, 21 to 40, in the back room, and an older crowd, that doesn't want to be in a 'nightclub' [scene] but still really wants to dance, up front," Benzan says. Many patrons dress up—stilettos, spangles, and flashy ties—and are seasoned, talented salsa dancers, so even those who don't get out on the floor themselves can order drinks, groove in their seats, and enjoy the spectacle. "The best part of La Fábrica," he adds, is that all kinds of people are "assembled together, with positive vibes."