Arts
Why We Eat What We Do
11.20.19
In the spring of 1910, the freshmen of the Harvard Class of 1913 sat down at New American House in Boston, white tablecloths and all, for a typically extravagant meal.
The first course: a Cotuit cocktail, made with local Cotuit oysters. The eighth: Demitasse—coffee served in small ceramic Turkish cups. Between, the freshmen devoured roast beef with Béarnaise sauce, halibut with Mornay sauce, imported Roquefort cheese, Château potatoes, and Mocha Tree cake, an Eastern European dessert made by drizzling batter over a turning spit. Champagne, courtesy of Moët & Chandon, was meant to be consumed in excess throughout the entire meal. Each freshman was given two kinds of cigarettes.
Joyce Chaplin, Phillips professor of early American history, found the menu in the New York Public Library's extensive menu collection. When it came time to pick items for her exhibit, "Resetting the Table," at the Peabody Museum of Archaeology & Ethnology, she thought it would make a good centerpiece. Compared to similar Harvard menus at the time, "this one is more quirky," she says. "And it shows the boys-night-out-on-the-town element that I thought would be interesting for an exhibit set at Harvard….They could go to this restaurant and have French champagne and then not behave like gentlemen in the end."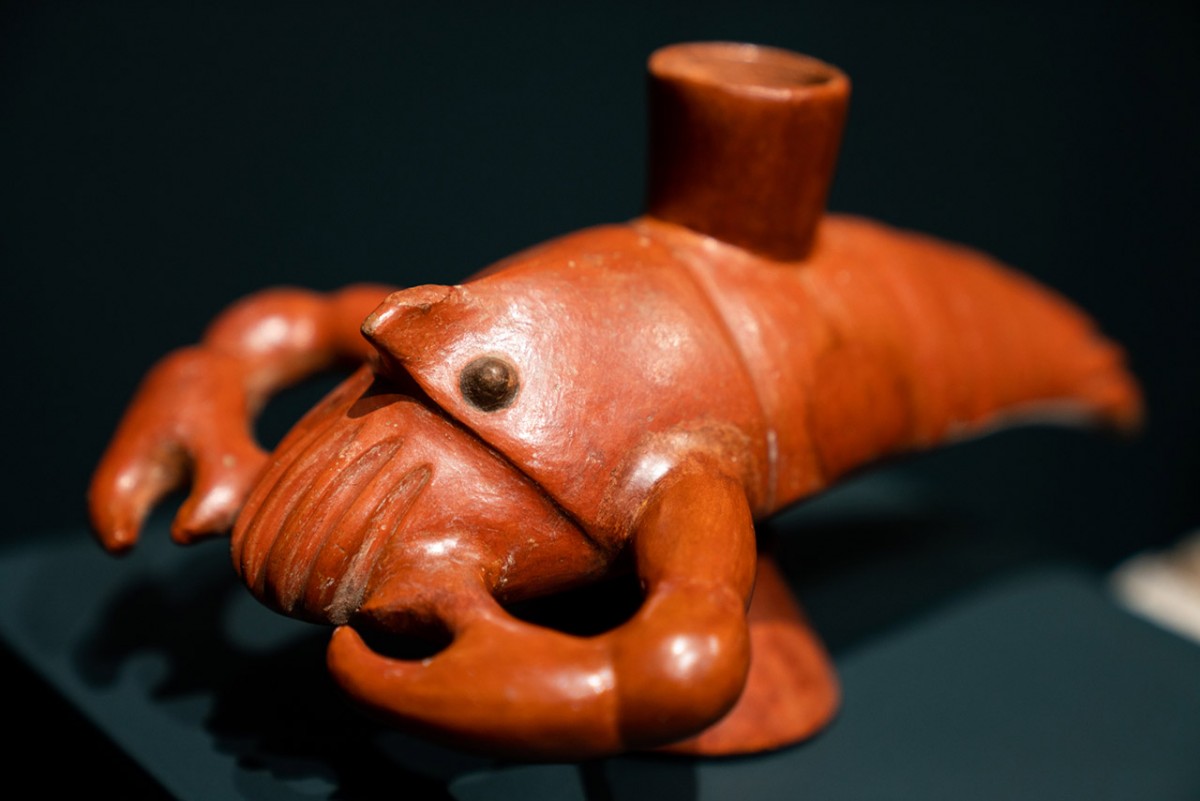 The exhibit—which opened November 16 and will run through November 28, 2021—investigates how Americans began eating the way they do, and why. Each aspect of the 1910 meal points to a different display, tracing the origins of the nation's ways of eating, drinking, and smoking. Artifacts created hundreds or even thousands of years apart are put side by side, suggesting more similarities than differences. A crayfish-shaped Peruvian stirrup cup made between 100 C.E. and 1470 C.E. and a traveling liquor case belonging to Artemas Ward [4], A.B. 1748, a major general in the Continental Army, show intoxicants are not just a vehicle for getting drunk; they can indicate high status, hospitality, or ceremonial importance. Likewise, the sophistication and glamour attached to the cigarettes displayed at the 1910 Harvard dinner recall the ceremonial, social, and medicinal functions filled by tobacco among American indigenous peoples for millennia before European colonization.
"Sure, Harvard freshmen probably don't do this anymore. Not a lot of people do this anymore, but there are equivalents that still exist," Chaplin says, noting how "unequal access to food at all, or to certain kinds of food, continue to be powerful ways in which the world continues to work." That's how she and the museum's curators arrived at the central question for the exhibit: who gets a seat at the table?
At Harvard in 1910, the waitstaff clearly lacked a seat. At meals, Harvard students received full service from predominantly African-American servers. "The etiquette at this point was to pretend that those people were invisible," Chaplin explains. "They were just like machines that brought you what you wanted." If a student didn't like what the dining hall was serving, he could select from the extra-order list, which included expensive steak and imported cheeses that the waitstaff likely could not afford. It was World War II that mostly ended waiter service. Harvard tried using students as waiters, and then local women. "And then they said 'Forget it. There's nobody here to bring food anymore,'" Chaplin says. "'People have to get up and get their own food.'"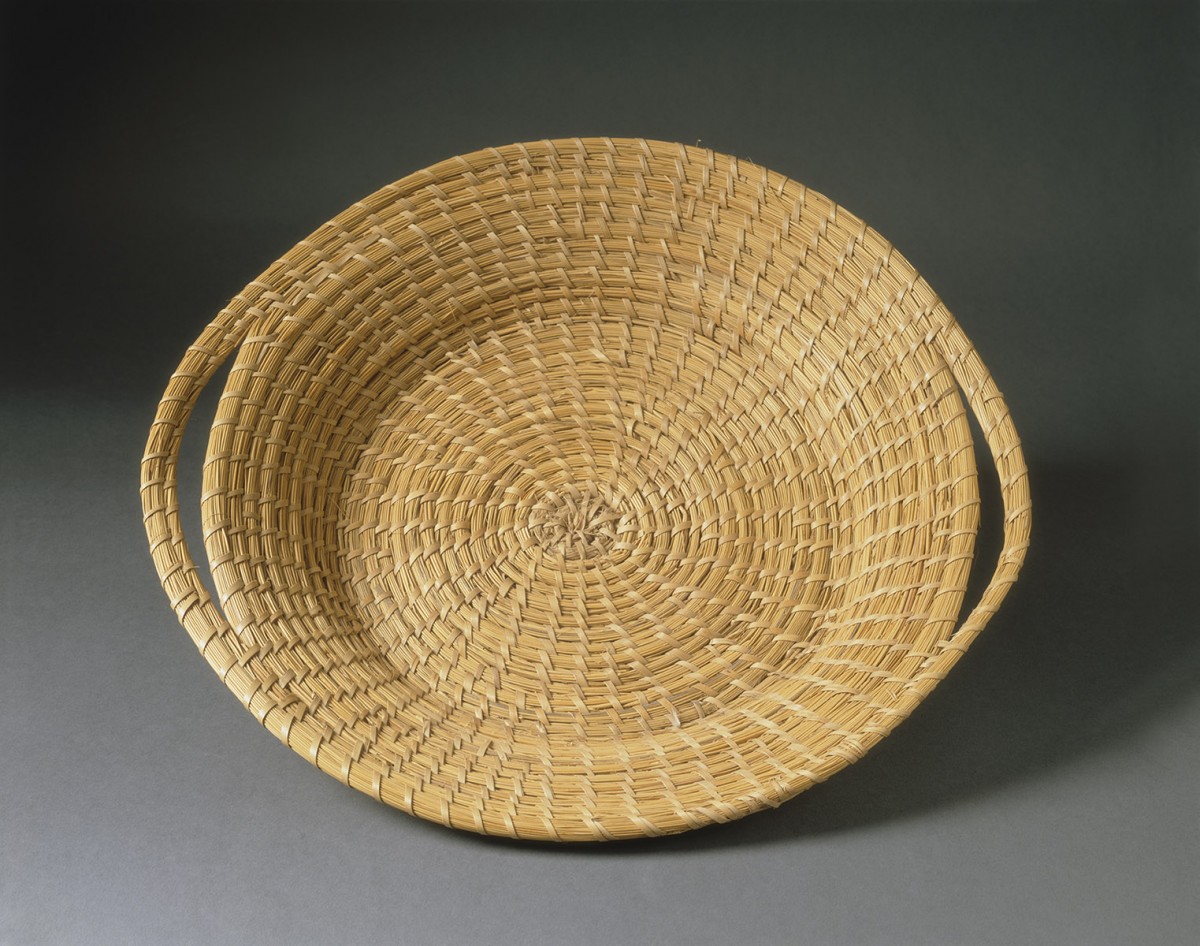 The exhibit's contents extend far beyond Harvard. Enslaved people also contributed tremendously to American food traditions, in uncelebrated ways. Chaplin points out a display on food processing, which includes large winnowing baskets used by enslaved women to remove chaff from hulled African rice. "We think of the labor of enslaved people from Africa as being about brute force," Chaplin explains, "but that's not everything that goes into being an enslaved person. It's also what you know." The African rice hulled by these women became the basis for traditional Southern dishes like hoppin' John and jambalaya, while the women's exploited labor and knowledge is often forgotten.
At the opening reception for the exhibit, Chaplin explained that she thinks food studies exist "on this continuum between fun and grim." "Resetting the Table" spans this spectrum, displaying everything from a twentieth-century Budweiser beer can dug up in Harvard Yard to images evoking the plight of food workers. "Often people are familiar with the kind of light way in which food is talked about," Chaplin says, "but I think thinking more seriously about the dimensions of who gets to eat what is important."