Harvard Squared | Tastes & Tables
Al Fresco
May-June 2021 [2]
Imagine this: someone other than yourself laboring to prepare fresh Italian food, and serving it with a real smile? The joys of dining out after months of pandemic isolation have never been so welcome: "How do you like your meal? What else may I get for you? How about dessert?" asks the gracious waiter at the Back Bay's Piattini Wine Café [6]. The piattini, Italian for "small plates," were perfectly timed and paired with suggested red and white wines. A warm evening, however, might call for the more refreshing homemade sangría with chunks of citrus and zesty lemonade spiked with vodka. As Boston's outdoor dining continues to flourish, Piattini's sunken brick patio on Newbury Street offers (distanced) intimate clustering and string lights, along with the pleasures of watching the range of humanity pass by, unmediated by screens.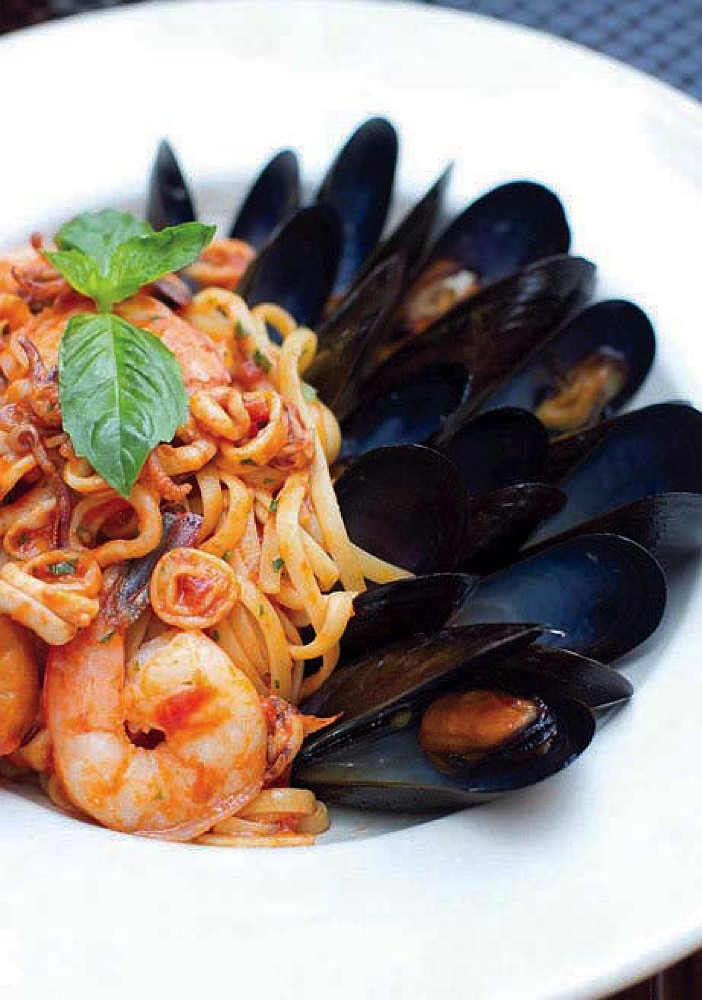 Photograph courtesy of Piattini
Open any meal at Piattini with chewy bread drizzled with olive oil and the wine flight of three small glasses. The "cauliwow" is a crunchfest with roasted cauliflower and corn tossed with chunks of cucumber and torn romaine lettuce in a light cilantro dressing ($12). Waves of lean prosciutto top white sauce, caramelized onions, and plenty of Gorgonzola cheese on the airy, yeasty pizza dough ($15). Burrata-stuffed ravioli arrives in a tower, layered between slabs of fried eggplant; the whole shebang swims in truffle cream with a hint of pesto ($24). Head indoors for candle-lit niches, a handsome bar, and tables beautifully set for small-group wine tastings. There's no skimping at Piattini. And why should there be? Those who have so missed eating outside their own four walls, and the charm of bistros like Piattini, are hungry for it all.