John Harvard's Journal
Brevia
July-August 2022 [1]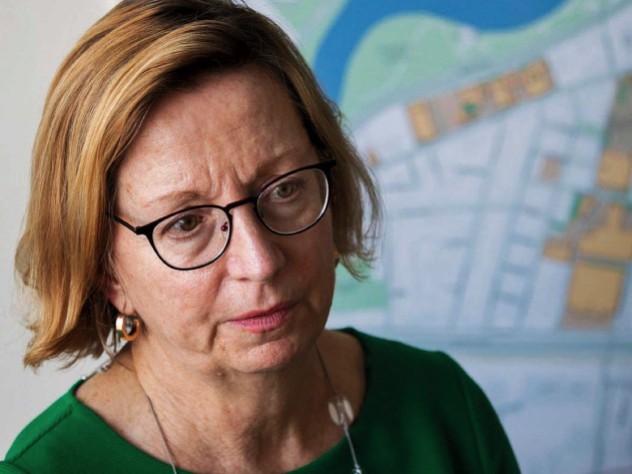 Photograph by Stephanie Mitchell/Harvard Public Affairs and Communications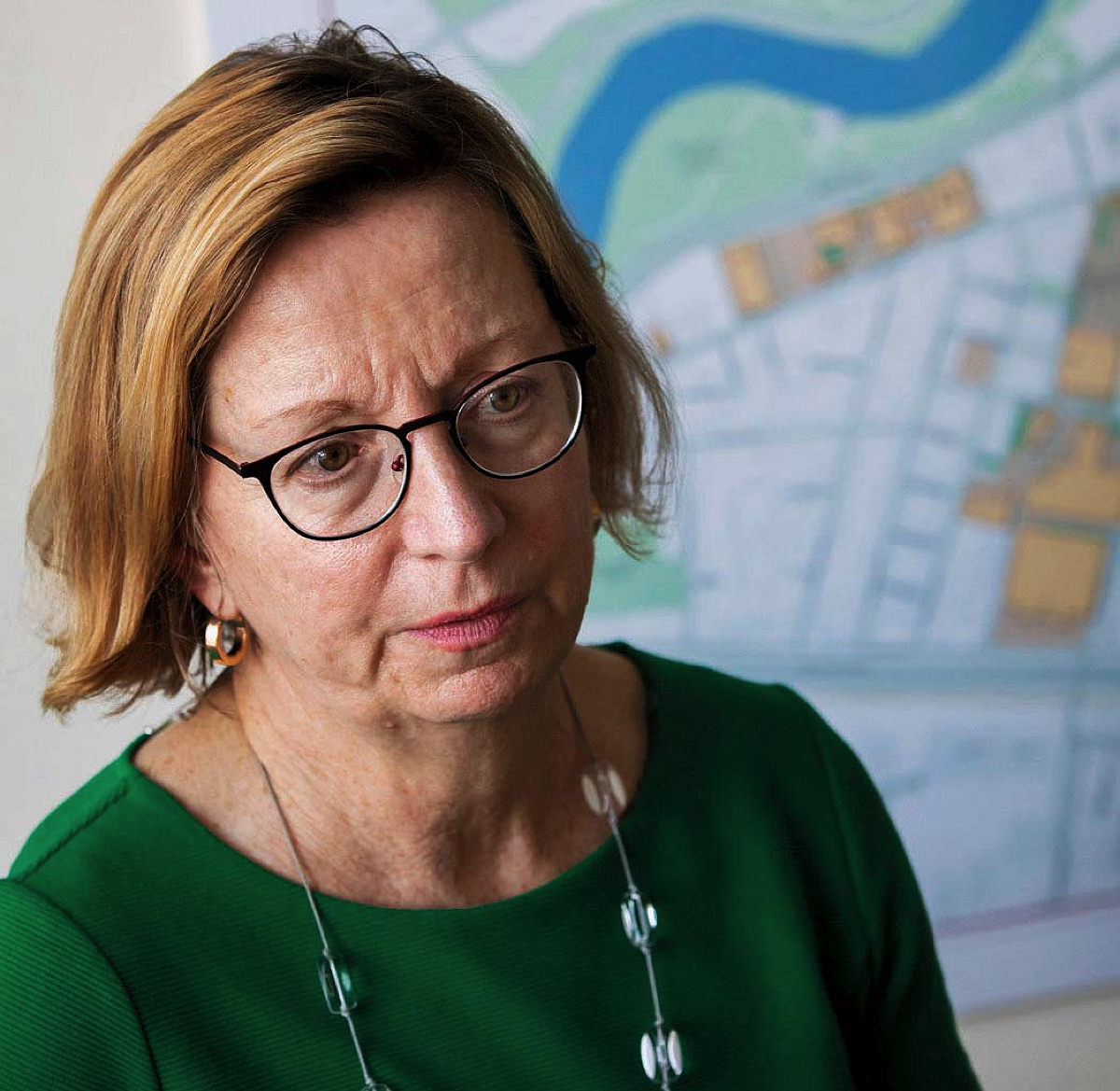 Photograph by Stephanie Mitchell/Harvard Public Affairs and Communications
EVP Exits
Katherine ("Katie") N. Lapp, executive vice president since 2009, announced in May that she would step down this summer. Lapp has largely been a behind-the-scenes administrator, responsible for campus services, finance, human resources, information technology, campus planning and design, and the police and ombudsman's office. But she played a visible, leading role in Harvard's coronavirus response, organizing testing and tracing infrastructure, the technology that supported online learning, and the safe return of community members to campus facilities. She has also been the public point person for Harvard's commercial development in Allston. Meredith Weenick '90, M.B.A. '02, vice president for campus services, one of Lapp's direct reports, will succeed her. Read more at harvardmag.com/lapp-steps-down-22 [5].
Sustainability, Stanford Style
Stanford announced in early May that it will launch its first new school in 70 years, the Stanford Doerr School of Sustainability, focused on climate change and related challenges. It is named for John Doerr, M.B.A. '76, a leading venture capitalist, and Ann Doerr, chair of Khan Academy, who gave $1.1 billion to anchor the new enterprise—the largest single gift in the university's history. Their philanthropy, and additional donations totaling $590 million, launch the school with resources sufficient to hire 60 new faculty members expert in energy, climate science, and sustainable development (joining 90 current professors, many in the School of Earth, Energy, and Environmental Sciences, who will transition to the new school), create new departments, build interdisciplinary institutes across Stanford, erect two new buildings, and underwrite an accelerator to promote applied policy and technology solutions for climate change.
Aid Advancements
Effective this fall, Williams College has made its financial-aid program entirely grant-based, apparently the first such program in the country. In support of "true affordability," the college is eliminating loans and required campus and summer jobs from all aid packages. Grants will replace the loan and work components on a dollar-for-dollar basis, radically simplifying the financial-aid process for families (53 percent of Williams undergraduates receive aid).….Yale's $7-billion capital campaign, now under way, aims to raise $1.2 billion for scholarships and fellowships across the institution; half the sum has been raised to date. Endowed funds cover just 44 percent of undergraduate financial-aid spending.…New England Patriots owner Robert Kraft, M.B.A. '65, and his son Jonathan Kraft, M.B.A. '90, president of the Kraft Group, have created the $24-million Robert K. Kraft Family Fellowship Fund, the largest endowed fellowship fund at HBS. It focuses on M.B.A. candidates from underrepresented backgrounds, including low-income and first-generation applicants.
Allston Administrator
The University has appointed Carl J. Rodrigues chief executive officer of Harvard Allston Land Company, the unit responsible for the enterprise research campus being commercially developed by Tishman Speyer across Western Avenue from the Business School campus (and the subject of intense negotiations with community residents: see harvardmag.com/allston-issues-22 [6]). Rodrigues, who succeeds founding CEO Thomas Glynn, was most recently senior policy adviser to New York City's deputy mayor for housing and economic development. He has been involved in projects spanning affordable housing, commercial offices, parks, infrastructure, and nonprofit and cultural entities—good training for the high-profile Allston development.
Compensation Reports
The University's senior leaders earned slightly less in fiscal year 2021 than during the prior year, reflecting voluntary pay cuts during the early, financially uncertain months of the pandemic. President Lawrence S. Bacow earned $912,565, plus other compensation of $220,377 (principally the value of the University-provided official residence, Elmwood). Harvard Management Company's leaders and senior investment professionals had calendar-year 2020 compensation largely consistent with prior-year levels, with N. P. Narvekar, chief executive officer, and Richard Slocum, chief investment officer, showing reported income of approximately $1 million and $800,000 respectively, as they deferred the bulk of their earnings, which would otherwise have totaled $6.24 million and $4.99 million. Complete details are at harvardmag.com/comp-disclosed-22 [7].
Ethnic (and Other) Studies
Faculty of Arts and Sciences dean Claudine Gay, who has been pursuing multiple faculty appointments in ethnicity, indigeneity, and migration studies, has announced an initial hiring: Taeku Lee, who taught at the Harvard Kennedy School from 1997 to 2002 and has since been at the University of California, Berkeley, becomes the Bae Family professor of government on July 1. His scholarship focuses on Asian Americans' political views and identities and electoral behavior. Future appointments in Asian American, Latinx, and Islam in America/Muslim American scholarship are expected.…Separately, Carola Suárez-Orozco, who led a Harvard longitudinal study of immigrant children nearly two decades ago, has returned as professor in residence and director of the Immigration Initiative at Harvard, at the Graduate School of Education. She succeeds sociologist Roberto Gonzales ("From Neither Here Nor There," July-August 2020, page 32), who is now at the University of Pennsylvania.
Overseer Executives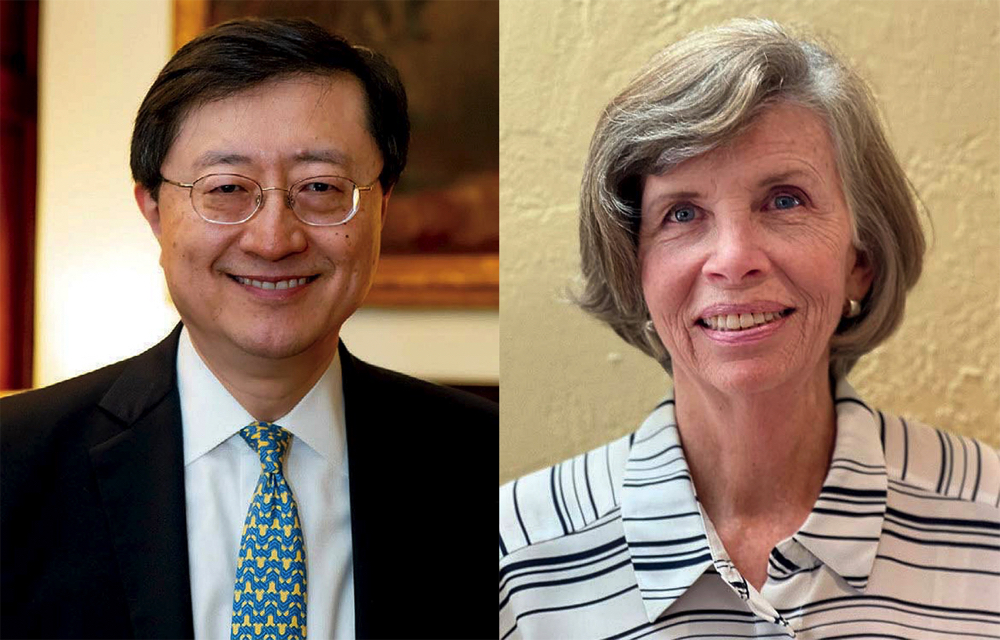 From left: Rose Lincoln/HPAC; Courtesy of Leslie Tolbert
Paul Choi '86, J.D. '89, and Leslie Tolbert '73, Ph.D. '78, concluding their six-year terms on the Board of Overseers, will serve as its president and vice chair of the executive committee, respectively, during the 2022-2023 academic year. Choi, a partner at Sidley Austin LLP, the international law firm, was president of the Harvard Alumni Association in 2015-2016. Tolbert is Regents' Professor emerita in neuroscience and former senior vice president for research at the University of Arizona. They succeed Helena Buonanno Foulkes '86, M.B.A. '92, and P. Lindsay Chase-Lansdale '74.
Nota Bene
National academicians. Three Medical School faculty members have been elected to the National Academy of Sciences: professor of medicine Gordon J. Freeman and professor of medicine Kornelia Polyak, both at Dana Farber Cancer Institute; and Grousbeck professor of pediatrics Leonard I. Zon, also professor of stem cell and regenerative biology, who is affiliated with Boston Children's Hospital (see "A Cancer Begins," May-June 2016, page 15).
Niemans of note. The 24 Nieman Foundation for Journalism fellows studying at Harvard this coming academic year include Bopha Phorn, from Phnom Penh, Cambodia (the one-hundredth Nieman nation), and Tanya Kozyreva, an investigative reporter based in Kyiv, and Taras Prokopyshyn, publisher of The Ukrainians Media, in Lviv—both of Ukraine. Meet the full cohort at https://nieman.harvard.edu [8].
Focusing on diabetes. Xander University Professor Douglas Melton, a pioneering stem-cell scientist who has focused on type 1 diabetes (which afflicts both his children), has taken an extended leave to work full time as a distinguished fellow at Vertex Pharmaceuticals. That company acquired Semma Therapeutics, which was developing his discoveries for clinical application, and Melton will now direct cell and gene therapy research aimed at transformative diabetes treatments (see harvardmag.com/diabetes-treatment-13 [9]).
Top teachers. Five-year Harvard College Professorships, the Faculty of Arts and Sciences' highest honor for undergraduate teaching, have been conferred on Jewett professor of Islamic intellectual history Khaled El-Rouayheb, the chair of Near Eastern languages and civilizations; professor of English Ju Yon Kim; and McKay professor of computer science James Mickens. Recipients of the Abramson Award for undergraduate teaching were assistant professor of human evolutionary biology Rachel N. Carmody and assistant professor of the history of sciences Hannah Marcus.
More searches. Continuing a run of higher-education vacancies (see "Looking for Leaders," Brevia, May-June, page 22), Columbia's Lee Bollinger, president since 2002, is stepping down at the end of the next academic year, as are New York University's Andrew Hamilton and Bowdoin's Clayton S. Rose. It looks like post-pandemic boom times for search firms. [Editor's note: Add Harvard President Lawrence S. Bacow to the list; read about his June 8 announcement that he will step down at the end of next academic year [10]; the news came several days after this issue went to press.]
Guggenheim and Carnegie Fellows. Three faculty members have been awarded Guggenheim Memorial Foundation fellowships to pursue their research and writing: Ropes professor of political economy Stefanie Stantcheva, Robinson professor of mathematics Lauren K. Williams, and professor of the practice of non-fiction Michael Pollan. Carnegie Fellowships, with $200,000 stipends to support two years of reaearch and writing, were awarded to associate professor of history of art and architecture and African and African American studies Sarah Elizabeth Lewis (see harvardmag.com/visionjustice-19 [11]) and Jonathan Corpus Ong, a research fellow at the Kennedy School's Shorenstein Center on Media, Politics and Public Policy.
Ombuds expansion. The Harvard Ombuds Office has been restaffed and expanded. Melissa Brodrick is now director, combining oversight of the Longwood Medical Area site, where she has worked for more than a decade, and the Cambridge office. Colette Carmouche and Adam Barak Kleinberger, ombuds, have joined the organization, succeeding Lydia Cummings, who retired.
Miscellany. Thomas professor of government and sociology Theda Skocpol, former dean of the Graduate School of Arts and Sciences and founder of Scholars Strategy Network (see "Citizen Scholars," September-October 2014, page 24) has been awarded an honorary degree by the University of Oxford.…Erin Kelly, Ph.D. '95, a philosophy professor at Tufts, and writer and scholar Salamishah Tillet, Ph.D. '07, won Pulitzer Prizes—the former for the as-told-to biography of the late artist Winfred Rembert, Chasing Me to My Grave (Open Book, September-October 2021, page 51). Read more at harvardmag.com/pulitzer-prizes-22 [12].…Louisa Solano, who ran the Grolier Poetry Book Shop in Harvard Square from 1974 to 2006, making it the premier all-poetry bookstore during that time, died in April.…Nurses and clinicians at McLean Hospital, the psychiatric affiliate of Massachusetts General Hospital (Harvard affiliates) have voted to unionize.…Joseph F. Kahn '87, A.M. '90, former Crimson president, has been appointed New York Times executive editor.