Commencement
Michelle Yeoh's Three Tips for Success
Oscar-winning actress offers advice in Harvard Law School Class Day address.
5.24.23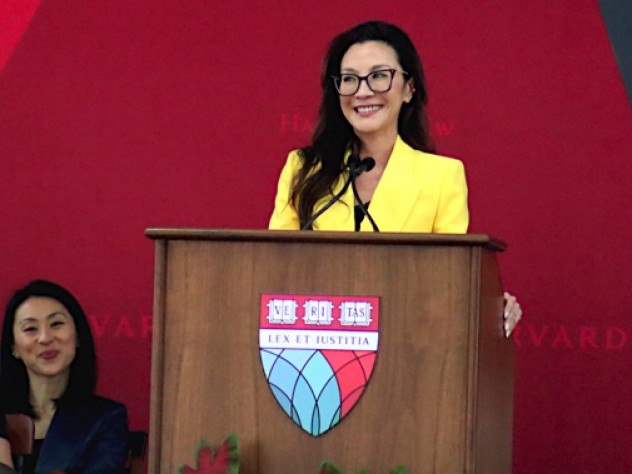 Photograph by Niko Yaitanes/Harvard Magazine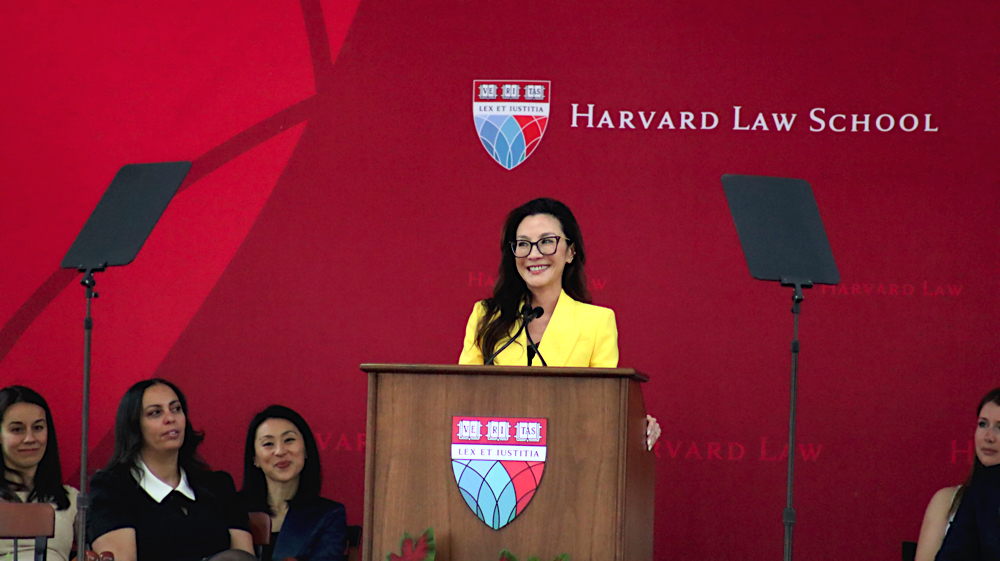 Photograph by Niko Yaitanes/Harvard Magazine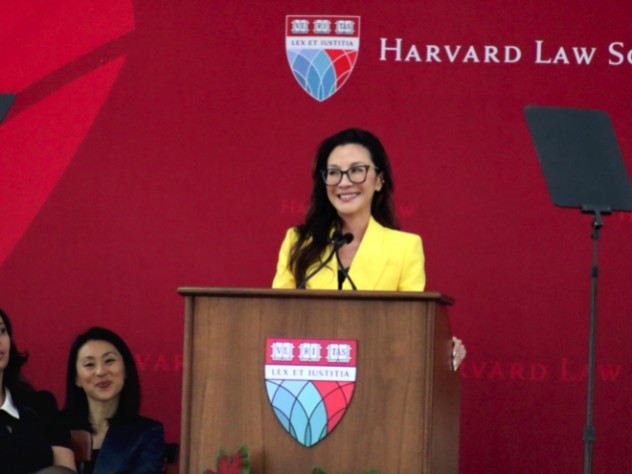 Photograph by Niko Yaitanes/Harvard Magazine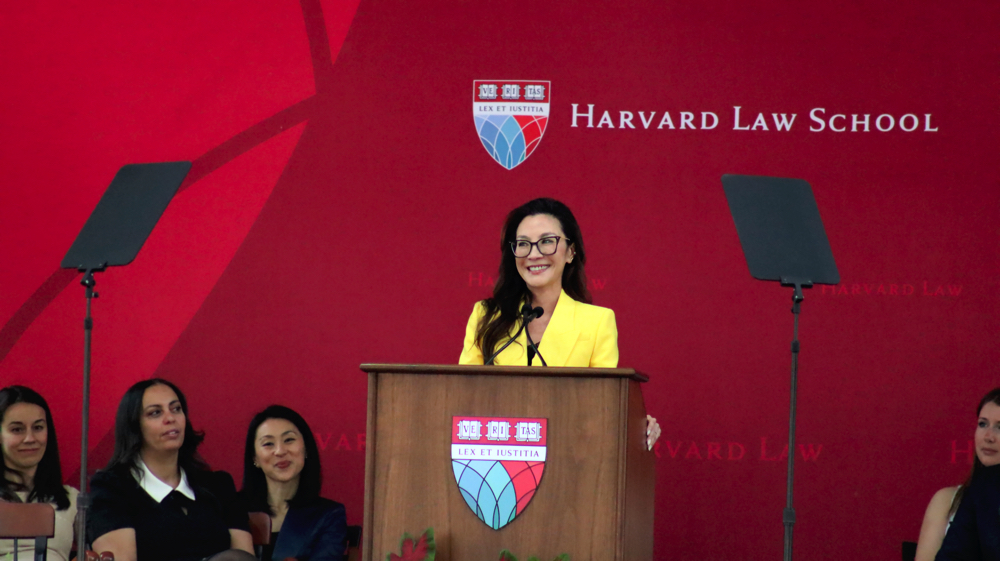 Photograph by Niko Yaitanes/Harvard Magazine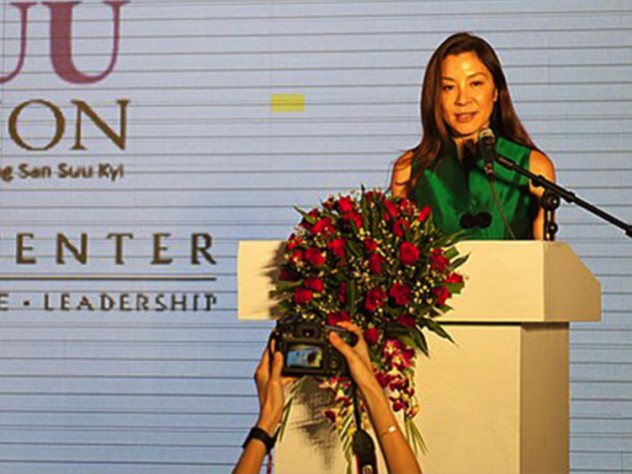 Photograph in public domain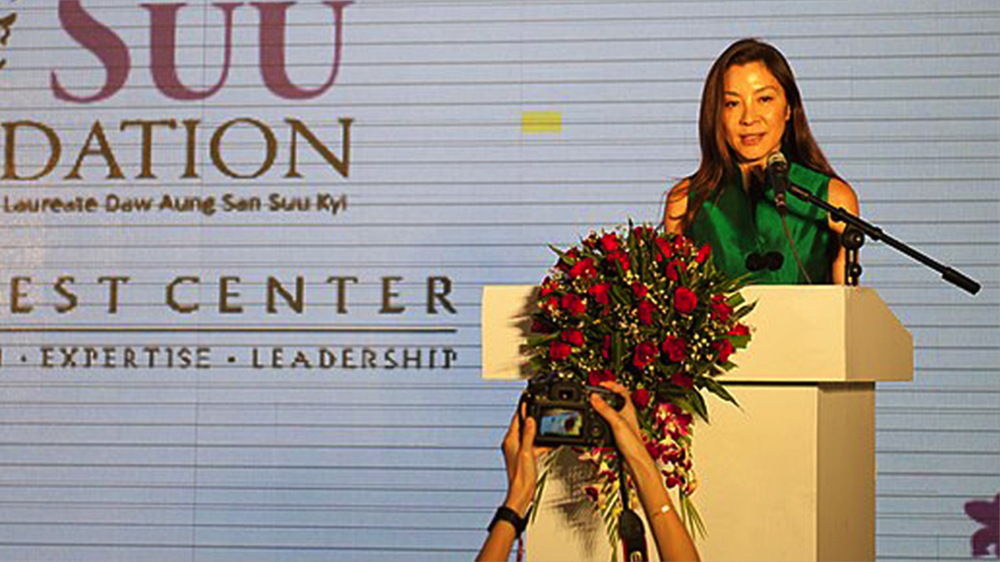 Photograph in public domain
Against the backdrop of Harvard Law School's (HLS) Langdell Hall—where the HLS class of 2023 spent countless hours studying—Academy Award-winning actress and Class Day speaker Michelle Yeoh shared a guide to "jumping into voids."
Most know Yeoh from her starring role in the surreal sci-fi comedy Everything Everywhere All at Once, this year's Best Picture at the Academy Awards. Her performance as an immigrant mother navigating a chaotic multiverse earned her the award for best actress—making her the first Asian person to win it and the first Malaysian person to win an Academy Award in any category.
"As you know, I am not a lawyer," Yeoh said. "I can't even say that I've played one. So why am I here?" she asked. "This [graduation] moment conjures up the exciting image of a high diver poised to leap into the void… and I happen to have some experience leaping off high places into scary voids." And all those experiences taught her lessons she calls: "How to Survive the Fall in Three Easy Steps, by Michelle Yeoh."
Step One: "Stay Loose"
The trick to falling in a choreographed fight sequence is to "stay loose." Tense up, and injury is much more likely on impact. The same is true in life. When falling, she said, "The safest thing one can do is remain calm, even curious about the shifting world around you."
"My journey from Malaysia to the Academy Award stage began with my first stop, which was not acting." From a young age, Yeoh was determined to become a professional ballet dancer, finding "freedom in discipline and focus" and training her "mind to be still, to silence whispers of self-doubt." However, while training in England, she suffered a spinal cord injury: "Just like that, I lost everything, vanished into thin air." Her school principal encouraged her to "stay loose" and open to what life might bring. "With this awareness came the freedom to make choices I might not have otherwise been able to." An unexpected door opened and she took an acting opportunity in a commercial which then led to a career in films in Hong Kong.
Step Two: "Know Your Limits"
While acting in Hong Kong, Yeoh discovered, "Understanding what you can do is essential, understanding what you can't do is pretty important too." This understanding must be internally and externally focused. "Internally, knowing your limits keeps you humble, motivated, and focused on a goal to point your finger toward. Externally, knowing the limits that are set to you by others gives you a place to point a different finger," she said. "And yes, I am talking about the middle one."
Those external limitations are boundaries to break through, she told the soon-to-be graduates. At the beginning of her career, Yeoh was offered one stereotypical demure Asian female role after another. However, she knew her dance training would allow her to ace the fight choreography she saw her male costars handing off to stunt doubles. "When the chance finally came, I knew it was make or break. I had one shot to prove my bankability as an action star, and if I failed, I would not get that opportunity again." Fortunately, it turned out audiences were more than ready to see a female star in action comedies and her starring role in Yes, Madam was a box office success. "I knew I had made it when soon after, I joined Jet Li and Jackie Chan as the three people who Hong Kong insurance refused to cover."
"Before I knew it, I was regularly running on rooftops, riding motorcycles onto moving trains, and rolling vans into oncoming traffic," she said. "With every nick and scratch and bruise and fractured vertebrae, I came back better." And to law graduates (who she advised not to try those stunts at home), she added, "Learning how to fall teaches you how to land. And learning how to land gives you the courage to jump high."
For her, that next jump came when she starred in the 1997 James Bond film Tomorrow Never Comes as fierce Chinese agent Wai Lin. That role is now regarded as instrumental in modernizing the Bond franchise and its portrayals of women, but afterward, Yeoh found herself again fielding pitches for stereotypical roles. "I knew I would not be happy unless I continued to seek out roles that allowed me and like-minded creatives to dig deeper and reflect three-dimensional humanity on stage." Finally, she found her next major role in the celebrated Crouching Tiger, Hidden Dragon.
"These examples illustrate the importance of limitations because our limitations become our challenges. There is nothing like a challenge to keep you working, striving, and pushing," she said. "For every demeaning role I was offered, every rejection I was handed, every time someone underestimated me, I found energy and renewed motivation."
Step Three: "Find Your People"
"For every winner, there doesn't have to be a loser," she reminded the soon-to-be graduates. "In fact, most success stories are less about competition and more about collaboration." Yeoh pointed out that she and everyone else in the audience stands on the shoulders of those who came before them and should be energized and inspired by those who come after them. For her, this sense of community requires representation, particularly in entertainment: "When we shine a light on the rich and varied world around us, we empower the whole of our humanity. I can see no better reason to wake up in the morning and get to work."
Beyond her film career, Yeoh is known as a fierce advocate for human rights and environmental causes, both as a Goodwill Ambassador for the United Nations Development Programme and as the vice-president of the board of the Suu Foundation (which promotes education and health in Myanmar). She's been recognized as a humanitarian as much as an actress: she was named a Commander of the Order of Loyalty to the Crown of Malaysia (carrying the title Tan Sri) and in 2017, was awarded France's Commander of the National Order of the Legion of Honor (the highest honor given to non-citizens) by former French president François Hollande. In her humanitarian roles, Yeoh said, "I have witnessed the deep inequalities that continue to plague societies around the world, and I have seen up close how women and girls are often the last to get essential services." Guided by her focus on community, she said, "I have committed myself to walking in lockstep with destiny with them."
"The prerequisite to change is empathy," she said. Empathy "activates our compassion, which becomes the driving force for real-world demonstrable action." To truly fall beautifully, to truly stay loose, Yeoh said, everyone needs a safety net. And that net is reciprocal: "When you are leaping without a safety net, people become your safety net. And you become theirs."
Tying It Together with the "Little Film that Could"
Everything, Everywhere All at Once—or as Yeoh described it, "The Little Film that Could"—encompasses all three of her principles, she said. "It defies genre, playing loose with free expectations, defying atomization, and flouting limitation by taking a smaller budget and turning it into an international phenomenon," spearheaded by an international group of creatives. The film, she said, "has caused a tectonic shift in the industry, opening the door to more independent efforts and greater Asian representation." As the HLS graduates perhaps feel about their impending Commencement, so Yeoh feels about that film, calling it a "glorious leap into an unknown void."
To the Class of 2023, she concluded: "Today, you leap. Stay loose. Go with love. And leap, and then leap again, and leap again." She said, "I look forward to living in the world you'll all help build."