Grand Adventures
Finding family time away from home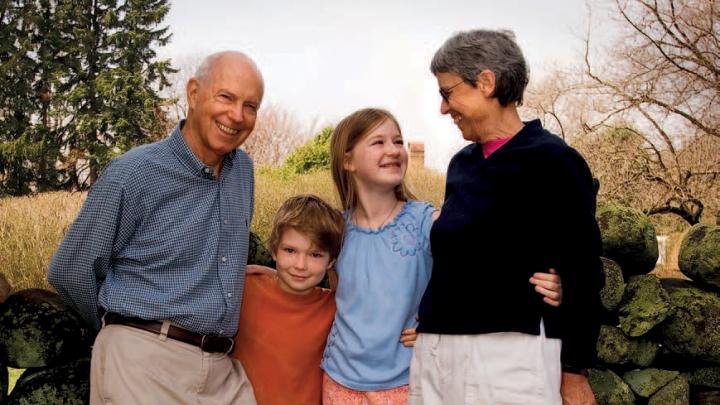 Last summer Lucy and Richard Sallick visited a horse farm, an olive-oil factory, and the museums of Florence—all with their grandchildren. "If their parents had been there, we would've spent most of the time talking to them instead of the children," reports Richard '58. "This way, we had to put the children to bed and we woke up with them in the morning and were involved in that whole sense of routine."
The trip to Tuscany was an equally rewarding experience for the children, Penelope and Abe Lusk (then 10 and 8), who were excited even to board the airplane. "So the trip started off right away with a thrill," adds Lucy. "I was a little nervous that they would be homesick, but they never mentioned their parents, or complained. They were enthusiastic, listened to what was being said, and asked questions. They were very engaged."
Hosted by the Harvard Alumni Association (www.haa.harvard.edu), the trip focused on art education for five families who stayed together at a villa with a swimming pool and ventured out with scholarly guides to nearby sights. Art teachers did some daily activities with the children as well. Because meals, transportation, and itineraries were already planned, the nine-day trip was truly a vacation; the Sallicks, of Westport, Connecticut, and their grandchildren could simply enjoy each other. "The trip made them much closer," says the Sallicks' daughter, Markie Sallick, who lives in Brooklyn with her husband and the two children. "I don't think you can capture the kind of experience they had just on weekend visits. They saw the Italian countryside, met new people, had to rely on each other for comfort; they shared a lot. My parents really enjoyed being responsible for the children's care. They never get that opportunity for that kind of closeness when we're around, because the kids just come to us."
In this age of two-career and far-flung families, often the only time generations spend together is the holidays—which can be rushed, crowded affairs. "Intergenerational travel offers grandchildren and grandparents, uncles and nephews—any permutation of what you define as a family—the ability to connect and learn in an environment where they are both out of their element and discovering together not only the culture of the country they're visiting, but discovering each other," says Philip W. Lovejoy, associate director of alumni education programs at the HAA. "A lot of grandparents tell me that it is great to be with kids without having the parents along because the parents can be very controlling. And grandparents tend to be more lenient." The HAA typically offers four intergenerational trips a year, to Alaska, London and Paris, Greece and Italy, and Tanzania (through Thomson Safaris in Watertown, Massachusetts, www.thomsonsafaris.com, which also offers its own family trips). A foray to Egypt is planned for winter 2007-2008. "We'll expand the trips if the market surfaces," Lovejoy says. "The biggest challenge is scheduling vacations with kids" around summer camps, extracurricular lessons, and team sports.
Several companies specialize in guided intergenerational trips. Grandtravel, a division of Academic Travel Abroad Inc., in Washington, D.C. (www.grandtravel.com), is among the oldest. It actually prohibits parents from attending any of the 12 trips scheduled annually. "These vacations are about the importance of a new relationship, and we want to encourage it where possible," says company founder Helena Koenig, a longtime travel agent and grandmother of 10. "The older generation and youngest generation are the best companions. The children learn about who their grandparents are as people. And the older people—you would not believe how they change in those 10 days on the trip. They fall into this nurturing role—carrying crayons and sweaters, looking for shoes. They become young again." The company runs a wide range of excursions, from New Mexico and Alaska to Russia and Kenya, including trips slated for mid-year school-vacation breaks. Typically, grandmothers have taken the grandchildren on trips, Koenig says, but in recent years she has seen a sharp rise in the number of grandfathers who come along, too. "Men are participating more in the nurturing," she says. "They are a more vital part of the way children are being raised."
A newer organization, the Seattle-based Generations Touring Company (www.generationstouringcompany.com), emphasizes ecological travel with small group tours (six to 20 people) to more atypical destinations, such as Peru, Costa Rica, and Vietnam. "We have a responsible tourism ethic," says founder and owner Tom Easthope. "We stay in locally owned properties and eat in locally owned restaurants. Our tourism dollars stay in the places we visit. What we offer is a cultural connection."
Easthope's research on American demographics and travel statistics helped him identify a roughly eight-year "sweet spot" for intergenerational travel that exists in many families when several developmental stages coincide. The older generation is financially secure enough to travel and has the leisure and inclination to share with the youngest family members their own histories—tales of their ancestors and native lands or cultures— that help create a sense of legacy, he says. "The youngest generation is old enough to appreciate this," he explains. "Their curiosity about the world is also blossoming, and yet they are not so old that their life is full of obligations that make getting together difficult." His trips seek to foster an atmosphere of learning not only about Inca ruins, for example, but about a family's own cultural history. "It's awkward for my mom to call my daughter and say, 'So, where did we leave off with the family tree?' It's not a natural conversation," he explains. "But we try to have some of these talks on our trips. There is an unwritten mission that the trips be educational from the inside out."
This "sweet spot" applies not only to grandparents and -kids. On one Generations trip to Costa Rica, a client signed up with his mother, his niece, and his partner. On a tour of baseball parks, "A son and grandson wanted to go on a trip with the grandfather, who was in his late seventies and had just recovered from cancer," Easthope says. "The definition of an intergenerational family trip is a fluid thing."
Perhaps the biggest intergenerational travel program around is run by the nonprofit organization Elderhostel Inc. in Boston (www.elderhostel.org); it offers more than 400 such excursions a year at relatively affordable prices. "We negotiate the best rates possible," says president James Moses, from a four-day weekend in the Pocono Mountains for $353 per person to two weeks in France for $3,004. "Most of our participants are teachers, nurses, librarians—people who are educated and want to continue learning, but didn't make huge amounts of money. On every trip, the mission is to learn and work together." Domestic and international trips focus on a range of activities, from cooking, quilting, Irish mythology, and sailing to space engineering, robotics, hiking, and oceanography. Among the most popular are a jaunt to England, "Harry Potter: Fact and Fiction," and a journey through New Zealand in search of "Lord of the Rings—Middle Earth Locations." "Literature is a great way to bring people of different generations together," Moses explains. "Our mission is to expand lifelong learning."
Maria and Alberto Socolovsky, of Needham, Massachusetts, will take their fifth intergenerational Elderhostel trip in late July, a week of acrobatics, juggling, and other circus arts in Pittsfield, Massachusetts, with their 13-year-old grandson, Benjamin Caine. "All of our children's grandparents are very involved to begin with, and the Elderhostel experience just strengthens that," says Benjamin's father, Daniel Caine, J.D.-M.B.A. '81. "It is wonderful that the kids are able to spend time with their grandparents away from us."
In past years, the Socolovskys attended a theater workshop in Massachusetts; a boat-building/outdoor survival camp in the Adirondacks; and a "family ties" week in Pennsylvania. "Our role as grandparents is to participate and support the kids and to learn with them. That, by itself, is wonderful," says Alberto, 75. "Also, if we feel ambitious, we are encouraged to emulate them in activities—building a canoe, making paddles, or practicing survival skills or climbing a 30-foot pole and sliding across a lake hanging from a cable. Moreover, the instructors are very understanding of our needs as seniors. At [theater camp], they took over the kids between 2 and 4 p.m., so that we could nap."
The Socolovskys have pragmatic criteria: the destinations must be within driving distance of their home; the dates must coincide with the children's camp schedules. "In these programs we are likely to discover abilities and talents, such as dancing and acting, we didn't know—or hadn't noticed—our grandchildren had, and we learn a lot from them," Alberto adds. The children also learn from their grandparents by practicing Spanish, the latter's native language: "Just basic words, like 'Thank you' and 'I love you.'"
If prearranged activities or group tours don't appeal, consider renting a house for a family gathering. Every other year for the last two decades, Ellen LaFollette '54 and Charles LaFollette '51, M.B.A. '53, have shared homes with their extended clan of four grown children (Laetitia '76, Lizellen '79, Anne '80, and Charles '87, M.B.A. '92) and grandchildren in such diverse spots as the Greek islands, Italy, and France. "This allows us to spend time together, but also lets the children see what other cultures are like—to know that there are places where things are done differently than in the United States," Ellen emphasizes. Typically 16 people gather, with children aged two to 15. "Figure out how many bathrooms you need—that's the first decision you have to make," Ellen adds, laughing. "In other words, the house needs to be big enough that no one feels their privacy is being overwhelmed."
"There is no pressure for people to do things as a group—especially as everyone ages," she explains. "People take their own excursions and generally come back together around 5:30, cocktail time." The trip should be about 12 days, she advises. "That makes it rare, and therefore a treasure, but it doesn't last so long that you are getting on each other's nerves."
This summer, Lucy and Richard Sallick and their grandchildren have also designed their own vacation—at the family's summer home in Brunswick, Maine. The children get out of school early in June, but their mother works through the end of the month, Lucy Sallick reports, "so it was easy to just say, 'We'll take them.' We knew it would be fine and fun because we'd already had this great experience with the kids last summer." "Absolutely," agreed her husband. "It will be a kind of sequel, just the natural thing to do."
Nell Porter Brown is assistant editor of this magazine.
You might also like
Stepping down after 30 years of University service
Harvard researchers seek to empower individuals to steer their own careers.
How the Bezos Earth Fund hopes to seed economic transformation
Most popular
Andrew Knoll on the planet's past—and fraught future
Framing the news with our best articles on diet and health
The research provides insight into the way materials react to repeated strain.
More to explore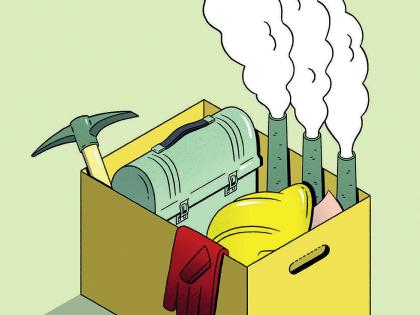 Expect massive job losses in industries associated with fossil fuels. The time to get ready is now.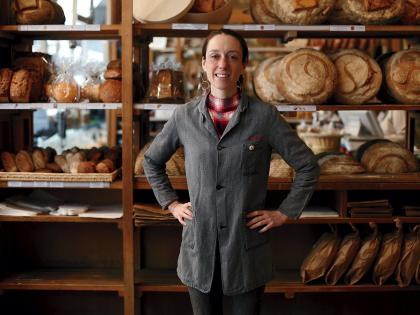 A third-generation French baker on legacy loaves and the "magic" of baking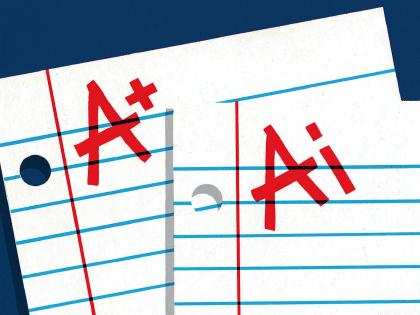 Generative AI can enhance teaching and learning but augurs a shift to oral forms of student assessment.