Poems by Richard Wilbur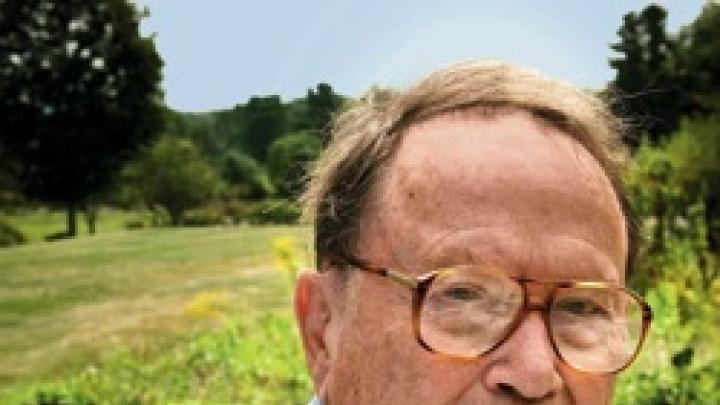 The Writer
In her room at the prow of the house
Where light breaks, and the windows are tossed with linden,
My daughter is writing a story.
I pause in the stairwell, hearing
From her shut door a commotion of typewriter-keys
Like a chain hauled over a gunwale.
Young as she is, the stuff
Of her life is a great cargo, and some of it heavy:
I wish her a lucky passage.
But now it is she who pauses,
As if to reject my thought and its easy figure.
A stillness greatens, in which
The whole house seems to be thinking,
And then she is at it again with a bunched clamor
Of strokes, and again is silent.
I remember the dazed starling
Which was trapped in that very room, two years ago;
How we stole in, lifted a sash
And retreated, not to affright it;
And how for a helpless hour, through the crack of the door,
We watched the sleek, wild, dark
And iridescent creature
Batter against the brilliance, drop like a glove
To the hard floor, or the desk-top,
And wait then, humped and bloody,
For the wits to try it again; and how our spirits
Rose when, suddenly sure,
It lifted off from a chair-back,
Beating a smooth course for the right window
And clearing the sill of the world.
It is always a matter, my darling,
Of life or death, as I had forgotten. I wish
What I wished you before, but harder.
"The Writer": Copyright © Richard Wilbur. Reprinted from Collected Poems, 1943-2004 (Harcourt). All rights reserved. Used with permission.
Blackberries for Amelia
Fringing the woods, the stone walls, and the lanes,
Old thickets everywhere have come alive,
Their new leaves reaching out in fans of five
From tangles overarched by this year's canes.

They have their flowers too, it being June,
And here or there in brambled dark-and-light
Are small, five-petaled blooms of chalky white,
As random-clustered and as loosely strewn
As the far stars, of which we now are told
That ever faster do they bolt away,
And that a night may come in which, some say,
We shall have only blackness to behold.
I have no time for any change so great,
But I shall see the August weather spur
Berries to ripen where the flowers were–
Dark berries, savage-sweet and worth the wait–
And there will come the moment to be quick
And save some from the birds, and I shall need
Two pails, old clothes in which to stain and bleed,
And a grandchild to talk with while we pick.
"Blackberries For Amelia": Copyright © Richard Wilbur. Reprinted from Collected Poems, 1943-2004 (Harcourt). All rights reserved. Used with permission.
A Measuring Worm
This yellow striped green
Caterpillar, climbing up
The steep window screen,
Constantly (for lack
Of a full set of legs) keeps
Humping up his back.
It's as if he sent
By a sort of semaphore
Dark omegas meant
To warn of Last Things.
Although he doesn't know it,
He will soon have wings,
And I, too, don't know
Toward what undreamt condition
Inch by inch I go.
"A Measuring Worm": Copyright © 2008 Richard Wilbur. Reprinted From The New Yorker (February 11, 2008). All rights reserved. Used with permission.
You might also like
A Harvard series explores South Korean cinema in the years following the Korean War. 
A deflating ending fashions a three-way title tie.
A 70,000 square-foot theater and teaching center, plus housing for Harvard affiliates
Most popular
Modeling how globalization leaves the least-skilled workers behind
Why good data are essential to understanding the Voting Rights Act
A theorist explores the limits to shrinking datasets.
More to explore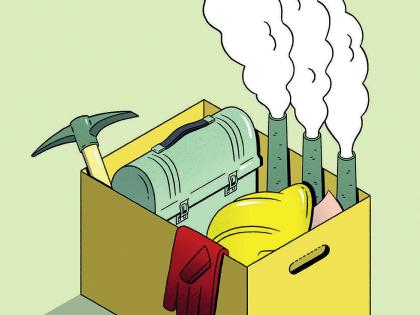 Expect massive job losses in industries associated with fossil fuels. The time to get ready is now.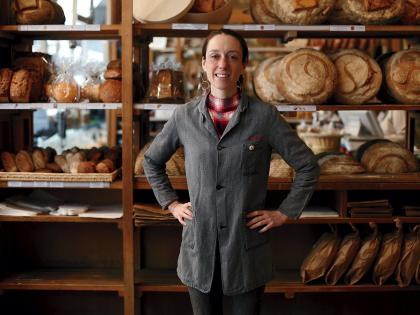 A third-generation French baker on legacy loaves and the "magic" of baking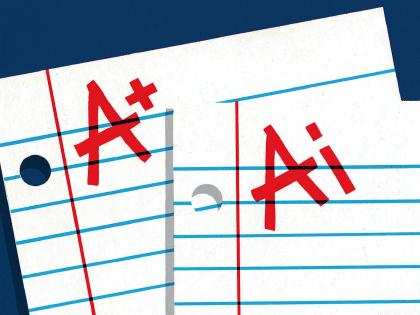 Generative AI can enhance teaching and learning but augurs a shift to oral forms of student assessment.