If you were among the 40,000 who saw the 1968 Harvard-Yale game, you sensed an invisible hand shaping the waning minutes of play. Yale's heavily favored team held a 29-13 lead, but an improbable combination of breaks and derring-do enabled Harvard to score 16 points in the last 42 seconds and gain an astounding 29-29 tie.
"You got the feeling that the universe had shifted…that some kind of weird force had descended on the Stadium," recalls former Yale tackle Tom Peacock in Harvard Beats Yale 29-29, a new documentary by Kevin Rafferty '70. Screened at this fall's Toronto film festival, the 105-minute movie alternates game-action footage and commentary by 50 former combatants. Though the outcome is clearly telegraphed by the title, suspense mounts as the clock winds down and the Stadium's shadows lengthen.
Filmmaker Rafferty, whose previous films include The Atomic Cafe and Blood in the Face, is a New Yorker whose grandfather, father, and uncle all played football at Yale. He witnessed The Game from the Harvard side. Two years ago, anticipating the fortieth anniversary of the contest, he bought a "slightly dinged-up" '96 Audi and added 15,000 miles to the odometer as he crisscrossed the country to interview 61 ex-players. They included backup quarterback Frank Champi '70, whose heroics sparked Harvard's rally; Brian Dowling, Yale's prodigious quarterback; team captain and halfback Vic Gatto '69; actor-director Tommy Lee Jones '69, the sole returning starter on Harvard's offensive line; and Pete Varney '71, the burly end who caught Champi's game-tying two-point conversion pass with no time left on the clock.
 A Variety review describes the interviewees as "almost uniformly witty, charming, funny, and reflective." Their reflections touch on the politics and Zeitgeist of the Sixties, but are mostly about the game and what it meant to the participants. "There was the initial shock of the universe going haywire," muses Mick Kleber, a Yale tackle, "but after that it came to me, almost like an epiphany, that I was just so fortunate to have been in that game, to have had that experience. I couldn't be sad about it." Yale defensive captain Mike Bouscaren candidly admits he tried to injure the high-flying Champi in order to sideline him. "I'm glad that we lost," he adds, "because if we had won, I probably would have had more difficulty becoming just a regular person—a person who understands that life is not fair, that you can't win all the time, and that it's good to be humble."
Not everyone viewed the event as numinous. To the late Fritz Reed '69, a tackle whose 26-yard run with an errant pitchout set up Harvard's third score, "it was really exhilarating, but it was a football game. That's all it was. It wasn't even for a major championship." (Both teams finished unbeaten and shared the Ivy title.)
Champi has the last word: "I think we all won. If it wasn't for that game, none of us would be remembered today. Both teams have a small place in football history."
Harvard Beats Yale 29-29 opens November 19 at the Brattle Theatre and at New York City's Film Forum. (The film's title originated as a headline in the Harvard Crimson.) Overlook Press will publish Harvard Beats Yale 29-29 in book form in 2009.
You might also like
The Crimson springs a major upset.
Harvard officially installs Claudine Gay, its thirtieth leader.
A half-dozen symposiums feature Harvard research on AI, climate change, inequality, and more
Most popular
A profile of Harvard's thirtieth president
Life decisions en route to Massachusetts Hall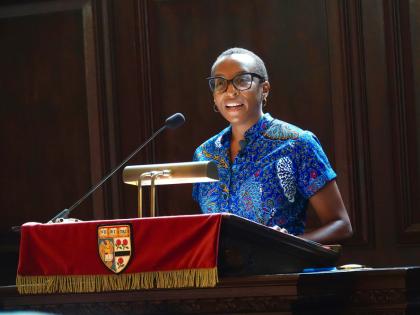 President Claudine Gay's first semester-opening Morning Prayers
More to explore
A test can identify these productivity-boosting personnel.
Ancient history professor studies coins, ceramics, and Zelda.
Anwar Floyd-Pruitt's wildly profuse art