In Esteemed Company
This year's honorary degree recipients come from the worlds of literature, cinema, music, AIDS and cancer research—and more.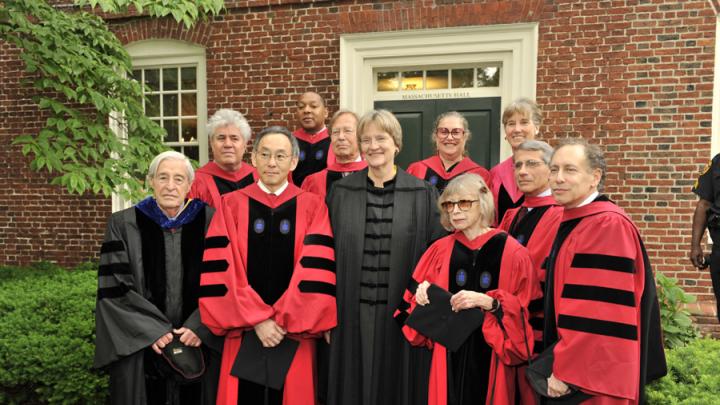 Ten men and women were awarded honorary degrees from Harvard this year. Besides the Commencement speaker, U.S. Secretary of Energy (and Nobel laureate in physics) Steven Chu, the group includes a filmmaker, a jazz musician, a novelist and New Yorker writer, a political scientist and longtime Harvard professor, scholars of religion and evolutionary biology, and pioneers in biomedical engineering and AIDS research.
The recipients were honored at a dinner on the evening of June 3, then presented with their degrees during the Morning Exercises on June 4.
Below are brief biographies. Their honorary-degree citations follow the biographical entries.
Pedro Almodóvar, Doctor of Arts. One of the world's most original directors and screenwriters, Pedro Almodóvar has created films known for their distinctive blend of fantasy and reality, satire and raw emotion. Born in rural Spain, he moved to Madrid as a young man with amibitions to make movies. He performed with the avant-garde theater group Los Goliardos as well as a rock band before making his first feature film, Pepi, Luci, Bom and Other Girls on the Heap, which immediately became a cult classic. His subsequent work includes Law of Desire (1986), Women on the Verge of a Nervous Breakdown (1987), Tie Me Up! Tie Me Down! (1989), All About My Mother (1999), Talk to Her (2001), and Volver (2006). The colorful irreverence, sensuality, and passion of his films have made him an icon of contemporary Spain. His many honors include Academy Awards for best foreign language film and best original screenplay and Cannes Film Festival prizes for best director and best screenplay.
Ingenious man of La Mancha, bold avatar of a new Spain,
an auteur, provocateur, and fabulador
whose labyrinths of passion excite the imagination
and enliven the art of film.
Steven Chu, Doctor of Science. A Nobel laureate physicist, Steven Chu took office in January 2009 as the nation's twelfth Secretary of Energy, following unanimous confirmation by the United States Senate. He previously served as director of the Lawrence Berkeley National Laboratory, one of the nation's leading scientific institutions, while also a member of the faculty of the University of California at Berkeley. He received his bachelor's degree from the University of Rochester and his Ph.D. from Berkeley, then worked early in his career at Bell Laboratories. There he developed methods to cool and trap atoms using laser light, research for which he shared the 1997 Nobel Prize in physics. Later he served as the Theodore and Francis Geballe professor of physics and applied physics at Stanford, where he focused his research increasingly on challenges in biophysics and polymer physics. In recent years he has emerged as a forceful exponent of scientific and technological solutions to climate change.
Grand master of atomic cooling,
grand marshal against global warming,
a lucent laureate whose generative mind
now powers the quest for alternative energy.
Joan Didion, Doctor of Letters. Essayist, novelist, and screenwriter, Joan Didion is known for her acute observations on American culture and politics as well as her precise and elegant prose. A graduate of the University of California at Berkeley, she emerged as a pioneer of "the new journalism" and became a regular contributor to such publications as The Saturday Evening Post, The New York Review of Books, and The New Yorker. Her first seven books of nonfiction, beginning with the essay collections Slouching Towards Bethlehem (1968) and The White Album (1979), have more recently been published as We Tell Ourselves Stories in Order to Live (2006). Her novels include Run River (1963), Play It As It Lays (1970), A Book of Common Prayer (1977), Democracy (1984), and The Last Thing He Wanted (1996). She received a National Book Award for The Year of Magical Thinking (2005), a memoir written after the sudden death of her husband. Her honors include the National Book Foundation's Medal for Distinguished Contribution to American Letters and the Gold Medal for Belles Lettres from the American Academy of Arts and Letters.
Coolly laconic, drily ironic,
discerning America's mores and moods,
a writer of uncommon keenness and power
who pictures the ways in which things fall apart.
Wendy Doniger, Doctor of Letters. Wendy Doniger is the Mircea Eliade Distinguished Service Professor of the history of religions at the University of Chicago. An eminent scholar of Hinduism, she is also a leading authority on the interpretation of the myths of many different cultures, known for her striking juxtaposition of material from diverse places and times. After graduating from Radcliffe, she completed doctorates at Harvard and Oxford, and went on to teach at the University of London and the University of California at Berkeley before joining the University of Chicago faculty in 1978. Past president of both the American Academy of Religion and the Association for Asian Studies, she received the Academy's 2008 Martin E. Marty Award for the Public Understanding of Religion. Her many interpretive works include Women, Androgynes, and Other Mythical Beasts (1980), Dreams, Illusions, and Other Realities (1984), Other People's Myths: The Cave of Echoes (1988), The Implied Spider: Politics and Theology in Myth (1998), and The Hindus: An Alternative History (2009). She has also translated numerous ancient Sanskrit texts including selections from The Rig Veda and The Laws of Manu.
Freely traversing eras and borders,
inventively bridging East and West,
she finds in the myths of manifold cultures
a microscope and telescope on how we live.
Ronald Dworkin, Doctor of Laws. Ronald Dworkin is the Frank Henry Sommer professor of law and professor of philosophy at New York University and emeritus professor of jurisprudence at University College London. One of the world's foremost legal and political philosophers, he is known especially for his theory of "law as integrity" and for bringing fundamental philosophical ideas to bear on practical concerns in law, politics, and morality. After receiving undergraduate degrees from Harvard and Oxford, Dworkin graduated from Harvard Law School and then clerked for Judge Learned Hand. He taught at Yale from 1962 to 1969, then served for nearly three decades as professor of jurisprudence at Oxford. His books include Taking Rights Seriously (1977), A Matter of Principle (1985), Law's Empire (1986), Freedom's Law: The Moral Reading of the American Constitution (1986), Sovereign Virtue: The Theory and Practice of Equality (2000), and Is Democracy Possible Here? (2006). His recent honors include Norway's Holberg International Memorial Prize and the Thomas Jefferson Foundation Medal in Law.
Venturesome explorer of law's empire,
learned expounder of equality's virtue,
he draws constitutional meaning from the wellsprings of morality,
insisting the law be respectful of all.
Anthony S. Fauci, Doctor of Science. A distinguished biomedical researcher and scientific administrator, Anthony Fauci has served since 1984 as director of the National Institute of Allergy and Infectious Diseases. There he has emerged as a principal figure in combating HIV/AIDS worldwide and in strengthening preparedness against emerging infectious disease threats. Chief of the Institute's Laboratory of Immunoregulation since 1980, he has made seminal contributions to the basic understanding of the human immune system as well as the means by which the AIDS virus overcomes the body's defenses. A graduate of the College of the Holy Cross, he received his M.D. degree from Cornell University. His many honors include the National Medal of Science, the Albany Medical Center Prize in Medicine and Biomedical Research, and the Mary Woodard Lasker Award for Public Service. In 2008, he received the Presidential Medal of Freedom for bringing "hope and healing to tens of millions in both developed and developing nations." He is a prominent spokesman for the ambitious pursuit of science to improve medicine and public health.
At the helm, on the Hill, in the lab, on the ward,
a preeminent investigator of human immunology
and a tireless leader in striving to conquer
the world's most insidious ills.
Sarah Blaffer Hrdy, Doctor of Science. A renowned anthropologist and primatologist, Sarah Blaffer Hrdy is professor emerita of anthropology at the University of California at Davis. She is known for her pathbreaking multidisciplinary studies challenging traditional aspects of evolutionary biology, especially in regard to gender roles and the nature of motherhood. A graduate of Radcliffe, with her Ph.D. from Harvard, she gained early recognition for her field research on the behavior of langur monkeys in India. Her books include The Langurs of Abu: Female and Male Strategies of Reproduction (1977), The Woman That Never Evolved (1981), and Mother Nature: A History of Mothers, Infants, and Natural Selection (1999). Her most recent book, Mothers and Others: The Evolutionary Origins of Mutual Understanding (2009), explores human beings' singular capacity for empathy. Past editor of the series Foundations of Human Behavior, she has been recognized with such honors as the American Anthropological Association's Howells Prize for Outstanding Contribution to Biological Anthropology, the University of California's Constantine Panunzio Award, and the Centennial Medal of Harvard's Graduate School of Arts and Sciences.
Interrogating Darwinian dogma, investigating primates' ways,
an intrepid evolutionist with a revolutionary flair
who has introduced us anew to Mother Nature.
Robert Langer, Doctor of Science. One of history's most prolific inventors in medicine, Robert Langer is an Institute Professor at the Massachusetts Institute of Technology, where he has served on the faculty since 1977. A pioneer in biomedical engineering, he is known for his fundamental contributions in the fields of controlled drug delivery and tissue engineering. He has published more than 1,000 scientific articles and holds more than 700 issued or pending patents worldwide, and his work is credited with improving the health of millions. After graduating from Cornell University, Langer received his Sc.D. from MIT in 1974, and accepted a postdoctoral position at Children's Hospital in Boston, working with cancer researcher Judah Folkman. A past chairman of the United States Food and Drug Administration's Science Board, he has received many honors including the National Medal of Science, the Charles Stark Draper Prize, and the Millennium Technology Prize, awarded in 2008 for his role in inventing and developing techniques that have had a significant impact in the fight against cancer and other diseases.
Transforming the ways in which drugs are delivered,
devising new methods to synthesize tissues,
an Edison of biomedicine with a patently magical touch.
Wynton Marsalis, Doctor of Music. Wynton Marsalis is one of his generation's most acclaimed and influential jazz musicians. A brilliant trumpet player, he is also a major bandleader, composer, and advocate for the arts, whose performances, lectures, workshops, and writings have elevated attention to jazz worldwide. Trained in both classical and jazz music, he studied at the New Orleans Center for Creative Arts, the Berkshire Music Center, and The Juilliard School. Early in his career he played with Art Blakey and the Jazz Messengers before launching his own group. He cofounded Jazz at Lincoln Center in 1987 and has served as its artistic director since 1992. With a discography that includes more than 50 albums, he is the recipient of nine Grammy Awards and is the only musician to have won Grammys for both jazz and classical performances in the same year. In 1997 he became the first jazz artist to be recognized with a Pulitzer Prize for music, and in 2005 he was awarded the National Medal of Arts.
Virtuoso and impresario, maestro and messenger,
whose golden horn of plenty feeds the soul, lifts the heart,
and does the Crescent City proud.
Sidney Verba, Doctor of Laws. An illustrious political scientist and exemplary university citizen, Sidney Verba is Harvard's Carl H. Pforzheimer University Professor emeritus and former director of the Harvard University Library. Educated at Harvard and Princeton, he served on the faculties of Princeton, Stanford, and the University of Chicago before joining the Harvard faculty in 1972. Known for his seminal work on electoral politics, he is the author or coauthor of books that include The Civic Culture (1963), Participation in America (1972), The Changing American Voter (1976), Equality in America (1985), Designing Social Inquiry (1994), and Voice and Equality (1995). Past president of the American Political Science Association, he received the organization's James Madison Prize in 1993, and in 2002 he was awarded the Johan Skytte Prize for distinguished contribution to political science. As director of the Harvard University Library from 1984 to 2007, he led the library system through a period of profound change brought about by the rise of new technologies.
Superlative political scientist, savvy university citizen,
sage steward of volumes galore,
he has shaped our sense of civic culture
and gently personified the professorial ideal.
You might also like
Genetic analysis reveals a culture enriched from both sides of the Danube.
Harvard researchers illuminate a longstanding epidemiological connection. 
Harvard's Faculty of Arts and Sciences broaches two tough topics.
Most popular
Professors' humble beginnings, concentration choices, and a mini history of Harvard and Radcliffe presidents
Brief life of a feisty mountaineer: 1859-1925
Realizing the full potential of black employees
More to explore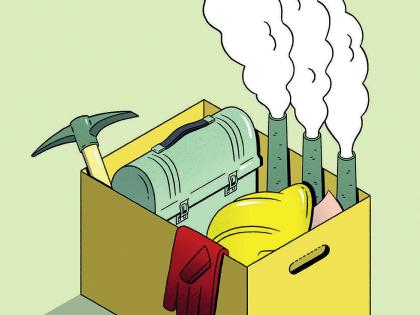 Expect massive job losses in industries associated with fossil fuels. The time to get ready is now.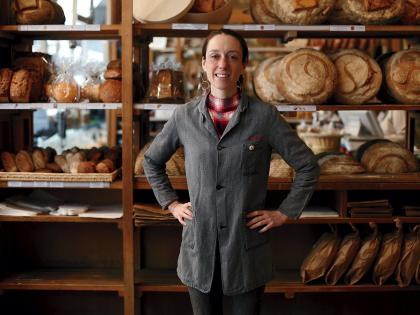 A third-generation French baker on legacy loaves and the "magic" of baking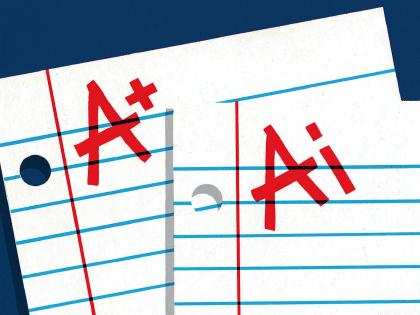 Generative AI can enhance teaching and learning but augurs a shift to oral forms of student assessment.