In the Limelight
Reunioners showcase their creativity.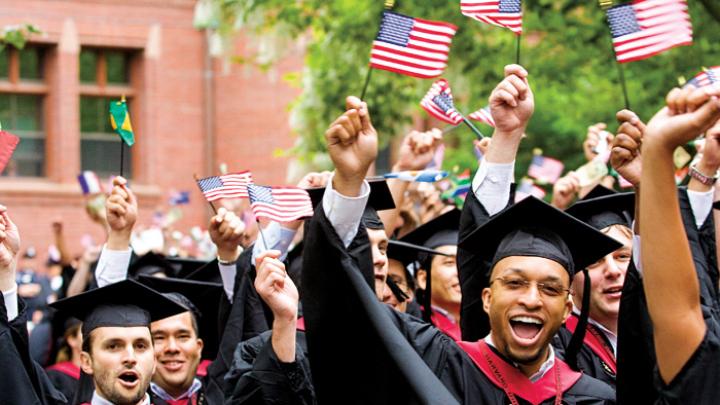 Never mind that Conan O'Brien '85 recently went off the air in a very public dust-up with broadcast executives. This spring the burning question locally was: Would he or wouldn't he perform in the talent show at his imminent twenty-fifth class reunion? These events have evolved into a significant tradition not only because they exhibit classmates' creative powers, but because they help bring people back together through shared laughter. Comedy is a critical element of the reunion shows, "especially at Harvard, where there is a sense of seriousness and being hard-driven," says Meg Streeter Lauck '79, who produced her own class show in 2004. "When people are laughing, they are open and they are united; humor brings people together in a way that spreads joy throughout the room." 
The talent show is usually the first big evening event of a reunion, she explains: "It provides a sense of unity up front and centers as much on talent as camaraderie." She also sees the show as distinctly related to the life cycles of classmates themselves. "The magic that happens between the fifteenth and twenty-fifth reunions is that people mellow," she states. "Getting together is not so much about 'How far I have succeeded,' but about 'Who am I now?' and the idea that friendships trump everything else. In the show, we are celebrating each other and life."
Almost every twenty-fifth reunion class produces a show, which typically packs Sanders Theatre. "I think each of us really treasures our classmates, and the talent show is such a popular tradition because it's one of the very fun ways we can celebrate this shared enthusiasm," says one of this year's show organizers, Betsy Wanger '85, the associate general counsel at George Washington University. "Reconnecting with classmates has been a blast. I'm amazed all over again at their remarkable talents, and generosity" in sharing their time. 
Participants perform everything from show tunes and jazz numbers to classical music and satirical ditties (one suggested that the College admissions process is now so harsh that even George Washington would not be accepted). Others offer up dance routines, comedy skits, or scenes from plays, or take the stage as a group to reprise performances from their undergraduate years. Part of the fun involves incorporating current student groups, such as the Kuumba Singers or Hasty Pudding members, into the show, so alumni can get a sense of creative life at the College today. 
---
The class of 1964 is particularly attached to their talent shows--they produce them even at non-major reunions. Historical novelist and journalist Ciji Ware was in the original 1963 Winthrop House production of Li'l Abner (she played Appassionata Von Climax), but says her proudest recent moment on stage came at the forty-fifth reunion show, when she and classmate Danny Cheever, whom she had taught to dance for Silk Stockings in the 1960s, "mounted the stage and managed to get through three minutes and 33 seconds of Irving Berlin's 'Let's Face the Music and Dance!'" 
How and when the variety-show tradition began is not quite clear, says Michele Blanc, the Harvard Alumni Association's (HAA) senior associate director for classes and reunions, "but it has become a beloved part of the reunion experience." During the last decade, the shows have become major productions that require technical help with lighting, sound, video, costumes, props, and staging from undergraduates and Harvard staffers. Although many classmates prepare material and rehearse months in advance, there is still a chaotic convergence during Commencement and reunion week. 
Sanders is usually unavailable until show time, so rehearsals take place at the former Radcliffe gym or other venues, most of them lacking air conditioning. "The logistics are challenging. People are arriving at the last minute, there's not enough time to prepare, and you need all of these technical aspects to be lined up: microphones, lighting, and cue sheets," says Streeter, now a retired network TV director/producer based in Houston. She was awake until 4:30 a.m. on the day of her class show, organizing last-minute details. 
Mastering the technical problems may pale compared to mustering the courage to get up on a stage, something many classmates have not done since their college days. "All of these people came to enjoy their reunions and here they are--going on stage and putting everything on the line. That's not kicking back and relaxing," she notes. "But they all came to rehearsals, missed the lobster bake, and gave up other things. Doing the show was all so reaffirming on so many levels--and a little scary!" 
Of course, the talent must be well-managed. Every class has a host of amateur and professional performers to draw from, such as actor John Lithgow '67, musician Allison Brown '84, comedian Andy Boro-witz '80, Pulitzer Prize-winning composer and musician Paul Moravec '79, NPR's Melissa Block '83, pop musician Dan Wilson '83, and many others, sometimes behind the scenes. "When you have famous performers in a class, it sometimes ups the ante for everyone else," Blanc notes. (She will not say a word about what Conan O'Brien's plans may be, although he has sent word that, schedule permitting, he will attend the Pops performance, at least.) When Yo-Yo Ma '76 came to his twenty-fifth reunion, however, he performed not at the talent show, but with the Pops; it was generally agreed that he did not have to show up early to rehearse. 
---
For the 2004 show, Streeter contacted her classmates Tom Gammill and Max Pross, the Emmy Award-winning comedy writing team who have worked for shows like Seinfeld and served as producers of The Simpsons; the duo created a series of hilarious bits that were performed by the show's classmate hosts, Hollywood producer and director Paris Barclay (another Emmy winner) and actress Amy Aquino. One especially popular sketch, "Embittered Spouses," featured the pair kvetching about their relatively low status and less-than-stellar alma maters. "I don't know why I had to fly all across the country to see where Elsie's used to be," says Aquino's character, chugging from her cocktail glass. "At Hahvahd." Streeter said her own husband (a Kansas State man) loved the skit because it made the reunion more inclusive all around and quashed the stereotypical notion of Harvard stuffiness.
 Also intrinsic to the reunion shows are the jokes based on formative undergraduate and alumni experiences--the Harvard development and admissions offices are the butt of many--and the confidence that performers feel before a clearly targeted audience. "Very few times in performers' lives do they really know their audiences in advance--so you can tell inside jokes all night and they take everyone back to common experiences and create that bond," Streeter points out. At the end of the show, she said a few words from the stage, concluding: "Each and every one who lit up the stage here…couldn't have a nicer audience full of friends." The show closed with a rousing ensemble rendition of "It's Our Time"--and a full standing ovation. 
Many of the performers are former Harvard Glee Club members, Krokodiloes, Radcliffe Pitches, Kuumba singers, Hasty Pudding-ites, and so on. Sam Lewis '64 says his Harvard days cemented a lifelong love of musical theater, so when classmates asked him to produce the thirty-fifth reunion show, with a cast of about 50, he was excited. The resulting musical variety show broke with the tradition of reunion shows featuring a class's most distinguished classical musicians, he says, but "the 'actors' have loved getting back on the Harvard stage, entertaining their classmates and re-polishing their special talents--be they song, dance, parody, or simply 'shtick'!" 
His class was so pleased, they staged musicals for the next two reunions, though the last was more of a burlesque variety show. Each show entailed 10 months of planning, talent recruitment (identifying the "Pudding Girls," for example), and work with HAA and technical support staff on all the logistics. Despite a few glitches--two Pudding Girls fell off the stage during their dance number last fall, though many in the audience assumed that was intentional--the shows were well-received. "Many classmates linger on after the show in a 'high' that is palpable," Lewis reports. 
For Streeter, the show is all about the group experience. "I wanted people to get on board with the celebration of not only the talent, but the spirit of what the arts can do to lift the spirit and connect you to something greater than yourself," she explains. "And to have people see their classmates on stage and feel that connection to our common experiences during college, and even now." 
You might also like
Toward another apartment complex on Harvard-owned land
Stepping down after 30 years of University service
Harvard researchers seek to empower individuals to steer their own careers.
Most popular
Brief life of a black radical: 1872-1934
Brief life of a textured artist: 1911-1988
In Agyementi, Ghana, Sangu Delle '10 brings clean water to a village.
More to explore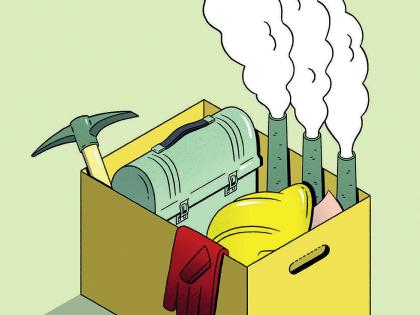 Expect massive job losses in industries associated with fossil fuels. The time to get ready is now.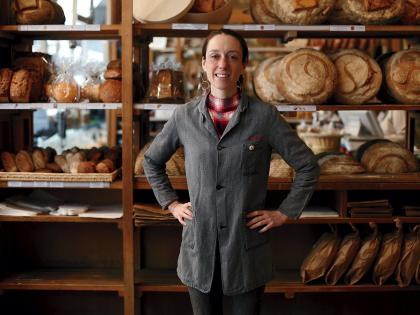 A third-generation French baker on legacy loaves and the "magic" of baking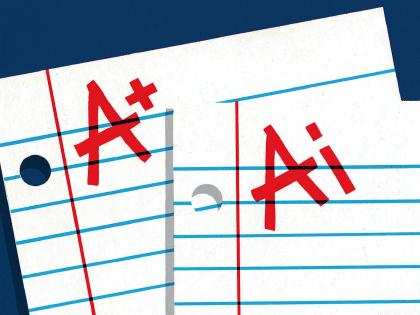 Generative AI can enhance teaching and learning but augurs a shift to oral forms of student assessment.