Greener Pastures
A New Hampshire cohousing community models sustainability.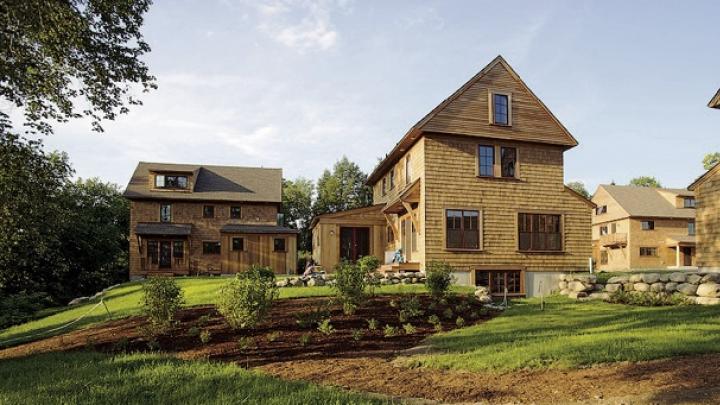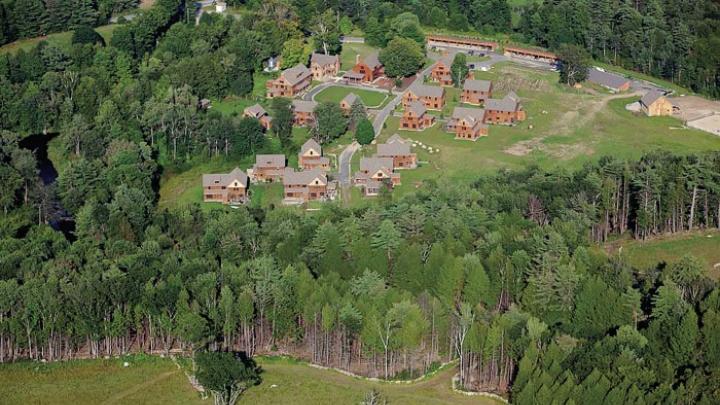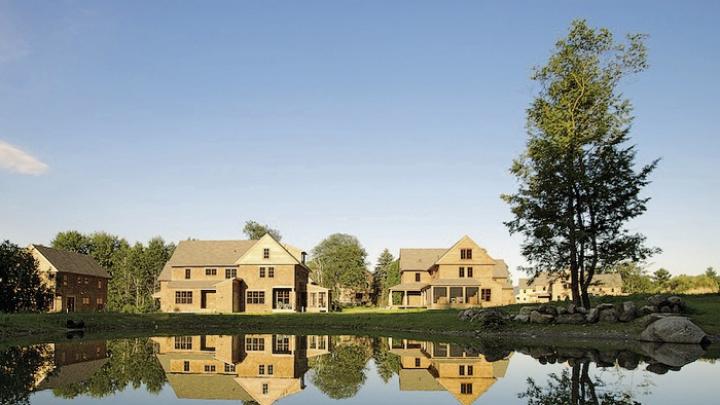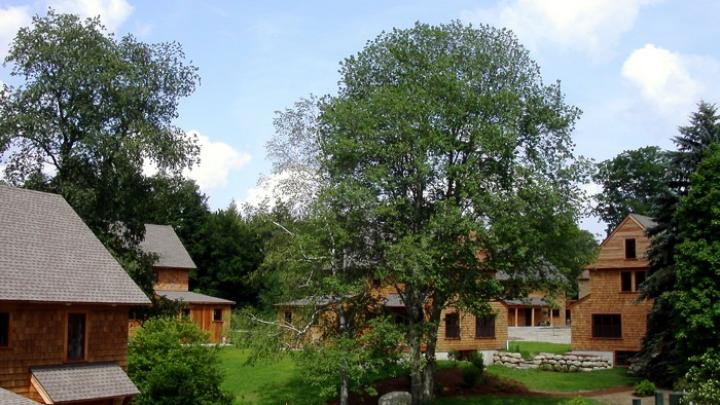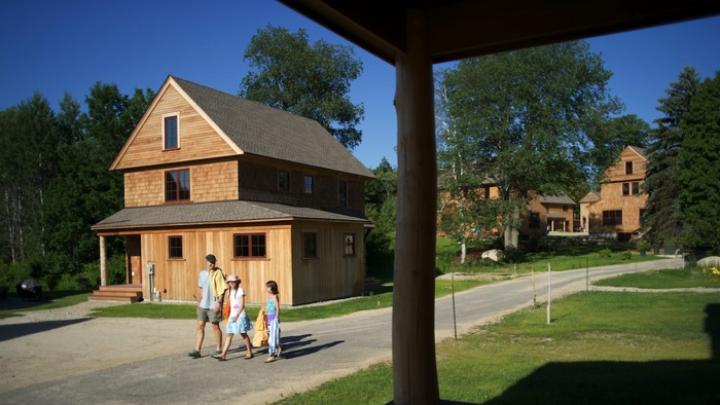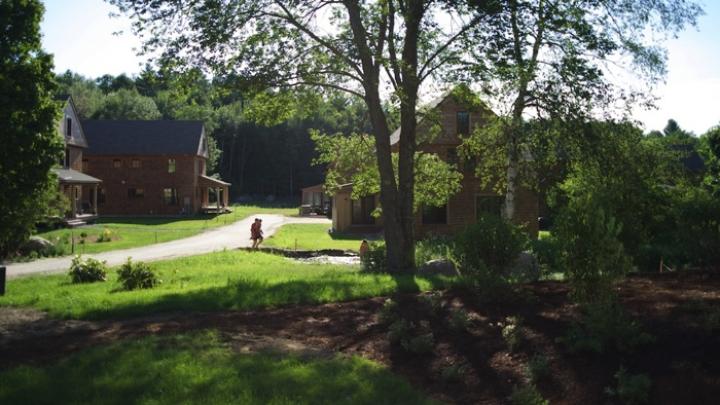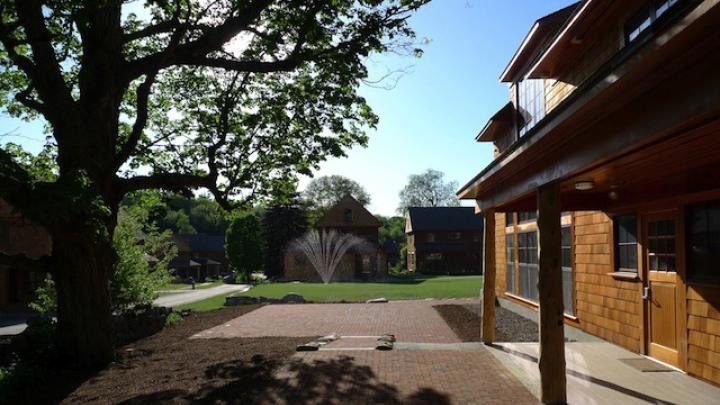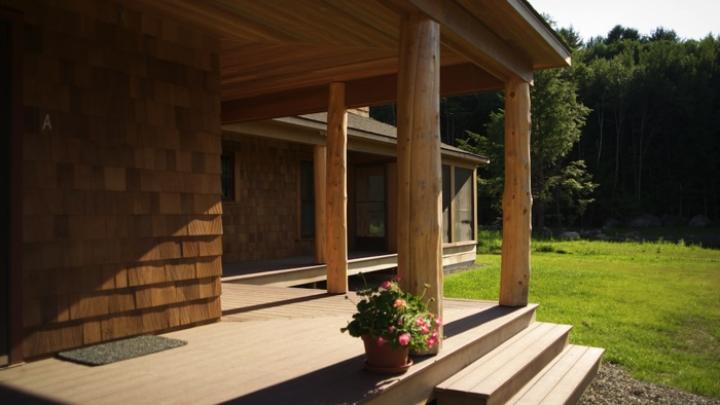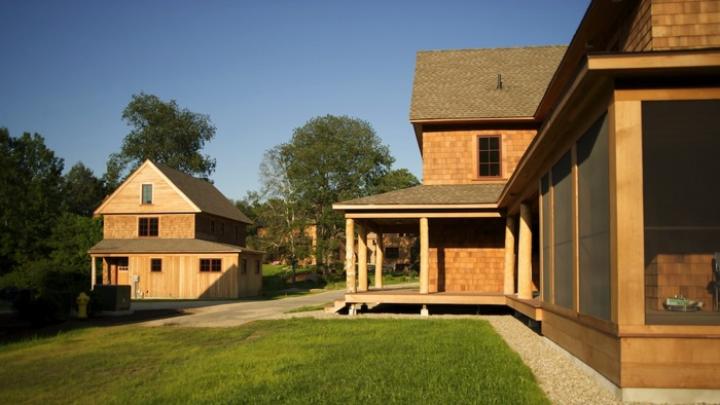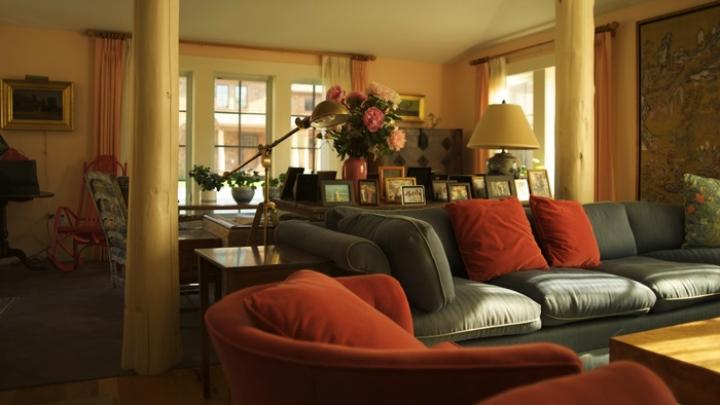 The forms taken by human shelters are changing as architects strive to lesson communities' carbon footprints. In this issue, Harvard Magazine features two projects reflecting different stylistic approaches and techniques that minimize energy consumption, help residents live more compactly, and focus attention on the essential beauty of the natural world. This article appears in two parts; part two is "Sustainability Made Simple."
They tore up the parking lot and put up a communal paradise. Or so Joni Mitchell could sing about what's happened on 113 acres of idyllic farmland just outside Peterborough, New Hampshire.
In 2004, two couples bought the site of the defunct Salzburg Inn complex, right next to the Nubanusit River. They have since redeveloped about 4.5 acres of the former commercial property as the state's first cohousing community, Nubanusit Neighborhood and Farm.
The original nineteenth-century homestead was retained and refurbished, but the rest of the buildings were demolished. And the balance of the rural land is conserved through easements; it boasts a pond for swimming and skating, forested tracts for long walks, and open pastures. The 16 shingled, pitch-roofed structures--almost iconic New England shelters--are clustered together and connected by pedestrian walkways and common green space. It is a modern, energy-saving twist on an age-old concept: the village.
"It's also part of the Smart Growth wave conceived as an alternative to the wasteful suburban sprawl that has dominated this country's landscape since the end of World War II," says David O'Neil, M.Arch. '72, whose firm, O'Neil Pennoyer Architects, of Groton, Massachusetts, designed it. "It integrates the goals of environmental consciousness and responsibility, sociability, and local food production. It is a prime model for our future."
Just beyond the homes stand a wooden barn and other farm buildings housing a small herd of dairy cows, three horses owned by residents, and 45 chickens; neighborhood children collect the eggs daily. (The manure, meanwhile, is composted and used as fertilizer.) There's also a large vegetable garden and a greenhouse, where residents are experimenting with extending the New England growing season. On a recent visit, co-developer and resident Shelley Goguen Hulbert showed off the basement of the common house, which was filled with tomato, basil, and other plants resting under grow lights and nearly ready to be transplanted outdoors. Neighbors gather to make yogurt, cheese, sauerkraut, chutney, and beer, and to boil sap into maple syrup. "The goal is to grow about 50 percent of our own food eventually," she says. "People take on projects based on their interests."
---
The homes are condos, ranging from one- to four-bedroom units; at 1,100 to 1,800 square feet, they are smaller than many Americans dream of. (Prices range from $375,000 to $595,000.) The deceptively simple-looking structures have long-lasting red cedar façades and traditional porches (made with recycled plastic decking). Each is sited to have a public face in the community--"From the front windows you can watch the children or see neighbors out on the green," O'Neil says--"but the back windows look out on the chickens, farmland, the pond, and the woods, and have a rural, private feeling." Carefully placed large windows, low to the floor, also afford stunning views of the natural world. "We wanted to integrate nature into the houses themselves as much as possible," he explains.
Though compact, the homes feel "just right" for this community thanks to another key aspect of the cohousing concept: the large, shared "common house" that sits facing a central green. Everyone's mailboxes, along with the egg-collecting baskets and a bulletin board, are located in the foyer. There is a library, as well as a living and dining room with a fireplace, and a big kitchen (residents sign up to cook the main meal or be the dessert chef for group dinners once or twice a week). There is a "great room" upstairs with a grand piano, and there are several guest rooms: people sign up to house their overnight visitors there, so they don't need extra rooms in their own homes. On weekends, people interested in socializing wander up to the common house to chat, bake treats, or play games.
The children's playroom--Nubanusit's residents range in age from three to 83--seems well-used. The kids don't lack for playmates and clearly enjoy exploring the adjacent river, woods, and fields; their "Nubi Museum" in the common house features what they've found in the 'hood: an iron ring from an old stable, dried snake skins, and a robin's nest with a note next to it, "Found in the maple tree at Amy's house." They can easily walk alone to each other's houses, or ride their bikes, because cars are parked in a communal carport located a two-minute walk from the homes, to cut down on noise and air pollution and foster interactions among those out for a stroll.
The prospect of walking even the short distance to the carport can make people think twice about using their vehicles--which is fine by O'Neil and Hulbert. "Cars have dictated the way we design most of our communities," which is wrong, he says. "In typical suburban areas, people drive up to their houses, get out of their cars, and go inside. They don't walk very much or talk to their neighbors because they are not outside long enough." Here, people are walking to get their mail, to see the animals, or to go to the pond.
The community earns extra revenue by renting out its great hall for dances, concerts, or lectures, and leasing office space created in the refurbished original farmhouse next door. Perhaps more important for its long-term prospects, though, is the cutting-edge technical environmental sustainability that has been literally built into Nubanusit through O'Neil's designs, in concert with Marc Rosenbaum of Energysmiths in Meriden, New Hampshire. The U.S. Green Building Council has awarded LEED platinum certification to the Neighborhood's model home, and all of the others are built to the same standard.
"The building envelopes are so tight that the heat demand is much lower than in conventional buildings," O'Neil explains. In addition to extra insulation, the windows are triple-paned and strategically placed to take advantage of the sun's shifting rays throughout the year. (There is no air conditioning.) A six-boiler central heating plant using wood pellets (manufactured five miles away in Jaffrey) provides heat and hot water for all 29 units; there is no back-up fossil-fuel boiler. Forced hot water runs into wall radiators, each with individual controls, located on inside walls. Heat recovery from the warm wastewater also lowers hot water costs; Hulbert says the average family of four spends about $900 on heating and hot water annually. (The homes are also set up for solar hot-water systems.) Although the stoves are electric, powered by the grid, one future community aim is to generate its own electricity.
Plans for cohousing communities elsewhere often face hurdles raised by local zoning laws, but O'Neil says Peterborough has been very supportive of the Nubanusit project. A few years ago, the local ordinance required three-acre lots and 200 feet of road frontage, but the town, which has a thriving arts community and a retiree population, passed an amendment to encourage denser housing development in the West Peterborough village where Nubanusit is located. (The architects worked closely with the fire department to ensure there were adequate turnarounds in a denser development lacking the usual residential driveways.)
In some ways, the balance of the acreage at Nubanusit now is not that different from what it was as a rich agricultural resource and home to John Steele, the governor of New Hampshire from 1848 to 1849. Some old features of the land were purposely retained. Boulders unearthed during construction are used in stone walls and for landscaping, for instance. And the common house was purposely sited to avoid disturbing original stone walls and a line of gnarly maples that are at least a century old. "We wanted to keep the trees and the stone because it was part of what makes this place so beautiful," says Hulbert. "We were thinking of this as a kind of Shaker community in some ways--of the simplicity, the beauty, health, and permanence." In the United States, she adds, "we have come to think always that 'Bigger is better.' But we are now starting to see the consequences of our desires in these sprawling communities where you depend on your car and don't know your neighbors. We wanted to live a different way."
This article is part of "Living Green," a feature in the July-August issue about New England architects focussed on sustainability. "Sustainability Made Simple" is the companion article.
You might also like
The Crimson springs a major upset.
Harvard officially installs Claudine Gay, its thirtieth leader.
A half-dozen symposiums feature Harvard research on AI, climate change, inequality, and more
Most popular
A community letter as the new administration begins
Solving legal challenges at MoMA
More to explore
A test can identify these productivity-boosting personnel.
Ancient history professor studies coins, ceramics, and Zelda.
Anwar Floyd-Pruitt's wildly profuse art