The Human Genome Map, 10 Years Later
A panel of scientists examines the impact of a landmark discovery.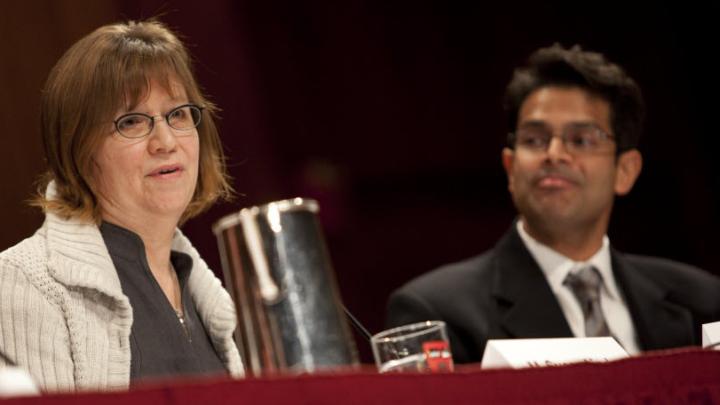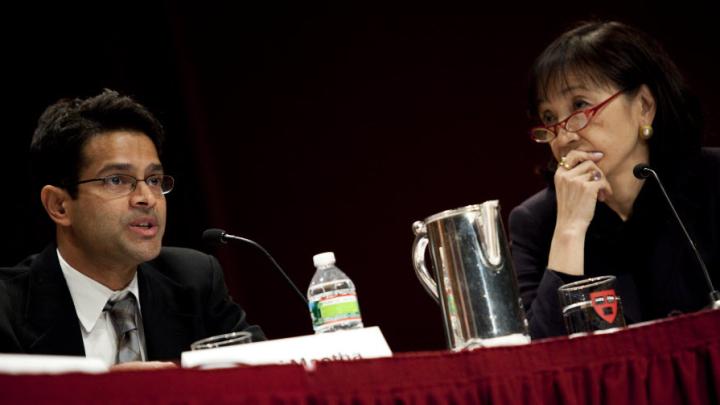 In the decade since the first mapping of a human genome in its entirety, the pace of discovery enabled by this new technology has, in different ways, both exceeded and fallen short of expectations, professor of systems biology Eric Lander said at a February 22 panel.
Subsequent discoveries have radically altered our understanding of how the genome operates: among the three billion base pairs, "there are a lot fewer genes than we thought, but a lot more regulatory controls," Lander noted. (Read more about the surprising importance of what was once known as "junk DNA.") Scientists today are aware of about 1,100 genes associated with common diseases, he said; 10 years ago, that number was 20. And, he said, "The cost of sequencing has fallen by 100,000-fold—soon to be a millionfold."
Journalists and the public, on the other hand, were overly optimistic, hoping for disease cures within a few years, Lander said. "Real scientific revolutions are measured in a period of multiple decades," he said, noting that 60 years passed between the discovery of the germ theory of disease and the successful use of antibiotics to treat illness.
The first draft sequence and analysis of a human genome were published February 15, 2001, in the journal Nature. To mark the anniversary, Lander, who directs the Broad Institute of Harvard and MIT, gathered in Sanders Theatre for a discussion with four colleagues from academe, industry, and government, moderated by President Drew Faust. (Lander was already reflecting on the distinction between genome sequencing and attaining useful genomic information in this 2006 article.)
Vicki Sato—professor of the practice of molecular and cellular biology in the Faculty of Arts and Sciences and professor of management practice at Harvard Business School—reminded the audience that 10 years is roughly half the time it takes for a drug to go from an idea dreamed up by a researcher to a medication approved by the Food and Drug Administration (FDA).
Drug development may take patience, but Sato—who was president of Vertex Pharmaceuticals from 2000 to 2005—pointed out that already, knowledge of the human genome has changed the vocabulary we use to describe disease. Cancer, for instance, is no longer thought of as a monolith; physicians speak now of different types of cancer based on location in the body. In some instances, it is possible to use genetic information to get even more specific: Sato noted that doctors can now distinguish between aggressive prostate cancer, requiring aggressive treatment, and non-aggressive prostate cancer, where the prudent course of action is to watch and wait rather than treat.
And the capacity for rapid sequencing, she said, "is allowing us to match our medicines to patients much more effectively."
But that path is not always smooth or straight. M. Susan Lindee, professor of history and sociology of science at the University of Pennsylvania, spoke about cystic fibrosis, a disease that has not been cured even though its genetic roots were identified in 1989.
The disease is caused by a mutation in the CFTR gene, which regulates the production of mucus, sweat, and digestive fluids. The most common such mutation, ΔF508, has been added to routine genetic screening in some locations—and, Lindee noted, the number of children born with this mutation dropped by 50 percent in a single year in California after the state began testing prospective parents for it.
At least in this case, Lindee believes, the public is beginning to take genomic information into account in decisionmaking, even before that information is fully understood. She noted that two people with the ΔF508 mutation can have drastically different life trajectories, and that different cystic fibrosis clinics have dramatically different treatment outcomes, even when following identical Cystic Fibrosis Foundation protocols, "which are quite elaborate and strict and very involved."
(Read about the twists and turns involved in the search for a cure for Duchenne muscular dystrophy, another disease with a genetic basis, in "The Gene Hunter," from the March-April 2011 issue.)
Lindee also noted that scientific advances in genomics are presenting novel ethical dilemmas. It is "surprisingly common," she said, that lab scientists, in testing a patient's DNA, discover that the man the patient thought was his or her father is not genetically related.
Commissioner of Food and Drugs Margaret Hamburg '77, M.D. '83, also voiced concern for ethical issues—for example, the possibility of discrimination on genetic grounds.
The new availability of precise genomic information requires closer collaboration among her agency, researchers, physicians, and drug companies, she said: "The regulatory capacity and procedures must be fundamentally linked to the way the science is being done, to the way the drug development is being targeted, and to the way these new products will be used in clinical practice."
Vamsi Mootha, associate professor of systems biology and of medicine at Harvard Medical School, said the doctors of the future will need to understand probability theory and databases; they will need to know how to read and analyze a patient's genome, he explained, and medical education must be updated accordingly. But as to the bottom line, he said: "I couldn't think of a better time" to be embarking on a career in the biomedical sciences. 
You might also like
Genetic analysis reveals a culture enriched from both sides of the Danube.
Harvard researchers illuminate a longstanding epidemiological connection. 
Harvard's Faculty of Arts and Sciences broaches two tough topics.
Most popular
Rosabeth Moss Kanter on solving America's infrastructure problems
Original works by "Golden Age" illustrators on view in Newport, Rhode Island
Channeling Valentine's Day—and sustainable oceans—via sexy sea creatures
More to explore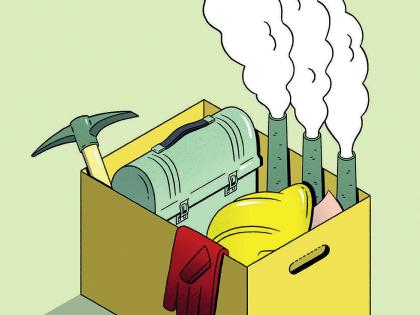 Expect massive job losses in industries associated with fossil fuels. The time to get ready is now.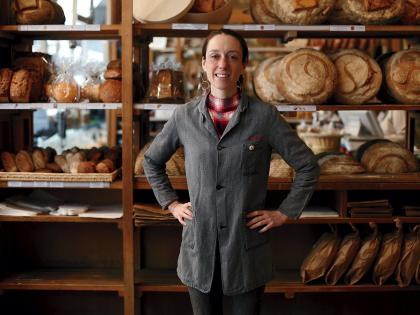 A third-generation French baker on legacy loaves and the "magic" of baking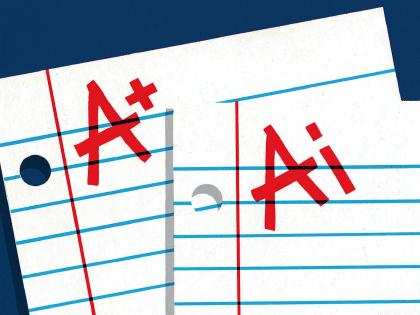 Generative AI can enhance teaching and learning but augurs a shift to oral forms of student assessment.