Brevia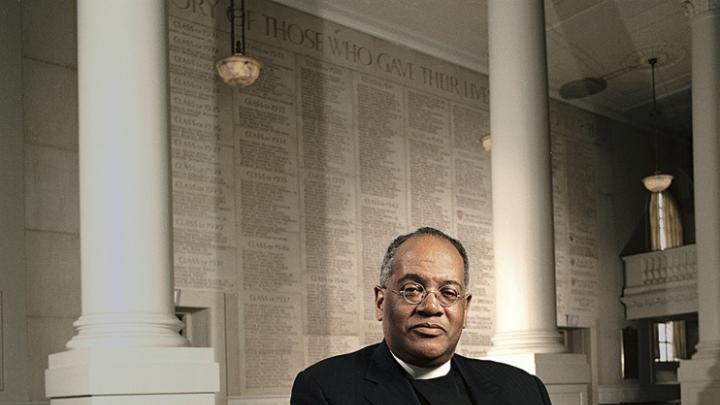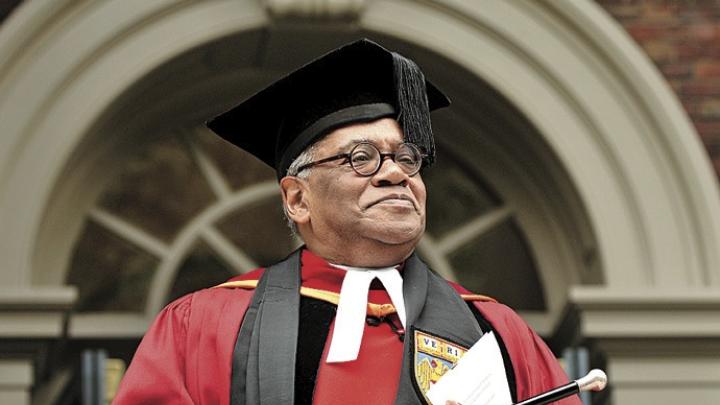 That Voice, Stilled
The Reverend Peter J. Gomes, Plummer professor of Christian morals and Pusey minister in the Memorial Church, who had suffered a heart attack and subsequent stroke in December, as previously reported, died on February 28. His death prompted an extraordinary outpouring of news coverage and of personal recollection, reflecting his status as "one of the great preachers of our generation" (in President Drew Faust's words); best-selling modern interpreter of the Bible; crosser of boundaries (as a black Baptist Republican who announced in 1991 that he was "a Christian who happens as well to be gay" and then promoted equal rights for gays); and, for many members of the Harvard community, the enduring public face of the University, a man who reveled in tradition and celebrated it with zest, especially on high occasions such as his Baccalaureate address to graduating seniors and his closing prayer—the text secreted within his cap for delivery—at the Commencement morning exercises each spring. (The Harvard memorial service, on April 6, was held as this issue went to press; coverage appears at http://harvardmagazine.com/2011/04/peter-gomes-memorial-service.)
Commencement Speakers
Liberian president Ellen Johnson Sirleaf, M.P.A. '71, will be the principal speaker during the afternoon exercises at Harvard's 360th Commencement, on May 26. "Over the course of her nearly 40 years in public service, President Sirleaf has endured death threats, incarceration, and exile, all the while challenging the inequality, corruption, and violence that defined life in Liberia for so long," said Drew Faust (the other president who will speak on the occasion) in announcing the news. Sirleaf was elected president in 2005, becoming Africa's first female elected head of state. She delivered the Harvard Kennedy School's graduation address in 2008. On a lighter note, the seniors selected as their class day speaker the actress Amy Poehler, of Saturday Night Live and Parks and Recreation fame.
Overseer Leaders
Courtesy of Harvard Business School
Courtesy of Harvard Business School
Leila Fawaz, Ph.D. '79, a Tufts historian, will be president of the Board of Overseers for the 2011-2012 academic year. Attorney Robert N. Shapiro '72, J.D. '78, will become the vice chair of the Overseers' executive committee. Fawaz was a member of the committee that identified William F. Lee as a new member of the Harvard Corporation last year. Shapiro, past president of the Harvard Law School Association and of the Harvard Alumni Association, was an Overseer member of the Corporation's governance-review committee last year; he now serves on the search committee as the membership of the senior governing body is expanded (see "The Corporation's 360-Year Tune Up," January-February, page 43).
Summas Reset
The Faculty of Arts and Sciences on February 15 slightly modified the terms for awarding the honor summa cum laude. Beginning with the class of 2012, candidates must be designated to receive highest honors in their field of concentration and have earned a grade point average within the top 5 percent of the class (the criterion was 4 to 5 percent). A requirement that students also earn an A or A- in each of two courses in humanities, social sciences, and sciences was dropped, because interdisciplinary courses are no longer unambiguously identifiable in those terms.
Higher-Ed Update
University of Southern California alumnus David Dornsife and his wife, Dana Dornsife, have given the institution a $200-million unrestricted gift, which USC expects to use to bolster teaching, research, and fellowships in the humanities and social sciences, in particular. David Dornsife, a USC trustee, is chairman and majority owner of Herrick Corp., a steel-fabricating company.…Yale, which became more dependent on spending from its endowment than Harvard before the 2008-2009 financial collapse, has announced that it will require an additional $68 million in budget reductions to balance the fiscal year 2012 books. The university's spending from the endowment will decline slightly from the current year (Harvard has projected a 4 percent increase in spending from endowment income for fiscal 2012), and then is projected to remain essentially flat for several more years. In early April, Yale announced that it had exceeded the $3.5-billion goal for its capital campaign, scheduled to conclude June 30; in a significant recent gift, Yale alumnus John Malone, a cable-television entrepreneur, donated $50 million to endow 10 new engineering professorships.…New York University announced plans to create NYU Shanghai, a full research university and liberal-arts college, in concert with East China Normal University; students are expected to enroll in September 2013, at a campus to be built in that city's Pudong district.
Humanities and Arts Honorands
This year's roster of National Humanities Medalists, who were honored by President Barack Obama, J.D. '91, at the White House in early March, included five Harvardians: Daniel Aaron, Ph.D. '43, Litt.D. '07, Thomas professor of English and American literature emeritus, a founder of the Library of America; historian Bernard Bailyn, Ph.D. '53, LL.D. '99, Adams University Professor emeritus and twice winner of the Pulitzer Prize, and two of his former students, Stanley Nider Katz '55, Ph.D. '61, of Princeton, and Gordon S. Wood, Ph.D. '64, of Brown, anoth­er Pulitzer Prize winner; and bio­grapher Arnold Rampersad, Ph.D. '73. Recipients of the National Medal of Arts, conferred at the same time, included Robert Brustein, founder of the American Repertory Theater, and former Poet Laureate of the United States Donald Hall '51, JF '57.
Nota Bene
Cuba concert. The Harvard-Radcliffe Orchestra is celebrating Commencement in an unusual way, departing the day after (May 27) for a tour of Cuba, featuring performances of Beethoven's Symphony No. 9. Some 85 musicians and music director Federico Cortese are expected to make the trip; for details, see www.hcs.harvard.edu/~hro.
Courtesy of Harvard Business School
Memorial minister. Wendel W. "Tad" Meyer, who served as associate minister at Memorial Church from 1997 to 1999 and rejoined its staff as associate minister for administration after the Reverend Peter J. Gomes was incapacitated in late 2010, has now been appointed acting Pusey minister in the church. He had retired from the full-time ministry in 2009, after serving most recently as rector of St. John's Episcopal Church in Beverly Farms, Massachusetts, for 10 years.
Courtesy of Harvard Business School
A Faust forum. The National Endowment for the Humanities named President Drew Faust to present the fortieth Jefferson Lecture in the Humanities, the federal government's most prestigious honor for intellectual achievement in the field. She will speak May 2 at the Kennedy Center for the Performing Arts, in Washington, D.C., drawing on her work for This Republic of Suffering, her book on the death toll of the Civil War (excerpted in this magazine's January-February 2008 issue). This year marks the 150th anniversary of the beginning of the war. Among other faculty members who have been Jefferson Lecturers recently are Adams University Professor emeritus Bernard Bailyn (1998), Fletcher University Professor Henry Louis Gates Jr. (2002), Porter University Professor Helen Vendler (2004), and Kenan professor of government Harvey Mansfield (2007).
Computational pioneer. Coolidge professor of computer science and applied mathematics Leslie Valiant was named the 2010 winner of the A.M. Turing Award, conferred by the Association for Computing Machinery for fundamental contributions to computer science. The award, the premier professional recognition in the field, includes a $250,000 prize. Valiant was cited for discoveries in artificial intelligence, natural-language processing, and computer vision.
Courtesy of Harvard Business School
Miscellany. Massachusetts governor Deval Patrick '78, J.D. '82, has nominated the Honorable Barbara A. Lenk, J.D. '79, a state appeals judge, to the Supreme Judicial Court (SJC), the Commonwealth's highest court. If confirmed, Lenk would become the first openly gay justice on the SJC; she and her partner married after a 2003 ruling by that court caused Massachusetts to become the first state to legalize same-sex marriage.…Among New Yorker staffers nominated for National Magazine Awards are associate professor of surgery Atul Gawande (see "The Unlikely Writer," September-October 2009, page 30), for one of his medical articles, and Hendrik Hertzberg '65, (see "Hertzberg of the New Yorker," January-February 2003, page 36), for three of his Talk of the Town commentaries. Winners will be announced on May 9.
You might also like
On antisemitism, "I have sought to confront hate while preserving free expression."
Harvard Kennedy School researchers on how to report pro-Israeli and pro-Palestinian protests accurately 
Harvard Chabad, IDF, and Bill Ackman screen October 7 Hamas footage
Most popular
Brief life of a formidable anthropologist: 1903-1991
First-years Ngozi Musa and Gabby Thomas help set the pace for track and field.
A negative investment return and annual spending reduce the endowment's value 5.1 percent.
More to explore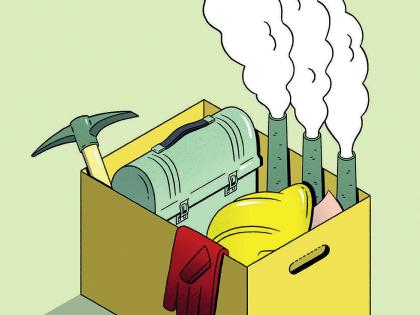 Expect massive job losses in industries associated with fossil fuels. The time to get ready is now.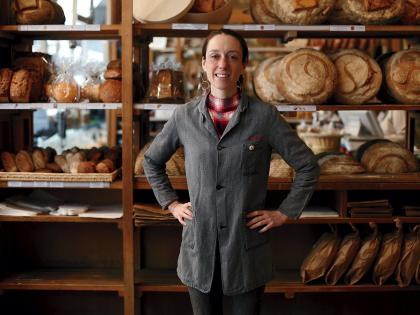 A third-generation French baker on legacy loaves and the "magic" of baking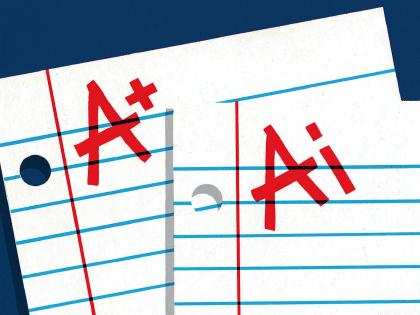 Generative AI can enhance teaching and learning but augurs a shift to oral forms of student assessment.