Harvard Portrait: Russell Phillips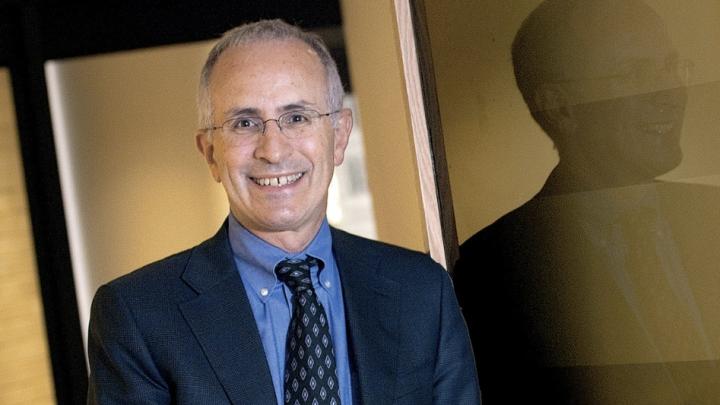 During his three-decade career in primary care, professor of medicine Russell S. Phillips has studied palliative care, lower-back pain, sexually transmitted infections, mindbody therapies, and computer-based medical records, among other topics. For the last decade, he has led Beth Israel Deaconess Medical Center's 115-person Division of General Medicine. His chosen field afforded him the opportunity for diverse research pursuits and leadership experience; now, as the director of Harvard Medical School's new Center for Primary Care, he will focus on getting others to be as excited about the field as he is. Phillips himself was drawn to primary care because it is "relationship centered." But young doctors starting out in the field may not experience it that way if they end up in solo practices, feeling isolated. The new center envisions reforming primary care to make it more team-based, so a physician might operate in conjunction with a registered nurse, a licensed practical nurse, and an office assistant, each handling responsibilities appropriate to his or her training. This would spare doctors such routine tasks as completing paperwork and giving shots. A team might also add a social worker and a health coach, with their distinct perspectives. Such improvements would not only make for more stimulating work and a convivial environment, drawing more medical students into the field; they would also improve the patient experience and health outcomes—the ultimate aim of primary care. Phillips is ceding his post as hospital division chief, but will still see patients one day a week; he finds work as a primary care physician deeply gratifying, and hopes more and more medical students will agree.
You might also like
The Crimson springs a major upset.
Harvard officially installs Claudine Gay, its thirtieth leader.
A half-dozen symposiums feature Harvard research on AI, climate change, inequality, and more
Most popular
A community letter as the new administration begins
Solving legal challenges at MoMA
More to explore
A test can identify these productivity-boosting personnel.
Ancient history professor studies coins, ceramics, and Zelda.
Anwar Floyd-Pruitt's wildly profuse art