Bitter, Sweet, Salty—Yum
West Bridge's French-New England fare is fun.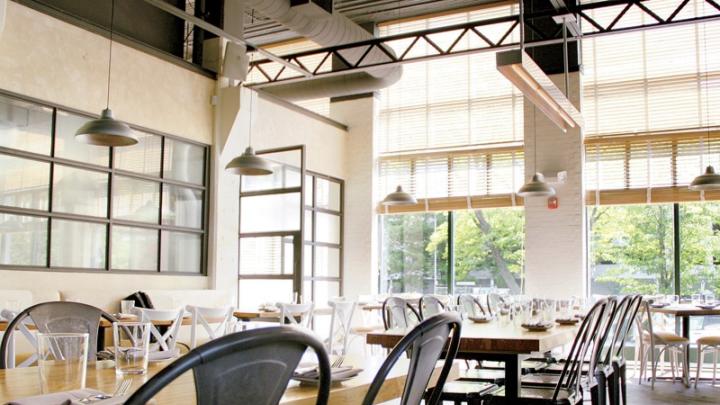 Housed in a lofty, industrial-styled space, West Bridge is both mod and vibrant, "cool" and warm. Diners of all kinds, from date-nighters and post-work partyers to the more sedate crowd, can find a spot to suit their needs at this thoughtfully composed restaurant.
We sat outside on the expansive concrete deck, overlooking a large brick courtyard. West Bridge (the old name of the nearby Longfellow Bridge to Boston) is across from The Blue Room and the Cambridge Brewing Company, and a quick walk from the Kendall Square Cinema. Watching the sunset, we sipped a dry garnacha blanca wine (there is also prosecco on tap!) and crunched warm bread smeared with homemade butter. A Dylan-esque musician played across the way, his voice mingling with the chattering thrum of other diners: all unobtrusive, and somehow calming.
The meticulous design of West Bridge extends to the food. Co-owner and chef Matthew Gaudet (formerly of Aquitaine in Boston) makes delicious music by juxtaposing bitter, acidic, or even metallic flavors against sweet, creamy, or salty foods, letting each sing individually, while remaining mindful of how they play in concert with other ingredients on the plate.
The dandelion salad ($11) was dressed in a grapefruit vinaigrette. On paper, that seems all too sharp. But the bitter bite and juicy sourness went well with the soft, buttery duck confit accompaniment, each and all accented by dots of sweet gooseberries and the tickly texture of earthy ramps (we wished there had been more of those). New England-style "chowdah" ($11) took a delicate nutty twist with sunchokes as its base. The soup was enhanced by Wellfleet clams, served in their shells with tender cubed potatoes and a generous smattering of smoked pork shoulder. Each flavor—nutty, briny, doughy, and salty—was distinct, the seaside treats not lost in bland dairy goo. Even the potatoes tasted fresh-picked.
Gaudet did it again with the unusual lobster terrine ($13). A slab of coral-toned gelatin (everything served is visually stunning) held sweet hunks of lobster topped with fine bits of rye cracker, a tasty combination of sea-depth richness with a salty, almost sour crunch. The swirl of Pernod aioli injected with black squid ink added a creamy and dramatic flair. The duck-breast entrée ($25) looked like an abstract painting: the tender fowl was placed amid shards of orange (carrots) and white (parsnips) strewn with a dark hibiscus-beet vinaigrette, all offset by a cloud of black rice, cooked almost like a saucy risotto.
Just as bold, in color and flavor, was the vivid orange char ($25), plated on intertwined lacings of a verdant basil grapefruit jam and an elegant parsnip purée, alongside a few braised artichoke hearts that lent some brawn. The fish was perfectly cooked and topped with sliced raw almonds, which had a grassy, "stainless steel" kick.
The desserts followed suit. The dome-shaped carrot cake ($7) was atypical—the cream-cheese filling was hidden inside—and flanked by a rich, raw carrot-juice sauce (not sugary) and a light, highly sieved applesauce. Flecks of dried carrot topped the cake, adding a splendid crunch. We also loved the two rich, sweet, crumbly, gooey chocolate cookies sandwiching Mexican chocolate ice cream—a sharp, minty jalapeño flavor—and immersed in a glossy ganache ($7).
Gaudet's playful combinations give every dish its own complex dynamics. West Bridge is, thankfully, no copycat European bistro. Here there is a sense of the importance of creativity in cooking and a push to enlighten a perhaps softer-palated public.
You might also like
The Crimson springs a major upset.
Harvard officially installs Claudine Gay, its thirtieth leader.
A half-dozen symposiums feature Harvard research on AI, climate change, inequality, and more
Most popular
A community letter as the new administration begins
Solving legal challenges at MoMA
More to explore
A test can identify these productivity-boosting personnel.
Ancient history professor studies coins, ceramics, and Zelda.
Anwar Floyd-Pruitt's wildly profuse art