The Freshmen Convene
The Harvard College class of 2016 celebrates convocation with addresses by deans and President Drew Faust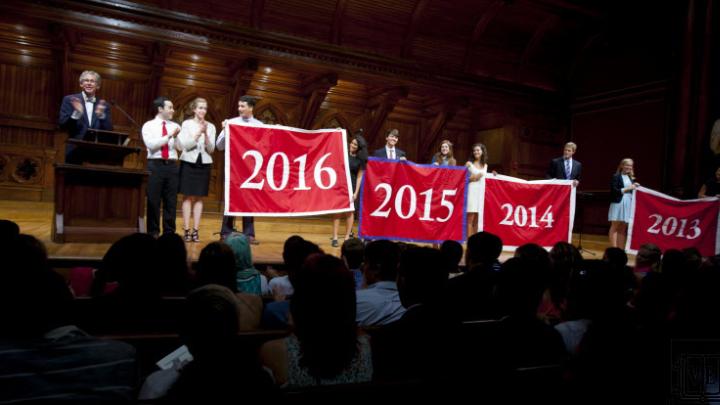 Fresh from their first day of fall-term course shopping, the class of 2016 gathered for the College's fourth annual Freshman Convocation on Tuesday afternoon, mostly dressed in their best despite gray skies and occasional drizzle. The ceremony, according to the Calendar of Opening Days for New Students, "marks your official start as a member of the Harvard community and will introduce you to the history, values, and future of America's oldest institution of higher education." 
With Tercentenary Theatre, the usual venue, too risky a site given the weather, administrators summoned technology to stage a simulcast celebration. Part of the class gathered in Memorial Church and the rest in Sanders Theatre, and large video screens brought them together. As master of ceremonies, dean of freshmen Thomas A. Dingman began in the church—where the new Pusey minister, Jonathan L. Walton, reminded the newest members of the Harvard community that "we are stitched together by the invisible sutures of common humanity"—and concluded on the Sanders stage with a rousing roll call of the freshman dorms and their cheering residents. 
In between, the freshmen heard about the key to the opportunities and the challenges that await them: Take risks! "We say that a lot around here," confided dean of the College Evelynn M. Hammonds. A liberal-arts education, she explained, is open and exploratory, without any immediate concern for professional utility; it aims "to make you alert to the human and natural worlds, and to prompt you to be self-critical, creative, and analytical." Take full advantage "of the freedom you have at this moment in your lives" to experiment and explore, she encouraged, "with integrity, with courage, and with respect for others."
"Don't compare. Connect!" advised dean of the Faculty of Arts and Sciences Michael D. Smith. Try to restrain the "natural tendency" to compare yourself to others, which can lead to self-doubt, and instead talk to and work with fellow students and faculty members to create new things. Professors, he reminded his young audience, "learn from you as you learn from us." 
Peggy Walenda Mativo of Kenya, representing the senior class, began with a Swahili proverb: "If you want something that's under a bed, you have to bend and reach for it." She told the freshmen how hard it had been for her to accept the possibility of getting to know faculty members, even those who reached out with mentoring advice to encourage her love of science—and how enriching, once she had brought herself, eventually, to respond. Find your own mentors, she urged, and "stretch…try doing something completely different than ever before.…Opportunities that are just right for you are out there. All you have to do is reach for them!" 
President Drew Faust spoke of reaching, and risk, as well: Harvard's goal, she said, "is to press against the outer boundaries of what anyone thought was possible—and to let you in on that challenge, by taking a chance on an idea or an ideal; by surprising yourselves, and each other; by discovering that a key part of any success is the part of you that is willing to fail." (Faust's text is now posted on her website.)
She also spoke of her own convocation, "a thousand years ago," and the words of Bryn Mawr's president Katharine McBride, whose "reverential invocation" of "what she called 'your work'" prompted a freshman Faust to "pause and consider the intellectual challenges before me in a new way….Work—meaning both the effort you put in and the outcome—the journey and the destination equally important. And your—defining of you—encompassing your creativity and your creation—the core of the adventure of the mind on which you are embarking, an adventure that will shape the rest of your life."
Speaking in the midst of a significant investigation of academic misconduct at the College, Faust told the freshmen that President McBride's words had influenced her own opportunity "to speak to you as you begin your work here at Harvard." 
I thought of how both the commitment to that work and the values you bring to it and take from it will constitute the people you will be when you leave here in 2016. The message that Dean [of undergraduate education] Jay Harris sent to each of you and to every undergraduate contained a line that captures the foundation of what "your work" must mean here and always. It has a line that I especially want to underscore, "Without integrity, there can be no genuine achievement." That is what each of us owes to Harvard, but, far more importantly, it is what each of us owes to ourselves. 
She looked forward, she said, to watching the class set forth on their new adventure. And she told them that in May 2016, two days before their graduation, she would speak to them again at the Baccalaureate service. "You will be different people—changed by what you have learned and what you have done," she said. "I can't wait to watch those changes unfold, and make sure that we help you make the most of Harvard's opportunities."
Read Harvard Gazette coverage here.
You might also like
A Harvard series explores South Korean cinema in the years following the Korean War. 
A deflating ending fashions a three-way title tie.
A 70,000 square-foot theater and teaching center, plus housing for Harvard affiliates
Most popular
Modeling how globalization leaves the least-skilled workers behind
Why good data are essential to understanding the Voting Rights Act
A theorist explores the limits to shrinking datasets.
More to explore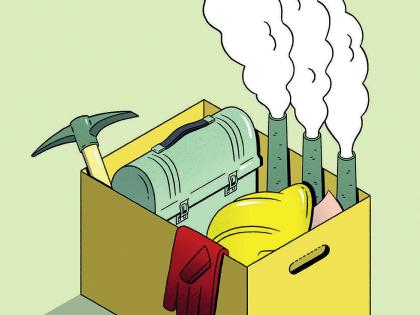 Expect massive job losses in industries associated with fossil fuels. The time to get ready is now.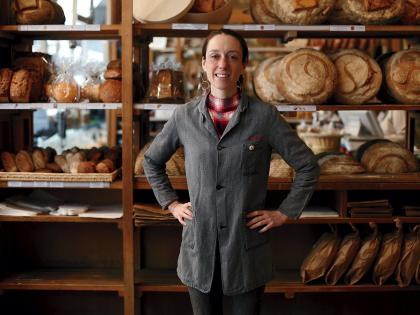 A third-generation French baker on legacy loaves and the "magic" of baking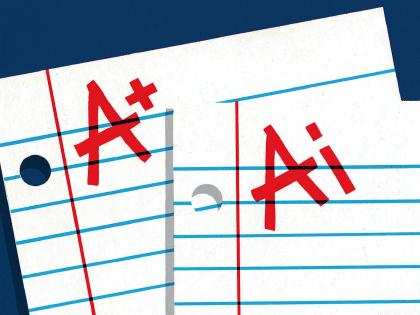 Generative AI can enhance teaching and learning but augurs a shift to oral forms of student assessment.