Powering Through
Bite down. Grind it out. And score profusely.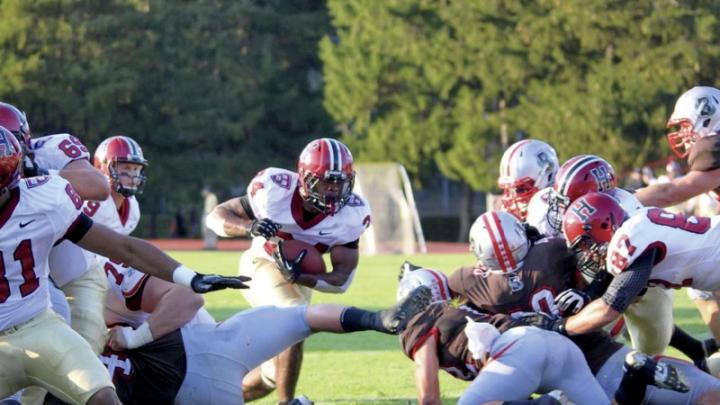 The buzz at the first postgame press conference wasn't about the 66-yard breakaway that had locked up the football team's 28-13 win over the University of San Diego, or about the 99-yard kick return that was nullified by a penalty, or about Harvard's chances of repeating as Ivy League champions. With writers from The New York Times and The Associated Press on hand for a game they wouldn't otherwise have covered, the College's investigation of "academic misconduct" (see page 40) was Topic A.
"I know the question everyone wants to ask," said head coach Tim Murphy. He spoke guardedly, citing privacy regulations, but did state that all of his offensive and defensive starters were in good standing. "We are not able to talk about the kids who aren't here," said Murphy, tacitly confirming that some members of his 119-man squad hadn't dressed for the game.
"I'll say this," Murphy added. "Harvard kids aren't good kids, they're great kids—but they don't walk on water. And I think it's important, as parents and educators, that we reinforce that crucial life lesson, that inappropriate behavior won't be tolerated. Because down the road, later in life, those consequences can be terminal. They can cost you a marriage. They can cost you a career. But I've never seen greater character kids than we have here. Amazing kids."
The Times headline read, Harvard Wins Opener, But Scandal Spoils Mood. Yet the players who spoke at the press conference seemed upbeat and resolute. "Any adversity that comes your way, you put your head down, you bite down, and you grind through it," said senior tailback Treavor Scales. "We've had that mentality as a team. It's something you train for in the off-season. Distractions, adversity, whatever you want to call it, we power through it, and I'm proud of that."
Scales had just rushed for 173 yards, a career high, in a season-opening game that was hard-fought, tense, and in its way historic. The Crimson had not faced a West Coast squad since a 44-0 mismatch at Stanford in 1949, and no team from the western half of the country had ever set foot in Harvard Stadium.
The Crimson offense took three quarters to get untracked, but erupted for 21 fourth-quarter points in a show of strength reminiscent of last year's Ivy League championship team, which scored a school-record 37.4 points per game. San Diego took a 13-7 lead late in the third period, but Harvard got a jolt of fresh energy when Seitu Smith II '15 returned a USD kickoff for a 99-yard touchdown. His run was called back because of an illegal block, but the offense then mounted a 94-yard drive—sustained by the running of Scales and senior quarterback Colton Chapple—to take a 14-13 lead.
After that came two bonus touchdowns by Scales, whom Murphy praised as "a complete running back, arguably the best in the league." The first was a one-yard slant, completing an 82-yard drive. The second was a 66-yard burst that caught San Diego's defenders off guard with less than a minute and a half to play. "Colton came into the huddle," Scales explained afterward, "and said, 'Guys, one first down and we got the game.' I said, 'No, we're scoring a touchdown.' And sure enough, the offensive line did a great job—[a hole] opened up like the Red Sea, and I had no choice, I was obligated to get to that end zone."
Scales got to the end zone no fewer than four times at Brown the next weekend, as Harvard outslugged the Bears, 45-31, in a televised evening game. Again the Crimson offense scored 21 fourth-quarter points, pulling away from a resilient Brown squad that had matched Harvard drive-for-drive for much of the game. Displaying a balanced attack, Harvard ran the ball 37 times and used 40 pass plays. Scales picked up 136 yards rushing, including breakaway touchdown runs of 41 and 20 yards in the final quarter, and Chapple excelled, completing 30 of 40 passes for 351 yards and a touchdown. His most striking throws were a 30-yard scoring pass to Seitu Smith, who made a dazzling over-the-shoulder grab at the goal line, and a 35-yarder to wide receiver Andrew Berg '14, whose leaping catch set up a six-yard touchdown carry by Chapple himself.
Chapple had thrown two scoring passes against San Diego, missing out on a third when a 15-yard attempt was picked off in the end zone. He continued to raise his game in the season's third contest, passing for four touchdowns and running for another in a 52-3 rout of Holy Cross. In a rain-drenched night game at the Stadium, Chapple saw only two quarters of action, but completed 13 of 18 passes for 260 yards.
As a junior, Chapple stepped in for the injured Collier Winters '11 ('12) and threw for two touchdowns in last year's 24-7 victory over Brown. He went on to establish himself as the most prolific backup quarterback in Crimson annals, passing for 12 touchdowns in 13 quarters of play and becoming the first Harvard passer to throw for at least four touchdowns in consecutive games. But Winters returned at midseason, and his understudy went back to taking snaps for the place-kicking team. Now Chapple's the boss. Three games into the current season, his won-lost record as a starter was 9-1.
 Preseason polls made a Harvard a heavy favorite to retain the Ivy trophy. With an upwardly mobile quarterback, a clutch of nimble receivers, a hefty and experienced line, and an all-Ivy tailback to power through it, the Crimson offense may hold the key to another championship season.
Tidbits: "They're as good a team as we play, very tough, extremely well-coached, and nothing came easy," said coach Murphy after the San Diego opener. The Toreros, who had already played two games, are the defending co-champions of the Pioneer Football League, a 10-team conference with constituents in California, the Midwest, and the East. The PFL and the Ivy League are the only NCAA Division I conferences whose members do not grant athletic scholarships.…Harvard is slated to open the 2013 season at San Diego's Torero Stadium, but USD then goes off the schedule.
Hot hand: Torero quarterback Mason Mills, a strong-armed passer and agile scrambler, threw for 354 yards and a touchdown, setting USD records for pass attempts (63) and completions (38). Not since the 2003 season had an opposing passer enjoyed a 350-yard day against Harvard, but Mills's outing was made less enjoyable by a Crimson defense that registered 14 pass breakups, seven quarterback sacks, and an interception.
Best foot forward: Harvard hasn't lost an opening game at the Stadium since the 2000 season, and has won 12 of its last 14 Ivy openers.
Twilight zone: The Brown game's unusual 4:30 p.m. starting time was dictated by TV scheduling. NBC Sports Network telecast the game nationally, but only after airing the Cornell-Yale contest. The first half was played in sunlight, though four temporary lighting banks were switched on before the kickoff.…Treavor Scales's four touchdowns at Brown were the most for a Harvard back since 2003, when Clifton Dawson '07 had four against Lafayette. The all-time Harvard record for rushing touchdowns is five, set by fullback Tom Ossman '52 in the 1951 Brown game.
Front-loading: Harvard scored 49 of its 52 points in the Holy Cross game before halftime, setting a new school record for first-half scoring. The previous record of 41 was set at Columbia in 2005.…Reserves played the second half against Holy Cross.
On a roll: The Holy Cross victory gave Harvard a 12-game winning streak, the longest of any NCAA Football Championship Subdivision team. Crimson teams hadn't met defeat since the opening game of the 2011 season—a 30-22 loss at Holy Cross.
In case you missed it: Yale's football program is, let's say, in a state of flux. A month after last November's 45-7 blowout at Yale Bowl—Harvard's tenth victory in 11 meetings with the Blue—third-year coach Tom Williams resigned, admitting to misstatements in his résumé. Yale then raided the enemy camp and hired Tony Reno, Harvard's special teams coordinator, to succeed Williams, whereupon Reno lured three more assistant coaches from Cambridge to New Haven. A further turn of events came last summer, when the Eli captain-elect had to vacate his post after allegedly punching another student. So the Blue is captainless in its 140th season of football—"and maybe that is fitting," opined a Yale Daily News editorial, since "each and every player shares the burden of reminding Yale what a noble thing football can be."
You might also like
Genetic analysis reveals a culture enriched from both sides of the Danube.
Harvard researchers illuminate a longstanding epidemiological connection. 
Harvard's Faculty of Arts and Sciences broaches two tough topics.
Most popular
Sledding, Nordic skiing, and art at Fruitlands Museum, in Harvard, Massachusetts
The deal marks the end of nearly a year of strained negotiations between the University and its largest labor union.
When academics embraced scientific racism, immigration restrictions, and the suppression of "the unfit"
More to explore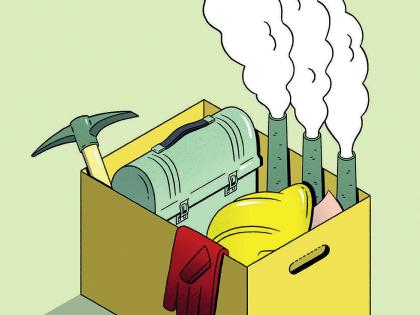 Expect massive job losses in industries associated with fossil fuels. The time to get ready is now.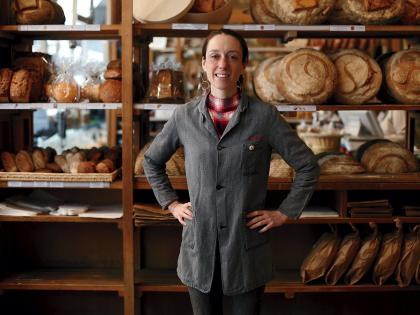 A third-generation French baker on legacy loaves and the "magic" of baking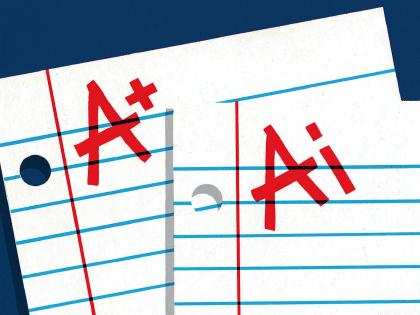 Generative AI can enhance teaching and learning but augurs a shift to oral forms of student assessment.