John Harvard's Journal
Hoop Hopes
During the past four years, the Harvard men's basketball team has been a model of consistency: four straight Ivy League championships, three consecutive trips to the National Collegiate Athletic Association tournament, and opening-round victories in the last two of those appearances.
But this year's squad has been harder to figure out. After entering the season ranked twenty-fifth in the Associated Press national poll (the first time an Ivy League team has received such pre-season recognition since 1974), Harvard began its campaign by besting MIT (a Division III opponent) 73-52, but then tumbled to Holy Cross, 58-57. The margin of defeat was narrow, but the squad's 24 turnovers and stagnation on offense were disturbing.
Four days later, when the Crimson retook the hardwood against Florida Atlantic, the squad again looked unfamiliar—but for a different reason. Head coach Tommy Amaker had benched all five starters to send a message that he expected every player to live up to the team's internal "standards." The move paid dividends. After Amaker reinserted his regular line-up several minutes into the game, Harvard unleashed a 34-9 run, en route to a 71-49 victory. The blowout began a three-game winning streak that culminated with a two-point win over the University of Massachusetts, Harvard's toughest opponent to date.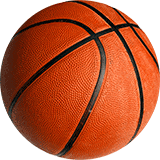 Harvard Hardwood
Sign up for Harvard Magazine's basketball e-mail and follow the Crimson all season long! David L. Tannenwald '08 will provide the latest news, game summaries, and insights as the Crimson chase another Ivy title and NCAA berth!
Will the team live up to its pre-season billing? The reaction to the squad's early hiccup underscores the difficulty of what Amaker is trying to accomplish. He believes that his team can compete with the best in the country—but as the Crimson grows more successful, the margin for error narrows, and the target on its back grows bigger. If this year's team is to sustain or exceed the consistency of past squads, it will need to be different: it will need to be better. A year-end road trip to Virginia and Arizona, and the beginning of league play in mid January, should quickly bring those prospects into focus.