Allston Campus
Building Community
11.4.15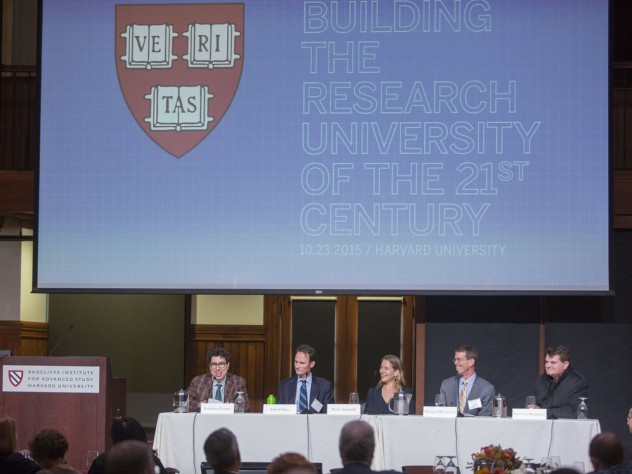 Moderated by Harvard Law School's Jonathan L. Zittrain (left), planners and designers discussed the "digital campus." In the twenty-first century, said John Palfrey '94, J.D. '11 (second from left), head of school at Phillips Academy, Andover, "the green fields we build on will be in cyberspace."  
Photograph by Kris Snibbe/Harvard Public Affairs and Communications
Moderated by Harvard Law School's Jonathan L. Zittrain (left), planners and designers discussed the "digital campus." In the twenty-first century, said John Palfrey '94, J.D. '11 (second from left), head of school at Phillips Academy, Andover, "the green fields we build on will be in cyberspace."
Photograph by Kris Snibbe/Harvard Public Affairs and Communications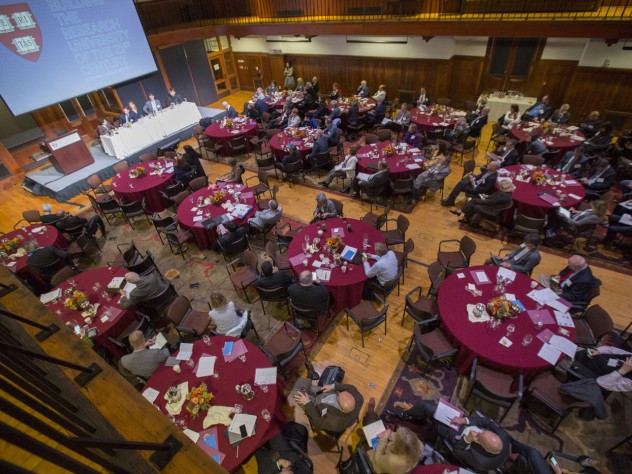 The two-day conference, held in the former Radcliffe gymnasium, drew officials from universities around the world. 
Photograph by Kris Snibbe/Harvard Public Affairs and Communications
The two-day conference, held in the former Radcliffe gymnasium, drew officials from universities around the world.
Photograph by Kris Snibbe/Harvard Public Affairs and Communications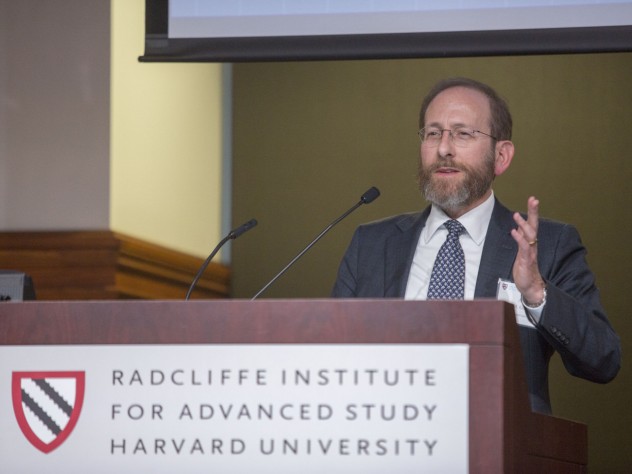 Wrapping up the conference, Harvard provost Alan M. Garber noted the challenges ahead for Allston campus development. "What we think about today, much more deliberately than in the past," he said, "is how we relate to the community."  
Photograph by Kris Snibbe/Harvard Public Affairs and Communications
Wrapping up the conference, Harvard provost Alan M. Garber noted the challenges ahead for Allston campus development. "What we think about today, much more deliberately than in the past," he said, "is how we relate to the community."
Photograph by Kris Snibbe/Harvard Public Affairs and Communications
Behind every discussion in late October's wide-ranging conference at Harvard on the future of research universities—design and architecture, digital infrastructure and online learning, student curricula and faculty collaborations, partnerships with government and industry, relationships to local and global communities—lurked one big question: what's next for Allston? 
 Few definitive answers emerged at the two-day event, which took place in the same month University officials released designs for a six-story building in Allston that will house the Harvard Paulson School of Engineering and Applied Sciences. But answers were less the point than questions and ideas. Sponsored by the provost's office and titled "Building the Research University of the 21st Century," the conference drew attendees from universities around the world, and speakers found themselves discussing everything from the native curiosity of the human spirit to the optimal dimensions of faculty meeting tables. Their conversations yielded, if not specifics, at least a few evocative and recurring threads of thought.
 Alex Krieger articulated one of those threads in his talk tracing the history of university campus design—from medieval English cloisters to Thomas Jefferson's "academical village" at the University of Virginia, to the open expanse of land-grant universities and the mazelike enmeshment of today's urban campuses. A professor of practice in urban design at the Graduate School of Design and a longtime adviser on plans for the Allston campus, Krieger noted the conundrum for institutions that expand beyond the symmetry of a central quad and an orbit of buildings. The quad comes to be less the center than "a representation of a sense of center," he said, with diasporal expansions that can feel ungainly and disconnected, out of place. That's a challenge with which the future Harvard-in-Allston will have to grapple. "So," Krieger asked, "how do we overcome the notion of a cherished center and barely tolerated peripheries?" How to build something that feels whole and of a piece?
 He didn't have the answer. But he said that before determining what the buildings or even the campus at Allston will look like—before deciding whether it should try to echo or replicate Harvard Yard or take a new direction—Harvard officials must figure out something deeper and more conceptual: "a narrative about the idea of a campus." "It's an important question," he continued. "And I think people have been struggling with it, and they continue to struggle." 
 Later, Lizabeth Cohen, Jones professor of American studies at Harvard and dean of the Radcliffe Institute, asked about the tension between an intentional plan and a campus that grows up organically, and how those divergent trajectories might influence the likelihood of cross-disciplinary collaborations—a frequent topic of concern throughout the conference. "Should we be master-planning our campuses," she asked, "or should we be somehow trying to invite more natural evolution and spontaneity?"
Krieger's answer: "Well, it's always going to be something in between. A fair amount of planning is under way in Allston, not so much about future buildings," but about physical infrastructure: bus lines, bicycle racks, parking. "Because in fact all of those things also contribute. All those things matter as well in terms of fostering a certain amount of connectivity and increasing the chance of meeting."
 In his closing remarks as the conference adjourned, University provost Alan M. Garber picked up on a few other threads that bear on Allston's development: the prospective role of the humanities and the scientific and technical disciplines in a new campus (and the risk of prioritizing science in a way that excludes the humanities: "We must not let the arts flourish in adversity," one speaker cautioned); the importance of having flexible building spaces that will accommodate changes in technology; and the difficulty and yet necessity of having a 50-year vision for development ("You think about how quickly things have changed in past decades," Garber said, "and it makes you a little bit humble"). But by far the biggest theme running through the discussions, he said, was "community"—internal and external, local and global, virtual and digital. And when it comes to Allston in particular, "There's also an issue about what kind of community you want to have there. It's not just about which academic activities are there, but a mix of the kind of small-town feel that you have in the Allston community today and looking at the technology boom in Boston and the huge preponderance of pharmaceutical and biotech industries based in Boston. And we're thinking about how what we do in Allston will fit with that."
"We're all keenly aware," he added, "that what we do in Allston will have everything to do with what Harvard looks like in 50, 100, 150 years. So there's a lot at stake."