News
Harvard Medical School Dean Flier to Step Down
11.12.15
Jeffrey S. Flier
Photograph by Stephanie Mitchell/Harvard Public Affairs and Communications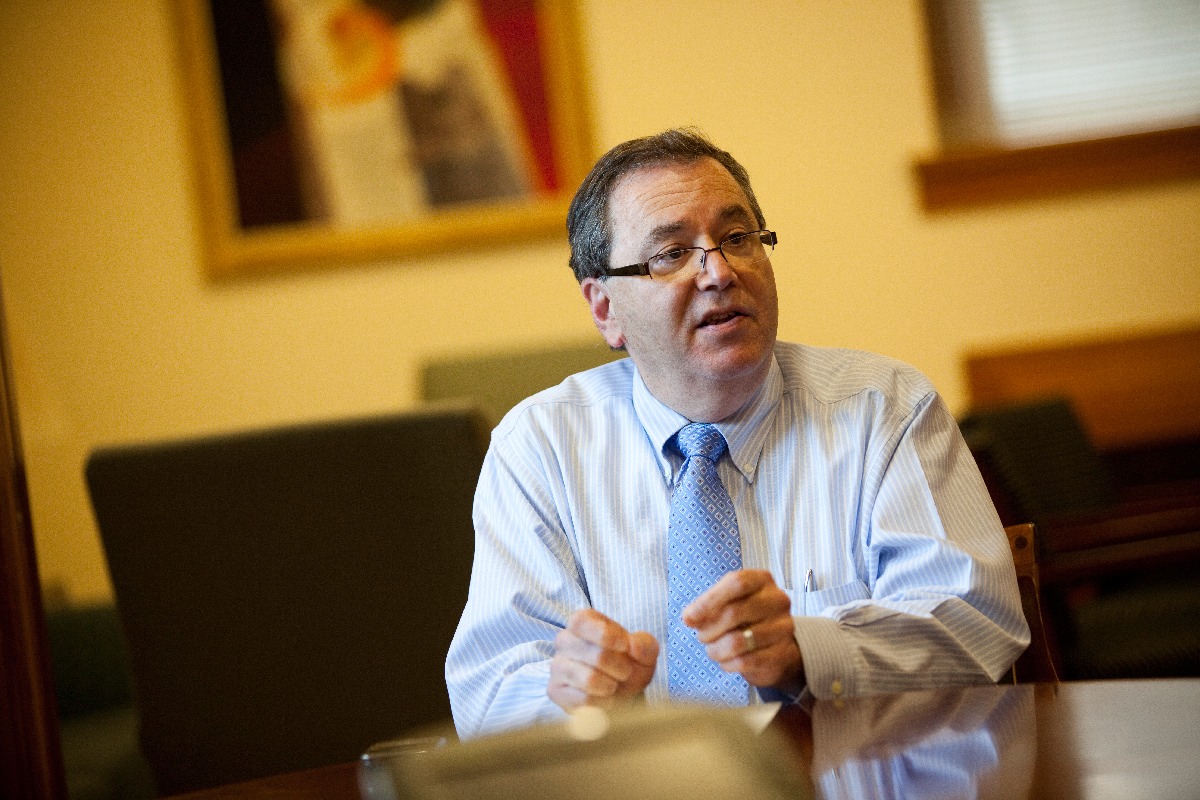 Jeffrey S. Flier
Photograph by Stephanie Mitchell/Harvard Public Affairs and Communications
Jeffrey S. Flier, dean of Harvard Medical School (HMS) since 2007, today announced that he would step down on July 31. Flier, an endocrinologist who specialized in the causes of obesity and diabetes, wrote a brief note to his colleagues conveying his decision; he will take a sabbatical year and then return  to the faculty. He came to the deanship with extensive experience in planning for scientific research across the University, and as a leader of one of the school's affiliated hospitals.
His decision means that the University is searching for new deans for both public health (Julio Frenk departed last summer to become president of the University of Miami) and medicine.
Flier said in an interview Thursday that he never imagined he would remain in the job any longer than 10 years, and that in the last month he had come to the conclusion that many of the initiatives he was "most closely associated with and deeply involved in creating" were now "durable and will go forward with or without me as the leader." He explained that the job requires a "forward-looking vision to implement things that often take years to develop." He realized, he said, that "positoning the medical school" (which stands at the center of 16 affiliated hospitals—in competition with each other—which are the home to 12,000 teaching faculty members beyond the 160 HMS employs at its Longwood quadrangle) and its basic science departments for the next 10 years of success was going to require some ongoing reshaping, investment, and rethinking of the approach that we take," and was therefore going to be "better handled by someone who has a future 5- to 10-year horizon. And my sense was that I had done everything I could to set the table well, for whoever follows me."
The medical school, which unveiled its $750-million capital campaign one year ago this week, reported most recently that it had secured about 63 percent of that total. Presumably, Flier's successor will assume responsibility for completing the fundraising. A successor will also oversee the roll-out of the school's new M.D. curriculum (launched this semester), and pursue expansive initiatives like the department of biomedical informatics and in systems pharmacology.
That work takes place under challenging circumstances: HMS is operating at a significant deficit, and is particularly affected by the decline in federal support for sponsored research (in fiscal year 2015, 39 percent of the school's revenue was from sponsored support—a higher proportion than any Harvard school but public health). One challenge a successor will not have to face is shutting down the New England Primate Research Center, the disposition of which, according to the University's latest financial report, incurred costs of $70 million during fiscal 2014 and 2015. 
Flier touched on some of these challenges. He recalled that the strategic plan developed in 2007-2008, which had called for one or two departments to be moved to Allston, had to be completely rethought just as he presented it to the faculty. In the wake of the financial crisis and Harvard's belt-tightening came the "shocking realization that the world had changed," he said. "But we didn't look back. We went ahead and we solved problems, though differently than we might have... and most of them were highly successful despite the dearth of new capital to invest, even in everyday activities. That's something I am proud of, that we made the best of a tough situation and did some really good things."
Flier's successor will continue to grapply with financial challenges, he noted. "How do you reconcile the extraordinary opportunities that present themselves in biomedical research right now with a funding environment that is getting more challenging every year? People who lead organizations like mine" know there is "no diminution of the value of what we are doing." On the contrary, the possibilities are more compelling than ever. "But the traditional combined sources of federal funding, philanthropy, and endowment payouts fall short of covering the costs." Given that change in federal funding of research is not likely, "you have to find some extraordinary new philanthropy... or you have to somehow reorganize your approach so that it is both powerful but less costly. That," he said, "will be what my successor will have to figure out."
Flier's note to colleagues and friends read:
As I approach the midpoint of my ninth year as Dean of the Faculty of Medicine and my 38th year as a member of this remarkable faculty, I have decided that this is an appropriate juncture to consider transition from my role as dean of HMS.

Last week, I met with President Faust, who offered me the privilege of serving in this role, and informed her that I plan to leave this office effective July 31, 2016. She has accepted my decision.

After I step down, I will take a sabbatical year. At its conclusion, I intend to resume my position on the Faculty of Medicine with a renewed set of personal and professional goals in research, education and policy.

It has been an extraordinary honor and privilege⎯more than words can possibly convey⎯to have been given the opportunity to serve as your dean and to have been a colleague to so many remarkable people in our extended HMS community.

I have strived every day over these past eight years to sustain and enhance the sacred mission of the world's leading medical school—set within the world's greatest university—which is closely associated with the finest teaching hospitals and research institutions anywhere. Together we have accomplished so much over these past eight years to strengthen our core missions of education, research and service. Working together, this large, complex and remarkable community has made great strides⎯as the HMS mission statement promises⎯toward alleviating suffering caused by disease.

I look forward to working with you during my remaining months as dean, and to then joining you once again as a faculty member and colleague. I hope you know how greatly I have valued your friendship, your partnership and your extraordinary contributions over these past years.
Read the University announcement here. A search for a successor will be launched soon.