John Harvard's Journal
Yesterday's News
From the pages of the Harvard Alumni Bulletin and Harvard Magazine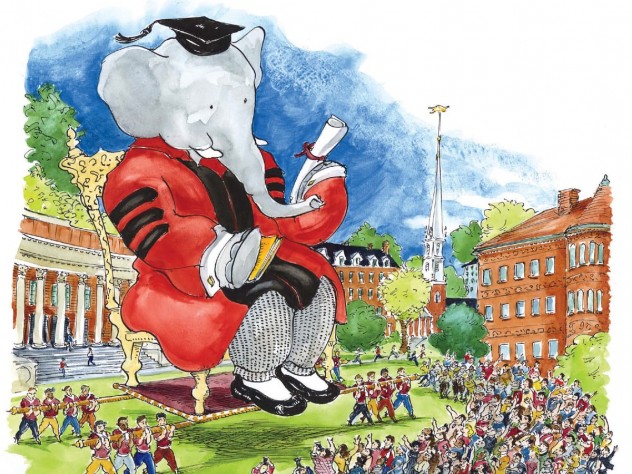 Illustration by Mark Steele
With fond admiration to Jean and Laurent de Brunhoff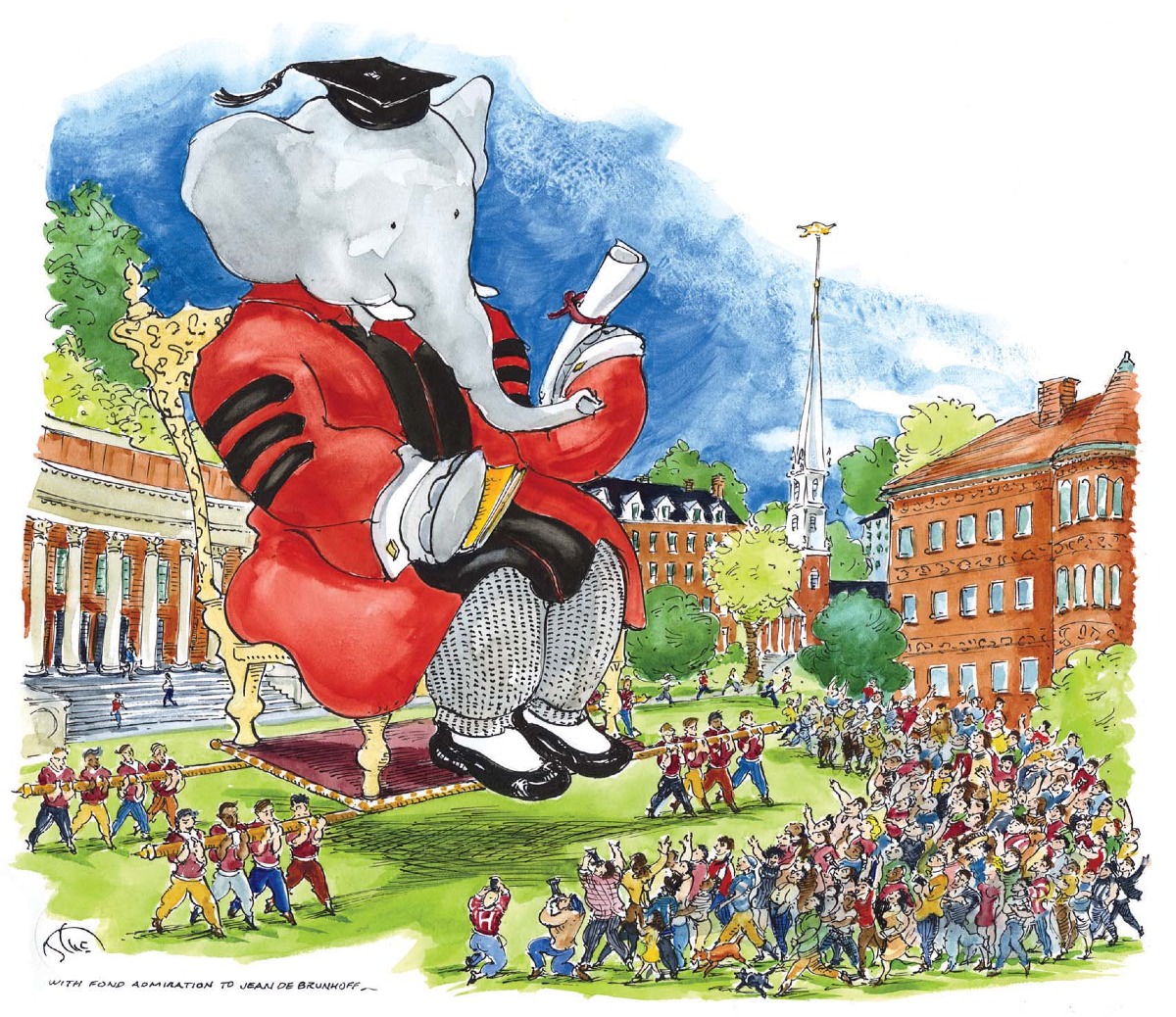 Illustration by Mark Steele
With fond admiration to Jean and Laurent de Brunhoff
1916
William Stanislaus Murphy, Class of 1885, leaves all his money to establish scholarships at the College for young men with his last name.
1926
The first movie theater in Cambridge is about to open across the street from the Yard.
Harvard Crimson staffers journey to New Haven to leave copies of an issue containing an article fiercely opposed to compulsory chapel at Yale on the doorsteps of Yale Daily News recipients. Yale's president states that "any contribution from Harvard would not in any way influence the committee in charge of the matter."
1941
Reginald H. Phelps '30, assistant dean in charge of records, reports that, between 1920 and 1940, the number of undergraduates making the dean's list has risen from 19.8 to 30.7 percent, while the list of those whose connection with the University was "severed" has shrunk from 7.4 to 4.4 percent. Both 1940 figures set new records.
1956
A letter from Venezuela to the president's office brings a reminder of the Thayer Transmittendum, a small award, started in 1848, dedicated to purchasing winter coats for deserving freshmen of little means. Of the seven recipients in the award's 118 years, the most recent, Gilbert Slocum '49, has sent the original parchment of the Thayer Transmittendum, plus $75 (to cover inflation since his own receipt of $50), back to the College to pay for the coat of the next recipient.
1966
The Bulletin salutes the publication of Babar Comes to America, in which the famous elephant visits Harvard, receives an honorary doctorate of letters, and hangs out at the Lampoon.
1981
"To enhance the quality of our common life," a student-faculty committee unanimously recommends establishing a foundation to improve relations among racial and ethnic groups on campus.