Sports
Men's Basketball Splits Ivy Home Games
2.16.16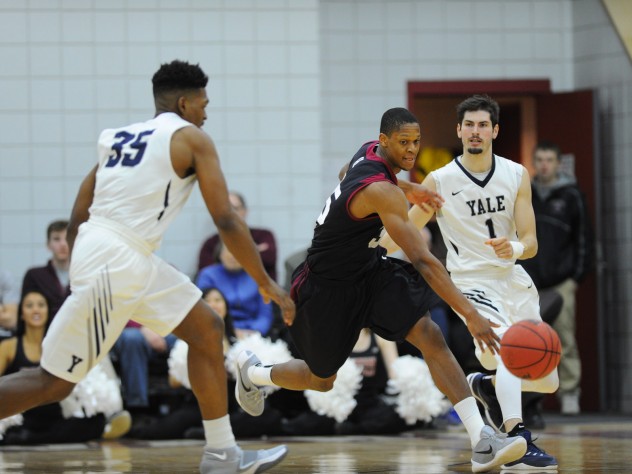 Agunwa Okolie '16, the team's top perimeter defender, has developed into a potent offensive threat, giving the Crimson hope that it can close out the 2015-2016 season on a winning note.
Photograph by Gil Talbot/Harvard Athletic Communications
Agunwa Okolie '16, the team's top perimeter defender, has developed into a potent offensive threat, giving the Crimson hope that it can close out the 2015-2016 season on a winning note.
Photograph by Gil Talbot/Harvard Athletic Communications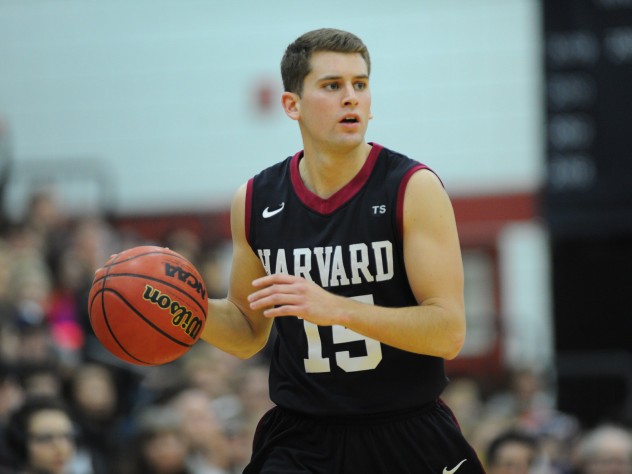 Corbin Miller '15 ('17) says the Crimson needs to play like a championship team, even if the squad can no longer win a championship.
Photograph by Gil Talbot/Harvard Athletic Communications
Corbin Miller '15 ('17) says the Crimson needs to play like a championship team, even if the squad can no longer win a championship.
Photograph by Gil Talbot/Harvard Athletic Communications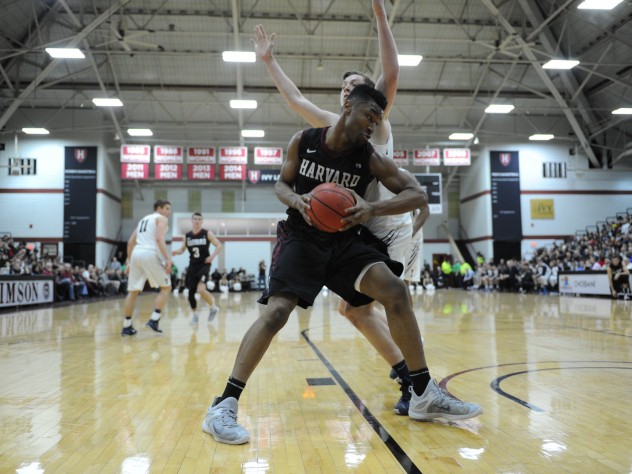 Zena Edosomwan '17 returned from a quadriceps injury to score 13 points against Brown and register a double-double (18 points, 10 rebounds) against Yale.
Photograph by Gil Talbot/Harvard Athletic Communications
Zena Edosomwan '17 returned from a quadriceps injury to score 13 points against Brown and register a double-double (18 points, 10 rebounds) against Yale.
Photograph by Gil Talbot/Harvard Athletic Communications
Seniors Evan Cummins, Agunwa Okolie, and Patrick Steeves have played in some of the biggest games in Harvard men's basketball history: the program's first victory in the NCAA tournament (a 68-62 upset of New Mexico in 2013), the near-upset of Michigan State in the Round of 32 in the 2014 tournament, and last year's 53-51 squeaker over Yale in an Ivy League playoff that sent the Crimson to March Madness for the fourth consecutive year.
Heading into last weekend's home games against Brown and Yale, the stakes seemed substantially lower. The Crimson, at 1-5 in Ivy play, had no hope of capturing a sixth consecutive conference crown, and the odds of reaching a lower-tier post-season tournament were slim. So Stemberg coach Tommy Amaker offered a different incentive: he told his seniors that their moments in a Harvard uniform—particularly at Lavietes Pavilion, where they had just four more regular season games—were numbered: a narrow window in which to shape their legacy.
The Crimson partially fulfilled their coach's wishes, defeating Brown 79-73 but falling to Yale 67-55: a pair of games that reinforced the team's inexperience, highlighted Okolie's metamorphosis, and left Harvard (now 10-14 overall, 2-6 Ivy) in an unenviable position not seen in Cambridge since 2009.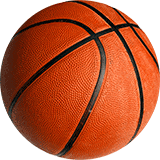 Harvard Hardwood
Sign up for Harvard Magazine's basketball e-mail and follow the Crimson all season long! David L. Tannenwald '08 will provide the latest news, game summaries, and insights as the Crimson chase another Ivy title and NCAA berth!
Inconsistency
How can the Crimson knock off strong teams like BYU and Auburn—and seriously threaten Kansas and Oklahoma, two of the top teams in the country—but then lose six of seven Ivy contests? This weekend offered part of the answer. Harvard has some very talented players and offensive and defensive schemes that can overwhelm strong opponents when implemented properly. But the roster is limited in depth and experience, so the team simply isn't capable of playing at a high level consistently.
The team demonstrated its strengths against Brown, which entered with an Ivy record of 2-4. Star center Zena Edosomwan '17, who returned from a thigh injury, notched 13 points and six rebounds in just 18 minutes. Along with Okolie  and Steeves (who totaled 15 and 14 points, respectively), Edosomwan helped reestablish an interior presence lacking during his absence the previous weekend. Getting the ball inside opened things up for Harvard's three-point shooters, Corbin Miller '15 ('17) and Corey Johnson '19, who together scored 29 points and nailed seven treys. In short, Harvard ran its offense well. And paired with strong-enough defense, that enabled the team to control an Ivy League game for the first time since early January.
Yale, by contrast, imposed its will on the Crimson. The key was senior Justin Sears, the reigning Ivy League Player of the Year, who scored 21 points on several crafty post moves. But he also had a lot of help. Sophomore guard Makai Mason (15 points, three assists) repeatedly got to the basket off the dribble, circumventing Harvard's top perimeter defender, Okolie. And junior Anthony Dallier, starting in place of Yale's captain, Jack Montague, who missed the game for personal reasons, contributed 10 points. Simply put, the Bulldogs played like a balanced, veteran ball club—something this year's Crimson, which starts two freshmen, is not.
The Bulldogs also displayed the tenacity and calm that Amaker has hoped to see from his squad—and that's primarily because of all that the Bulldogs' seniors have been through: a sub-.500 freshman campaign, a weekend sweep at the end of their sophomore season that knocked them out of the Ivy title race, and last year's two-point loss to Harvard in an Ivy League playoff (a setback that Sears acknowledged after that game brought the 2015 season to a "heartbreaking" end). 
That loss evidently contributed to the Bulldogs' sense of mission. "We want to leave our mark," Sears said after Saturday night's win. "When people come here to play, we want them to look back at the 2015-2016 team and say, 'We want to be [like] that team. That's the team that started the culture at Yale.'"
Okolie's Impact
Although the Crimson as a whole is struggling, Agunwa Okolie stood out.
Following the Brown game, Amaker said that Okolie (who had 12 rebounds and six assists to go with his 15 points) was the best player on the floor.
Okolie had some extra motivation: his younger brother, Obi, starts for Brown. But his game has evolved, too. As recently as late December, he was known almost exclusively as a defensive specialist. But since scoring 29 points in Harvard's victory over Dartmouth at home in January, he has shown the ability to make a significant offensive impact, slashing to the basket, getting to the free-throw line, and occasionally hitting an outside shot. Against the Bears, he did all of that and got his teammates involved.
Becoming a Championship Team
Unfortunately, Okolie probably won't get the chance to show off that progress in the post-season. With this weekend's split, the Crimson will need to win five of its last six contests (four of which are on the road) to finish the season with a .500 record and have a legitimate shot at making a post-season tournament.
As Cummins and Miller noted, Amaker often tells the players that they need to try to become a championship team, not just try to win a championship. That means the players need to live up to the team's standards and identity, which prize defense above all else, as part of a process that will help them win basketball games.
The Crimson might look to the 2008-2009 team. After upsetting nationally ranked Boston College in early January, that team appeared poised to compete for a conference championship. Like this year's Crimson, that team was upset by Dartmouth in its second Ivy game—and promptly lost seven of eight conference games. But that squad finished strong, winning three of its four final contests, including an upset of eventual league champion Cornell on senior night and a victory at Yale to conclude the season. That pushed Harvard's overall record to 14-14 and helped give the Crimson momentum going into the 2009-2010 campaign, the first of six straight seasons in which Harvard won at least 20 games.
This year's team is trying to rediscover a championship culture, not create one. That brings added pressure. Cummins noted that he has been struck by how closely alumni are monitoring the team's progress, from players who graduated 30 years ago to more recent graduates like Christian Webster '13, the team captain in Cummins's freshman year. Now an assistant coach at the University of Central Florida, Webster still watches Harvard's games and, Cummins said, sometimes voices his frustration.
Cummins and his classmates are guaranteed just six opportunities to change that impression, beginning with the weekend's road trip to Columbia and Cornell.
Harvard Women's Basketball Update.
unlike the men's team, the Harvard women's basketball team swept its road trip this past weekend, defeating Brown 87-79 and overcoming a 23-point deficit to beat Yale 72-69. Head coach Kathy Delaney Smith's squad continues to be led by her seniors, particularly Kit Metoyer, who led the Crimson with 23 points against Brown, and fellow co-captain AnnMarie Healy, who was the team's high scorer with 18 points against Yale. The wins bolster the women's team's record to 10-11 overall and 5-3 in conference play as the Crimson prepares to play host to Columbia and Cornell next weekend.