Literary Life
Nobel Laureate Toni Morrison Delivers the 2016 Norton Lectures
3.3.16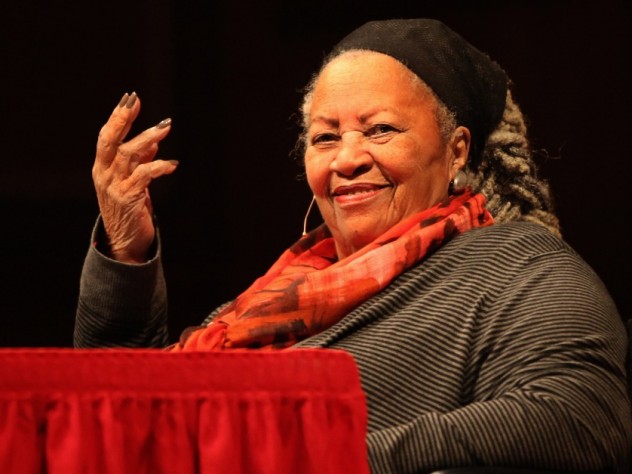 Toni Morrison, showing off what Homi Bhabha described in his introductory remarks as "immaculately-manicured nails"
Photograph by Tia Chapman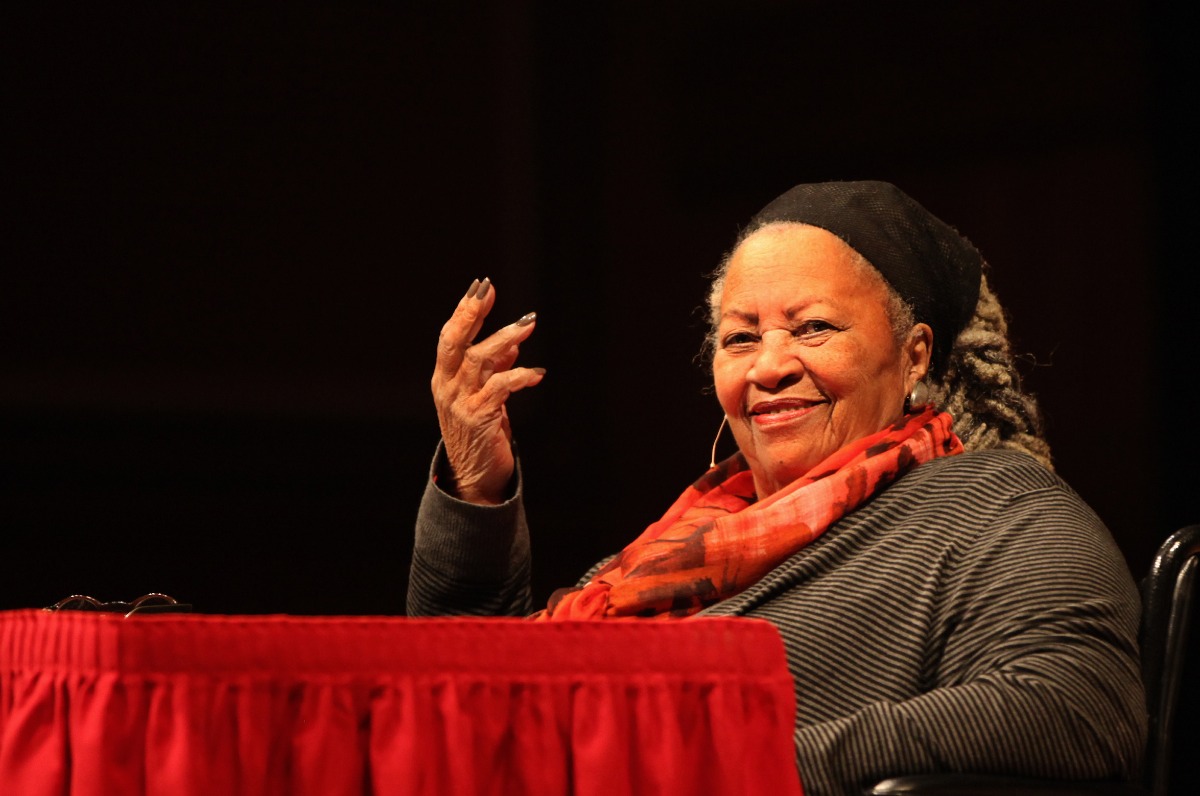 Toni Morrison, showing off what Homi Bhabha described in his introductory remarks as "immaculately-manicured nails"
Photograph by Tia Chapman
Toni Morrison, Litt.D. '89, delivered her first Norton Lecture on March 2. Tickets to the event, which became available at noon that day, reportedly sold out within 30 minutes. An hour before the event, attendees shivered in the cold and clutched their tickets, standing in a line that snaked around the Memorial Church. Filling Sanders Theatre, the audience—which included students from local high schools and universities as well as members of the Harvard community—fell into a hushed silence as Morrison was wheeled onto the stage. When she took her place at its center, behind a table draped in red, they gave her a standing ovation.
"Shall we go?" asked Homi Bhabha, director of the Mahindra Humanities Center, inclining his head to her. With Morrison's gestured go-ahead, Bhabha proceeded to introduce the Nobel laureate and Pulitzer Prize winner, likening her appearance on campus to that of Maria Callas singing Bellini. Callas was said to have effected "a subtle change in the weather" with her high E, he said, and so, too, would Morrison—"a force of nature"—cause Cambridge to feel "the sublime effects of climate change." 
Introducing the lecture series, The Origin of Others: The Literature of Belonging, this first lecture was brief. Morrison began with an allusive personal anecdote, remembering how her "tar-black" great-grandmother, "majestic head of our family," called Morrison and her sister impure, telling their mother, "Your children have been tampered with." This, the author told the audience, was when she first began to learn that "Categories of difference are about power, and the necessity of control."
She then discussed two literary attempts at "Romancing Slavery," the title of her talk. Her first example was the diary of Thomas Thistlewood, an eighteenth-century plantation overseer in Jamaica, where amid the detached accounting of business transactions and activities in English, he recorded sexual assaults against slaves in a literary Latin. The next was a scene from Harriet Beecher Stowe's Uncle Tom's Cabin, in which Master George has dinner with Uncle Tom and Aunt Chloe. 
"How do you make it safe to enter black space?" Morrison asked. Stowe, she argued, participated in a kind of "literary protectionism" by giving the white character "excessive benign signs of safety." The cottage is tiny and covered in flowers; on its dirt floor, the black children play and are thrown scraps of food from the dinner table—"an odd scene, I think designed to amuse"—and ultimately to "cosset" the white reader. 
The writer connected these readings to her own literary project, spanning her first book, The Bluest Eye, about "the harm of racial self-loathing," and her most recent one, God Help the Child, about "the self-destruction of colorism." And, she added, her novel-in-progress (emphasis hers) will engage the questions addressed in her upcoming lectures: "How does one move from the nonracial womb to the womb of racism?" and, "What is it, race, other than genetic imagination?" Morrison posited that racism offers the comfort of belonging. A stranger defines himself against the other, she suggested, "as a crowd-seeker is always the lonely one." 
Morrison spoke for a little more than half an hour. While others might turn to science or politics for answers, "I look to literature for guidance," she said, "and that's what I'll do." Then she collected her glasses and slipped her rings back onto her fingers, and exited the stage.
In the coming weeks, Morrison will give five more lectures: "Being and Becoming the Stranger," "The Color Fetish," "Configurations of Blackness," and "Narrating the Other," concluding with "The Foreigner's Home" on April 12. Morrison's three talks in the 1990 William Massey Lectures in the History of American Civilization were later published by Harvard University Press as Playing in the Dark: Whiteness and the Literary Imagination. Her analysis of how authors like Herman Melville, Willa Cather, and Mark Twain have tried to define the condition of being white became a classic work of American literary criticism. She has visited Harvard on several other occasions since: she was named a Radcliffe Medalist in 2007, and gave the 2012 Harvard Divinity School's Ingersoll Lecture on Immortality, on the subject of altruism and "allowing goodness its own speech."
Established in 1925, the Charles Eliot Norton professorship of poetry has been awarded to important figures in the arts, including T.S. Eliot, Igor Stravinsky, Jorge Luis Borges, and Nadine Gordimer. Morrison's immediate predecessors were Orhan Pamuk, William Kentridge, and Herbie Hancock.