Sports
Jimmy Vesey Looks Back
4.26.16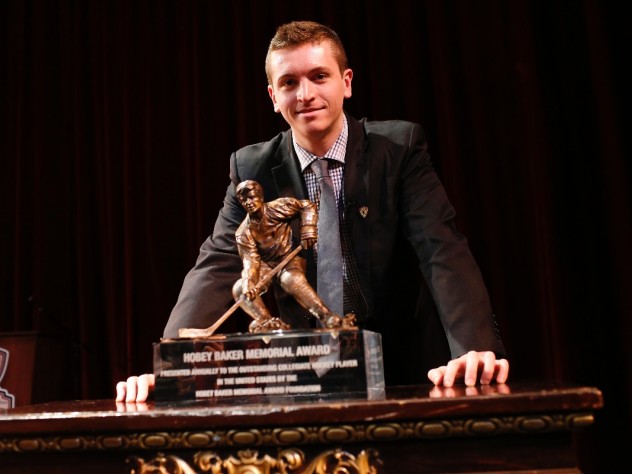 A finalist for the second year in a row, Jimmy Vesey won this year's Hobey Baker Memorial Award. Photograph courtesy of Harvard Athletic Communications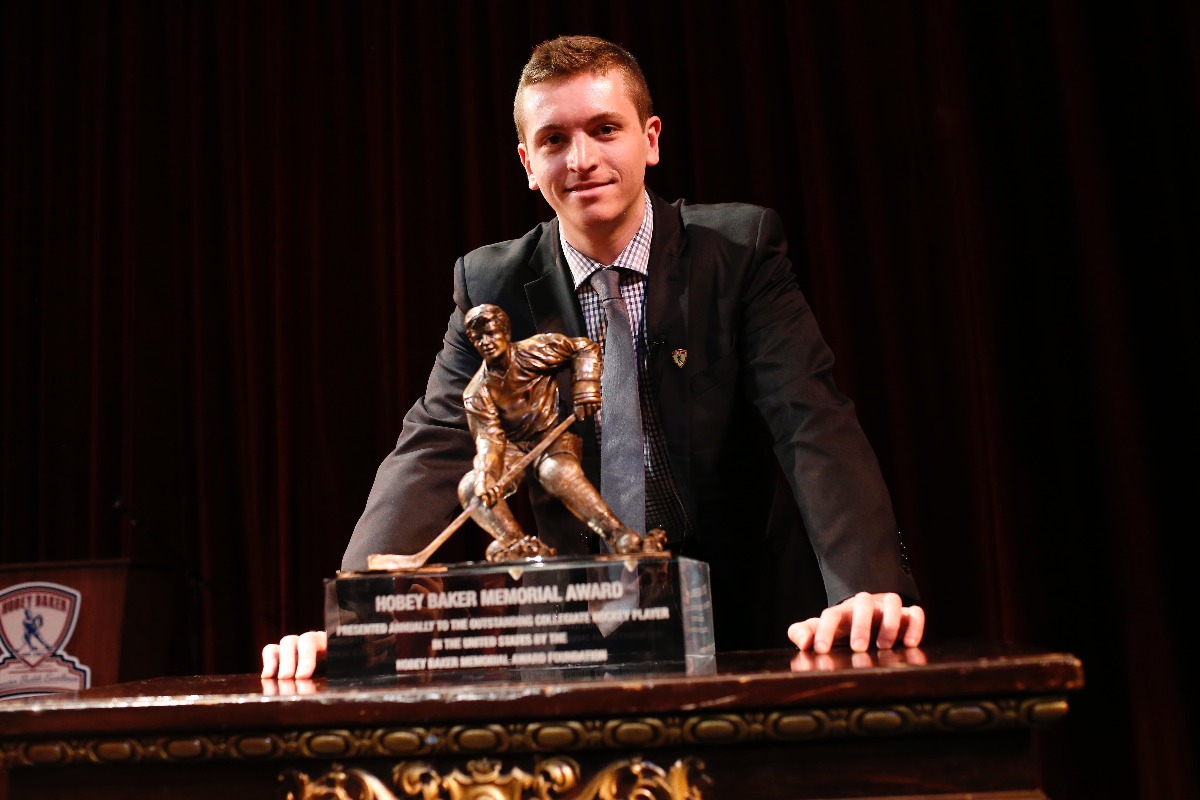 A finalist for the second year in a row, Jimmy Vesey won this year's Hobey Baker Memorial Award. Photograph courtesy of Harvard Athletic Communications
More than anything else, he will miss his teammates, the guys he's shared a rink and a bus and a bunk with for four years—and the coaches and trainers and everybody else behind the bench and on the ice (and piloting the Zamboni) at Bright-Landry Hockey Center. "We have a really good family, so to speak, across the river at the rink," says Jimmy Vesey '16, senior co-captain of the Harvard men's hockey team. Earlier this month he was named winner of the 2016 Hobey Baker Memorial Award, given annually to the NCAA's top men's hockey player—the first a Harvard player has won in almost 30 years—and next month, on his twenty-third birthday, he will graduate with a degree in government and a future in the National Hockey League. 
Where precisely that future will land him is still an open question. Drafted in 2012 by the Nashville Predators, Vesey this spring turned down that team's contract offer and decided instead to take his chances this August as an unrestricted free agent, a move that surprised and rankled Nashville, raised interest from other NHL teams, and fueled plenty of debate and opinion.
Jimmy Ves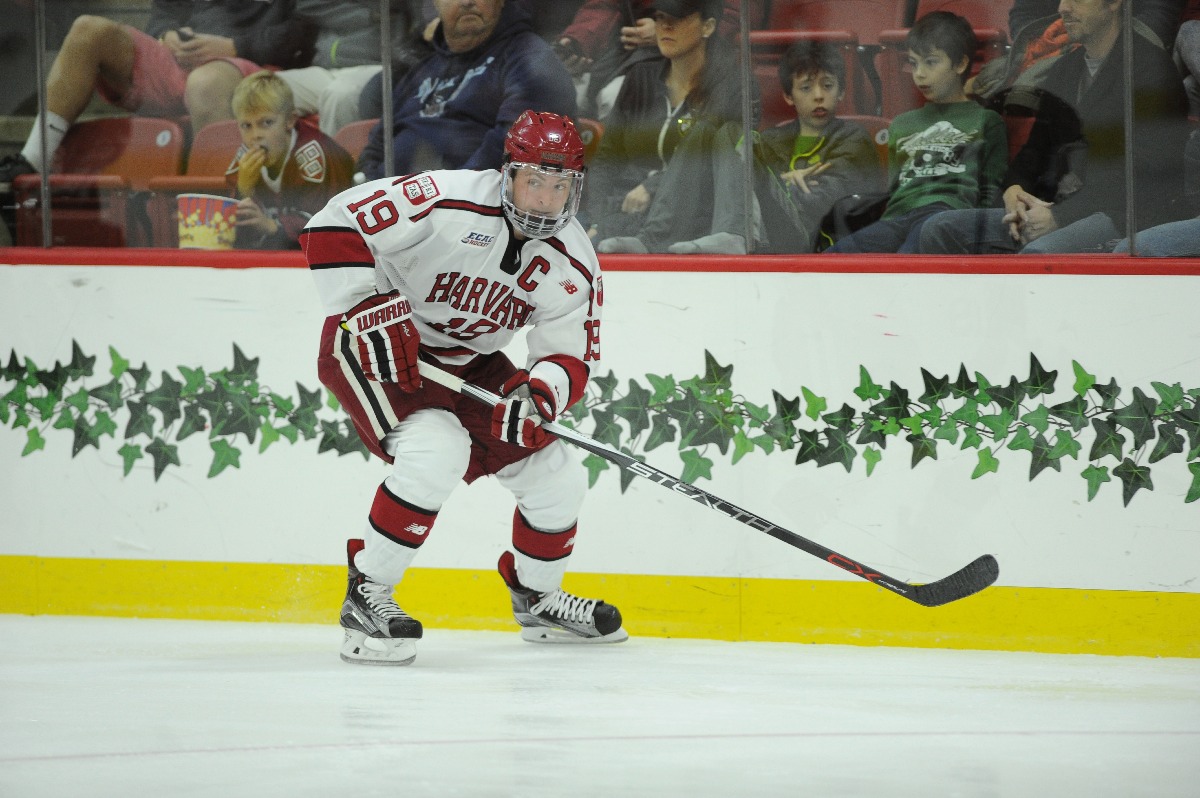 Photograph courtesy of Harvard Athletic Communications
It's not the first time Vesey's hockey decisions have made news. In 2015, at the end of a junior-year season in which he had 32 goals and 58 points in 37 games, Vesey chose another year at Harvard over an immediate start to his pro career, a decision that sparked enough skepticism that he felt compelled to answer it with an essay in the Players' Tribune online publication. "I'm glad I came back," he says now. "I was lucky enough to get into Harvard, and I wanted to see that through. I still always picture myself playing hockey until I'm—well, playing hockey forever. But in this day and age I'll be lucky to play until I'm 35. So I'm going to need to get a real job." Plus, he says, he wasn't ready to say goodbye to his teammates and coaches.    
A big left winger with a dangerous backhand, Vesey is one of those kids who grew up skating before he could walk, and who's played hockey for as long as he can remember. He comes from a family of players in North Reading, Massachusetts—his dad, Jim Vesey is a former NHLer and a scout for the Toronto Maple Leafs, and his younger brother, Nolan, plays for the University of Maine. "For me," Vesey says, "hockey was always serious."
In his four years at Harvard, he says he's learned to be a more complete player. "I came in only wanting to score goals, only cared about offense, but Coach Donato"—Ted Donato, the Ziff head coach for Harvard men's hockey—"taught me how to play within the team. Scoring goals isn't the whole game. You've got to play both ends of the rink." An offensive force from the beginning, Vesey came to be a regular on the team's penalty-killing unit as well.
Vesey is a two-time conference player of the year and a two-time first-team All-American, and his Hobey Baker Award is the first brought home by a Harvard player since 1989, when Olympian Lane MacDonald '88 won. That same year, MacDonald led Harvard to a NCAA championship—it still stands as the Crimson's most recent national title. Before that, the Fusco brothers, Mark '83, M.B.A. '90, and Scott '85, won Hobeys for Harvard in 1983 and 1986 respectively. This month, when Vesey stood up at the podium to accept the trophy at the NCAA Frozen Four in Tampa, he called himself humbled. "A great honor," he said. Voted on by all 60 Division 1 head coaches, fans, and a selection committee, the award recognizes outstanding skills in all phases of the game, strength of character on and off the ice, sportsmanship, and scholastic achievements. 
Vesey's tenure at Harvard has seen its measure of highs and lows: the heartbreaking double-overtime loss to Boston University in the last year's Beanpot Tournament comes to mind, along with the jubilant ECAC conference championship that followed a month later. A few days after that, though, in late March 2015, the Crimson took a 4-1 loss to Omaha in the first round of the NCAA tournament. "We didn't quit at all," a choked-up Vesey told reporters after the game.
But Vesey's favorite memory, he says, happened in the middle of all that, during the ECAC tournament quarter-finals, a best-of-three series. The opponent was Yale. "I think our record against Yale in my time to that point was 0-9-1," he says. In the third and deciding game of the series, defenseman Patrick McNally '15 scored in overtime to win. "The celebration in the locker room after that," Vesey says, "was something else." 
One thing he'll likely take with him from Cambridge, along with the memories: his game-day ritual. Hockey players are creatures of habit (and of superstition—though, as Vesey points out, "Routine is really important for focusing"). For Harvard home games that has meant the same pregame nap and shower for Vesey, the same cup of coffee and walk across the river to the rink, where he dresses and tapes two of his sticks before warm-ups. After they're taped, he says, "I can't have the blade of the stick touch the ground before I go out on the ice. It freaks me out." This coming fall, that blade will touch new ice in a different rink, somewhere in the NHL.