News
Broad Institute Researchers Find New Method to Edit RNA
6.2.16
Bioengineers Feng Zhang and Eugene Koonin Photograph by Stan Grazier/Courtesy of Broad Institute Communications and courtesy of NIH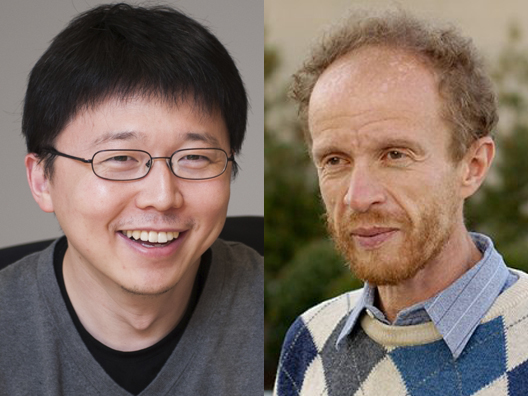 Bioengineers Feng Zhang and Eugene Koonin Photograph by Stan Grazier/Courtesy of Broad Institute Communications and courtesy of NIH
A team of scientists led by Feng Zhang '04 of the Broad Institute of Harvard and MIT announced Thursday the discovery of a bacterial protein, called C2c2, capable of editing the genetic information contained in RNA. The research, to be published in the journal Science this week, builds on previous work by Zhang and his colleagues: he and Winthrop professor of genetics George Church were the first to describe the use of a similar biological system, known as Crispr-Cas9, to edit the DNA of human cells, in 2013.
Both C2c2 and Crispr-Cas9 are types of an immune system found in certain bacteria called Crispr-Cas (Clustered Regularly Interspaced Short Palindromic Repeats and Crispr-associated genes). The systems work by targeting specific stretches of genetic code and then using proteins like C2c2 to cut out portions of that sequence. In nature, Crispr-Cas systems help bacteria fend off hostile viruses by identifying and disabling them; in the lab, scientists are now learning how to harness the systems to edit genetic information, by taking advantage of the fact that, if a replacement sequence that resembles the excised letters of code is supplied, existing cellular machinery will repair the break using the replacement sequence. The newly identified C2c2 protein is distinct from other proteins that have been studied before because it targets molecules of RNA instead of DNA.
That distinction, according to Eugene Koonin, a researcher at the National Center for Biotechnology Information and a coauthor of the new study, is part of what makes the discovery of C2c2 so important. "So far," he explained, "this is the only identified case…that uniquely cleaves RNA as opposed to DNA." Although other systems have been found that interact with both DNA and RNA "in a sort of complicated mechanism," he added, "this system seems to be rather differently formed and completely RNA-specific."
In humans and other multicellular organisms, DNA stores genes and transfers them from generation to generation. RNA acts as a messenger, carrying information stored in DNA to other parts of the cell, where it is used to synthesize and interact with proteins, the principal players in the metabolic pathways of cells. The discovery that RNA can both heighten and suppress the functions of genes has led to attempts to create drugs made of RNA; Koonin said that C2c2 has the potential to be much more efficient than previous methods for modulating the expression of proteins. The discovery of C2c2 could also allow researchers to mark RNAs with fluorescence so that their biological function could be better understood. 
Unlike DNA, RNA is not transmitted from parent to child. That means this new research is largely unaffected by concerns about the ethics of gene editing. Some scientists have urged caution when using Crispr-Cas to edit DNA, fearing its potentially irreversible effects on the human genome. Some in the media have argued the technology could lead to parents creating "designer babies," using only the genes they want their ideal child to have. But in the case of the current research, Koonin said, "I suspect that such concerns will take the back burner," because RNA-specific Crispr-Cas systems like C2c2 "do not change the genome." 
Crispr-Cas systems have also been the source of another controversy: Zhang and the Broad Institute are engaged in a legal battle with a team at the University of California, Berkeley, led by Jennifer Doudna, Ph.D. '89, over who owns the patent for the use of Crispr-Cas9 to edit DNA. And more than just intellectual pride is at stake: Cambridge-based Editas Medicine, a biotech firm co-founded by Zhang to commercialize Crispr-Cas9, raised $94 million from its initial public offering in February. Since the C2c2 protein acts on RNA and is separate from Crispr-Cas9, Koonin said the process of obtaining patents for the new discovery will be entirely separate and "has nothing to do with those under dispute."
Now that they have identified an RNA editing system, scientists may be able to expand the use of Crispr-Cas to a whole new arena of applications. Koonin noted in particular that C2c2 could have what he called a "toxic effect": the protein might be able to identify and destroy only bacteria that carry a particular unwanted gene. But he warned against putting too much faith in grand conjectures. Because this is "the first experimental characterization of these systems," cautioned, "There are more questions that remain to be answered than have been answered. And also, because of the same reason, all discussion of applications, while tantalizing, remains at this point speculative."