John Harvard's Journal
Honoris Causa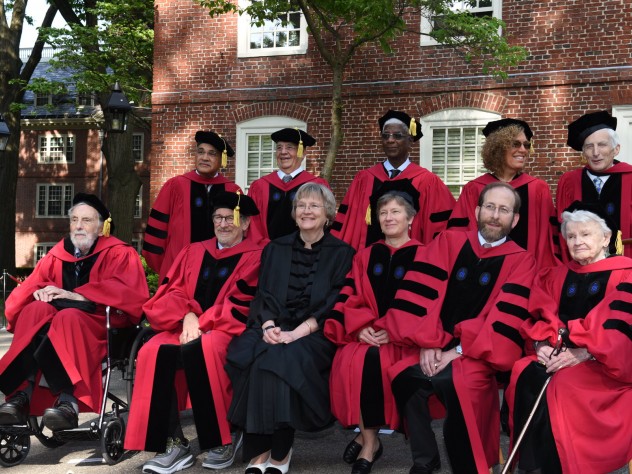 Back row from left: Arnold Rampersad, Fernando Henrique Cardoso, El Anatsui, Elaine Fuchs, and Martin Rees. Front row from left: David Brion Davis, Stephen Spielberg, President Drew Faust, Mary L. Bonauto, Provost Alan Garber, and Judith J. Thomson Photograph by Stu Rosner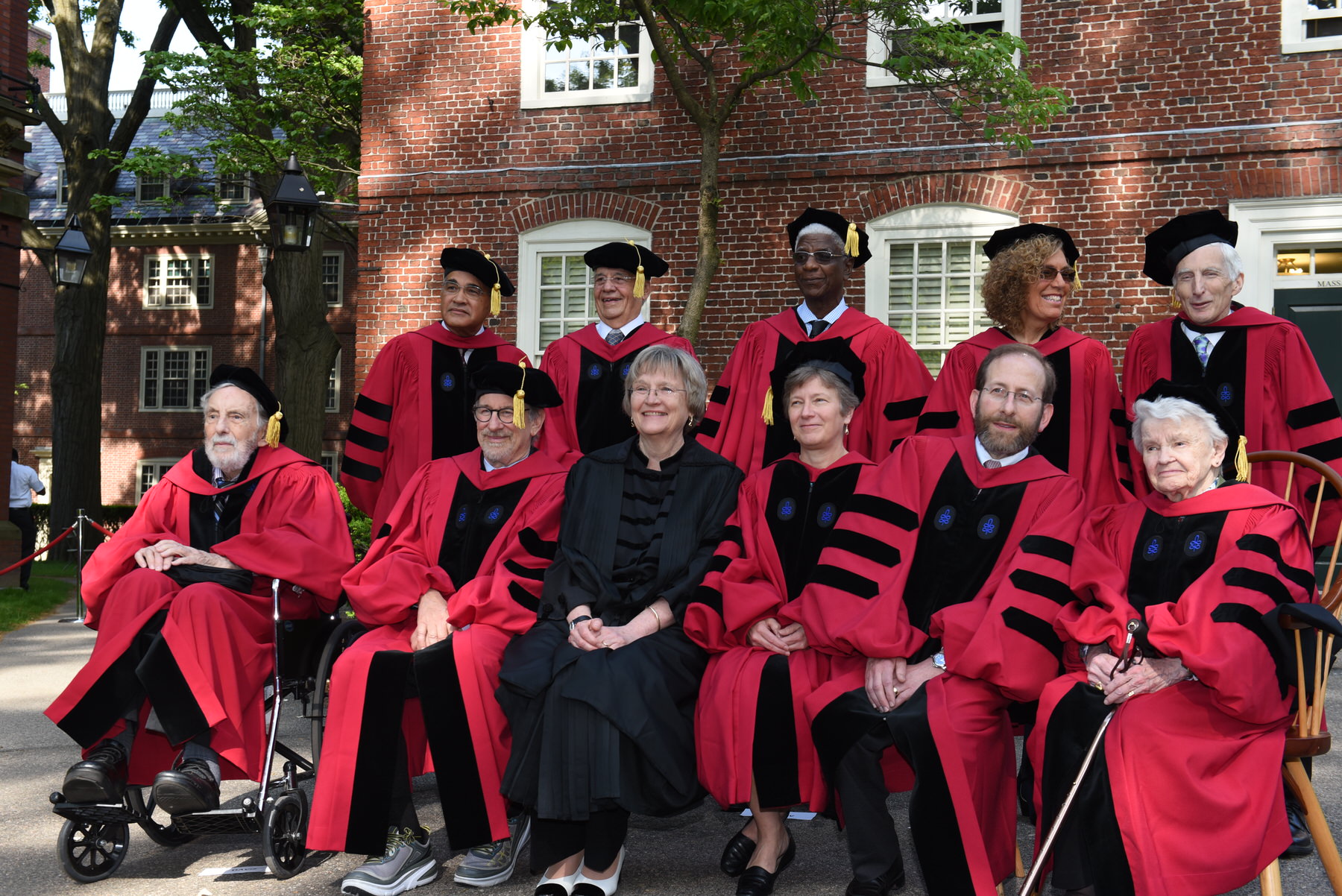 Back row from left: Arnold Rampersad, Fernando Henrique Cardoso, El Anatsui, Elaine Fuchs, and Martin Rees. Front row from left: David Brion Davis, Stephen Spielberg, President Drew Faust, Mary L. Bonauto, Provost Alan Garber, and Judith J. Thomson Photograph by Stu Rosner
Six men and three women received honorary degrees at Commencement. University provost Alan M. Garber introduced the honorands in the following order, and President Drew Faust read the citations, concluding with the recipient's name and degree. For fuller background on each, see harvardmag.com/honorands-16.
Judith Jarvis Thomson. Moral philosopher and metaphysician, a professor of philosophy emerita at MIT. Doctor of Laws: Eminent moral theorist and metaphysician who ponders with acuity what it means to be good; exemplar of reason and scholarly values, who models with ingenuity what it is to be good.
David Brion Davis, Ph.D. '56. Yale's Sterling Professor of American history emeritus, a leading scholar of slavery and abolition. Doctor of Laws: Confronting the unconscionable negation of freedom, discerning our demons and our better angels, a sterling chronicler of inhuman bondage who shows that the past not was, but is.
The Right Honorable Lord Martin Rees. Astrophysicist and cosmologist, who has pioneered understanding of black holes and the dark early universe. Doctor of Science: Luminous star in the firmament of astrophysics, royal citizen of science and namesake of an asteroid, he has shone fresh light on the cosmic dark ages and the genesis of galaxies far, far away.
El Anatsui. Preeminent West African sculptor, best known for shimmering hangings made from found objects. Doctor of Arts: Fusing ordinary articles of refuse into extraordinary artworks that refuse categorization, he weaves strands of diverse cultures and genres into splendorous cascades of gravity and grace.
Elaine Fuchs. A National Medal of Science-winning stem-cell researcher, based at Rockefeller University. Doctor of Science: Stem-cell eminence and doyenne of the epidermis, whose innovative investigations of genes and proteins have pluripotent power to get under our skin.
Arnold Rampersad, Ph.D. '73. The acclaimed biographer of W.E.B. Du Bois, Langston Hughes, and Ralph Ellison. Doctor of Laws: Lifelong student of the human spirit, literary biographer extraordinaire, an erudite expositor of the American experience who lucidly illuminates the matter of Black lives.
His Excellency Fernando Henrique Cardoso. Sociologist and former two-term president of Brazil. Doctor of Laws: Expert on dependency and development, exponent of democracy and engagement, he has ascended the echelons of both academe and government to guide his nation through challenge and change.
Mary L. Bonauto. Lawyer and civil-rights director of GLAD, leader in the effort to eliminate discrimination based on sexual orientation. Doctor of Laws: Savvy strategist in the quest for equality, supremely deft advocate for the dignity of all, she has brought to life stories both of love and of loss, and now, thanks to her, countless hearts may be glad.
Steven Spielberg. Film director, producer, and screenwriter. Doctor of Arts: Sovereign of celluloid storytelling who draws us into the dark then directs us toward the light; his movies move us in magical ways as we closely encounter the terrors and wonders of life.